Pros:
Dynamic, muscular design both inside and out

Blistering performance and exceptional pace

All manner of 'danger' red buttons to enhance the handling
Cons:
The noise levels do become a bit much after time

You must keep an eye on the speed or face the consequences

You really have to reign it in all the while
More On This Car
Take one for a spin or order a brochure
Request a BMW M5 brochure
Request a BMW M5 test drive
Introduction
If you're in the market for a super saloon with ridiculous pace, awesome handling and all the technology you could possibly wish for then the BMW M5 Competition could be the most complete package available to date.
There once was a standard M5 model (that was anything but standard) and the M5 Competition model, but while other 5 Series line-ups have increased, the Bavarian car maker has slimmed the M5 options down to just the one model – the M5 Competition.
It's not for the poor or the fainthearted. In fact, it's quite brutal in a fun way, but it also covers the practical saloon bases along the way. It's guaranteed to draw attention everywhere it passes and don't expect anyone to let you out in a traffic jam – ever!
On The Road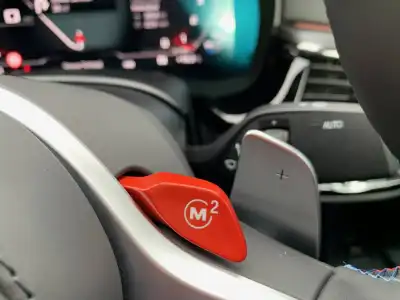 Performance
Performance was always going to be a key factor for the M5 Competition and it doesn't disappoint at all. At the heart of the vehicle is a 4.4-litre V8 petrol engine with M TwinPower Turbo technology.
This high-revving eight-cylinder unit develops 625hp and a whopping 750Nm of torque. That translates into a 0-62mph sprint time of 3.3 seconds and top speed that is limited to 155mph. Unless, of course, you have the M Driver's pack fitted (which we did) in which case the maximum speed is 190mph.
The characteristics of the car can be altered at the touch of a button with driving modes called Efficient, Sport and Sport+, along with a new M Mode switch for livelier road driving or track days.
The eight-speed M Steptronic automatic transmission shifts through the gears at lightning pace with short ratios and there are steering wheel mounted paddles if you fancy taking a little more control. Two bright red buttons labelled M1 and M2 are immediately noticeable next to the paddles and these are for changing quickly between two pre-configured set-ups – maybe one for country lanes and the other for motorway driving.
But it's the pace and composure that really impress. Despite offering ridiculous power, the M5 Competition, if driven with a degree of sense, remains safe and well grounded. Yes, it can deliver edge-of-the-seat performance, but the carbon ceramic brakes are just as reassuring and the perfectly weighted steering is ideal for firing through the quieter country lanes.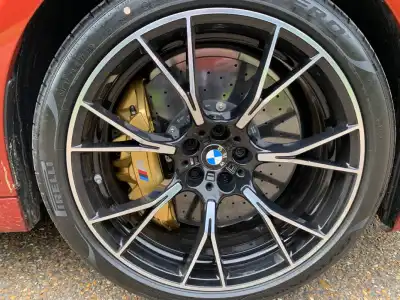 Ride Handling
Despite having ample time to test out the car, you really would need weeks behind the wheel to unearth all the settings and optional variants on offer. Settings can be adjusted for the likes of steering, engine power, gearbox timings, suspension, stability, traction and even four-wheel drive, so it's a car that will keep on giving. And that's where those M1 and M2 buttons really come into play for storing your favourite modes and settings.
When you take into consideration the size – it measures just shy of five metres in length – and it's near 1.9 tonne weight, the M5 Competition seems to defy the laws of physics be delivering good agility and impressive manoeuvrability. You'll only realistically go seeking the Sport+ mode on track as Sport delivers all the dynamism you need. It's well planted and you can revert to rear wheel drive if you fancy taking a few sharp intakes of breath as you fire through sharper bends.
The M5 Competition benefits from experiences gained in the M8 Competition Gran Coupe, including a specifically tuned chassis, which includes double wishbone front suspension and five-link rear suspension.
The optional M carbon ceramic brakes are recognisable from their gold coloured callipers (of course) with M logo and these are lighter than the standard brakes and offer better braking performance along the way.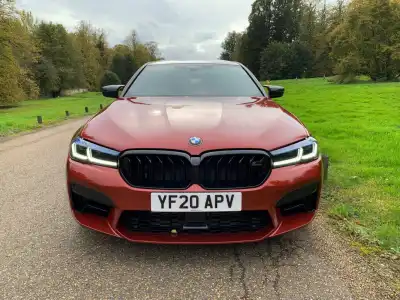 Styling
One glance in the direction of the BMW M5 Competition will confirm this high-end luxury saloon is a little bit on the special side. There is a host of M-specific design cues that help distinguish it from the standard 5 Series. For example, the bonnet is aluminium, the front side panels with signature M gills and the roof are comprised of carbon-fibre reinforced plastic to help create a stunning appearance while shedding weight at the same time.
There is the newly-designed BMW kidney grille that has a more upright appearance and also features a black surround. There are M-specific fins and M5 Competition badging. Restyled light clusters and a high gloss black spoiler, plus twin tailpipes and specialist alloys complete the look.
Move inside and the red switchgear immediately stands out, but BMW has rather cleverly designed a car that has all the performance bells and whistles yet still offers outstanding levels of comfort and sophistication. There are soft-touch surfaces, the finest upholstery and every creature comfort imaginable, including massaging seats.
When it comes to driver refinement, the M5 Competition is a bit of a mixed bag depending on your choice of calibration. Select all the comfortable settings and the ride will be most enjoyable with a well-insulated cabin and suspension that cushions the ride. If, however, you opt for the sportier settings, then expect a noisier experience especially with the enhanced exhaust note, plus the joy of feeling every bump and jolt along the way.
In The Car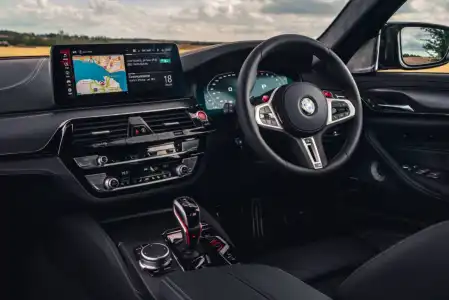 Behind the Wheel
The interior of the BMW M5 Competition is quality through and through with the finest Merino leather upholstery, seats that are power operated, can be heated and have memory settings, plus illuminated M5 logos in the head restraints, along with all the technology you could ever wish for.
There's a new 12.3-inch central display which is the focal point and where many of the car's systems and set-ups are accessed via a rotary dial. The graphics are sharp and all the menus and systems are easily controlled and this is where all the car's settings such as steering, brakes, gear shifting etc can be viewed.
Creature comforts are plentiful and include full smartphone connectivity, a great sound system and navigation set-up. Our car boasted an Ultimate Pack that added a wealth of extra kit, including steering wheel heating, soft close doors, front and rear seat heating, the seat massage function, rear seat entertainment and a Bowers & Wilkins surround sound system. Obviously premium brand, premium price – the pack cost an extra £19k.
The head-up display is configurable and, in its normal driving mode, shows information such as navigation directions, speed, distance warnings and speed limits. When the M view is selected in Sport mode, the head up display offers a rev counter while shift lights indicate the ideal time to change gear.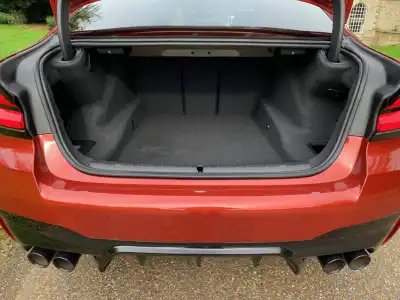 Space & Practicality
Despite its low-slung stance, the M5 Competition is actually a really comfortable car and up front there is plenty of space to stretch out. Even the back seat passengers benefit from lots of leg, head and shoulder space
The deep boot, which is power operated, can swallow 530 litres of kit and there are plenty of other storage options scattered throughout the car, including decent sized glovebox and door pockets, a central cubby, cup holders and a wireless charging tray. There are pockets in the front seat backs and the rear passengers have their own infotainment screens, USB connection ports, climate control set-up, cup holders and door bins.
This is certainly one of the largest saloons on the market, stretching almost five metres in length, so it's probably not best suited practicality-wise to city dwellings where parking is a premium and most cars seem to have dents and knocks from too narrow parking bays or overcrowded car parks. A car that costs £100k will be expensive to repair no matter how minor the bump.
Ownership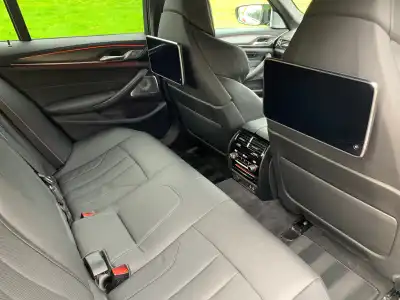 Running Costs
Getting down to the nitty gritty, this luxury saloon from a premium car maker is never going to be cheap to buy. The starting price is £98,095, but as is the way with the likes of BMW, Audi or Mercedes, the list of optional extras is seemingly endless and the costs start to stack up.
Our car featured an Ultimate Pack that added a vast list of extras from massaging heated seats to a rear entertainment set-up, upgraded sound system, laserlights and carbon ceramic brakes. This pack cost a whopping £19,000 – you could buy two-and-a-half Dacia Sanderos for that!
The final asking price of our M5 Competition was a £118,560.
The running costs are pretty hefty too with a combined fuel efficiency figure of up to 25.4mpg and carbon emissions of 252-255g/km. This high emissions figure would result in a first year Vehicle Excise Duty charge of £1,815 that would drop to the standard £145 the following year. Sadly, the bills don't end there - due to the car costing more than £40,000, there is an additional £320 charge for five years.
Insurance will set you back a bit too as the car is ranked in the highest group 50 rating. However, if you can afford £100k-plus for a car, then expensive running costs are hardly likely to cause sleepless nights.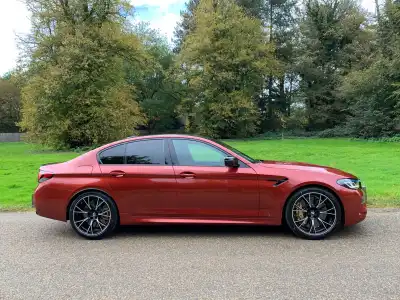 Quality & Reliability
The BMW M5 Competition comes with a three year, unlimited-mileage warranty and the manufacturer has an excellent reputation for reliability and developing cars that are durable and long-lasting.
Despite all its advanced and clever technology, the M5 Competition uses many components that have been successfully tried and tested. It has a high quality feel with solid surfaces and doors that close with a sturdy thud.
All the switchgear looks and feels well-made and any touchscreen surfaces can easily be wiped clean from fingerprints. The high-end leather upholstery not only looks amazing, but also feels tough enough too.
The car comes with BMW's three year, unlimited mileage warranty for peace of mind. This also includes BMW Emergency Service for any unforeseen events. Warranties can also be extended with a range of policies at a cost after the three years are up.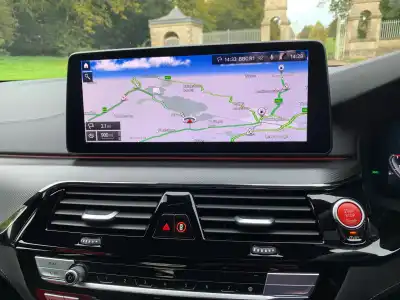 Safety & Security
Develop a car with the performance capabilities of the BMW M5 Competition and it needs to be packed to the rafters with the most advanced safety kit around. And in fairness, it is.
It features all the driver assistance systems from the 5 Series with more added to cope with the extra firepower. As part of that Ultimate Pack, the car gains a Driving Assistant Professional system which means updates to Steering and Lane Control Assistants are included, which in turn introduces Active Navigation. This system uses navigation data to spot in advance when a lane change will be required, and this can then be performed simply in advance notice, using the Lane Change Assistant. Clever stuff.
The M Carbon Ceramic brakes are more capable of slowing the vehicle in a controlled manner but they do feel incredibly sharp initially.
In addition, the likes of Parking assistant Plus is included which enables the driver to create a 360-degree image of the vehicle and its surroundings in the control display.
The xDrive all-wheel drive system will do its utmost to keep you going during adverse driving conditions. But it's worth remembering the race heritage that this car is descended from which, in turn, means much of the kit, designed to keep you safe and sound, can be deactivated for the likes of track driving.
More On This Car
Take one for a spin or order a brochure
Request a BMW M5 brochure
Request a BMW M5 test drive