From £30,040
Pros:
Distinctive style is a break from BMW tradition, but still looks strong

Exudes quality both inside and out

Performance and handling are impressive for a heavy crossover
Cons:
Not as practical as the X1 nor as engaging as the 2 Series Coupe

High windowline and huge C-pillar leads to poor rear visibility

No manual gearbox or two-wheel drive option on the 2.0 diesel
More On This Car
Take one for a spin or order a brochure
Request a BMW X2 brochure
Request a BMW X2 test drive
Introduction
If there's a niche that needs filling, BMW will eventually be there with a car to suit. For those that like the practicality of the X1 SUV, but lust after the sporting nature of the 2 Series Coupe, there's now the X2. It's a crossover based on the existing X1 chassis, but with sporting overtones. It's a few centimetres shorter than an X1, and a few centimetres lower too, but shares the same wheelbase and width, lending it a reasonably aggressive stance.
There's a new development of BMW's classic kidney grilles at the front, with the grille now wider at the bottom to accentuate the width of the car. That leads to the swept up headlights that, in turn, lead the eye to a strong swage line that runs the length of the car. Here's where the character of the car splits - below the line it's all sinesible SUV (especially in M Sport X spec with its grey cladding) but above that marker it's all emotional appeal and sporty pretensions.
The design highlight that will split opinion is that BMW roundel attached to the C-pillar. Surprisingly, it actually works well in the metal, looking far more cohesive than the pictures suggest. That said, it's been placed at a slight angle, no doubt to align with the myriad sharp lines meeting in that area, but the lack of perpendicularity draws the eye and doesn't look quite right.
On The Road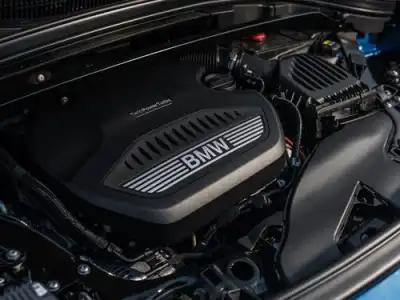 Performance
At launch there's just one engine option to choose from, a 2.0-litre diesel engine. It's economical, but not at the expense of performance. The headline figure of 187bhp doesn't sound high enough to excite, but there's 400Nm of torque available, and that transforms how the X2 drives.
Despite the bulk of the car - it weighs a not insubstantial 1.6 tonnes - there's enough poke to pull the car from standstill to 62mph in just 7.7 seconds, the impressively smooth eight-speed automatic gearbox shiftinf through the gears almost imperceptibly to keep the engine in its optimum power band.
There's a lower power diesel engine available, as well as a 2.0-litre petrol engine for those that want a little more refinement. There's a more powerful 25d model arriving early next year and, interestingly, the X2 is designed to accept BMW's hybrid system. While there's no plans currently to introduce an electrified X2, it's surely only a matter of time.
Disappointingly, the powerful 28i version that the Americans get isn't planned to make it to the UK, but it does hint that a more engaging, powerful X2 M might be around the corner.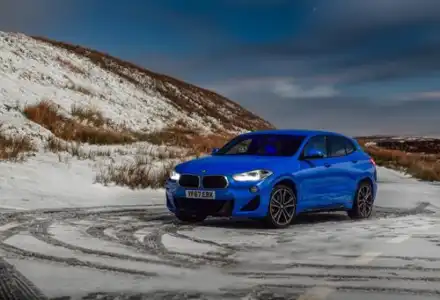 Ride Handling
The X2 shares much with the X1, including its entire platform and a lot of its structure. However, the X2 is 10% stiffer, and modified suspension and dampers increases the firmness another notch. The benefit is increased agility, the stylish SUV being far more eager to dart round corners than you might expect. That's increased even further with this M Sport spec, as the suspension is lowered marginally while the 19-inch wheels offer more rubber in contact with the ground.
There's only four-wheel drive available on the 20d, although it operates as a front-wheel drive car for the majority of the time. Only when the BMW detects a break of traction does it send power to the rear wheels, improving traction and increasing the sensation of security.
Optional adaptive suspension costs £150 but it's a worthwhile investment that can transform how the car behaves. It's firm in Sport mode, offering an uncompromising ride that makes things feel faster than they are, but Comfort mode softens everything enough to make a long journey painless.
The end result is still an SUV that behaves as you might expect an SUV to behave; it's competent, predictable and not necessarily very exciting, even when switched to Sport mode. It's not bad at all, but those seeking driving thrills will be better served by either the 1 or 2 Series cars.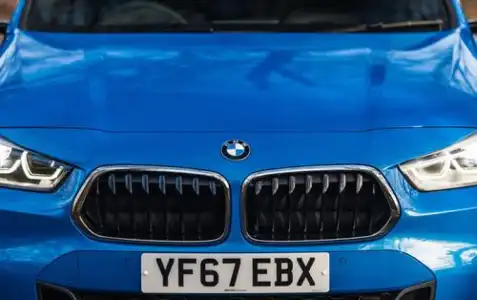 Styling
We've only been able to test one version of the X2 so far, and that's the M Sport model with its sports suspension and 19-inch wheels, and the combination leads to quite a lot of tyre noise in the cabin. Smaller wheels are likely to not only improve the ride, but also reduce the noise inside the car a tad.
The diesel engine is also a little clattery, especially at idle, but it fades to a quiet hum once up to speed. There's little wind noise either, which is perhaps why the tyre roar sounds more intrusive. That said, conversation is easy, even at more optimistic speeds allowed on the continent.
The interior ambience is improved from other BMWs, with some glorious ambient lighting lending a classy air to the cabin. Everything is machined to perfection, with every button feeling smooth and precise, every dial rotating with just the right amount of resistance. There's also some interesting materials used in the dashboard panels, with the test model having a textured aluminium finish. It's every inch the premium car it supposes to be.
In The Car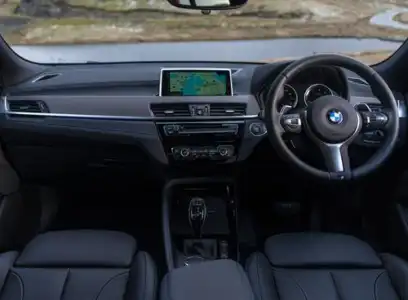 Behind the Wheel
There's a lot to like about the X2's driving position, with a clear dashboard ahead, simple controls for the complex infotainment system, and plenty of roo all round. The sports seats are rather tight for the more portly gentleman, but offer plenty of support in all the right places.
That dashboard comprises a digital instrument panel that is unfeasibly clear, sitting behind a steering wheel with a rim thicker than any bratwurst. It all feels very sporting, but move your eyes left and it becomes standard BMW fare - no bad thing, obviously, but some of the design flair seen on the outside fades away a little.
The main focus is the infotainment screen dominating the top of the centre stack. This is now a touch screen, although that feels rather like an afterthought as many of the buttons to press are frustratingly small. However, the rotational iDrive controller remains in place between the front seats, offering an easy and intuitive way to control all the systems on the screen.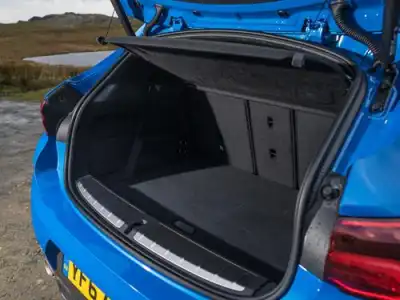 Space & Practicality
The X2 is eight centimetres shorter than the X1, and seven centimetres lower, but it shares the same wheelbase so interior space is broadly similar. Up front it's spacious enough and with a well thought out space. Cup holders and storage pockets are present, although they're not as capacious as some other cars, but the glovebox is actually a sensible size and can hold more than just a few slips of paper.
The rear seats offer plenty of legroom, but that dramatic roofline robs passengers of some headroom. It's also not that wide, with three adults being more than a squeeze, especially given the transmission tunnel that runs down the centre of the car. The swept up rear windows also limit light, making it feel a little more claustrophobic than it really is.
The boot is a bit smaller than the X1's at 470 litres, but it's bigger than the 1 Series.
Ownership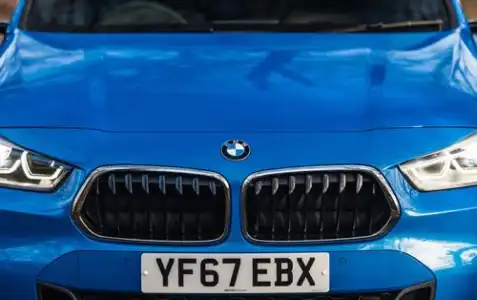 Running Costs
There's no hiding from the fact that it costs more to buy a less practical car. This test car comes in at £37,530, a few thousand more than an equivalent X1 SUV, but lower predicted depreciation should keep leasing or PCP costs low. That'll minimise the pain of owning one, and make it a more viable option for both business and private buyers.
The diesel engine promises strong economy, with an official figure of 58.9mpg. It's possible to get quite close to that, too, although mid-40s would be more realistic. That economy comes with CO2 emissions of 126g/km, so car tax is the standard £140 a year. However, BIK rates for company car drivers will be set at 27%, rising to 30% in April.
Servicing is only required once a year, but it can be expensive. Any non-warranty work required outside of a normal service will also attract a hefty bill from BMW dealers.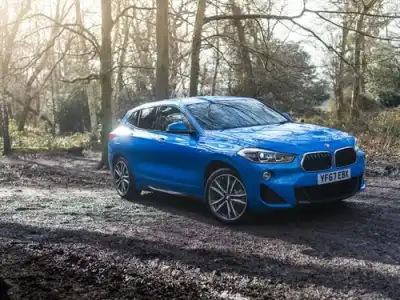 Quality & Reliability
BMW's reupation for quality is well deserved, with the German brand finishing high up the Driver Power results, ahead of Jaguar, Mercedes and Audi. Every new car is backed by a three year warranty, and BMW dealers are well regarded for sorting out problems without a quibble. It's possible to extend the warranty further, but only up to 100,000 miles.
It doesn't feel like there'll be much of a problem though. Perceived quality is high, with material choices and construction feeling top notch, lending the car a remarkably solid feel.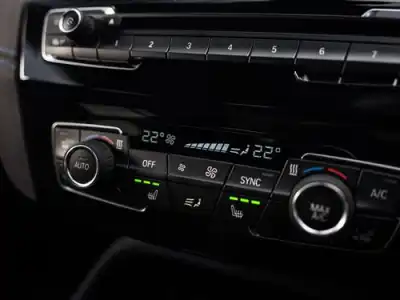 Safety & Security
The first step to safety is avoiding the accident in the first place, and the X2 nimble nature and surefootedness ensures that you'll have a good chance of making it around an obstacle before it's too late. Your progress is aided by an impressive stability control system that will keep things pointing the right way.
Additionally, every X2 comes fitted with Active Guard, BMW's automatic emergency braking system that prevents or mitigates collisions as best it can. It's a last resort system, but early warnings of impending doom are available as an extra as part of the Driver Pack. This also adds automatic high beam, lane departure warning, speed limit information, front and rear parking sensors and a self parking system, all for £790.
EuroNCAP hasn't crash tested the X2 but, as it shares its platform and almost all of its structure with the X1, it has awarded the car a five-star safety rating. The results for its X1 sibling scored an impressive 90% in adult crash protection, while child protection was a strong 87%.
More On This Car
Take one for a spin or order a brochure
Request a BMW X2 brochure
Request a BMW X2 test drive