Pros:
Stand out design and modern, feature-rich interior

Spacious cabin and practical boot

Easy to drive and comfortable on long journeys
Cons:
Touchscreen is a little too overcomplicated

Slight body roll into tighter bends

Some cheap-looking hard plastic surfaces
Introduction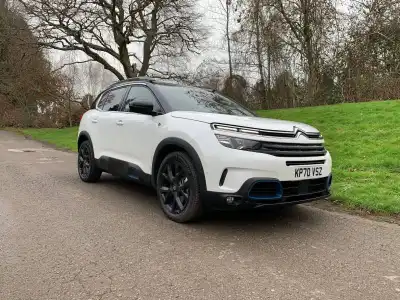 Citroen has strengthened the appeal of its stylish C5 Aircross SUV by introducing plug-in hybrid technology to the mix. The five-door model is a looker, packed with all the latest technology and is as versatile as they come.
By adding the PHEV model to the range, Citroen will be attracting attention from city dwellers, fleet drivers as well as motorists with a short daily commute who can maximise the use of the EV-only driving range.
The car is competitively priced and makes a sound choice for any active family.
On The Road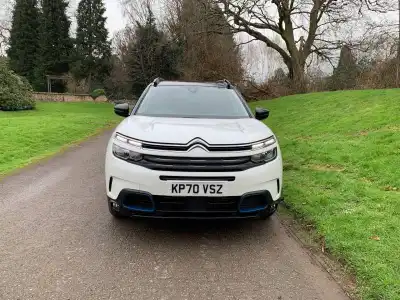 Performance
The latest addition to the Citroen C5 Aircross range sees the combination of a 1.6-litre, four-cylinder petrol engine working in tandem with an 81kW electric motor fed by a 13.2kWh battery.
Together, they produce a combined 225bhp, 500Nm of torque and there is a perfectly timed eight-speed automatic transmission. When it comes to performance our C5 Aircross PHEV in high-end Flair Plus trim, could sprint to 62mph from a standstill in 8.7 seconds and topped out at 140mph.
It offers sharp, responsive handling with plenty of power on tap for quick bursts of pace to overtake slower moving vehicles.
There are drive modes called Electric, Hybrid or Sport, along with D or B settings on the gear selector with B increasing the energy recouped during regenerative braking. You can also save the battery charge which is handy if driving through a Congestion Charge area and it is possible to charge the battery on the move via the petrol engine.
Steering wheel mounted paddles offer added driver engagement, but in all honesty, the automatic gearbox is beautifully timed.
The C5 Aircross PHEV can deliver 34 miles of pure electric driving which is ample to complete most daily commutes and there is the reassurance of the petrol engine for longer family days out.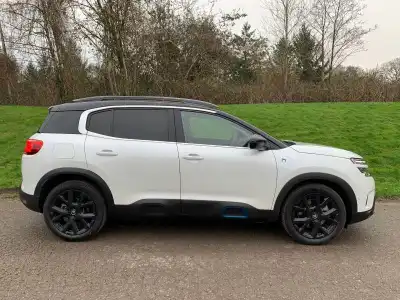 Ride Handling
Ride is an area that Citroen engineers and technicians have focused on in recent years and the results are exceptional.
It's a really comfortable car to drive on the motorway where it cruises at 70mph with ease and its actually easy to drive around town too with agile handling and excellent all-round driver visibility. This is a 'must' on a vehicle that will more than likely feature regularly on the chaotic school run with cars, pedestrians and bicycles darting out from all directions.
The C5 Aircross has an upgraded suspension system featuring Progressive Hydraulic Cushions, a system that helps to smooth out all the bumps and dips along the way and this works well on our poorer than average roads. Citroen has made it very clear that comfort is very high on its agenda and this model certainly delivers on all counts.
However, the softer suspension may be more forgiving but the drawback is a little sign of body roll into tighter bends on this front-wheel drive car. But if dynamism is number one on the wish list there are alternative models such as the SEAT Ateca and offerings from Ford, Mazda and VW to name just a few.
Top marks to the nicely weighted steering though with plenty of feedback.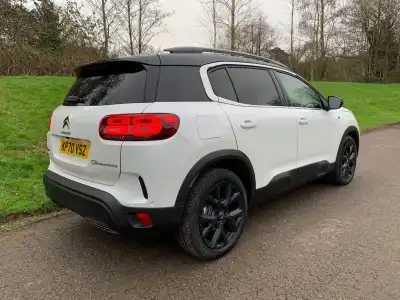 Styling
The Citroen C5 Aircross PHEV is very big on style and boasts numerous stand-out design cues.
The trademark Airbumps have become subtler in their appearance, but still look charismatic and our test car featured a bold upright stance, a black roof that contrasted nicely with the white bodywork, roof bars, tinted rear windows, twin exhaust effect trim, LED headlights with LED daytime running lights and a blue shading on the front bumper and on an Airbump insert to highlight the car as a hybrid. The 19-inch two-tone alloys along with some hybrid-specific badging complete the upmarket styling.
Moving inside the cabin oozes charm with a clutter-free layout that is ultra-modern with wealth of on-board technology to explore. There is a soft touch matt dashboard with smart grey inserts that looks really high-class and white mood lighting that can be dimmed according to preference.
A few hard plastic surfaces rather let the standards down a little, but generally the car is very high-end with quality materials and upholstery throughout, neat decorative inlays and some modern-looking instrumentation.
The C5 Aircross PHEV has a really nice feel to it and once you are settled in the driver's seat, the silence of the cabin is beautifully refined with all occupants well protected from engine, road surface and wind noise.
Customers can choose from 30 colour combinations and there are also four different interior packages.
In The Car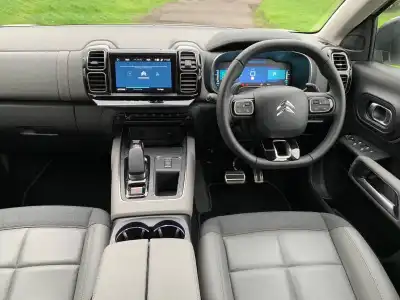 Behind the Wheel
The driver's seat inside the C5 Aircross is power-adjustable, so finding a comfortable driving position is a quick and simple process and all the dials, controls and readouts are perfectly positioned for ease of use on the fly.
That is all, apart from the climate control system. For some reason Citroen thinks it's okay to have to navigate a touchscreen menu to adjust the temperature inside the car. It's not! Even with quick access keys, it's still far too complicated.
But that gripe aside, the car is packed with technology. There is full smartphone connectivity via Mirror Screen which links both Apple CarPlay and Android Auto, voice recognition for the radio, navigation and phone, a wireless phone charging pad, an eight-inch touchscreen, a DAB radio, dual zone air conditioning and a 12.3-inch information display behind the steering wheel that can be fully customised.
This information screen displays lots of hybrid-related data such as the power outputs, electricity and fuel gauges, range and an energy flow diagram. When driving in pure EV-only mode a blue indicator lights up to confirm your selection and the car's performance is just as impressive with instant power and acceleration.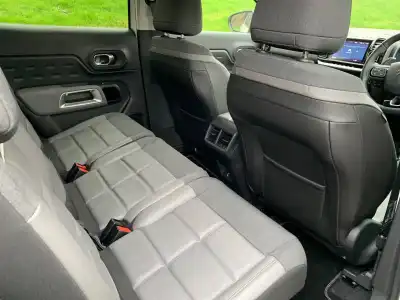 Space & Practicality
The C5 Aircross has been designed with families in mind so the comfort levels are good throughout.
There is a generously-sized boot that is accessed via a power-operated tailgate and it can swallow 460 litres of kit. This limit increases to 1,510 litres with the split-folding rear seats dropped flat and there is space to store the charge cable beneath the boot floor.
The trio of individual rear seats can slide back and forth and also are incline adjustable with the option to fold them flat for extra storage space.
Throughout the cabin, there is a number of handy storage compartments, including a glovebox, central cubby, cup holders and good-sized door bins.
The wide-opening rear doors make entering or exiting the car very easy and this will be ideal for older passengers or gaining access to a child seat.
As the plug-in hybrid model is slightly heavier than its petrol or diesel siblings, the towing ability is reduced to 1.3 tonnes from 1.45 tonnes on some other versions.
The C5 Aircross PHEV measures 4.5 metres in length and is just shy of two metres wide, but all the on-board sensors and a reversing camera make it an easy car to park.
The car can be charged to 100 per cent capacity in less than two hours via a standard 7kW home charging wallbox.
Ownership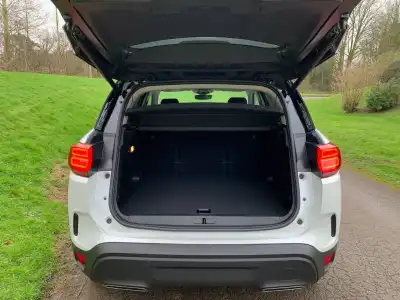 Running Costs
The Citroen C5 Aircross with plug-in hybrid technology is available in two trim levels called Shine and Shine Plus. Our range-topping Plus model was priced at £35,835, increasing to £36,805 with a few options fitted.
The EV-only range of 34 miles is well within the average daily commute so running costs could be kept to a minimum and there are tax savings too, so some of the initial costs can be off-set.
Officially, under WLTP testing, the car has combined fuel efficiency of 157.2-223.3mpg with carbon emissions of 32-41g/km of carbon emissions (it is zero g/km when driving in EV-only mode).
The official mpg would only ever be seen realistically if the car was driven in EV-only mode on a very regular basis. But the low CO2 figure would make it exempt from any first year Vehicle Excise Duty charge and it would be set at the standard rate of £145 after 12 months.
For any business owners, the Benefit in Kind tax rating would be a very tempting 11 per cent.
Obviously, for anyone who clocks up heavy motorway mileage, the diesel models would be more viable.
The C5 Aircross PHEV in Shine Plus trim sits in insurance group 27.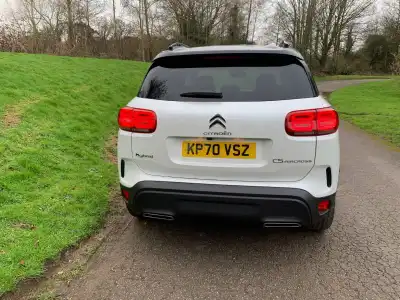 Quality & Reliability
The Citroen C5 Aircross regularly scores well in customer satisfaction and reliability surveys and the addition of the plug-in hybrid technology shouldn't impact on that impressive reputation.
The exterior of the car is protected against knocks and scratches thanks to the Airbumps, that despite being reduced in size, are still practical if a neighbouring car door is opened against them.
The interior oozes charm and is created from premium quality materials with wipe-clean surfaces, along with upholstery and switchgear that has been designed with longevity in mind.
The exceptionally comfortable seats incorporate high density foam with textured foam nearer the surface. This keeps the seats feeling soft as well as holding their shape and offering good levels of support.
There is a fair amount of hard plastic surfaces which may prove prone to scratches over time, but generally, the build quality levels are very high.
The vehicle comes with Citroen's three-year, 60,000-mile warranty.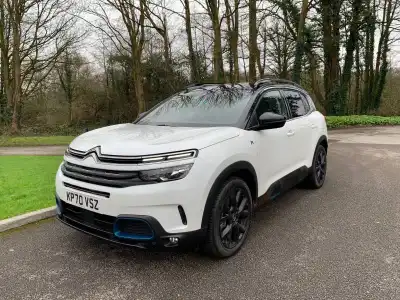 Safety & Security
The entry-level Citroen C5 Aircross was awarded four stars when tested for its Euro NCAP safety rating, but the hybrid versions both gain the Safety Plus Pack so are deemed five-star-rated models.
That's because the pack includes the upgraded emergency braking system with radar to detect passengers and cyclists.
Other on-board features include active lane departure warning, blind spot monitoring, highway driver assist, intelligent beam headlights, collision risk alert and post collision safety brake, extended traffic sign recognition, active cruise control with stop & go, traction control and stability programme, Isofix child seat fittings, driver attention alert, plus a full suite of airbags.
The car is fitted with an alarm system to keep intruders at bay.
Summary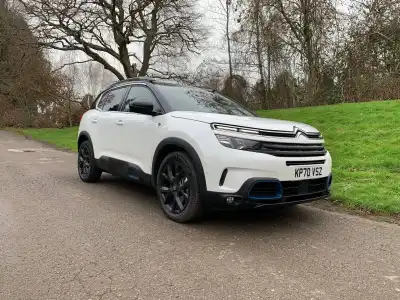 The Citroen C5 Aircross has long been viewed as a great vehicle packed with quality features to suit the needs of any active family. Now, the addition of plug-in hybrid technology makes it a very attractive option for business drivers too.