From £35,900
Pros:
Supremely fast on open roads

Supremely practical as a family car

Tested and proven parts from the VW group provides reassurance
Cons:
Aftermarket-like styling isn't entirely convincing

Despite undoubted speed, driving engagement is missing

Interior slightly lacks the wow-factor
Secure your test drive today
Request a SEAT Ateca test drive
Introduction
If you've ever seen a Seat wearing a spoiler and going a bit quick, it was likely a Cupra-badged model. Now the Spanish firm has decided to spin the Cupra name into its own niche-filling brand of hot hatches and SUVs. This, therefore, is the Cupra Ateca and not, as you might expect, the Seat Ateca Cupra.
It's starting with a rebadged version of the Seat Ateca, a pleasing medium-sized SUV, removing anything that was remotely sensible and replacing it with spoilers, side skirts, exhausts and a powerful engine.
It's a car that combines as much practicality as the Ateca ever did - which is quite a lot - with the go-faster performance of the Cupra name, but turned up to 11.
On The Road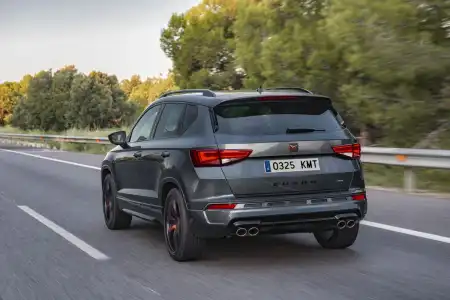 Performance
There's a 2.0-litre turbocharged petrol engine under that high bonnet, lifted from the Volkswagen Golf R. In the Cupra it produces a very healthy 300hp, which is enough to move the 1.6-tonner Ateca from standstill to 62mph in just 5.2 seconds. Keep your foot down and it'll reach a heady 152mph.
With four-wheel drive, it's easy to get all that power on the floor, but the seven-speed automatic gearbox doesn't always keep up with proceedings. From, say, 40mph to 70mph it's quick, but only once the gearbox has decided which gear it needs to be in. It's quicker to use the gear selection paddles behind the steering wheel, which makes accessing the power far easier.
Even then, it never really feels that fast. The stopwatch doesn't lie, and the Cupra really does cover ground quickly, but the car is so capable and you sit so isolated from what's happening that it almost removes the vital sensations that a car quite so overtly sporting should provide.
Ride Handling
Four-wheel drive ensures that the Ateca remains stable under most circumstances, only running its nose wide under extreme provocation. It carries speed through twisting roads well, turning in quite sharply as each corner arrives. String them together and the weight and height of the car show themselves, but there's no shortage of grip.
Running along a closed section of mountain road, knowing nothing could possibly be coming the other way, the Cupra Ateca made swift time. Switching the adjustable suspension to Cupra mode (there's Comfort, Sport and Cupra) stiffened the car up and sharpened responses, but there was something missing.
The Ateca is based on the MQB chassis that underpins everything from the Skoda Fabia to the Volkswagen Arteon, and it's been honed and refined to such a degree that it's almost too good. There's no sense of excitement at anything near normal speeds, no frisson of drama to make the driver feel like they're a hero. It's just turn, power, brake, turn, power, brake, and repeat.
There are family cars that offer more grip (including the Seat Leon Cupra R), cars that engage more (Honda Civic Type R) and models that offer have a more emotional engine and exhaust notes (Ford Focus RS). None of them are bad in the Ateca, but it's a rapid all-rounder rather than a more practical hot hatch.
Embrace the SUV side of things and select Comfort mode, and the Ateca is much like any other medium SUV. It sits 10mm closer to the road than the Seat model it's based on, and has stiffer suspension to start with, so it necessarily provides a less cosseting ride than the standard car, but it's never uncomfortable.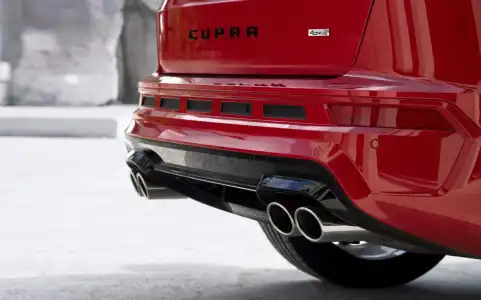 Styling
The four-cylinder engine up front is refined, quiet and smooth when cruising around, only getting vocal when pushed hard. At that point it's not exactly pleasant, but inoffensive. Of course, refinement isn't that critical when racing up a mountain pass.
For the rest of us, the Cupra Ateca makes a pretty good fist of things. Turning the suspension to Comfort relaxes the car, allowing it to dismiss most imperfections in the road without too much difficulty. Of course even at its softest it's still a rather firm ride, but there's no suspension noise interrupting proceedings.
The gearbox is silky smooth too, swapping between rations in Comfort mode without raising awareness. I'm sure it would have been a comfortable place to be, when not hurtling around the countryside, but our test model had the optional Design Pack fitted. As well as uprated brakes and larger wheels, it also includes bucket seats that, while supportive, did little to cushion.
In The Car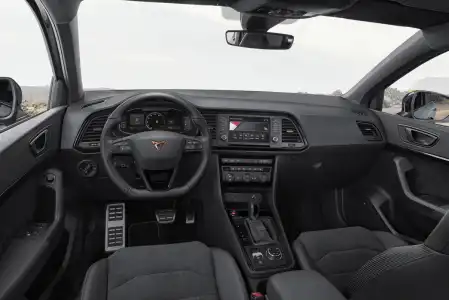 Behind the Wheel
If there's one area Cupra needs to work on to differentiate itself from its siblings at Seat, it's the interior. There's absolutely nothing wrong with the interior of the Ateca, but it's made the jump from Seat to Cupra with barely any changes.
Only a change from traditional dials to an all-digital screen in the instrument binnacle marks out the Cupra Ateca as being special. Elsewhere it remains typically Seat, with straight lines, pleasingly positioned switchgear and a well considered infotainment touchscreen system.
Splashing out an extra £4,000 or on the Design Pack adds some stylish and dramatic bucket seats, which lifts the ambience somewhat, but it still reminds you of a sensible family car rather than a fire-breathing sports-SUV.
It's supremely competent then but, again, not that exciting.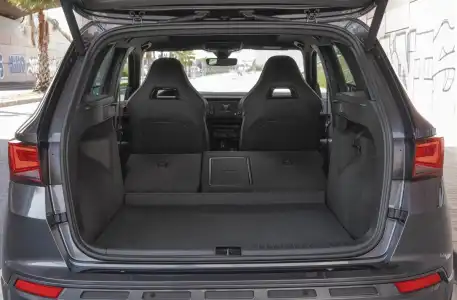 Space & Practicality
It would be possible to copy and paste this section from the Seat Ateca review - nothing Cupra has done to create this model has changed the available space, dimensions or practicalities.
As the donor model was designed to be a sensible family SUV, the Cupra version pulls of the same result. The front half of the cabin is spacious, with more than enough room for two rather sturdy occupants. In the rear things are a little tighter, and three-wide won't be comfortable, but it's accommodating enough for most.
The boot is capacious, able to take some 500-litres of whatever family gubbins you have that you might want to carry around with you. Fold the rear seats down and that extends to an enormous 1,604-litres which, whilst not quite best in class, is knocking on the door.
Oddment spaces are plentiful around the cabin, but the glovebox is an unusual shape that makes it hard to store anything beyond some gloves.
Ownership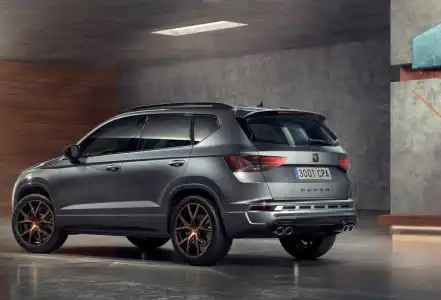 Running Costs
When a car has an official economy figure of just 38.2mpg, running costs won't come cheap. That said, under normal driving conditions the Ateca didn't stray too far away from that figure, so at least you'll know what to expect. Yes, open the throttle and the fuel rushes through at an alarming rate, but you would expect that.
Nobody is quite sure where depreciation is going to go, although it's unlikely to be any worse than a regular Seat. That means leasing and PCP costs should be kept in check, but with a list price of around £36,000, you'll still be forking out an awful lot of money for the car.
And with CO2 emissions of at least 168g/km, company car buyers are going to wince a little. Pleasingly, even after opting for the Design Pack, the total price comes in below the £40,000 road tax threshold, so all users will pay £140 a year.
The flip side of all that is a simplified buying process that sees Cupra include all paint options, up to three year's servicing, and the first MOT into the standard price.
Quality & Reliability
As part of the Volkswagen Group, and based on a Seat model, it's expected that the Cupra Ateca will be every bit as reliable as its cousins. In this year's Auto Express Driver Power survey, Seat came 14th overall, ahead of Ford and Hyundai. However, sister brands Volkswagen and Skoda, makers of the Tiguan and Karoq rivals, both scored higher.
Cupra is also including as much as three year's worth of servicing with the Ateca, helping to ensure that it's kept in tip-top condition. Should the worst happen, there's also UK and European breakdown recovery included in the car's price.
Not that there should be any significant issues - the Volkswagen Golf R, with which the Ateca shares a reasonable amount of parts, has owners reporting very few problems.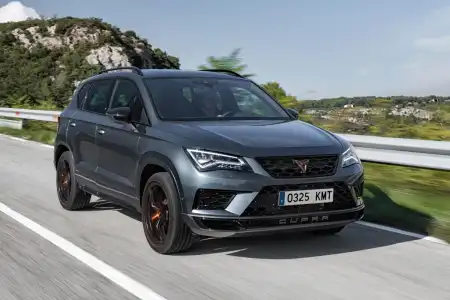 Safety & Security
Whilst the Cupra Ateca hasn't been tested by EuroNCAP, it's physically the same car as the Seat Ateca, so it's safe to assume the five-star safety rating from that will apply. For a family-friendly car, a score of 83% for child passenger protection is reassuring
The car comes with some safety equipment as standard, including the usual stability control programme and automatic emergency braking, but increased protection will be available by adding the Advanced Driving Assistance Pack.
Keyless entry is fitted as standard, which adds convenience but is currently leading to an upturn in car thefts.
Secure your test drive today
Request a SEAT Ateca test drive