Pros:
Impressive performance

Surprising practicality

Pleasing quality feel
Cons:
Powerful versions are very thirsty

Not particularly engaging

Similar CUPRA Ateca model is more practical
Secure your test drive today
Request a Cupra Formentor test drive
Introduction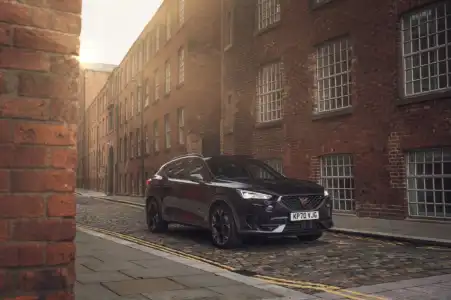 If you've ever looked at the CUPRA Ateca and thought "that's the car for me, but it's slightly too practical," then the Formentor might just be the perfect vehicle for you.
Taking the sensible Ateca SUV as its base, CUPRA has chiselled away at the bodywork to create a sleeker, more steeply raked design and shoehorned in a 310hp petrol engine. There's also four-wheel drive, a seven-speed DSG automatic gearbox and bronze detailing that stands out amongst a crowd of dull-but-worthy rivals.
The shell is unique to CUPRA, so you won't be seeing any run of the mill SEAT versions on the road, giving the Formentor a rather rarified presence. Look underneath, however, and it's the usual Volkswagen Group MQB chassis that underpins everything from the Audi TT to the Skoda Superb.
On The Road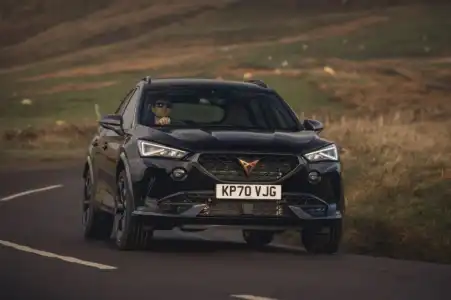 Performance
There's a tried and tested 2.0-litre petrol engine under that distinctive bonnet, producing 310hp. That power goes through a seven-speed DSG automatic gearbox before finding its way to all four wheels. All that weighs a reasonably hefty 1,644kg, but that's less than many of its rivals (including from within the Volkswagen Group) which makes for impressive performance.
What that translates to is the ability to rocket off the line to 62mph in just 4.9 seconds, before continuing to an electronically limited top speed of 155mph. That's properly rapid, quicker even than a Honda Civic Type R, for example.
Four-wheel drive ensures all that power goes to the tarmac effectively, but the surfeit of traction and the slick automatic gearbox does keep your level of excitement in check. It's so easy to plant your foot and let the car do all the work but, fortunately, the Formentor has a little more depth to it than simply going fast in a straight line.
The less enthusiastic amongst us will be pleased with the option of a 1.5-litre petrol engine or even the e-hybrid option. Each is significantly slower, but also significantly cheaper and significantly less thirsty.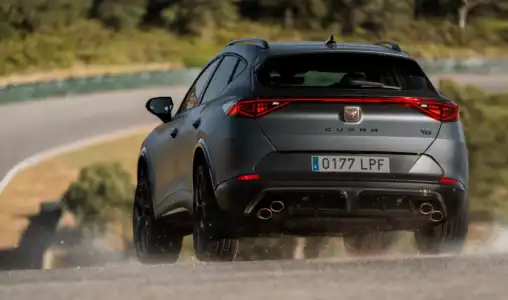 Ride Handling
Building the Formentor up to be a pseudo-SUV means that ultimate handling abilities are limited, but not by much. There's so much grip and stability to the car that it's almost clinical in its ability to cover ground, which makes it slightly less fun than you might like.
However, it's still a family-friendly SUV at heart, and setting lap records or exploring oversteer limits are not the preserve of a family's designated driver. Security and confidence are the names of the game instead, which are qualities the Formentor provides by the bucket load.
Despite that limitation, the Formentor is astonishingly quick across country. The steering, while lacking feel, is sharp and direct, and the body kept well controlled. You can hustle it along with alarming alacrity, and then relax into a reasonably comfortable cruise once you reach the less entertaining parts of your journey.
Settings for the adaptive suspension (and adaptive steering, engine mapping, and even the air-conditioning) allow you to tune the CUPRAto your mood, with the pre-programmed Comfort mode leaving the Formentor feeling like a slightly firmly spring luxury SUV. Turn the dial to the other side, called CUPRA, and everything gets turned up to 11. That's perfect for a solo cross-country blast but utterly tiresome for a long motorway journey with the kids and a dog in the back.
Pleasingly, Comfort and Sport modes will cover most demands, and cover them well.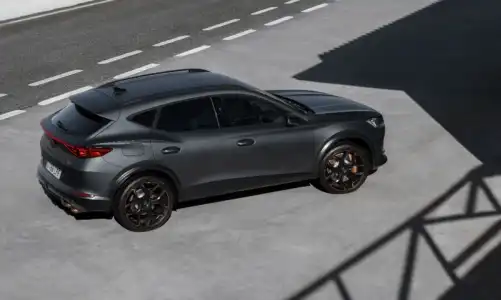 Styling
Wide tyres on 19-inch wheels are usually a recipe for noise and vibrations, but the CUPRA Formentor keeps the road surprisingly well isolated from the cabin, beyond a general drone as the rubber hits the tarmac. Likewise, any wind noise is little more than a distant tone, and there's little engine noise.
CUPRA has elected not to pipe fake engine roar into the cabin either, which is definitely a good thing. Granted, the engine isn't the most harmonious of units, but at least you're not forced to hear an amplified version of it.
The gearbox deserves praise, too. Usually, you'll find a significant degree of hesitancy as the computers work out what gear you want, but it seems sharper and quicker in the CUPRA. Rarely do you put your foot down and sit, waiting for the car to catch up with your inputs. This makes for smoother driving and a more refined journey.
In The Car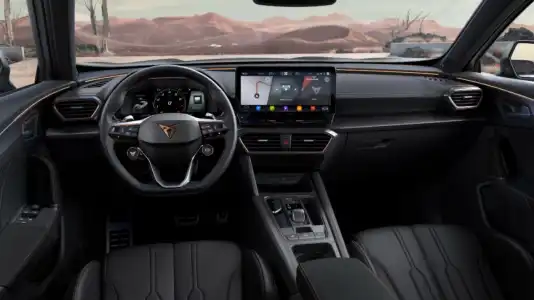 Behind the Wheel
CUPRA is definitely a separate brand from Seat, or at least that's what they keep saying. However, step inside the car and you can see Seat's influence. It's all pretty conventional, with the dashboard dominated by a 12.0-inch infotainment screen that sits ahead of a gunwale-like band of light that runs around the front of the cabin.
This band of light includes the blind-spot warning lights, flashing when you're about to pull out into the path of a hidden car behind you. It's unusual but works brilliantly.
While most controls are tucked away behind the screen, with its reasonably simple controls but ultimately overwhelming array of options, some controls remain on physical switches. There's also a steering wheel with around 20 buttons or switches on it, sitting ahead of a digital instrument panel.
It's all very modern but could do with a little simplification in places. A simple rotary knob to adjust the cabin temperature wouldn't go amiss, but at least there's a volume control you can reach for.
Interesting material choices - there's faux-carbon fibre, plush Nappa leather seats and copper detailing around the interior - lift the cabin ambience, too.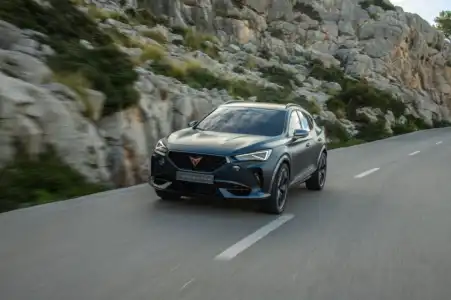 Space & Practicality
CUPRA has pulled off something of a coup here, making its coupe-SUV more spacious than the actual-SUV Ateca that it's based around. It's marginally longer, immeasurably narrower and quite a bit lower than the Ateca but, vitally, the wheelbase is longer allowing for more legroom in the cabin.
There's more than enough space in the front, and plenty of space in the rear seats. Even the headroom provided is decent, despite the raked roofline.
Open the hatchback and you'll find 420 litres of cargo capacity in the all-wheel-drive models. Opt for the basic front-wheel-drive choice and that extends to 450 litres. The rear seats split and fold down flat, extending capacity to 1,475 litres. All of those measurements are slightly smaller than you'll find in the Ateca, but not by much.
Ownership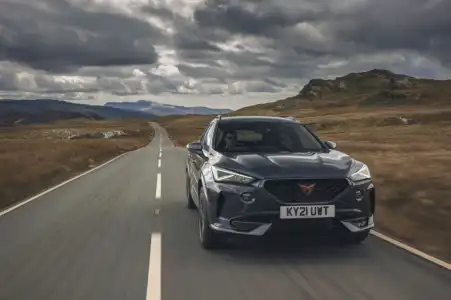 Running Costs
The average 25mpg recorded during our testing might be enough to put some people off, but there's reassuring normality to the costs in running the Formentor.
Being based on tried and tested Volkswagen mechanicals, maintenance and repairs will be easy. It's backed by a three year or 60,000-mile warranty too, which should keep any repair bills early on to a minimum.
And, while you'll be visiting your local petrol station quite frequently if you pick this 310hp model, other options will keep you away from the pumps. This model promises around 32mpg officially, but the 150hp 1.5 TSI improves that to as much as 45mpg. If you need more, then a plug-in hybrid option will provide as much as 37 miles of pure electric driving and an overall economy figure as high as 235mpg.
Business users might want to look elsewhere, though. Those low fuel economy figures translate into high CO2 emissions and high BIK rates. Only the hybrid models drop below 32%, going as low as 11%, with most hitting the maximum 37% rate.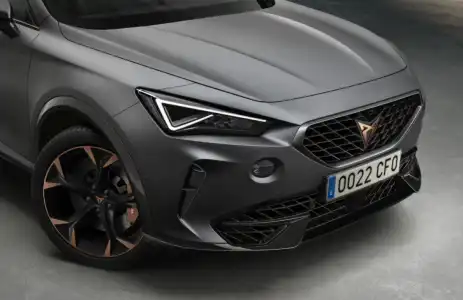 Quality & Reliability
You would expect a car from the Volkswagen Group to feel well made, and the perceived quality in the Formentor is impressive. The build quality is excellent, with a feeling of solidity running right through the car.
Material choices, including expensive Nappa leather for the seats on some models, add to the feeling that this has been built with few expenses spared. Of course, some cheaper materials are dotted around, but they're in places you'll rarely see and even more rarely touch.
Reliability should prove to be about average. Volkswagen, Seat and Audi all scored around the same in the What Car? magazine reliability survey, finishing in the middle of the table of manufacturers.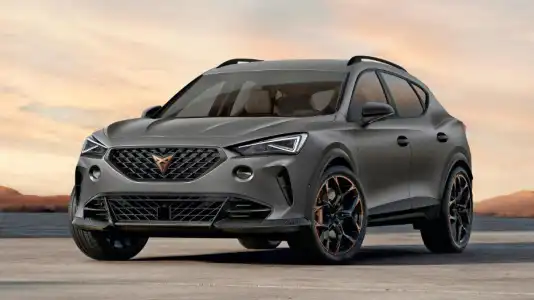 Safety & Security
Euro NCAP ran the Formentor through its comprehensive safety testing, and it came out with a full five-star rating.
Passengers should be well protected should the worst happen, although that bold nose proves to be a little brutal against pedestrians. You should be able to avoid any impact though, as every Formentor comes fitted with automatic emergency braking.
There's also adaptive cruise control (with an irritating prediction function that tries to guess what other vehicles are about to do), road sign recognition and automatic high beam lights. You'll need to move to the VZ1 grade to benefit from blind-spot monitoring, and the useful exit assist - this provides an audible and visual warning of approaching traffic when opening doors.
Secure your test drive today
Request a Cupra Formentor test drive