Pros:
Entertaining ride

Good range

Sylish looks
Cons:
Questionalble interior quality

Rear room

Blind spots
More On This Car
Take one for a spin or order a brochure
Request a Fiat 500 brochure
Request a Fiat 500 test drive
Introduction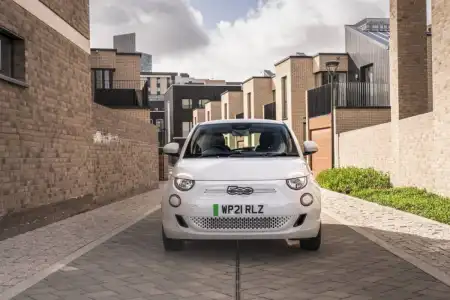 Thirteen may be a figure associated with superstition, but it's a lucky number for this Italian automaker. Unbelievably, thirteen, getting on for fourteen, years have passed since Fiat's 500 re-entered the automotive market. The car has always been based on chic retro 50s design.
But now, Fiat is looking ahead with its 500e - the all-new electric model. Yep, no fossil fuel will run through the veins of this 500. Mind you; the old-style 500 is still sold in hybrid guise. Yes, it's a tad confusing. But, whatever, electric is all the rage - and it'll continue to be that way if the UK government has its way.
On The Road
Performance
The all-new Fiat 500 electric is made to zip around suburbia and town centres. So, to evaluate it on how it does at high speed is pointless. It accelerates very well, though. The 70kw entry-level electric motor produces 93hp, while the others are 87kw power units kicking out 118hp. Zero to 60mph dashes are accomplished in around nine to 10 seconds, depending on which model you buy. That's not amazingly speedy, but it's unlikely to be an issue in urban areas – it still feels nippy enough when accelerating away from traffic lights.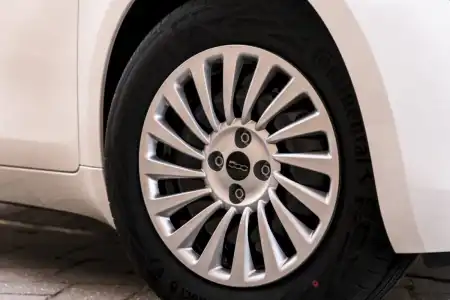 Ride Handling
The new Fiat 500 electric weighs 1300kg, which sounds okay on paper. But, this is 35 per cent heavier than the outgoing internal combustion propelled 500. You see, electric vehicles (EVs) are still at the mercy of their weighty batteries, and, clearly, the Fiat is no exception. The additional heft means the new incarnation of the 500 doesn't feel as nimble as before. But
there is a silver lining - the car's short wheelbase gives it a low centre of gravity, resulting in little to no roll in the bends.
Alright, the quicker you go, the more you'll notice bumps and knocks when riding over scarred tarmac, particularly with larger wheels. It's not vertebrae-crushing, but it's not serene, either.
There is noticeable road noise as well, particularly on the 500 Cabriolet, which we'd steer clear of for that reason. Mind you; tyre rumble is always more apparent when there's no traditional engine sound. Therefore, for gentle cruising, you could consider the soft-top for those rare occasions when it doesn't rain in Britain.
The 500e is not a bad car to drive by any means, but it doesn't quite match some competitors' overall ride and handling standards, like the Mini E and Honda E.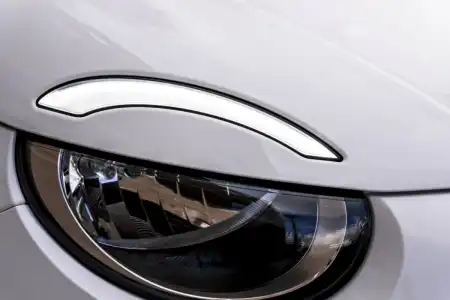 Styling
The diminutive size of the legendary 500 has always been at the heart of its character, but the all-new 500e is larger. As a result, the fresh model is not only longer and wider but taller, too. While it looks like it's put on some lockdown lard, the extra timber suits it, so the car has lost none of its charm.
Indeed, the 500e is very stylish, with halo-like lights and a cheese-grater-esque grille, bringing a more aggressive edge to what was already an eye-candy car.
The cutesy Fiat does appear to be less innocent and modest than its predecessor. But crucially, it retains that je ne sais quoi character while bringing an injection of refreshing modernity.
The significance of the Fiat 500e's appearance shouldn't be dismissed - the looks are at the core of what the vehicle is about; otherwise, you'd probably not even bother reading this review.
What's more, the car comes with LED headlights on some grades, and a rear spoiler adds a touch of sportiness.
In The Car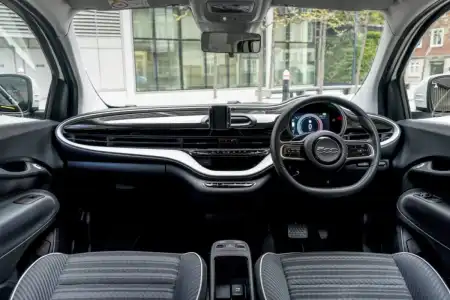 Behind the Wheel
Fiat has given the interior a whole new look – and, wow, what a job the manufacturer has carried out. Italy, the nation of fashion, needs no lessons in style, that's for sure.
The 500e has a classily designed dashboard, and the switchgear is arranged in such a way that you could forget you were purchasing a Fiat.
And because the all-new 500 is electric, there's no conventional gear stick. Instead, you get Park, Reverse, Neutral, and Drive buttons.
There are also digital dials that allow access to things like eco-driving data, the trip computer and navigation.
Okay, it's not perfect - some of the 500's interior feels a little cheap, and the whole centre console moves if you prod it. However, we're nit-picking here - overall, we can forgive the odd flaw – the 500e has personality by the bucket load.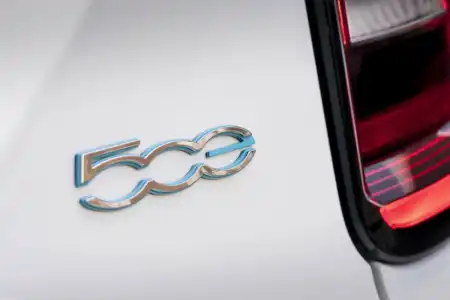 Space & Practicality
The new Fiat 500 electric houses a cargo capacity of 185-litres, which balloons to 550-litres with the back seats folded down. It's small, yes, but it's no surprise.
The Italian is bigger than the Japanese Honda E, which has 171-litres, although the Honda's boot room swells to 861-litres with the seats folded. On the other hand, the Mini E boasts a 211-litre boot, enlarging to 731 litres of luggage space.
Let's be frank, though; no one buys or leases a city car for its ample boot room.
Up in the front, headroom is not an issue despite the car's challenging size. Indeed, you'll be happy with the amount of leg, head and shoulder room. However, the wind is quickly taken out of the 500e's sails when getting in the rear. For all the positive points of the front, the Fiat's rear space is almost non-existent.
It's a strict four-seater, so consider that for a start if you have more than two kids. Secondly, there's not enough headroom for anyone of adult height. So, expect to have a cricked neck if you're unfortunate enough to be a back-seat passenger in the latest 500.
Weirdly, tots might be an issue, too. Not babies or toddlers specifically, but their car safety seats. When we tested the 500e, the rear seats are so tiny that a lofty driver will need to yank their seat forward to fit the tot's car seat in.
On the glass half full side, there's decent storage room inside and a large glovebox. Beware of the car's blind spots, though, as the design of the 500e gives it thick pillars, especially on either side of the rear screen.
Ownership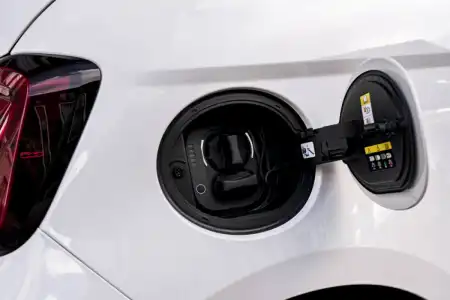 Running Costs
The 500e comes with a couple of battery options – 23.8kwh or 42kwh. The smaller of the two will allow up to 115 miles of range, while the larger battery will give as much as 199 miles. That said, in real-world testing, expect around 150 miles of range.
You can plug the 500 into a domestic socket, but it'll take hours to charge if you do that. A fast-charge cable can be bought, though, which will take the larger battery from zero to 80 per cent in 35 minutes.
The trio of driving modes - Normal, Range and Sherpa - help to get the most out of the Fiat's range on a solitary charge.
You can also select from five settings, depending on how speedily you want the 500 to charge. So, if you're running low on electrons, but you know somewhere free or low-cost to top up, you can set the Fiat to charge minimally at home. Then you can drive it somewhere else to fully charge up, which will help save you from receiving steep utility bills.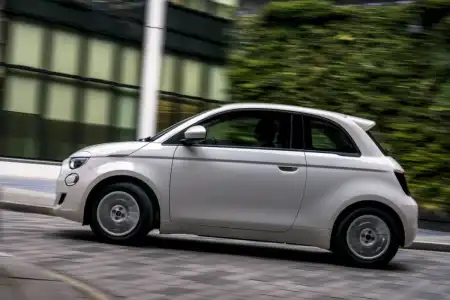 Quality & Reliability
Other than a few cheap bits here and there inside, the overall quality of the latest 500 is good. On the reliability side, it wouldn't be fair to judge it yet because the car is so new. However, given the patchy reliability of Fiat's products in years gone by, you might have to be a tad cautious. The former 500 had many recalls, with 14 issues in the last couple of years alone.
But, we should be positive here because the 500e doesn't share many mechanical parts with its forerunner. The fresh Fiat has an entirely new platform, and EVs are reliable due to their lack of oily parts under the bonnet. What's more, the Fiat 500 electric's battery is guaranteed for eight years or 100,000 miles.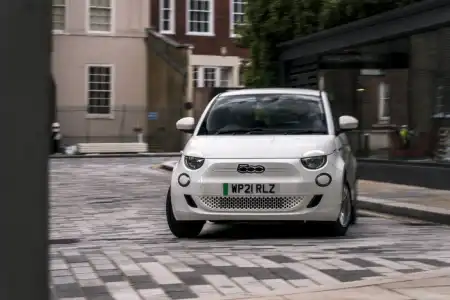 Safety & Security
The Fiat 500 electric hasn't been crash-tested by Euro NCAP yet. But, as it's larger and has lots of safety tech woven into it, we reckon it'll better the three-star safety rating its predecessor was awarded.
It's generally accepted that small vehicles get worse NCAP scores, which makes sense when you think about it.
That said, the Mini wears a four-star safety badge, so we'd hope all the safety tech housed within the Fiat will notch up the score above the old 500's rating.
Summary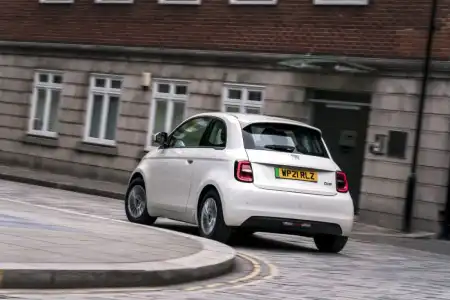 Overall, the Fiat 500e is compelling. Its two purposes are looking stylish and being good at city driving - and it delivers that effortlessly. The EV market may still be developing, but the 500e has to be considered one of the best so far.
More On This Car
Take one for a spin or order a brochure
Request a Fiat 500 brochure
Request a Fiat 500 test drive