Pros:
Futuristic looks

Tesla-esque design without a six-figure price

Highly practical
Cons:
Unrealistic 'sports car' handling claims

New brand brings uncertainty

Lack of dealerships
Introduction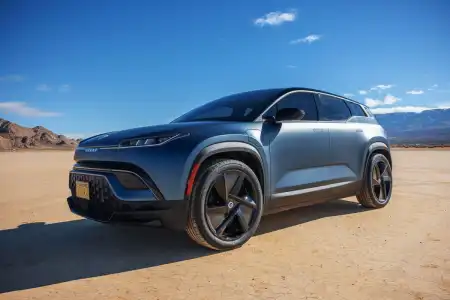 Fisker is an unfamiliar name in the United Kingdom, but the brand has been around since 2005.
Its first attempts at cars weren't successful, taking the Mercedes-Benz SL and BMW 6 Series and 'de-Europeanising' them by fitting a more traditionally American-styled body.
It later launched a plug-in hybrid sports car called the Karma (which looked like an Americanised Aston Martin). But then the company went bust.
Not to be discouraged, Fisker relaunched itself in 2016 and began exploring electric cars – and the Ocean SUV was born.
Given there is a level of British snobbery when it comes to American car culture, none of the above is encouraging. But I shouldn't be so hasty to judge.
Firstly, the Fisker Ocean is a world away from the old company in ethos and design. And secondly, the Fisker name belongs to Henrik Fisker, who counts the Aston Martin DB9 among the car he's designed.
This is no wannabe back-street industrial estate start-up. On the contrary, Fisker is a man who knows what he's doing.
The Ocean is a small SUV aiming to rival the likes of BMW's iX3, Volkswagen's ID.4 and even Audi's Q4 e-tron.
There will be three trims, with entry-level Sport having 20-inch wheels, front-wheel-drive, a 17-inch infotainment screen, a digital rear-view mirror, and a premium sound system. The Ultra trim has a four-wheel-drive system and adds a 360-degree camera and SmartTraction torque vectoring. Extreme is also a four-wheel-drive and upgrades the alloys to 22-inches and adds automatic parking and a separate tablet in the rear so that passengers can control the temperature and media.
There will also be a limited run of 5,000 vehicles worldwide in a special trim called 'One'. This grade is based on the Extreme trim, which includes a couple of styling touches and an 'Ocean Blue' matte body colour.
The car's not ready yet, so I'm yet to drive one, but the early signs are very encouraging.

On The Road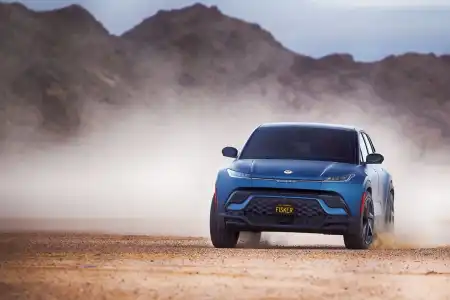 Performance
The amount of muscle you'll be getting depends on which trim you choose and is yet to be established.
There are conflicting reports about the entry-level Sport model, but it looks like it will produce around 275PS with a 0-62mph time of just over 7.0-seconds.
Indications are that the Ultra version will have 540PS, managing to get up to 62mph in 4.2-seconds, while the Extreme trim will be more potent at 550PS, achieving 0-62mph in 3.9-seconds.
These figures aren't set in stone, but I can be confident the Ocean will be no sloth.
There will be three driving modes called 'Earth', 'Fun' and 'Hyper', although the latter isn't included on the entry-level model.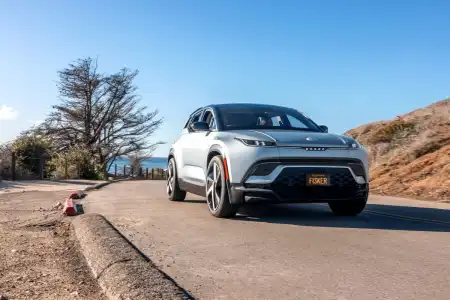 Ride Handling
Fisker has maximised lightweight materials to keep the weight down. Electric SUVs are notoriously heavy due to their batteries, but that can create a low centre of gravity, which helps with handling.
It is important not to read too much into manufacturers' PR spin, but I'm looking forward to driving the Ocean because Fisker claims it'll handle like a sports car.
I will be brutally honest here: while I've driven many excellent handling SUVs, I've never driven one that handled like a sports car.
Let's face it; they're two very different things. I don't think the Fisker Ocean is a pig, but the phrase "you can put lipstick on a pig, but it's still a pig" springs to mind. I am sceptical.
Nevertheless, hearing bold (even if excessively optimistic) claims about its handling shows that it's at the forefront of Fisker's mind, so I'll be keeping my fingers crossed.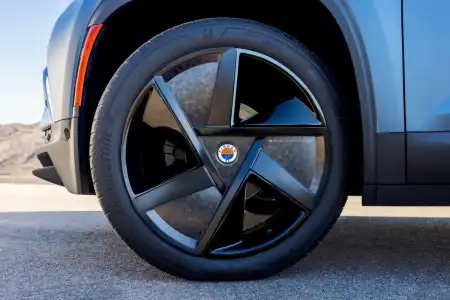 Styling
When I first saw the Fisker Ocean, I thought it was a Range Rover Evoque. But, thanks to the sloping roofline, you'd struggle to tell them apart in silhouette from a distance. However, move closer, and its unique personality is revealed.
The front looks futuristic, especially as the Ocean logo at the front illuminates, along with a wide LED strip. The back is exceptionally minimalist, due to razor-thin LED taillights. Meanwhile, there are pronounced wheel arches and flush, pop-out door handles at the sides.
The top-of-the-range version even includes a solar roof to put some charge back into the batteries. In addition, Ultra and Extreme trims get 'California mode' whereby nearly every window (including the rear windscreen) can be opened.
Even the tiny windows behind the back doors open for dogs to poke their heads through.
I don't know how many paint colours will be available, but I've seen models shown off in matte, gloss, and metallic paint.
In The Car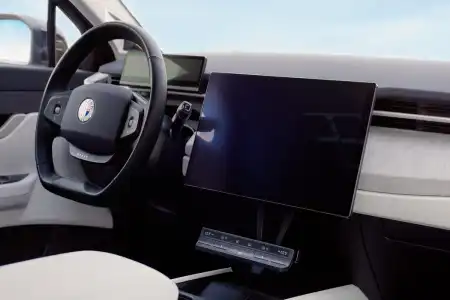 Behind the Wheel
The interior is awe-inspiring. It is mainly all white, but with some sections in grey and black to break things up a bit. It looks the part and has a Tesla-like feel about it.
The steering wheel is flat-bottomed but otherwise looks conventional, while a small tablet-like digital instrument screen sits behind it.
The party piece is the 17-inch touchscreen, which can be rotated by pressing a button. And although I don't yet know what the infotainment system will look like, Fisker's attention to detail elsewhere suggests it will be focusing on the system's usability.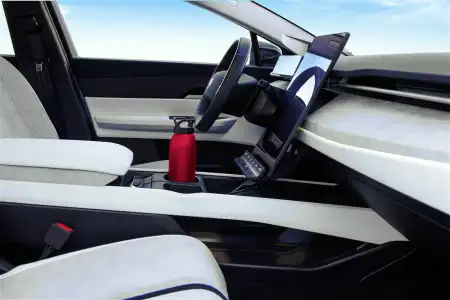 Space & Practicality
The seats are comfortable, and there is a load of space throughout the cabin, with even taller passengers not limited for headroom or legroom in the rear.
You get a 566-litre boot, which is impressive for its class and rivals larger SUVs. What's more, the seats can be folded down to expand the available space to 1,274-litres.
For those who want something bigger, Fisker is planning a seven-seater version. But we're likely to be waiting another two to three years for it.
Ownership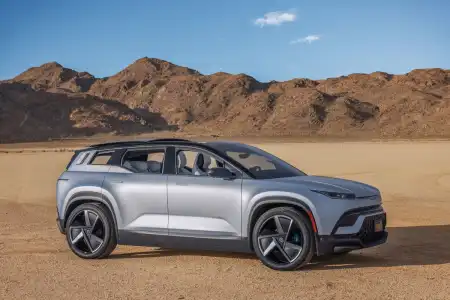 Running Costs
Given it produces zero emissions, the Fisker Ocean will cost nothing to tax. It will be very low for company car tax, too, which will boost its appeal.
I don't know how often or where Fisker cars will be serviced, as the brand has no British dealerships. However, it will likely follow Tesla's method of having servicing centres dotted around the country.
Due to having fewer moving parts, electric cars need servicing less frequently than petrols or diesels, so this should help with savings. And you'll save money by charging up at home versus paying to fill up the tank at the pumps.
Battery and charging details are yet to be established, but it's implied that the entry-level battery will be 80kW. The other two trims may have a 90kW battery, but all Fisker has said is that these grades will have 'much bigger' batteries than the entry-level car. So, we'll have to wait and see.
Charging speeds are likely to be 250kW, which is on a par with Tesla. This means a 10-80% charge could be achievable in around 15-20 minutes. A 0-100% charge from a 7kW home wall box would take over 12 hours.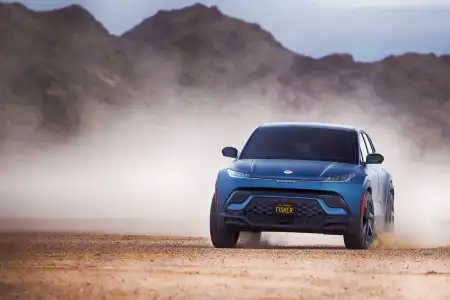 Quality & Reliability
Reliability will be impossibly difficult to gauge until the Ocean has been around for a couple of years. Being the 'new' Fisker's first car, there is no reliable (pun intended) history to look back on.
However, a couple of things offer peace of mind.
Firstly, it's being built by the reputable Magna Steyr in Austria, which makes Jaguar SUVs, the BMW 5-Series and Z4, and the Mercedes-Benz G-Class.
Secondly, Fisker is offering a whopping six-year warranty as standard. This is among the best offered in the UK (apart from a small handful who offer seven years).
The catch is that it's only valid for the first 60,000-miles. And that is the standard mileage on most cars that still come with a bargain-basement three-year warranty.
So, do 20,000 miles a year, and, in practice, your warranty's up in three years, not six.
On the plus side, the powertrain and battery get a ten-year,100,000-mile warranty, and there's a 12-year unlimited mileage corrosion guarantee.

Safety & Security
The Fisker Ocean is yet to be tested by Euro NCAP. My first impressions are that it feels solidly built – but I'm not qualified to declare if this means it'll get top marks.
The Ocean includes quite a lot of safety tech, although what you'll get depends on which trim you buy.
All versions include automatic emergency braking, driver attention warning and traffic sign recognition. Meanwhile, the Ultra features 'premium' automatic emergency braking and lane-keep assist. In addition, the Extreme adds adaptive cruise control and front and side collision warning.
There are few details on security features so far, but you'll be able to unlock the car via a smartphone.

Summary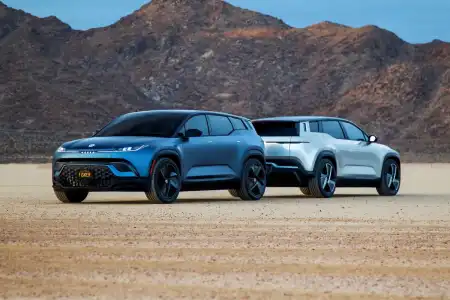 There are many unknowns about the Fisker Ocean in terms of performance, drivability, and battery figures.
I won't know how good it is until just before it launches – and I won't know how reliable it is for some time after that.
Pricewise, Sport will cost £34,900, Ultra will be £48,900, and Extreme (and the limited edition 'One') will cost £59,900.
I am scratching my shaved head as to why the price is so different for each one. In particular, between Ultra and Extreme, I'm yet to see what you're paying over £10,000 extra for. But it'll become clearer before it goes into production in November 2022, ahead of the model's arrival in the UK in 2023.
Nevertheless, the signs so far are encouraging. This is no fly-by-night venture operating out of a garage, and it certainly shows.
Fisker has created an excellent first impression. But how decent is it?
Until the ship arrives at the docks, I won't know for sure.