Pros:
Handles the same

Raised ride height helps soft-roading

Rugged looks
Cons:
No all-wheel drive

Same price as Titanium spec
More On This Car
Need more information?
Request Dealer Contact
Introduction
With crossovers taking over our roads Ford are hoping to capitalise on buyers who want some off-road ability without the bulk of an SUV.
To that end, they've raised the ride height of their Focus by 30mm at the front and 34mm at the rear, retuned the chassis to cope with this added loft and added two unique driving modes to help off-road and in bad weather.
Ford are betting big on this new 'Active' line-up, the Focus is the third and final vehicle to be given the soft-roader treatment, following the KA+ Active and Fiesta Active last year.
The only other brand to go down this route are Volvo with their Cross Country line of vehicles. Currently there's no other family sized hatchback offering the same as the new Ford Focus Active.
On The Road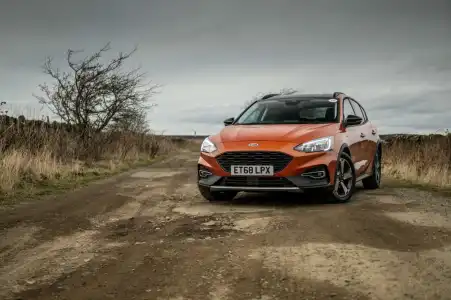 Performance
At launch, there are four engines to choose from. A 1.0 litre EcoBoost and 1.5 litre EcoBoost petrol along with a 1.5 litre and 2.0-litre EcoBlue diesel. Any engine can be paired with either the 6-speed manual or the 8-speed auto gearbox; all are front-wheel drive only.
The most popular model will be the 1.0 litre EcoBoost which provides a healthy 123 bhp which is plenty of power for most drivers. The little three-cylinder turbocharged engine has become a staple of Ford's line up, and you can see why.
If you're opting for the estate or need something with a little more grunt during off tarmac adventures, then the 1.5 litre with its 148 horses and 240 Nm of torque adds far more punch when needed.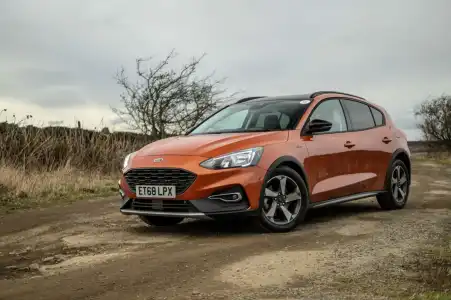 Ride Handling
When manufacturers raise ride height, it's often at the sacrifice of comfort or handling. Ford has done a sterling job of making the Focus Active respond just like a regular Focus. This is due to extensive chassis revisions including unique springs, dampers, stabiliser bars and a fancy suspension system that helps to isolate the cabin from what's going on underneath. Even the estate has its own custom rear suspension setup compared to the hatchback.
Turn into a corner, and you're met with a car that stays relatively flat, it doesn't wobble around and teeter on stilts as you'd expect it to with that 30mm lift. Chunky tyres with a deep sidewall also help soak up a lot of the smaller imperfections in our roads.
You will notice the firmer ride compared to your common all garden Focus though, the springs feel a lot stiffer – no doubt to negate some of that extra ride height – so you will find it can be a tad fidgety over broken sections of tarmac.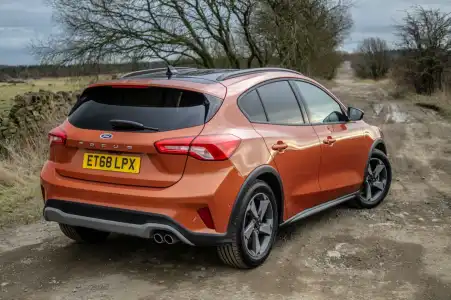 Styling
As with all three cylinders at higher engine speeds you'll notice the thrummy note they produce, it's more pronounced in the 1.0 litre when you push on, and only really audible in the 1.5 if you let it rev above 5,000. Overall both the estate and hatch are hushed places to be in terms of engine noise once up to a cruise.
Ford's new 8-speed automatic gearbox is a joy to drive; shifts are barely noticeable yet when you need a touch of power for an overtake it switches to a lower cog instantaneously. This is how all automatic gearboxes should be; it's also nice to see it being offered on even the entry-level 1.0 litre engine.
In The Car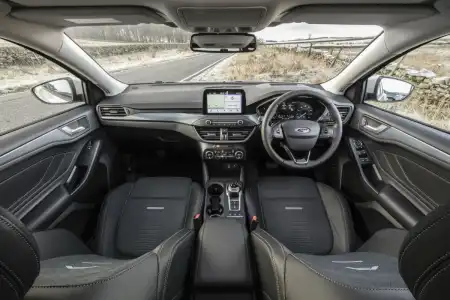 Behind the Wheel
A large 8-inch touch screen can be found front and centre sprouting from the dash, beneath it are a few controls for changing track, volume and a handy button for turning the screen off entirely for night driving.
Lower down you'll find the controls for the heating, these are housed in a rather tough plasticy piece of trim, it's of a different texture compared to anything else in the car and doesn't look great.
Cleanly laid out dials sit in front of the driver, the turquoise hues making the needles stand out against the crisp white of the numbers. It's so basic, but many manufacturers overcomplicated something should be simple and easy to read.
There's no full digital display here, just a small LCD between the revs and speed to show your MPG and all manner of other info.
Being the 'Active' model, you get some rough-road abilities to play with, Slippery and Trail. Slippery adjusts the traction control and ESC allowing more grip in mud, snow and ice. It helps to reduce straight ahead wheel spin when pulling away from being stationary; it also dulls the throttle response.
Trail mode helps to maintain momentum on soft surfaces like sand. It uses the anti-lock brakes to allow wheel slip; so the wheels can spin faster to clean sand, snow or mud from the tyres. Again it also limits throttle response.
Driving the Focus Active over a section of broken green lane was a doddle, the extra ground clearance let the Ford articulate over bumps, down potholes and through fairly deep puddles without an issue. It was terrain you certainly wouldn't want to navigate a standard hatchback through.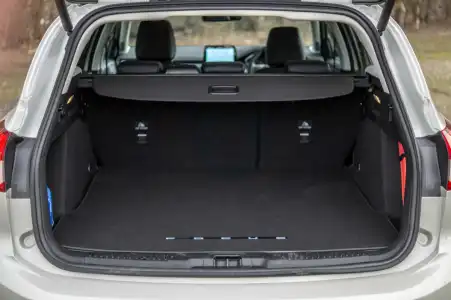 Space & Practicality
Those ruggedised looks have done nothing to remove interior space from the Focus, so it's just the same as its on-road only brother. That means you have a rather low seating point whether you're a driver or passenger, you sort of climb down into this latest Focus.
Rear seats afford equivalent legroom as the current Skoda Octavia, the same can be said for headroom, and you'll only struggle in the back if you're well over 6ft.
In the front there's enough room in the door pockets for a large bottle in each, the centre armrest provides a deep home for phones and keys, as does the area just beneath the heating controls.
Boot space measures in at 375 litres for the hatchback, whereas the estate dwarfs that with its 608 litres. The wagon also provides a flat, lipless floor, ideal for loading large, bulky items.
Ownership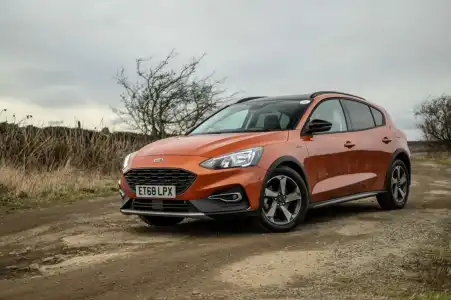 Running Costs
Prices for the new Focus Active start at £21,900 with the Active X model costing from £24,400.
Naturally, the 1.5-litre EcoBlue diesel wins the MPG marathon, posting an Urban figure of 72.4 with the smaller 17-inch alloys and manual gearbox, the auto slices around 12 MPG from that figure.
Its bigger brother the 2.0-litre diesel can only muster 50.4 in manual form, 53.3 with the automatic gearbox.
The plucky little 1.0 litre fares well though managing 47.8 urban MPG with the manual, 39.8 with the auto 'box. Ford's 1.5-litre petrol makes an urban figure of 40.9 in manual configuration, 37.2 in auto. The differences between the hatchback and the estate are negligible.
Switching from the 1.0-litre petrol to the 1.5-litre diesel will cost you an extra £950, emissions decrease from 107 to just 93 meaning £125 first-year tax rate. The highest you'll pay is £205, that's for the 1.5 petrol auto fitted with the larger 18" alloys which pumps out 136 g/km of nasties.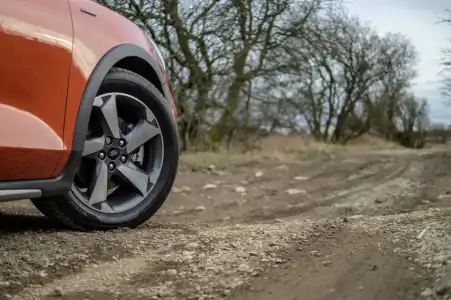 Quality & Reliability
Due to the nature of the Active model, you can forget about leather-clad luxuries, inside is practical. The seats are fabric with a special 'Active' cloth, scuff plates on the doors help protect the car, and the centre console is finished in a hard-wearing brushed plastic, compared to glossy black as you'd find in most hatches these days.
There are two trim levels to choose from Active, and Active X. The latter is the more premium, but still only adds part leather, heated front seats, dual zone climate control and keyless entry. Oh, and on the outside, you'll benefit from larger 18" alloys.
Ford may be the biggest manufacturer in the UK, but in the 2018 Auto Express Driver Power survey the last generation Focus was around halfway up the table. Ford as a brand was 18th out of 27 for reliability.
The latest generation of Focus is too new to say what downfalls the Active may succumb to, but you're covered by a 3 year, 60,000-mile warranty; this can be extended to 4 years/80,000 miles for an extra £228 or 5 years/100,000 for £528.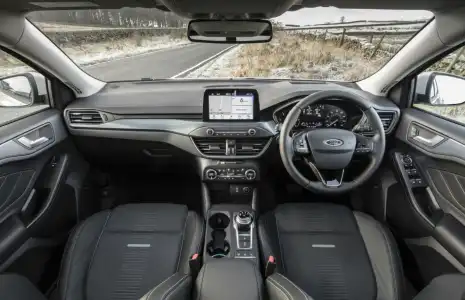 Safety & Security
As standard, the Focus Active includes pre-collision assist which uses cameras to scan the road and detect potential collisions. The systems prompts you with a warning before automatically applying full braking power if you don't respond, helping lessen the severity of a frontal crash.
Another clever piece of tech uses the same system at higher speeds but primes the brakes with full force in case you need to slow down quickly.
There's also a lane keeping aid, hill assist and electronic stability control.
You can opt for the Driver Assistance Pack which costs £500 but includes, traffic sign recognition, auto high beams, and adaptive cruise control. Blind spot monitoring with cross traffic costs a further £400, so does the handy to have head up display.
The Ford Focus was awarded a five-star rating when crash tested by Euro NCAP.

Find out our latest offers for used Ford Focus.
More On This Car
Need more information?
Request Dealer Contact