Pros:
Compelling performance and handling

Driver-flattering technology

Practical family hatchback
Cons:
Steering lacks delicacy

No programmable drive mode
More On This Car
Need more information?
Request Dealer Contact
Introduction
You could make the argument that Ford invented the hot hatch, with the original Escort XR3 blurring the line between sensible family car and sports car perfectly. Time moves on though, and the 96bhp originally offered wouldn't be enough for a city car these days.
Fortunately the Ford Performance arm of the American giant has continued the line of fast Fords started almost 40 years ago and created the most powerful model yet - at least this side of an RS, anyway.
It's got performance figures to excite Top Trumps players, practicality to please the family, and the expectation of affordability from that Ford badge. There's even an estate version for those that want to transport a golden retriever at high speed.
But, for all that, it needs to be great to drive, something that Ford's engineers have been nailing over the last couple of decades. Is the ST just a step too far though? I head to the mountains around Nice to find out if you can have too much.
On The Road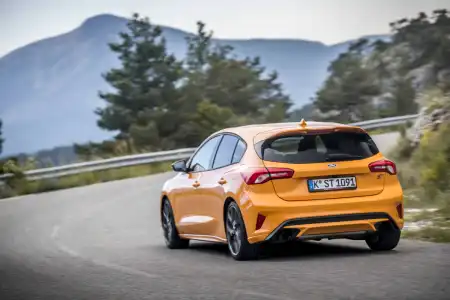 Performance
The fact that Ford has taken the engine from the Mustang and squeezed it under the bonnet of the Focus is appealing, but sadly it's not the big V8. Still, the 2.3-litre turbocharged petrol engine produces a pleasing 280hp and a mammoth 420Nm of torque. With a six-speed manual gearbox fitted, that's enough to accelerate to 62mph in just 5.7 seconds.
Put the car into ST mode - for the first time, there are different driving modes - and click the launch control button and it flies off the line, but it's the flexibility of the engine that really engages. On the endless switchbacks of Monte Carlo Rally route you only really need third gear, which is enough to crawl round a hairpin and accelerate to licence losing speeds.
Power delivery is near instant, thanks to technology developed in the GT supercar to combat turbo lag, while rapid downshifts are made easier thanks to electronic rev matching by the car. It flatters a driver, making them look and sound good, the exhaust popping as the throttle blips automatically.
There are other, faster, hot hatches, but this isn't Ford's best effort. That's reserved for the RS, whereas this ST needs to be quick enough, but also sensibly priced and suitable to go shopping in.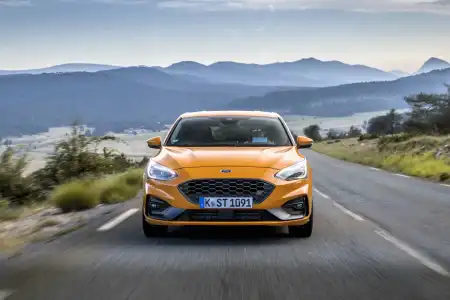 Ride Handling
It'll be no surprise that the ST handles well. Very well. The standard Focus is rather good to start with, so the engineers in Cologne didn't have to start from scratch when building the ST. It's 10mm lower to the ground, has revised steering, stiffer springs and dampers, and a stronger anti-roll bar, but that's about it. Those dampers are also daptive, adjusting up to 500 times a second, working with Michelin Pilot Sport-shod 19-inch wheels to keep the car glued to the road.
So glued that, on public roads in blazing sunlight, it's impossible to force the car to break traction and slide around. It just grips, and never stops. Even flat-out in second gear from a hairpin elicited nothing more than a squeak from a tyre as the limited slip differential moved power around to the wheel with the most grip.
It's a shame that the LSD made the front end a little unpredictable, though. A combination of the power moving around and the steering's desire to self-centre aggressively meant you were almost fighting it at times, at least in ST mode. Things get turned down in Normal and the problem goes away, although the steering is then arguably too light.
Whatever mode you're in, there's a fluidity to forward motion that just works, whether it's being asked to go flat out of cruise along. It doesn't dart aggressively towards an apex like a Honda Civic Type R, but neither is it imprecise and meandering.
Does all of this effect the ride quality? Obviously, yes, but not too negatively. It rides most bumps well, and won't upset any passengers unless you're trying to prove a point.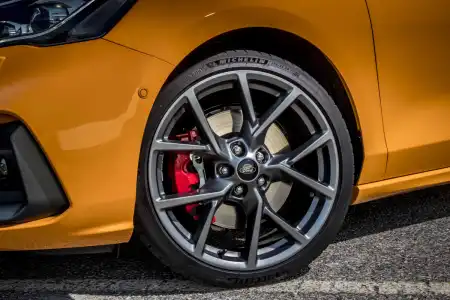 Styling
Seeing as there's engine noise pumped directly into the cabin, and unnecessary (but fun) pops and bangs from the exhaust, it's probably best to look for refinement elsewhere. That said, once you've had your fun and need to trundle back home along the motorway, the Focus ST makes a good fist of a quiet, comfortable car.
The suspension is stiffer, but surface changes and undulations don't crash through to the cabin as you might expect. Likewise, those 235mm-wide Michelin tyres don't create too much roar. The engine itself is a proven, smooth enough unit that doesn't generate any grating notes.
Beyond that, it's your normal Focus; the cabin is built well enough, there are no rattles, everything fits as it should and the material choices are fine if not class leading.
In The Car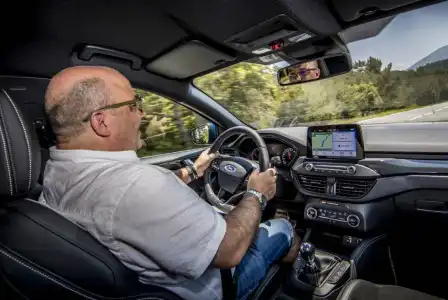 Behind the Wheel
If you've ordered your Focus ST painted in Orange Fury, are loving the 19-inch black alloy wheels, and appreciate the go-faster additions to the bodywork, you'll get inside the car and maybe feel it's a bit bland.
It's not that the interior is bad, as it really isn't. It's just that this is the ST and, beyond the Recaro seats that you won't be able to see when you're sat in it, there's precious little to tell you that you're in something more special than a mid-range diesel model.
A swathe of fake carbon fibre adds a (grey) highlight across the dashboard, but beyond that, it's a regular Focus. The infotainment screen sits proudly on top of everything, although at least it's a bright, high-resolution and crisp display that's easy to use.
There's also endless other equipment, with the ST being specific about as well as the top-spec Titanium models, but with a more sporting bent to things.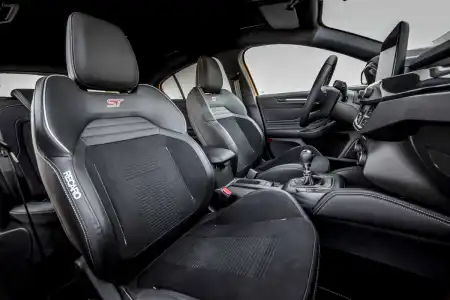 Space & Practicality
The last Focus ST wasn't the last work in spacious design, but the latest Focus has improved matters immensely. Bigger than its predecessor, the extra room has gone inside the cabin to give rear seat passengers some much-needed legroom. It's still a bit dark in the back, especially with the tinted windows of the ST, but there'll be no deep vein thrombosis developing now.
Those in the front enjoy a bit more room and getting comfortable is easy, thanks to the Revcaro seats that seemingly adjust in every way possible. Even somebody of my, er, advanced width can squeeze comfortably between the supportive bolsters. It's not so roomy that you can avoid the occasional elbow knock between driver and passenger, though.
Luggage capacity at the back is competitive, if unremarkable. There's 375-litres of room with the seats up and the parcel shelf in space, which is a tiny bit less than in a Golf, but it's way short of the Skoda Octavia's capacity. Fold the rear seats down and space extends to swallow 1,354-litres of luggage, which is marginally more than the Golf can cope with.
Ownership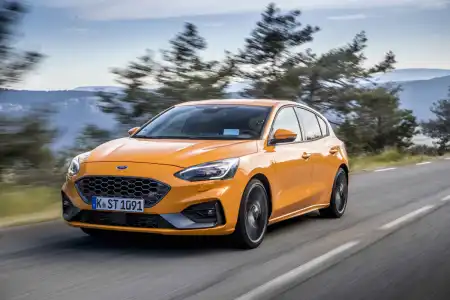 Running Costs
The price of the ST has crept up, with this model coming in at night on £32,000. That's going to make your monthly payments a little on the high side, while your fuel bill will also suffer - a large capacity engine with plenty of power is never going to be economical.
While the 20mpg attained during testing is perhaps unrealistically low, the promised 35.7mpg also seems a little too high. Normal driving will see the car return somewhere in between those two extremes.
Company car drivers will baulk slightly at the 179g/km of CO2 that are emitted, as that translates into a BIK rate of 37%. That leaves a company car tax bill of nigh on £200 a month for a 20% taxpayer.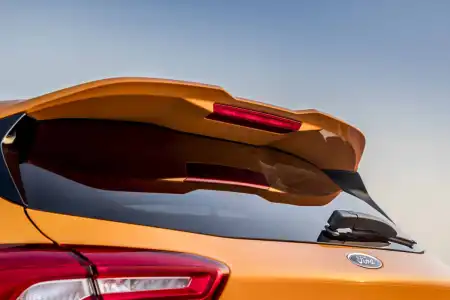 Quality & Reliability
Ford did quite well in the latest JD Power Vehicle Dependability Study, finishing ninth in the listings ahead of the likes of Honda who are ahead of the industry average.
All Ford cars are covered by a 60,000-mile, three-year warranty, which is a little on the mean side when Kia offers as much as seven years of cover, and a Toyota includes five.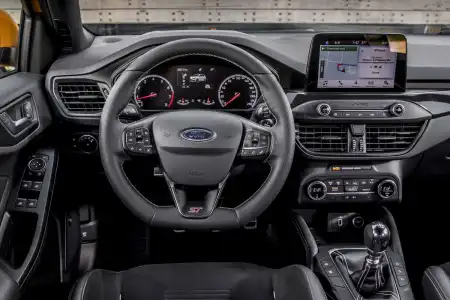 Safety & Security
Crash safety testing by EuroNCAP resulted in a strong five-star result for the Focus. Both adult and child occupant protection was good, while the automatic emergency braking system was praised.
All Focus models come fitted with front collision warning with automatic emergency braking, lane departure warning and assist, and an automatic speed limiter. The ST adds adaptive cruise control, automatic lights and wipers, reversing camera and front and rear parking sensors.

Find out our latest offers for used Ford Focus.
More On This Car
Need more information?
Request Dealer Contact