From £21,395
Pros:
Confidence inspiring drive

Big boot

Generous kit levels
Cons:
Plastic Centre Console

Not as eye-catching as some others
Buy and save on quality approved and used cars
Introduction
Ford have another go at the Kuga in a segment much more competitive then when the first model launched back in 2008. Since then, a new model was launched in 2013 and it's been given a radical makeover for 2017. Ford have seen that 85% of Kuga sales are for Titanium spec or above, so they've bulked up the top-end of the spec levels. Facelifting tweaks include exterior styling, interior styling, engine lineup and a revision of spec-levels. Is this Kuga up to speed in a hugely popular market? Read on to find out...
On The Road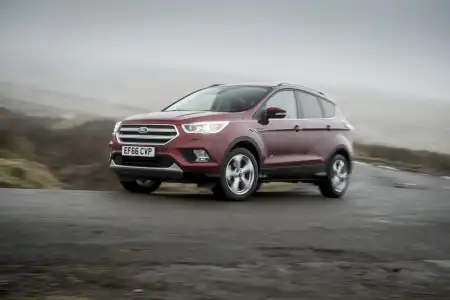 Performance
These mid sized SUVs never used to be much fun to drive. Buyers would choose these cars for their ride height and comfort and then forget all about actually enjoying the driving experience. Now though, with every manufacturer competing for this segment, standards have risen and Kuga is certainly up to the challenge. 180PS is the industry standard power output for 2.0 litre Diesels in this ball park. The Ateca, CX-5, Tiguan and this Kuga are all operating in that region. So while they're all similarly powerful, the focus is on which is the best to drive. Prior to this test it felt like the CX-5 was unbeatable. It is certainly one of the most dynamic SUVs on the market but this Kuga is hot on its tail. We took on the twisties of the Peak District in the Kuga and, for the life of us, couldn't get much body roll or even tyre squeal. You'd have to be driving like a right lunatic to unsettle the Kuga, which is a good thing.
The manual gearbox is the one to go for if you see yourself doing a lot of enthusiastic driving, but realistically, the auto-box (while being slightly slower) is plenty smooth enough for cruising and making good, steady progress.
Torque is plentiful in the 2.0 litre diesel and power delivery is spread out quite nicely throughout the rev range, which can't be said for all competitors.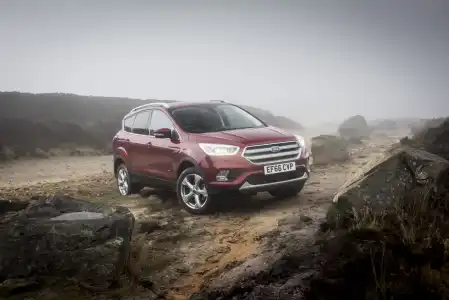 Ride Handling
It's rare for us to suggest that buyers should go for the All-Wheel-Drive versions of family SUVs because, after all, most users won't be tackling an off road assault course at any point throughout ownership and all the all-Wheel-Drive function will do is bring down fuel economy. Only in the Kuga have I been convinced that All Wheel Drive is genuinely worthwhile. Even on normal roads the elevated levels of grip are reassuring and the Kuga stays planted despite wet and windy conditions.
The Kuga is primarily front-wheel-drive until traction goes missing. This saves on fuel and also reduces tyre wear.
We took the Kuga for some light green-laning through the Peak District. On winter tyres, I was genuinely impressed by just how capable the Kuga was off the road. While the 3008 may have the prettier interior, the Kuga is leading the pack in terms of go-anywhere-ability.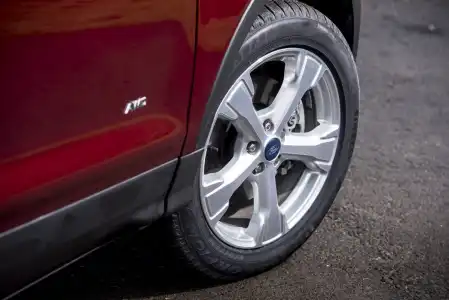 Styling
Road noise is kept to a minimum, although it is noticeably more prominent in the ST-Line models as bigger rims and stiffer suspension translates to a slightly less comfortable ride although this is only really noticeable at slow speeds around town.
Both the petrol and diesel engines are nicely refined and don't make much of a grumble into the cabin. We would certainly recommend looking at the diesel engines as they are only marginally more expensive, they're cheaper to tax under current rates, they're more powerful and far more economical.
In The Car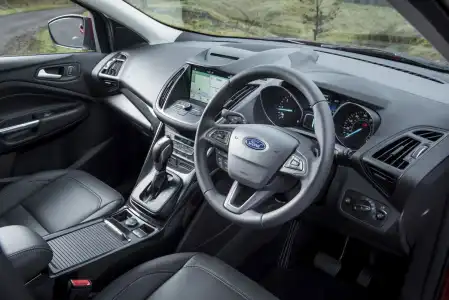 Behind the Wheel
It's good, but it's not quite Peugeot - a sentence I never thought I'd say. The inside of the Kuga is built nicely enough. The Alcantara-effect seats in the ST-line models are my preference over the full leather examples elsewhere in the lineup. The steering wheel is nice and weighted and then there's soft-touch plastics all over the dash… except the centre console itself. The new Sync-3 (which is exceptional for navigation and multimedia, by the way) is cocooned in a cheap, black plastic fascia, which carries on to below the gear stick and on the arm rest. No, this is not a deal breaker, but when the car is competing against the likes of the exceptionally comfortable Peugeot 3008 - it's a bit lacklustre. Also, the narrow digital display which operates the climate crontols and air conditioning is something off an early 200s microwave. Another small gripe.
On the whole though, this Kuga is a genuinely nice place to be. The designers have achieved a utilitarian environment that is still easy on the eye and doesn't take your mind off the road ahead. Visibility is good and parking the Kuga is no more difficult than parking a large hatchback.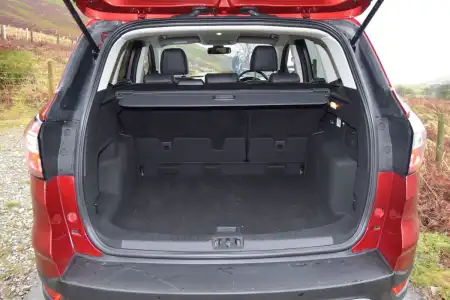 Space & Practicality
Up front you've got loads of room for your feet, even the tallest of occupants will be satisfied here. In the rear, there's comfortably adequate room for 3 children and they'll have few complaints even on the longest of journeys. You probably wouldn't want to go too far with 3 adults across the rear though as the middle seat isn't quite wide enough- but it will be fine for most short trips.
Headroom is excellent throughout.
Boot space is a big selling point. You have a massive 1,603 litres of luggage capacity if you fold all the rear seats down - which is more than the Tiguan, Ateca and 3008.
Ownership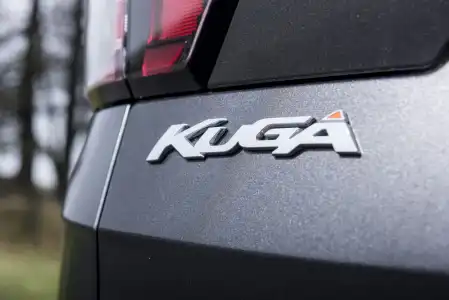 Running Costs
Residual values of the Kuga are improved too. CAP have anticipated that after 3 years and 36,000 miles, this Kuga will be £1,200 better off than the outgoing model was - on average. There is a 2.0litre diesel engine with 148bhp which has the option of all-wheel drive or front wheel drive, or there is the 178bhp option which is four-wheel drive only. There's also a 1.5 diesel which will do 64mpg but only has 118bhp to get you along.
There are petrol options, too. Three 1.5litre ecoboost engines which come with either 118bhp, 148bhp or 180bhp. While these are relatively frugal, they're not quite as economical as the diesels and the lower powered engines need working to get the Kuga up to speed.
The more powerful All Wheel Drive model is still good for 54mpg so is the one we'd recommend.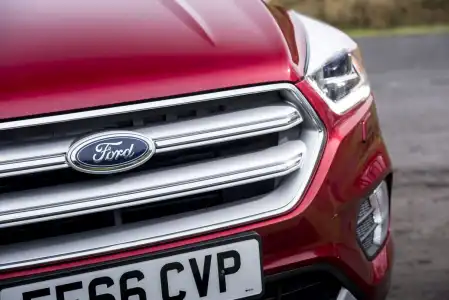 Quality & Reliability
As mentioned, the fit and finish inside the cabin certainly feels up to the job, with high quality materials in abundance. There were some causes for concern in terms of reliability, as the previous Kuga never scored particularly highly, but this model does appear to have a much more solid level of build quality. Only time will tell...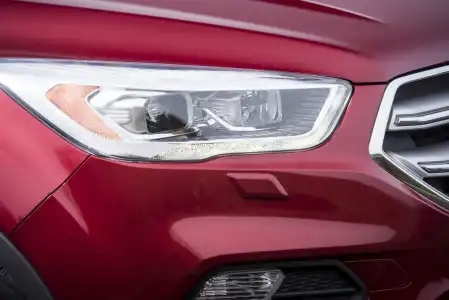 Safety & Security
A somewhat sensitive subject with the Ford lot thanks to the Mustang dramatically failing in the Euro NCAP safety tests, but happily we can report 5 stars for the Kuga. Safety tech like the Active City Stop, which works up to 31mph, Adaptive Front Lighting and Intelligent All Wheel Drive make this a solid, safe and stable car which is looking out for you. It won't get covered much in the press, but the Sync3 infotainment system is now 10x faster and more responsive than the Sync2 system. This itself makes the car safer to drive as less time is spent negotiating a tricky touch screen.

Find out our latest offers for used Ford Kuga.
Buy and save on quality approved and used cars