Pros:
Luxurious interior

Superbly equipped

Lots of safety tech
Cons:
Unsettled ride

Poor fuel economy

Not much room in the back
Introduction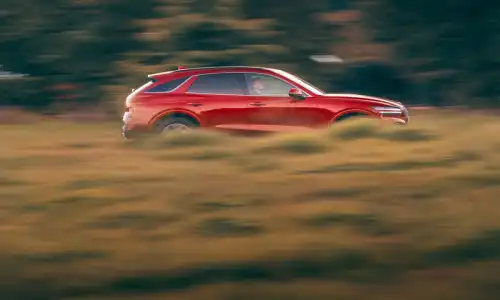 The Genesis GV70. Yes, it looks a bit Bentley-inspired. But actually, it's a Hyundai. Wait a minute. Hyundai? You thought this was a Genesis. Well, yes, it's a Genesis, too.
You see, Genesis is the latest manufacturer to launch a luxury arm that's branded in its own right. Leon has CUPRA. Citroen has DS. Hyundai now has Genesis.
The idea here is to create a new brand that doesn't suffer from the lower-class reputation of its parent brand so it can compete with the likes of BMW, Audi, Mercedes and, in the SUV stakes, Jaguar and Volvo.
The GV70 certainly gets you lots of standard kit.
Premium Line is entry-level and includes LED headlamps, 19-inch wheels, a gloss black interior, a leather dashboard, electric front seats and smart cruise control with stop/start functionality. It also boasts a 14.5-inch infotainment screen with SatNav, DAB radio, dual-zone climate control smart-key and button start, an eight-inch digital instrument cluster, rear parking sensors and a rear-view camera, plus an electric tailgate.
Sport Line adds 19-inch alloys, a heated steering wheel, heated front seats, ambient lighting, three-zone air conditioning and a premium air filter, while top-of-the-range Luxury Line adds 21-inch alloys.
There are also two engines to choose from: a 300PS 2.5-litre petrol (0-62mph in 6.1-seconds) and a 206PS 2.2-litre diesel (0-62mph in 7.2-seconds). Both provide four-wheel drive.
On The Road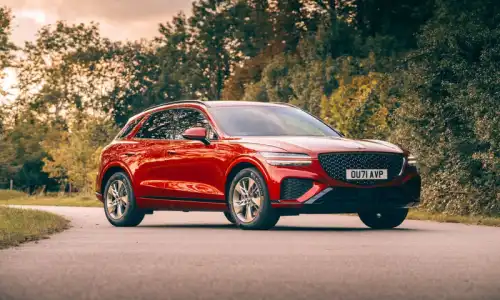 Performance
The 2.2-litre diesel is quite loud. Unfortunately, it sounds a tad rough, which is more noticeable at low speeds when other noises aren't present to drown it out.
Nevertheless, it gets going well, and the eight-speed automatic gearbox changes up and down smoothly.
The 2.5-litre engine has comparable performance to the premium brands and seems well refined at lower speeds. Mind you, the car does feel as though it has to work hard when you demand outright performance. So, it does shriek a bit when maximum effort is requested.
There's not a massive amount of road noise, even on the largest 21-inch wheels (which are fitted to our Sport Line model as an optional extra), while wind noise is minimised.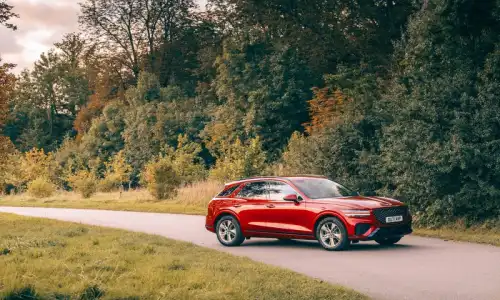 Ride Handling
This Genesis model is not as comfortable as some of the premium brands. And the larger wheels only do an average job of smoothing out lumps, bumps and holes in the road.
That said, we've driven sportier trims on premium brands, and some of them are no better with larger alloys. Nevertheless, the size of the GV70's wheels cause it to feel a little bit unsettled and rather too stiff at times.
We'd recommend choosing the smaller 19-inch rims.
Body roll in the corners is not that well-controlled, and it feels big and heavy to drive. The steering is very accurate, and there's loads of traction. But it won't be enough to inspire your confidence in taking bends at speed.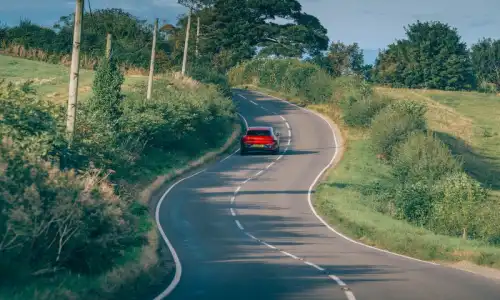 Styling
We referred to the looks as Bentley-inspired, and we weren't exaggerating. The front grille and even the Genesis badge look familiar, although the grille does produce more of a V-shape in the middle. The headlights are divided into horizontal elements on each side, while two large air intakes sit at the bottom corners, with a widened 'n'-shaped lower grille providing a sporty stance.
Around the side, a crease swoops back just beneath the windows from front to back, while a pleat raises slightly from lower down. The side skirt is emphasised by a black line that runs around the entire lower part of the car, while the rearmost of the three windows is slanted aggressively.
A modest rear spoiler overhangs the rear window, while the taillights are split into two horizontal elements on each side, with the word 'Genesis' written widely along the back. The bodywork curls diagonally upwards at the bottom, effectively forming two rear air intakes (although these are fake).
This is the Sport Line, though there are modest styling differences at the front and rear compared with the Premium and Luxury Line trims.

In The Car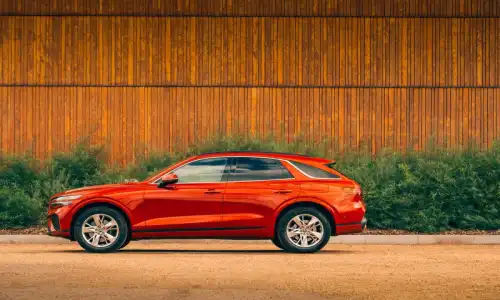 Behind the Wheel
Inside, first impressions are very good.
The big, thick steering wheel gets an aluminium surround effect on the airbag box, while nearly all the physical dials are contained within a posh oval panel that stretches from left to right.
You'll also find soft, plush surfaces just about everywhere you wouldn't expect, but more rigid plastics on places you'd expect to be soft. It is, however, a decent mix, which doesn't cheapen the feel. It looks stunning and is a serious rival for the big German premium brands, especially for those who want a bit more personality.
An all-silver panel sits on the centre console, with dials and switches, while the giant 14.5-inch infotainment screen sprouts out of the top of the dash, but not so much that it ruins your view of the road. It can be a bit of a stretch to reach it if you're short, although you can use the dial on the centre console. It's a bit fiddly to set up, too, and we'd have appreciated some shortcut buttons. But it's a reasonably good system, nevertheless.
The instruments are all digital in our test car, with a 12.3-inch screen, which, along with a head-up display, warns you of oncoming hazards and displays SatNav directions. This is an optional extra, however.
Apple CarPlay and Android Auto connectivity is included as standard, too.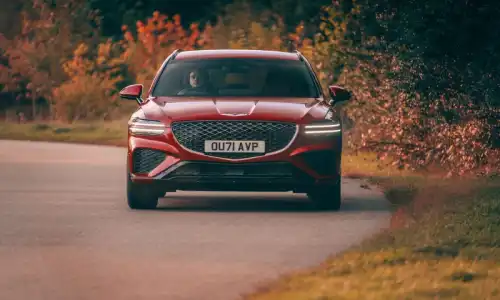 Space & Practicality
The seats are very comfortable. And finding a good driving position is made easy by the electric adjustment on the steering wheel and the seat, while lumbar support is included. Massage seats are an optional extra.
There aren't acres of room in the back, though. Taller passengers may struggle for legroom, although there's plenty of headroom which may go some way to make up for it. The rear seats can be reclined, but as the base of the seats doesn't slide backwards, the lack of legroom makes this reasonably pointless.
There's a decent amount of space to store things. The door bins are capacious, the glovebox is generously sized, as is the area beneath the centre console.
In the boot, you'll get 542-litres of room, expanding to 1,610-litres with the rear seats put away, which fold down in 60/40 configuration, while there's no load lip either.

Ownership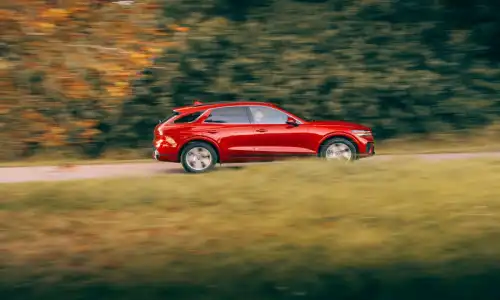 Running Costs
The fuel economy is not the best, with the diesels managing 40mpg and the petrols only achieving 30mpg.
The former has CO2 emissions of 185g/km, while the latter emits 215g/km.
This puts both in the top bracket for company car tax, which is hardly a big selling point considering how many hybrids and all-electric vehicles are in the bottom bracket nowadays. However, there is a pure electric version on the way in 2022.
On the plus side, maintenance costs are already taken care of, as buying a brand-new Genesis also comes with five years' free servicing.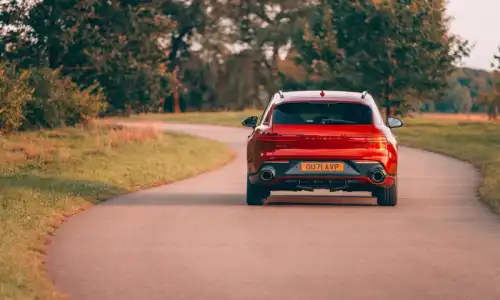 Quality & Reliability
We're wowed by what we've seen.
Everything is well put together, and it feels like a luxurious, quality car. Whether that holds up true long term once wear and tear start to take its toll remains to be seen, though.
Reliability is also very much an unknown factor.
However, Hyundai being the parent company, can only be a good thing. It is exceptionally reliable – so much so that it backs up the Genesis with a five-year unlimited-mileage warranty.
If you're thinking of heading to the German brands for their reliability, don't. The East Asian brands – of which Hyundai is one – very much lead the way nowadays.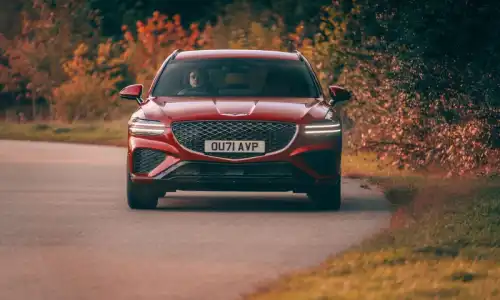 Safety & Security
Euro NCAP is yet to test out the GV70.
Nevertheless, it's recently smashed up a larger GV80 and, beneath the crumpled bodywork, a full five-star safety rating revealed itself.
It scored 91% for adult occupants, 87% for children and an impressive 91% for safety assists. So, this gives us a good idea of the ballpark that the GV70 will be working in.
In terms of safety kit, you get smart cruise control (which will bring the car to a stop and set off again if needed), blind-spot collision avoidance assist, lane-keeping assist, and forward collision-avoidance assist for other vehicles.

Summary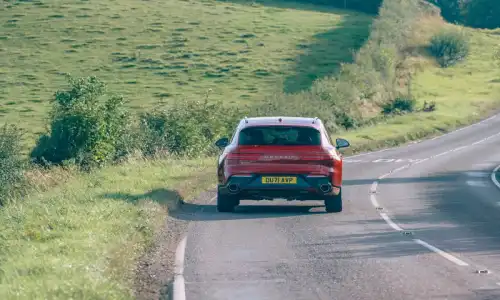 The GV70 gets an excellent start to life from Genesis. How apt.
It doesn't quite have the driveability of German rivals, and the engines aren't fantastic. Nevertheless, it may be worth waiting for the all-electric version, especially as it'll be a game-changer for the GV70 in terms of its attractiveness to company car owners.
It's superbly equipped, has an equally superb interior and it's reasonably practical. Rear seat passengers will be a tad disappointed, but then there's a larger GV80 SUV that will better accommodate them.
What's more, you're probably getting Hyundai levels of reliability, too, backed up by a generous warranty and maintenance plan on the off chance it falls short.
In terms of what's best on paper, it's not enough for us to recommend it over an Audi Q5, for example.
However, if you're bored of the obvious choices, this striking new car could be the one for you.