From £18,335
Pros:
Striking muscular design

Punchy petrol engines, including a three-cylinder 1.0-litre option

Class-leading boot capacity
Cons:
No diesel option

Flexibility of the Magic seats has been ditched

Avoid the larger wheels – it impacts on refinement and performance
Buy and save on quality approved and used cars
Introduction
There's no denying the fact the five-door Honda Civic was looking very dated and jaded round the edges, so the introduction of an all-new tenth generation model that has been redesigned from the ground up was long overdue.
But it's been worth the wait as this Civic boasts a more muscular and aggressive stance thanks to its wider, longer and lower dimensions.
The interior has a fresh look with plenty of on-board technology to be explored and the car is fitted with a wealth of safety features as standard.
On The Road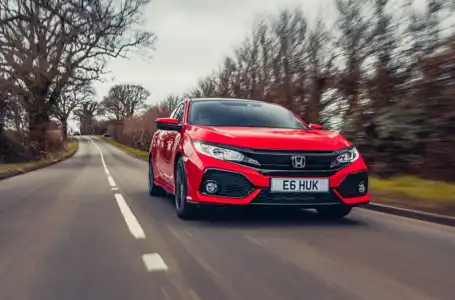 Performance
At launch, this Honda Civic is only available with two engines, both petrol. They are the three-cylinder 1.0-litre turbo 129bhp and the more powerful 1.5-litre 180bhp option. In turn, each powertrain is available in three trim levels so the 1.0-litre comes in SE, SR and EX (there is an S level, but Honda brushes over it as for £100 more you step up to SE and get a whole lot more kit). Then the 1.5-litre cars are in trim levels called Sport, Sport Plus and Prestige.
We tested the 1.0-litre Civic in range-topping EX trim priced at £23,725 on a range of driving routes incorporating open country roads, busy town centres and motorways.
The first thing to mention is how much more dynamic the car is. The driver sits lower to the ground and immediately the all-round performance feels more engaging.
On the open road, the car accelerated with ease through the six-speed manual gearbox and there was a seemingly endless supply of power from the three-pot engine. The road-holding was confident and assured and even when pushed really hard, very little noise filtered through to the cabin.
With 200Nm of torque, acceleration is fairly brisk and the Civic can complete the 0-62mph dash in 11.2 seconds, maxing out at 126mph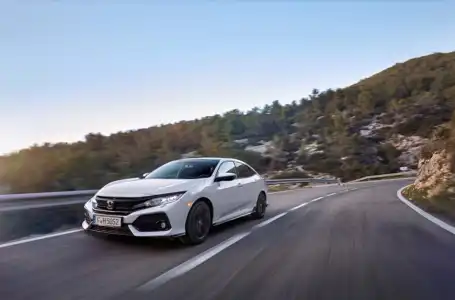 Ride Handling
It would be fair to say that the Honda Civic is not really an 'edge-of-the-seat' car when it comes to driving dynamics and it never has been apart from the higher performance Type R models.
But that's okay because the core target audience for the Civic are not the baseball cap-clad boy racers that sit at the lights revving the engines for all its worth.
In reality, Civic customers know what they want and Honda delivers on every count with this model.
The road holding is beautifully assured and it can be pushed hard into tight bends with an air of confidence. The steering is nice and precise with plenty of driver feedback and that, in all honesty, is what Honda Civic buyers will be looking for.
The handling has been improved thanks to a number of factors including more advanced rear suspension set-up, but mainly because of the redesign of the Civic's layout. The distance between the front and rear wheels has been increased, some pounds have been shed and the centre of gravity is lower to the ground – these are all factors that improve a car's aerodynamics and driving prowess.
Styling
This is an area where Civic excels. The outgoing model was dated and the space-age rear end with large spoiler had seen better days. But that was then and this now. The 10th generation Civic is a sharp dressed, attention-grabbing car guaranteed to turn heads.
It is 20mm lower, 30mm wider and 136mm longer and it's those dimensions along with sweeping light clusters, larger air intakes and a thinned-down rear window that make the car look so athletic and even aggressive in its styling.
The interior has been given a thorough makeover and features Honda's second generation CONNECT system to link up with smartphones via Apple CarPlay and Android Auto. There is a seven-inch TFT-LCD driver display positioned within the freshly reconfigured instrument binnacle. And the look is completed by a five or seven-inch touchscreen along with an eight or 11 speakers sound system dependent upon trim level.
Comfort levels are good and Honda has improved the sound sealing and insulation so occupants are protected from any outside noise. There is even an acoustic windscreen with an inner layer of noise reducing material and the doors have triple layered seals – all features to keep the cabin nicely hushed.
In The Car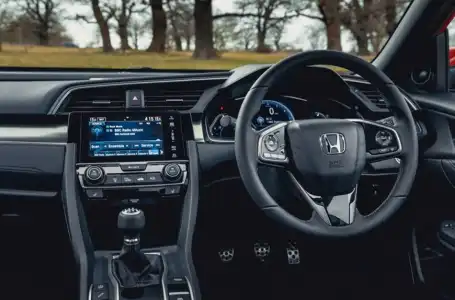 Behind the Wheel
The Civic has a more premium feel to it than previous models and all the interior improvements give it a more upmarket and modern appearance with the introduction of improved materials and trim throughout. The cabin is clutter-free but there is a wealth of technology to be explored.
All the controls, dials and read-outs are perfectly positioned for driver usability and it's simple to connect a smartphone to the car. The sat nav system is also easy to operate.
The seats are comfortable and can be adjusted manually along with the steering wheel. The option of electrical adjustment would have been nice on higher-levelled trims, but it's not available.
As you move up through the grades the likes of leather seats, a glass sunroof, a wireless smartphone charging pad and an improved sound system are introduced.
Private retail buyers account for 83 per cent of Civic sales and the new car is priced from £18,335 to £27,295 and Honda. The most popular colours are likely to be blue, black, white and red although there are alternative shades to choose from.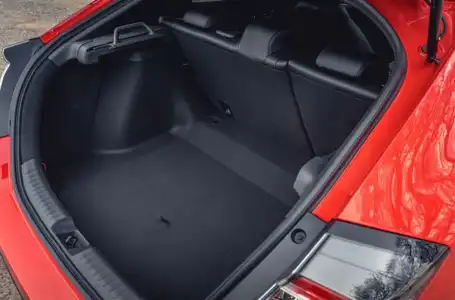 Space & Practicality
The interior of the Civic is spacious and can easily accommodate four adults (five at a push), but the sloping roofline does limit the rear headroom a little and the narrowing rear windows can make things a little claustrophobic in the back.
But elsewhere, the Civic excels when it comes to space. The boot boasts a massive 478-litre capacity which can be increased to a whopping 820 litres with the 60:40 split-folding rear seats dripped flat – and that's a capacity Honda claims is class-leading.
There is a good-sized glovebox, along with practical door pockets that can accommodate large water bottles.
One feature that has been ditched though is Honda's 'Magic' rear seats system which had flip-up seat cushions that made it possible to carry taller objects behind the front seats. The repositioning of the fuel tank in order to gain that lowered centre of gravity took priority and that meant the Civic has reverted to a more conventional seating plan.
Ownership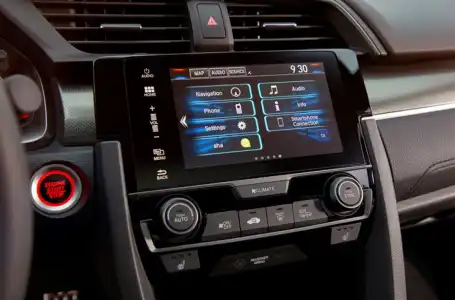 Running Costs
The Honda Civic has been around for 40 years and in that time, it is the private buyers that have been most attracted to the car. And the fact that there is no diesel option available at the moment would suggest that trait is likely to continue.
Many people viewed the Civic as a good, reliable car that was perhaps a little overpriced, but now with options starting from just over £18k and the introduction of a fabulous 1.0-litre engine the car should generate a lot more interest from driving purists. Factor in the stunning styling and suddenly the younger buyers are taking notice too.
The 1.0-litre Civic EX test car offered combined fuel economy of 55.4mpg and carbon emissions of 117g/km. Even on the more stringent tax set-up, these figures will mean a first-year Vehicle Excise Duty cost of just £160. The 1.5-litre 182PS four-cylinder model can deliver 46.3mpg with emissions of 133g/km on a combined run.
A typical PCP deal would see a Civic 129PS SE with a 29% deposit of £4,756.52 and 36 monthly payments of £189. There would be a final optional payment of £8,479.28.
The warranty on the Honda Civic is three years/90,000 miles.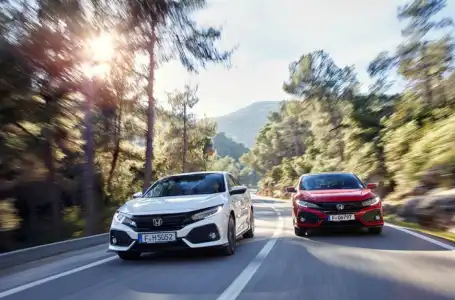 Quality & Reliability
Over the years, Honda has established an excellent reputation when it comes to build quality and reliability. There is a good mix of hard and soft materials throughout the cabin, but they would appear to be quite scratch resistant and the longevity prospects are good.
The seats are firm and supportive and once again would appear to be hard wearing. There are no fiddly switches that could break and the touchscreen is easy to wipe clean to remove fingerprints and smudge marks.
This Civic is safer thanks to the introductions of the company's SENSING range of safety suites across the range as standard. This includes the likes of collision mitigation braking system, forward collision warning, lane departure warning, road departure mitigation, lane keeping assist, adaptive cruise control, traffic sign recognition, intelligent speed assistance and intelligent adaptive speed control.In the 2016 JD Power ngs, Honda scored four out of five for reliability.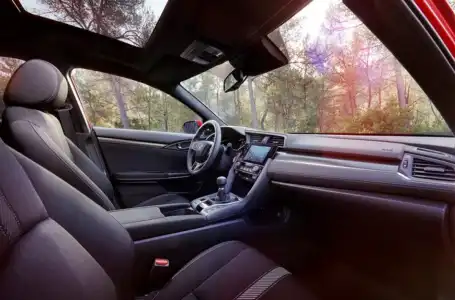 Safety & Security
This Civic is now safer thanks to the introductions of the company's SENSING range of safety suites across the range as standard. This includes the likes of collision mitigation braking system, forward collision warning, lane departure warning, road departure mitigation, lane keeping assist, adaptive cruise control, traffic sign recognition, intelligent speed assistance and intelligent adaptive speed control.
Further safety technologies include blind spot information, cross traffic monitor and a multi-angle rear-view camera. These are all features that are added to the standard safety specifications such as six airbags, vehicle stability assist, traction control and a tyre pressure monitoring system.
This Civic is due to be tested for its Euro NCAP safety mark, but Honda is ultra-confident it will achieve the maximum five stars. The outgoing model had five stars and the latest generation car has all the extra safety specifications as standard.
Buy and save on quality approved and used cars