Pros:
It's got the cutest, funkiest looks

It has a cool, retro interior

It's electric, so it's good for the environment
Cons:
Electric range isn't all that

It's not overly spacious

It's an expensive car to purchase
Introduction
You might love them, you might hate them, but electric cars will be the norm before we know it. They don't have to be boring, though, as Honda has proven with the creation of the Honda e. It's impressively stylish inside and out, but is that enough to ensure the car sells like hotcakes? Judging from the feedback on Instagram, we reckon it might be.
On The Road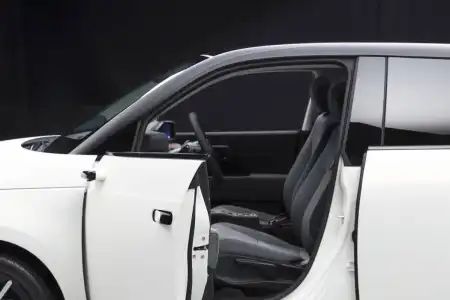 Performance
Read any Honda literature on the all-new "e", and you'll find loads of marketing spin that'll try to convince you of the new vehicle's pleasurable driving dynamics. It's not all that athletic, because it's meant for urban commuting, but it's still fun. There are two varieties of the car – the 134bhp Honda e and the 152bhp Honda e Advance. The first does zero to 62mph in 9.0 seconds, while the Advance, tested here, manages to achieve the 0-62mph dash in 8.3 seconds. Entertainment can be dialled up slightly higher via the car's "Sport Mode" – it hones pedal response for more uninterrupted acceleration.
The only thing to drizzle on the e's chips is the glut of brake regeneration stages. In the regular drive setting, there are four modes to handle via the Honda's steering wheel paddles. But, flick the "single-pedal" switch on, and you get more intense brake regeneration with three tiers of one-pedal momentum. The pedal reaction is a cinch to get used to, so you're soon aware of how long it'll take the Honda to brush off speed.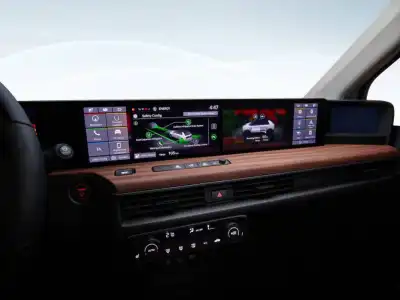 Ride Handling
One of the great irritations of modern motors is the persistent ambition to be sporty. Not every vehicle has to be this way. And when we think about it, should a car like a Honda e be athletic anyway? Probably not. What the "e" really is, is quick and agile, but it'll never drive as well as a GTI "hot-hatch" because you can't flout physics.
Nevertheless, the Honda makes a good fist of things; it drives pleasingly, and it isn't ill at ease, even on crumbling tarmac. In the corners, the "e" is well-behaved, with progressive steering and not much body roll. Furthermore, the Honda has a turning circle of just 4.3m. This makes it unbelievably manoeuvrable, especially in confined town centre streets. It's enough to make a cabbie green with envy.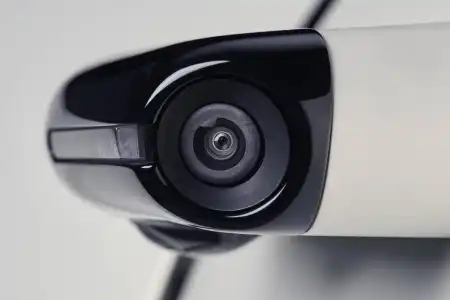 Styling
This is an area where the Honda e blows some other electric cars out of the water. Maturity is the term here. The "e" looks and feels an accomplished grown-up product, with a lounge-lizard vibe in the cabin. This is thanks to an abundance of sofa-like materials and wood trim. Noise insulation and high levels of comfort are all together here to make this Japanese offering a superior product. When you drive the new Honda, you really appreciate the hushed and composed atmosphere - and the yielding ride. It's a superb way to travel, just taking it easy and letting the "e" take you to where you want to be - no fuss, no drama – unless you get low on range and there aren't any charging stations nearby! But that's the same for any pure electric car.
In The Car
Behind the Wheel
Inside, the Honda e is a game of a couple of halves. On the one hand, there's that chilled out lounge-like ambience, on the other you get a digital, space-age, dashboard. A touchscreen twosome consumes most of the dash, and these provide access to lots of apps. Phone assimilation is painless, too – just connect your smartphone, and Android Auto or Apple CarPlay will enable you to get into all you require on the screens. Functions can also be exchanged between displays, permitting you and your front-seat travel companion to check out different apps.
Other technology in the "e" includes Honda's Side Camera Mirror System - an alternative to time-honoured side mirrors. Cameras are utilised to show pictures of what's around the car to a duo of screens within the cabin. The system takes a bit of getting used to, but the real-time images are so perfect it gives you total assurance at the wheel. The tech is just right for driving in challenging areas, especially city locations, where you rely heavily on your car's mirrors.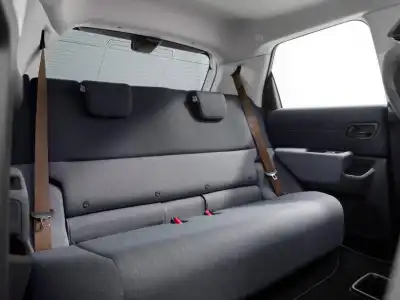 Space & Practicality
This is a car you're best off using for buzzing into town to do a bit of shopping or for zipping along rustic roads. Alas, it's a strict four-seater, so it's utterly unusable if you have more than four in your family. Okay, it's not meant to be an out and out family ride - but, at close to £30,000, what's the sense in even having the Honda e as a second car if you can't get everybody into it?
As for the boot, you won't get much more than a few bags of shopping in there. You see, cargo capacity is a mere 171-litres. There's no split rear seat – but if you're not carrying rear-seat passengers, you can fold the back seats down to get 571 litres of room. That's handy if you wanted to risk transporting a bunch of stuff to a dirty tip in your lovely chic "e". Yes, there are more practical cars on the market for a similar price, but let's be honest, you're buying this Honda e because you think it's cool, not because of load capacity.
Ownership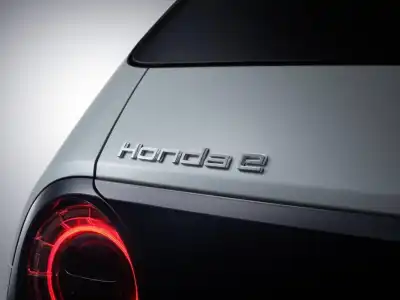 Running Costs
It's not going to cost you much to run the all-new Honda e. On a bursting at the seams charge, the "e" will manage 125 miles on 17-inch alloy wheels or 137 miles on 16-inch alloys. But, certain elements will shape the range. For instance, our e Advance was charged to 95 per cent when we took to the road around our rainy and less than warm test route. After an hour or so of shilly-shallying (and occasionally zooming) about, with the wipers going hell for leather and the heating set high, the figure had tumbled to 33 per cent. The windscreen wipers and heating had, without a shadow of a doubt, well and truly drained the 35.5 kWh battery.
Happily, you can restore approximately 80 per cent of the Honda's range by means of a rapid charger. That gave us an excellent excuse to consume a much-needed cuppa. Without a fast charging facility, you're looking at lots of cuppas – so our recommendation is to connect up the Honda whenever and wherever possible to prevent the battery's charge from getting worryingly low.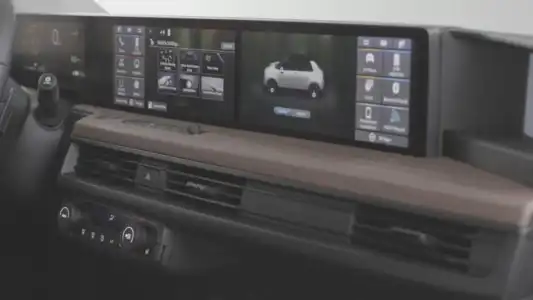 Quality & Reliability
Of course, you're not going to find Rolls-Royce levels of quality here, but the Honda e feels lovely to be in. The materials that have been used inside go a long way in making the "e" feel special.
We've no concerns with reliability either because Honda is a legend in this area. Indeed, it's one of the most dependable automotive brands on the market. Moreover, the benefit of the "e" is that you're unlikely to have as many failures within the powertrain as you might in a traditionally powered car with more moving components. It's also worth noting that electric vehicles cost quite a bit less to service.
For extra peace of mind, the Honda e comes with a 90,000-mile/three-year warranty. Better still, the battery is separately guaranteed for eight-years or 100,000-miles. Honda also says the battery will keep at least 70 per cent of its capacity during that period.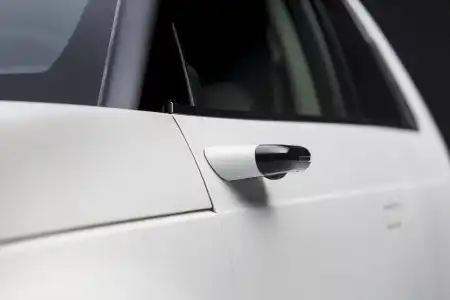 Safety & Security
Honda is one of the better vehicle manufacturers when it comes to offering good products full of safety tech. Both the basic Honda e and the Honda e Advance don't disappoint with kit such as Automatic Emergency Braking. The car also comes with traffic-sign recognition that sends the speed limit to its camera side mirrors as well as the dashboard. However, the "e" hasn't been through Euro NCAP's crash tests yet, so it'll be interesting to see if it gets the full five stars. Fingers crossed, eh, Honda?