From £16,195
Pros:
Bold, modern looks

Surprisingly good handling

Decent levels of standard kit
Cons:
Lack of engine choice

Smaller than average boot space
More On This Car
Take one for a spin or order a brochure
Request a Hyundai KONA brochure
Request a Hyundai KONA test drive
Introduction
Hyundai are aiming to take on Nissan at their own game, Kona is squarely aimed at the ageing Juke. Modern, hip and hoping to pinch a huge slice of the ever growing small crossover market.
But just how good is the Korean manufacturer's first small crossover? We flew out to Barcelona to find out.
On The Road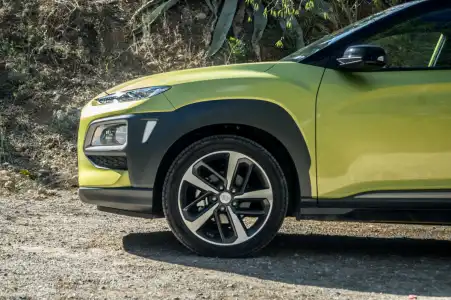 Performance
Engine wise, the Kona gets the punchy little 1.0 litre T-GDi turbo petrol engine producing 118 BHP and 172 Nm of torque. It may seem small, but it performs excellently whether it's zipping around town or cruising at motorway speeds.
Over a good few hundred miles the plucky 1.0 litre never felt lacking. Granted, it will get a little noisy at higher revs due to its three-cylinder design, but for the majority of the time you'll be hard pushed to hear it.
If you're after an automatic you'll be bumped up to the 1.6 litre T-GDi petrol, coupled with a 7 speed dual clutch gearbox. The bigger engine pushes out 175 BHP and a massive 265 Nm of torque, perfect for a tow car. Sadly it's only available in Premium GT trim, which means you get four-wheel drive but it also costs an extra £3,800. Pricey.
MPG is touted at 44.8 under Urban conditions, with a combined figure of 52.3 for the 1.0 litre turbo. The auto doesn't fare so well, with an Urban rating of 35.3 and a combined number of 42.2.
Emissions also soar for the 1.6 petrol to 153g/km, that's mainly due to the 4WD, meaning first year tax is a rather costly £500.
The diminutive 1.0 litre is far less polluting, starting at just 117g/km for the diddy 16 inch alloys, and only 125g/km for the bigger wheels. Both sit comfortably in the £160 first year tax bracket.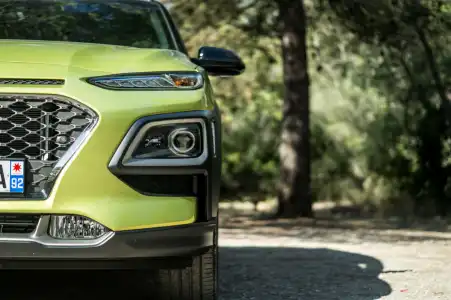 Ride Handling
Body control is really well composed for a B-SUV, we've tested far more wallowy examples. It's maybe not quite as sharp as the Mazda CX-3, but it's damn close. The Kona is rather engaging through the corners, you can press on at a good pace and have complete confidence in its grip and ability.
Lean is kept to a minimum thanks to a stiffer than normal suspension setup, partly due to fancy multi-link rear suspension – a segment first.
That stiffer setup doesn't seem to harm the ride too much - granted we only drove it on smooth as silk Spanish roads – but when we finally found some road imperfections, they were met with a dull thud from beneath and a slight amount of jitter at the rear.
On the larger 18 inch alloys the Kona could be a little unsettled on UK roads, but we'll wait and see if that's the case. The range starts on 16's with SE getting 17 inchers. The rest are shod with the 18's.
On the manual, the gearbox has a rather long throw, shifting is a bit ambiguous at times. A shorter, tighter 'box would have matched the Kona better.
The DCT performs admirably, but it's not the smoothest auto ever, with a little lurching at lower speeds, when it tries to work out what you want it to do.
Steering is a tad heavy for the type of car, it's also devoid of any real feedback. That's a given these days in the age of electric power steering.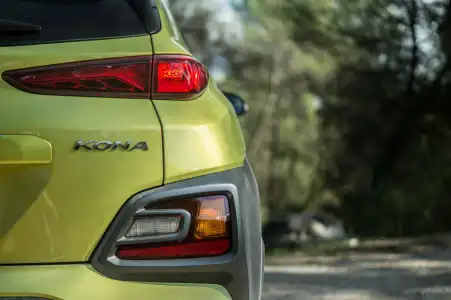 Styling
Looks wise the Kona is pretty stunning. Taking some Citroen cues with the split-level headlights, the whole car looks fresh and edgy. Some may say the design is too fussy, but it offers a certain uniqueness in what can be a rather bland crossover landscape.
Inside, the tech is well looked after. You get a colour heads up display on Premium SE trim and above, it puts all the info you could possibly need right in front of your eyes, speed, satnav directions and any warnings you'll need to take heed of.
An 8 inch touchscreen infotainment system is standard from Premium and up. It has 3D satnav, and a 7 year subscription to live services such as; real time traffic updates, weather and points of interest.
Entry level S models make do with an old school black and white 'infotainment' screen whilst SE models are gifted with a smaller 7 inch colour display.
Every model gets a DAB radio as standard and Bluetooth connectivity, whilst SE and anything above receive Android Auto and Apple Car Play as standard.
If you want a high end 8-speaker KRELL stereo you'll have to plump for Premium trim or greater, but it includes an amp and sub. You'll also get a Qi wireless phone charger in the centre console.
Acid Yellow (pictured here) is the launch colour, it's pretty garish and in your face but works well with the Kona's lines. The other hues are also rather bold, Pulse Red, Tangerine Comet, and Blue Lagoon are the more pastel of choices. Your run of the mill, white, black, grey, silver etc are also covered.
In The Car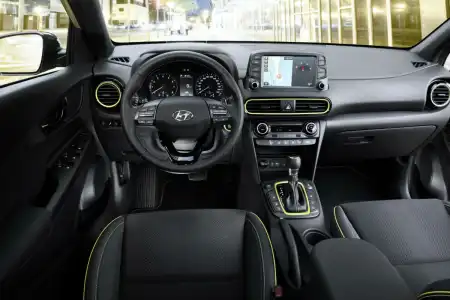 Behind the Wheel
There are five trim levels in total S, SE, Premium, Premium SE and a top of the range Premium GT model.
Premium adds a wealth of creature comforts, and starting at £18,580 it's well priced for the kit you get.
That 8 inch infotainment unit does look a little stuck on in the way it protrudes from the dash, hopefully it doesn't date as much as we think it will in the coming years.
Colour matched stitching, interior trim and even seatbelts are unique to the Kona. They're only available on select colourways mind. It's a nice addition, and helpfully brightens up what would otherwise be a sea of black plastic.
Space & Practicality
Rear seat leg and head room is decent enough, a six footer would happily fit for shorter stints. But really, these types of car are best suited to kids in the back, although the C3 Aircross does afford some extra height compared to the competition.
Boot space is a generous 361 litres, that's bigger than a Vauxhall Astra, however it still falls short of the Citroen C3 Aircross by almost 50 litres.
Capacity expands to 1,116 litres with the seats folded down.
Ownership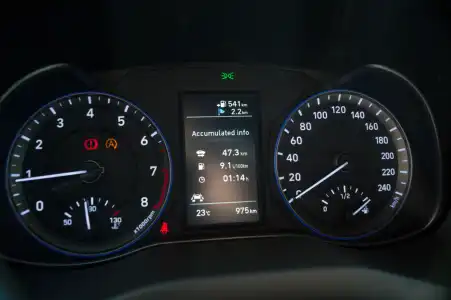 Running Costs
Prices start at £16,195 for the Kona, that's in entry level S guise with the 1.0 litre 118 BHP and a manual gearbox. At the very top of the range you'll find the Premium GT with the 175 BHP 1.6 litre engine, an auto gearbox and four-wheel drive. One of those will cost you £24,995.
Kona starts cheaper than the Mazda CX-3, it also undercuts its sister the Kia Stonic by £100. The ageing Juke has now sunk to just £14,880, but bear in mind it's an old platform and due for imminent replacement.
Hyundai have done incredibly well on the handling front with the Kona, kit levels are also high from the off. Engine choice is a bit limited, the Stonic has it trumped in that department by offering a turbo-less 1.4 petrol along with the punchy 1.6 diesel from the Ceed…which may tempt some buyers.
An all-electric Kona is on the way next year, with a rumoured range of 210 miles.
You also get an unlimited mileage 5 year warranty with all new Hyundai's, along with 5 years roadside assistance.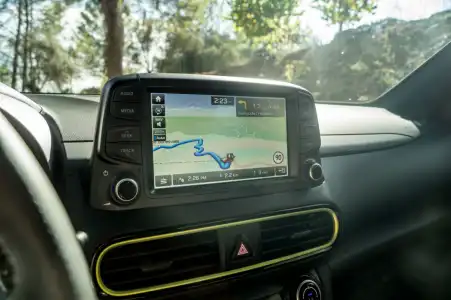 Quality & Reliability
Dash plastics are soft to the touch, whilst the door trims are noticeably harder. Things get a little scratchy lower down in the cabin, but they always do. All the switchgear and dials feel sturdy, Hyundai's – along with Kia – have made great strides in recent years to up their interior game, and it shows.
Hyundai's smallest car the i10 won Best City Car 2017. If their smallest car is winning awards, you can be sure their first small SUV offering will be made of the same stuff.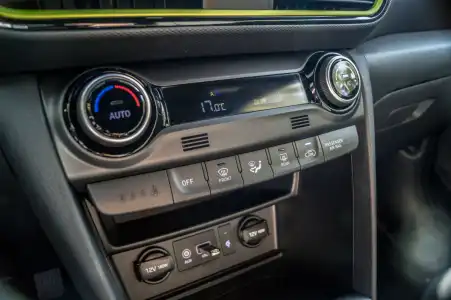 Safety & Security
As with all modern cars the Kona comes with a plethora of driver assistance systems to help keep you safe. Every model gets Lane Keeping Assist, Driver Attention Alert, Hill Start Assist and Downhill Brake Control.
Premium SE models also get Blind Spot Detection and Rear Cross Traffic Alert. Autonomous Emergency Braking is left solely for the range topping Premium GT model but it can be added for £235 to any model, well worth doing.
Tyre pressure sensors are standard along with six airbags – front, side and curtain.
More On This Car
Take one for a spin or order a brochure
Request a Hyundai KONA brochure
Request a Hyundai KONA test drive