Pros:
Impressive real world 278-mile driving range

Nice handling with rapid acceleration

Inexpensive running costs
Cons:
Quite pricey but more reasonable than many rivals

Limited legroom for back seat passengers

More public charge points are essential
More On This Car
Take one for a spin or order a brochure
Request a Hyundai KONA brochure
Request a Hyundai KONA test drive
Introduction
The Hyundai Kona is the Korean car maker's small SUV but now it has the added appeal of an all-electric version too. Customers can choose from trim levels called SE, Premium and Premium SE with current prices ranging from £30,150 to £38,250.
All three models boast modern, eye-catching styling and they are packed with all the latest on-board technology too.
Factor in the excellent 278-mile driving range between charges and a five-year, unlimited mileage warranty and this five-door EV has plenty to attract people away from more traditionally-powered cars.
On The Road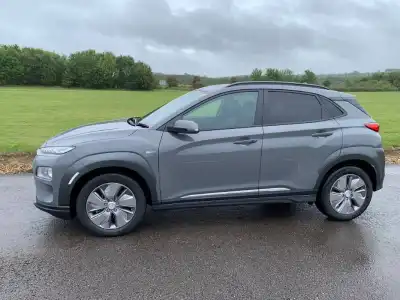 Performance
The Hyundai Kona EV model offers pure e-mobility through a 64kWh battery with 204hp and 395Nm of torque for an estimated maximum range of 278 miles.
One of the real highlights of driving almost any electric car is the immediate power at your disposal compared to a vehicle powered by an internal combustion engine. The Kona EV is the perfect example of this with that hefty torque figure driving the car from 0-62mph in just 7.9 seconds and onto a top speed of 104mph.
The Kona quickly accelerates to national speed limits and there is a constant stream of power that helps make light work of twisting hill climbs. The driver can select from drive modes called Eco, Comfort and Sport which are quite self-explanatory. Sport does liven up the reactions considerably though.
The car feels nicely balanced through sweeping bends and the road-holding also impresses despite its compact SUV dimensions. Measuring 4,180mm in length, 1,800mm in width and 1,570mm in height, the Kona EV is agile and easy to manoeuvre with the added benefit of good all-round driver visibility.
The regenerative braking system, which is adjusted via steering wheel-mounted paddles, works very well and in its most effective setting, can be used to bring the car to a complete standstill without touching the brake pedal.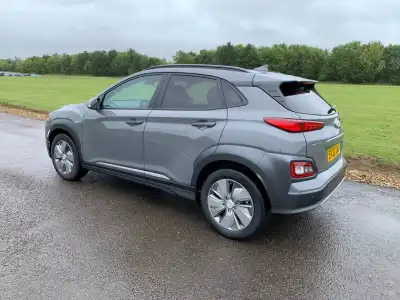 Ride Handling
Our range-topper Kona EV Premium SE model offers all the instant power associated with electric vehicle driving and it will easily leave far flashier looking cars standing at the lights.
I did find that the slightest bump sent quite a ripple through the front-wheel drive car and, at times, the steering weight felt a little light. But it's worth remembering that the Kona EV is not going to be bought by pure driving enthusiasts who enjoy the thrills of edge-of-the-seat motoring.
It will however, tick most wish-list boxes for day-to-day drivers looking for comfort, nice ride and handling, low running costs, plus impressive range. And that light steering is ideal for city centre driving with lots of weaving in and out of traffic.
In very wet conditions, the car needs to be driven with a slightly lighter right boot or you face the risk of some wheel spin through the front wheels. Driven carefully though, this would not be a concern.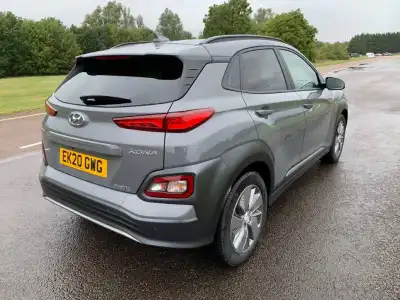 Styling
Hyundai models are certainly very easy on the eye and the Kona EV is no exception. Instantly recognisable as an electric vehicle when viewed front-on, the Kona has no grille (as there is no need for one) and there are roof rails, body-coloured door handles and mirrors, automatic headlights with a dusk sensor, LED daytime running lights, privacy glass, wraparound rear light clusters, a two-tone roof and 17-inch alloy wheels.
Move inside and it's impossible not to be impressed by the ultra-modern interior with its minimalist design. There is a wealth of technology at your fingertips and the likes of heated seats and a heated steering wheel are great for fending off the winter blues.
Connecting a smartphone via Apple CarPlay or Android Auto is a simple enough process and driving the Kona EV couldn't be easier with Park, Neutral, Drive and Reverse buttons. Simply press, point and go!
The 17-inch alloys perfectly suited the Kona EV with minimal sign of any body sway even when driven hard into bends. It's not in hot hatch territory, but it is a pleasant vehicle to throw into corners.
The silent motoring can be a little eerie initially but the car is fairly well insulated against wind and road surface noise. There is a virtual engine sound to help warn pedestrians and cyclists that the car is there.
In The Car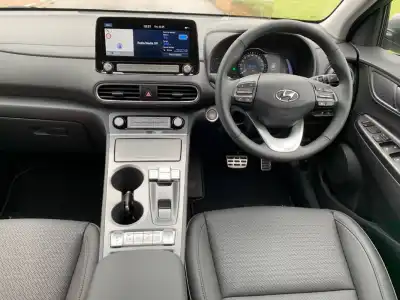 Behind the Wheel
Getting comfy behind the wheel of the Kona Electric is a quick and simple process with power operated seats and ample steering wheel adjustment too. The interior is modern, bright and driver focused with all controls, dials and readouts perfectly positioned for ease of use on the fly.
The Kona EV is single speed so there is no gear lever. Instead you simply press the button D, R, N or P to select which operation you want. There are push button controls for the heated or ventilated seats, heated steering wheel or to flick through the drive modes. And a separate panel of buttons operate the climate control within the car.
The leather wrapped steering wheel has paddles each side which are used to control the levels of regenerative braking with settings that adjust how much energy is recouped.
However, the real focal point of the Kona EV is the eight-inch touchscreen where smartphone connectivity, along with the eight-speaker KRELL premium sound system, Bluetooth and live navigation services are controlled.
The instrumentation offers vital information regarding power supplies, charging levels and, most importantly, range, and the Premium SE version also has a smart head-up display system.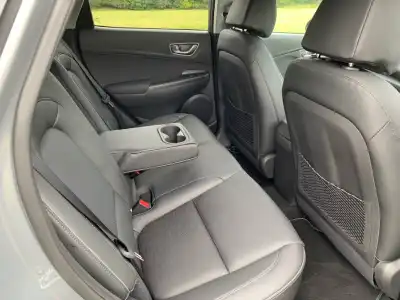 Space & Practicality
Just like most five-door family hatchbacks, there is plenty of space up front in the Kona but try to sit a couple of six footers in the back and there will be complaints about the limited leg room especially if the front seats are pushed back too far.
The boot can hold 332 litres worth of kit, a limit that increases to 1,114 litres if the 60:40 split-folding rear seats are dropped down. There is also an underfloor compartment to store away charge cables etc.
And there are numerous handy storage places scattered throughout the car too, including a glovebox, a central cubby, front and rear cup holders, door pockets, a sunglasses holder, nets in the seat backs, a covered tray where the USB slot is located and a wireless charging pad.
Thanks to the car's clutter-free layout, the cabin feels roomy up front and the heated or ventilated seats offer lots of comfort.
Ownership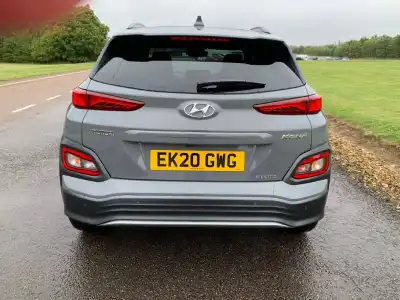 Running Costs
The high cost of purchasing an electric vehicle outright is always a major talking point amongst potential buyers, although there are plenty of attractive PCP offers around that help keep the monthly payments at a more respectable and achievable figure.
Our test car in range-topping Premium SE spec cost £38,250 after the Government Plug-In Grant had been deducted. But there are savings to be made at every turn when running an EV.
With an official real-world driving range of 278 miles between charges the practical compact SUV can easily cope with the average daily commute for a number of days before it needs plugging in.
That said; in colder months or if the car is being driven too 'enthusiastically' the range would drop quite considerably. However, use the regenerative braking wisely and the Kona EV can prove very frugal indeed, especially if charged overnight when electricity is cheaper (depending on tariffs of course).
As far as day-to-day running costs go, charging the Kona's Electric lithium-ion polymer battery up to 80 per cent takes about 75 minutes using a fast charger or nine hours, 35 minutes on a standard 7.2kW home-charger.
With zero carbon emissions, there would be no Vehicle Excise Duty costs to pay for the first 12 months and the car has a Benefit in Kind rating of zero per cent.
The Kona Electric Premium SE version has an insurance group rating of 27.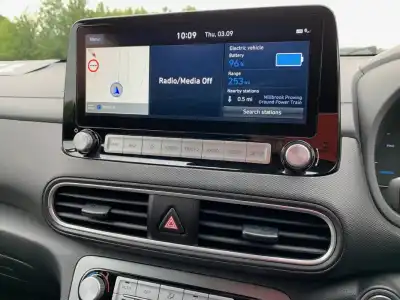 Quality & Reliability
In recent years Hyundai has developed an enviable reputation when it comes to reliability and despite the technical advancements of an electric vehicle, there is no reason to think Kona owners will have any concerns.
The upholstery feels upmarket and robust enough and there are plenty of soft-touch surfaces throughout the cabin too.
All switchgear looks and feels like it will survive the test of time and for added peace of mind Hyundai offers a very attractive five-year, unlimited-mileage warranty for the vehicle along with an eight-year, 125,000-mile warranty for the high-voltage battery.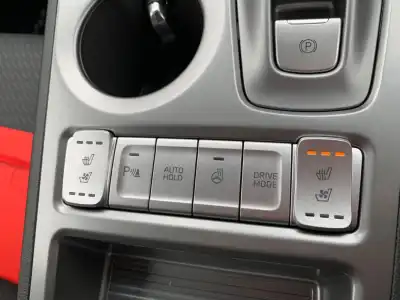 Safety & Security
The combustion engined version of the Hyundai Kona secured a maximum five-star Euro NCAP safety rating when it was tested. Safety kit on the EV version include autonomous emergency braking with pedestrian detection, blind spot detection, electronic stability control, forward collision warning, hill-start assist, lane follow and lane keep assist, rear cross traffic alert, high beam assist and a full suite of airbags.
The hushed performance of electric cars can be a concern for pedestrians who are used to the sound of an engine and may take the sound of silence as an all-clear to cross the road. So, the Kona is equipped with a melodic driving noise that makes its presence known to pedestrians, cyclists and anyone with a vision impairment.
A good quality alarm and immobiliser are fitted to keep any uninvited attention at bay.
More On This Car
Take one for a spin or order a brochure
Request a Hyundai KONA brochure
Request a Hyundai KONA test drive