Pros:
Refined and relaxing to drive

Exceptionally well equipped

Five year warranty
Cons:
Expensive to buy and run

Interior materials aren't top notch

No hybrid- but it might be coming
More On This Car
Take one for a spin or order a brochure
Request a Hyundai Santa Fe brochure
Request a Hyundai Santa Fe test drive
Introduction
If you want to carry seven people around in comfort but don't want to splash out on a high end motor like the new BMW X7, and don't want to venture into the more budget conscious realms of the SsangYong Rexton, then there's still a few options; there's the Skoda Kodiaq and SEAT Tarraco, Peugeot's 5008, the Kia Sorento or this, its mechanically similar sibling.
Styled like an SUV, but retaining all the practical appeal of a traditional people carrier, the Santa Fe range starts at around half the price of the X7's entry-level model.
Is this Hyundai good enough to justify its' price tag?
On The Road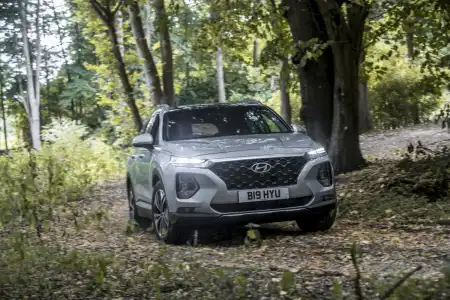 Performance
When choosing which Santa Fe to go for, picking an engine is easy - there's only one. It's a 2.2-litre turbocharged diesel that produces 200hp. Despite weighing in at around two tonnes, that's enough to power this four-wheel drive automatic model to 62mph in 9.4 seconds. It takes an extra tenth in the manual, while the front-wheel drive models are a tenth quicker.
The eight-speed automatic is smooth, but a little steady when changing ratios. Put your foot down and there's a distinct pause while you wait for the gearbox to catch up with demands. With 440Nm of torque, you don't actually need to drop down gears too often though, and if you're racing the Santa Fe around a ring road then you've chosen the wrong car.
Ride Handling
Forget the four-wheel drive system and SUV styling, as this is a car that is unlikely to ever venture off-road, so tarmac based credentials are more important. Fortunately, the Santa Fe provides a fine ride, even on the 19-inch wheels of this Premium SE spec car. Potholes crash through the suspension a tad, but the general level of comfort is exemplary, and probably only gets better on the Premium and SE models with their smaller wheels.
Find some corners and the Santa Fe doesn't cope quite so well. It's tall and softly spring, so there's a fair amount of body lean, but it's kept nicely controlled and doesn't unbalance the car. There's no steering feel at all, and the imprecise nature of the large SUV conspires with that to make accurate placing more difficult than in other cars but, again, it's not one to try and set cross country records in. In comparison to the likes of the Mitsubishi Shogun Sport, it's razor sharp, so these things are relative.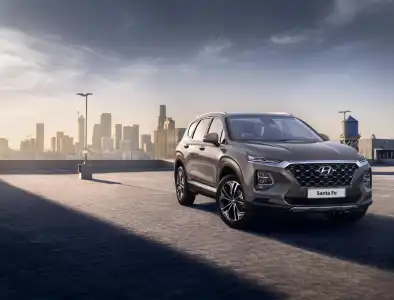 Styling
Unexpectedly, the Santa Fe has a relaxed ambience you'd expect from something costing tens of thousands more. It's more hushed inside the cabin than you would imagine, with wind and road noise almost entirely absent.
The diesel engine is audible, but it's muted even when worked hard. It's not exactly a pleasant sound at that point, but it's still quiet and distant.
It makes the big Hyundai a supremely comfortable car to cover vast miles in, allowing every occupant to relax - especially as this Premium SE model includes heated and ventilated leather seats that are incredibly comfortable.
In The Car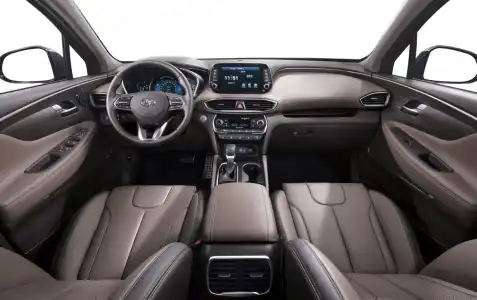 Behind the Wheel
The dashboard manages to combine an awful lot of buttons and lots of detail. It's easy enough to use though, even with so many buttons that I lost count at 50. They're laid out logically, with heating and ventilation controls at the lower end of the centre stack, and audio controls built into the 8.0-inch touchscreen that sits on top of everything.
That infotainment system includes a 10 speaker Krell system, navigation and both Android Auto and Apple CarPlay. There are USB sockets low down to plug your phone into, and a wireless charge pad for those phones equipped with such technology. There's physical shortcut buttons around the screen too, ensuring quick and easy access to most functions.
That means you can keep your eyes on the road, where visibility is strong thanks to the seat height and large glass area, although the thick pillar at the rear hinders your view when reversing. There's reversing cameras on all models though, and a 360-degree version on higher spec cars. The Premium SE includes every other option you could possibly think of, too.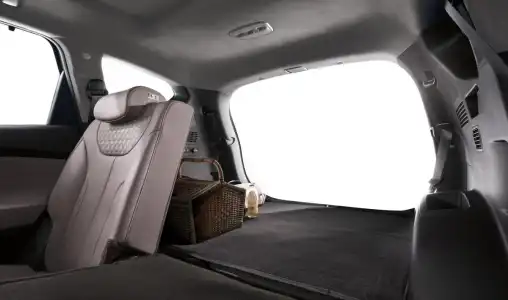 Space & Practicality
At almost 4.8 metres long, there's going to be a lot of space in the Santa Fe. There needs to be, as there are three rows of seats to squeeze in. Everything is fine up front, where the cabin is very much designed to accommodate the driver and a companion. There's lots of storage, including large door bins, a good glovebox and a pair of decent size cupholders.
One row back and things get a little tighter, but a couple of adults will fit without issue, and three could squeeze in if they're good friends. The panoramic roof of the Premium SE eats into headroom, but that's missing from lower spec models. These seats can be folded down electrically, but need putting back in place manually. They also slide back and forth, allowing you to balance legroom between the rear rows.
The rear most seats are fine for adults for short journeys, and good for kids on longer ones. There's more space than in a Land Rover Discovery Sport, but a Peugeot 5008 feels slightly more spacious. It's easy to raise and lower the seats though, with just a single cord needing to be pulled, and they lay flat with the floor when folded.
That frees up a large load area, able to swallow up to 1,625 litres of luggage when loaded to the roof. With all seven seats in place, it's more akin to a family hatchback, but that's not uncommon for this kind of vehicle.
Ownership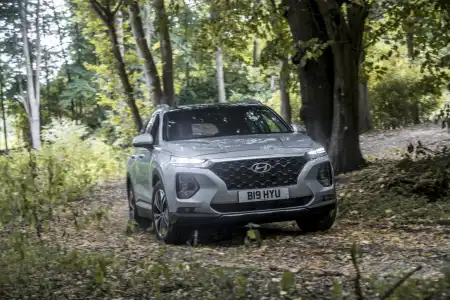 Running Costs
There are cheaper cars to buy and run than the Santa Fe, even when it comes to carrying seven passengers. The list price is competitive, but there's a strong argument for eschewing this Premium SE 4x4 model and dropping a grade and two driven wheels - the resulting Premium 4x2 model saves around £4,000, or £100 a month on a PCP, without sacrificing much in terms of equipment. It also reduces the car tax bill from £465 a year to £145.
Fuel economy of 38.7mpg officially is adequate, but something closer to 30mpg is more realistic. CO2 emissions mean that company users will be hit with a high 37% rate of BIK, resulting in a tax bill of around £260 a month. Dropping to the Premium 4x2 will improve economy to 42.8mpg, and reduce a company car tax bill by around £20 a month.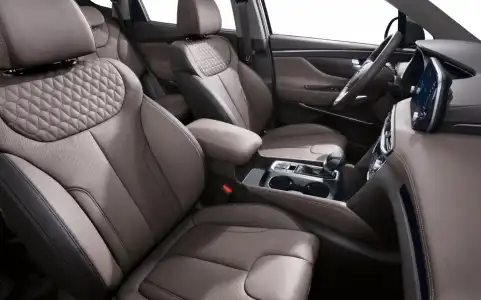 Quality & Reliability
The leather-clad interior suggests a quality finish, but it's mostly not real leather and, despite how good it is, you can tell. Some of the plastics in use feel a little low compared to rivals too, but there's no doubting that it all feels constructed solidly. In fact, it feels unbreakable, no matter how much wiggling, prodding and pressing you do.
Hyundai finished 9th out of 31 manufacturers in What Car?'s reliability survey, where the previous generation Santa Fe also performed well. It's too new to know how this latest model will fare, but it's backed up by a comprehensive five-year warranty.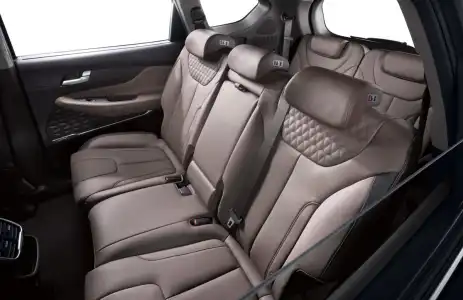 Safety & Security
The Premium and Premium SE models come loaded with every safety gadget you can imagine, including blind spot warning, rear cross traffic alerts and automatic emergency braking. Under normal driving it does tend to beep and bong at everything, warning you of the slightest danger, which gets tiring at times but it's on your side.
Five of the six passenger seats come with Isofix mounts, enabling secure coupling of a child seat. Only the front seat misses out on the attachment.
EuroNCAP testing resulted in the Hyundai scoring the full five stars. Adult and child occupant protection scored highly, but that tall nose means pedestrian safety is compromised slightly.
More On This Car
Take one for a spin or order a brochure
Request a Hyundai Santa Fe brochure
Request a Hyundai Santa Fe test drive