Jaguar I-Pace 400PS Electric HSE (2018 - ) Review
When it launched in 2018, the I-Pace was a giant leap for Jaguar and one that proved electrically-powered SUVs can be luxurious, economical to run and deliver blisteringly-quick driving dynamics.
More On This Car
Need more information?
Business Users Apply for an Extended Test Drive
From £63,495 (excluding Government's EV grant)
Pros:
Great company car

Impressive range and exceptional performance capability

Dynamic styling and practical interior – first JLR vehicle to get Apple CarPlay and Android Auto
Cons:
Expensive initial outlay (like all EVs)

Poor visibility through rear screen

Limited number of compatible 100kW fast-charge points
Introduction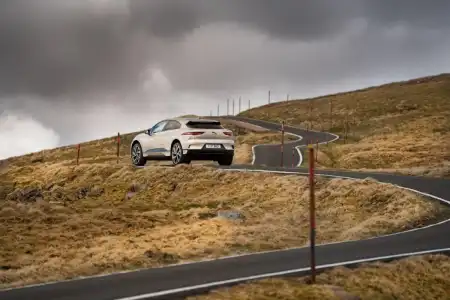 It's important these days to have as many fingers in as many pies as possible and Jaguar has achieved that with its stunning I-Pace. Firstly, it's an electric vehicle. Secondly, it's an SUV and thirdly, it's a premium car with sports car handling. That seems to cover plenty of bases then. But the I-Pace is so much more than a multi-tasker designed to tick boxes. Jaguar has described the I-Pace as the company's most important car in decades so quite a big build up then. And it lives up to all the hype. It looks stunning with gorgeous, dynamic lines. It delivers performance figures that cars powered by traditional combustion engines can only dream about. And, it's actually good for the planet too. Of course, there are downsides. The I-Pace is expensive to buy and there are a limited number of compatible public fast charge points which is a worry.
On The Road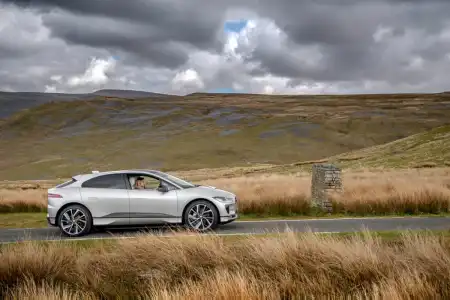 Performance
The Jaguar I-Pace is available in three trim levels called S, SE and HSE, while in 2020 an all-new Black model became available with darker interior and exterior detailing.
All models are powered by a 90kWh battery which drives two electric motors delivering 400hp and 696Nm of torque. That translates into sports car performance with a 0-60mph sprint time of 4.5 seconds, top speed of 124mph and a 'real world' driving range of 292 miles with zero carbon emissions.
The I-Pace is beautifully balanced with the battery positioned centrally between the two axles and as low as possible. This results in perfect 50:50 weight distribution and a low centre of gravity for spirited, agile driving dynamics. The car can be driven into long sweeping bends without any loss of traction or body sway and the power levels keep on giving.
On the open road, the I-Pace is a delight to drive with a choice of drive modes that alter the handling. There is Rain, Ice, Snow mode or Eco, Comfort and Dynamic which is indicated by a very appropriate chequered flag emblem.
The all-wheel-drive and all-surface traction mean the I-Pace is ultra-grippy even in more challenging weather conditions.
But the stand-out feature performance-wise is the instant power. Unlike 'traditional' cars you don't have to wait for the revs to build, there is immediate torque – touch the accelerator and you go.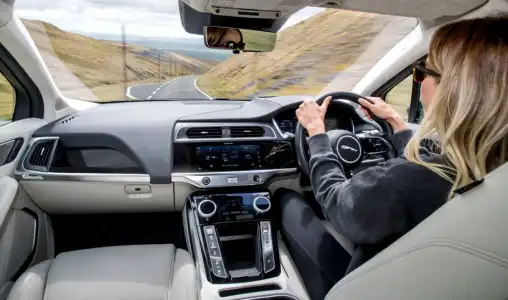 Ride Handling
The ride on the I-Pace is definitely on the firmer side, although it's certainly not uncomfortable. It is well planted and the reactions are as sharp as they come. In fact, at times it's hard to believe you are driving an SUV-styled car.
Our test car in HSE grade was sitting on 20-inch wheels which I thought may prove a tad bouncy and wallowy into bends. I was wrong. Yes, you will feel quite a thud if you hit a pothole, but generally the ride is very impressive. And most of the time the highly efficient suspension system does an excellent job of absorbing the uneven bumps and dips along the way.
The electric power-assisted steering offers ample levels of driver feedback and feels perfectly weighted whether driving through congested town centres with lots of weaving in and out of traffic or cutting loose on the faster country lanes.
There's no denying the 2.1-tonnes weight of the I-Pace – after all it has all those extra batteries to accommodate. While this extra bulk is a little noticeable when driven sharply into tight corners, the car feels poised the majority of the time.
And although we didn't venture off-road, the I-Pace is well equipped to deal with a break from the Tarmac.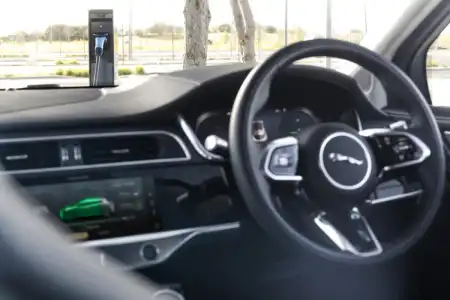 Styling
In The Car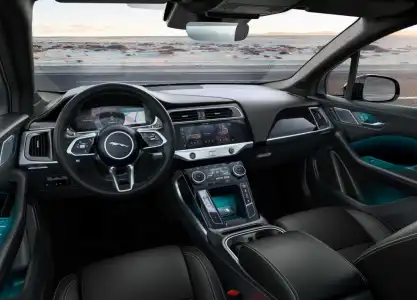 Behind the Wheel
Getting comfortable behind the wheel of the I-Pace is a simple process with lots of power adjustable seat movement and full manual steering wheel adjustment. The driver benefits from a relatively high seating position which results in an excellent view of the road ahead and out the side windows. But the sloping roof design and narrow rear window do rather limit the rear-view visibility and chunky B pillars slightly obstruct the over-the-shoulder vision too.
The Windsor leather sports seats can be heated or cooled and are nicely supportive holding you in place when cornering at pace. And all the controls are perfectly positioned for ease of use. The top section of the dashboard features a 12.3-inch touchscreen where all the infotainment systems are accessed, including Apple CarPlay and Android Auto. The lower screen is for the climate control settings.
Being an EV, the instrument panel behind the steering wheel offers all sorts of relevant information about range, charging levels, power levels, regenerative power and plenty more besides. But this is a car that should be relatively free from causing range anxiety thanks to the real-world range figure of 292 miles. That will be reduced during winter months and if the car is driven in an enthusiastic manner.
There is a pitch perfect Meridian sound system, Jaguar's Touch Go Pro system with full navigation, DAB radio, Bluetooth, two zone climate control and ambient lighting.
Another feature worth mentioning is the wireless over-the-air updates to ensure customers always have the very latest software.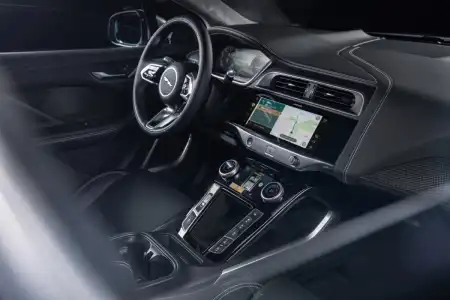 Space & Practicality
As well as all the flashy technology and impressive handling credentials, the I-Pace is an SUV and, as such, needs to offer great all-round practicality, catering for an active family's needs with ease.
It is a five-seat car and up front, there is ample room for the tallest of occupants. There is a generous amount of legroom in the back two for at least two passengers to sit comfortably, three if they don't mind rubbing shoulders. The sloping roof design of the car does mean taller passengers may find their hair is brushing against the roofline though. But their seats can also be heated which is a neat touch. And with USB ports and 4G WiFi for up to eight devices, there's plenty to keep passengers occupied on the move.
Storage options are good with a boot that is accessed via the power gestured tailgate and has a capacity of 656 litres. The 60:40 split-folding rear seats can be dropped and that limit increases to 1,453 litres. There is a further 27-litre storage compartment beneath the bonnet – who needs an engine!
And throughout the car, there is a lockable glovebox, deep door pockets, storage under the front armrest, netted pockets in the backs of the front seats, a sunglasses holder, a compartment under the rear seats, front and rear cup holders along with net hooks in the boot.
Ownership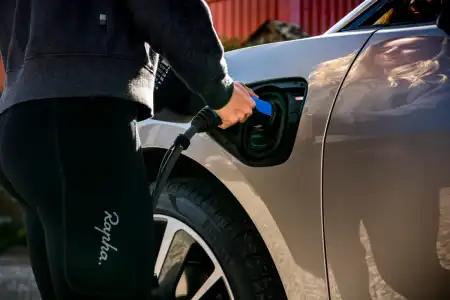 Running Costs
So, getting down to the nitty gritty and the price of buying and running the Jaguar I-Pace. As is the case with all electric vehicles, the initial outlay is quite hefty. The I-Pace range starts from £63,495 for the entry-level I-Pace S and rises to £81,495 for the range-topping First Edition version. These prices are before the Government's EV grant of £3,500 has been deducted.
Our test car, in HSE trim, was priced at £74,445 although it featured a number of optional extras that meant the final cost was £78,010.
With zero CO2 emissions, the I-Pace is exempt from Vehicle Excise Duty charges and Congestion Charges, but as the vehicle is priced above £40,000 there would be an annual charge of £310 for five years as a luxury car tax.
The charge cable is located under the boot floor and the I-Pace can be charged up to 80 per cent in 40 minutes on a DC 100kW charger; 10 hours on an AC 7kW charger or 12.9 hours to a full charge on an AC 7kW point.
Our car was in insurance group 50.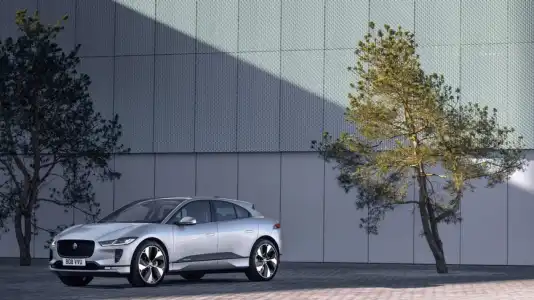 Quality & Reliability
It's difficult to accurately predict how reliable the Jaguar I-Pace will be as it's all so new. It features a bespoke chassis and a whole new electric power source. However Jaguar is keen to point out that the car has been vigorously tested to its limits. During these tests, the I-Pace has clocked up 1.5 million miles (which is equivalent to circling the globe 60 times), it has undergone more than 11,000 hours of rig testing and, with 200 prototypes in operation, has been put through its paces (literally) in Europe, North America and Asia by more than 500 test engineers.
The car certainly feels very well put together and Jaguar offers it with a warranty of three years with unlimited mileage as standard with multiple options to extend. In addition there is an eight-year or 100,000 miles (whichever comes first) battery warranty. This is redeemable in the case of any manufacturing defect or if a Jaguar retailer measures that the battery has dropped below 70 per cent state of health.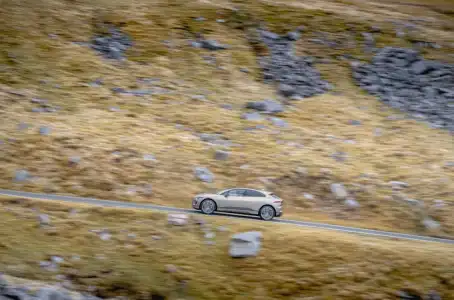 Safety & Security
The I-Pace is packed with safety features and driver aids and secured a maximum five stars when it was tested for its Euro NCAP rating. This makes it the tenth consecutive vehicle developed by Jaguar Land Rover to receive the maximum five-star rating.
There is a long list of on-board systems to protect occupants such as the Driver Assist Pack which includes adaptive cruise control with steering assist, high speed emergency braking, a 360-degree surround camera and blind spot warning. There is a driver condition monitor, lane keep assist, emergency brake assist, six airbags, traffic sign recognition and a Park Pack that consists of 360-degree parking aid with rear traffic monitor, clear exit monitor and park assist.
In addition, Jaguar has developed an Audible Vehicle Alert System for the I-Pace to warn pedestrians as the car approaches.
More On This Car
Need more information?
Business Users Apply for an Extended Test Drive