Pros:
Improved interior

More powerful than rivals

Excellent handling
Cons:
Limited headroom

Pricier than competitors

The engine isn't particularly smooth
More On This Car
Take one for a spin
Request a Jaguar XE test drive
Introduction
We took the new Jaguar XE for a drive around Nice to see if it's up to the mark. The XE has been face-lifted with a modified look, including a fresh interior, new engine and a few cosmetic changes to the exterior are the order of the day. So, can this up-to-the-minute XE further improve Jaguar's sales figures?
On The Road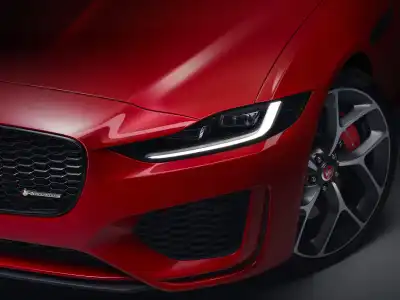 Performance
The XE gets a new engine, with more environmentally-friendly powertrains from the company's Ingenium range, which will help with things like company car tax.
Our test car is the range-topping petrol. The engine size may disappoint you, especially as it's called the 'P300 R-Dynamic S' version. But while this powerplant is only a 2.0-litre, four-cylinder, it's impressively tuned up to 300PS.What's more, it reaches 0-62mph in a respectable 5.7 seconds - and tops out at 155mph.
Jaguar has simplified its range, halving the number of engines on offer from six to three - and that means this engine needs to deliver.
It sounds nice under acceleration, but somehow the Jag doesn't seem to be worthy of its performance figures. Its smoothness feels compromised and, while it does shift, the car still feels on the heavy side.
All in all, it's impressive that Jaguar has managed to shovel so much power out of a modest 2.0-litre, but it somehow doesn't feel like it has as much grunt as the 300PS figure suggests.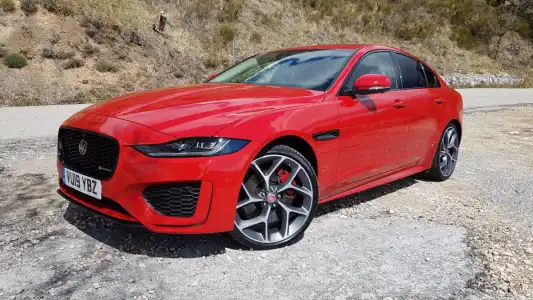 Ride Handling
The XE comes with four-wheel drive, which is curious, as handling has always been the car's party piece. And it's interesting to see how this compares with the two-wheel drive versions offered before.
Thankfully, Jaguar appears to have kept the focus on its handling, as it's arguably even better than before.
Driving it on some twisty back roads heading out of Nice, it is great fun to drive and holds the road well, with a good balance and limited body roll in the corners. There's no unwieldiness – it just grips.
Furthermore, the four-wheel-drive system adds more sticking power, and gives you more confidence than the older models did with just rear-wheel drive.
The only disappointing thing was when we ran out of road, so we turned around and came back again.
The car's power means this model is geared towards performance, and the sportiness can be felt in the ride, which is less comfortable than other XEs that we've driven. Then again, this is a motor you'll buy for the horsepower figure, so you probably won't mind the sporty ride.
It is available with just rear-wheel drive, too, if you prefer.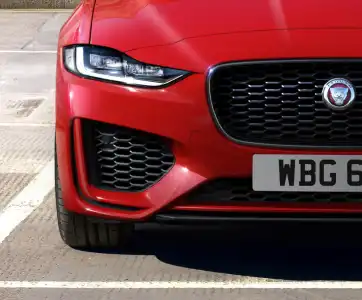 Styling
Jaguars should be refined – it's in the company's DNA. What good is a Jag with a stench of cheapness? Granted, they're hardly expected to be Rolls Royces, but a classic British brand is expected to have a level of class that you don't find elsewhere.
Ironically, those expectations are more down to misguided stereotypes of what it means to be British; especially those pedalled by the Americans, who seem to think we all drink afternoon tea with the Queen, or the local vicar when she's unavailable.
But, as Brits are well aware, such a stereotype is a myth.
The exterior looks introduced a few years back took Jaguar cars generally to a new level, but there remained a considerable air of plastic in the interior. Thankfully, that is all gone, with the old one stripped out in place of a new design. But it still doesn't feel as luxurious as some of its rivals. It's a step up on what was there before, though.
On the outside, there are new headlights and bumpers – and, in all honesty, that was all that was required to give it that extra kick – and they seem to have done the trick.
In The Car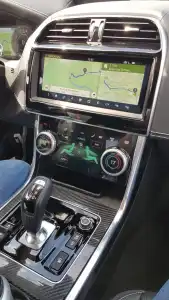 Behind the Wheel
The new XE does away with the hard plastics. More of the materials feel classier and more expensive. The hard-to-the-touch materials are also softer. You now get the same gear lever as found in the F-Type, while the shift paddles are made of aluminium and the indicator stalks are now made of metal.
Furthermore, the steering wheel is new, as is the centre console.
Whether the new XE is on a par with its German rivals is open to debate, although it's hardly likely to worry them.
The panels on the doors have also been made thinner to create more room in the cabin, and you feel less 'hemmed in' as a result.
From the driver's point of view, you'll like the new digital instruments and the 'Touch Pro Duo' infotainment system – though the latter is an optional extra.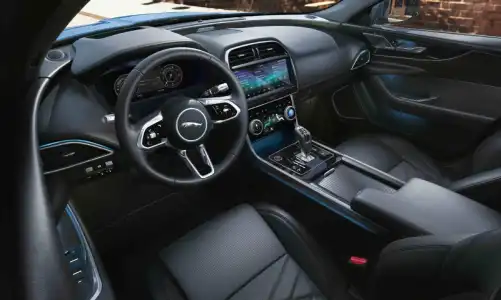 Space & Practicality
The interior re-design means that there's more space inside. And, while it's noticeable over the old XE, it's still not what you'd call roomy, especially if you're a bigger person.
Headroom is still a problem for taller drivers and, if you're a gym addict, your arms may even feel a little constrained when it comes to finding a comfortable driving position.
It's nevertheless an improvement on what went before.
Boot space is 410 litres, though, which is a drop of around 40 litres on the old models – so it's slightly less than the BMW 3-Series and Audi A4, which both have 440, while the Mercedes C-Class has slightly less.
Ownership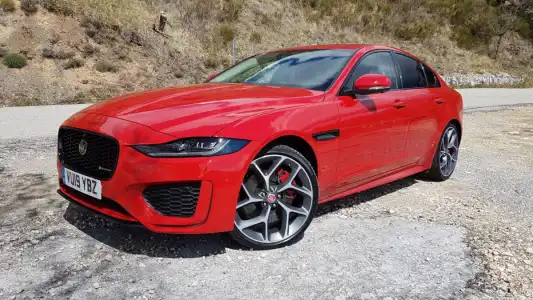 Running Costs
We would hope that a car with a 2.0-litre four-cylinder engine would be quite economical. Then again, we wouldn't expect the same of a vehicle with 300PS.
This, however, has both. So the extent of its economy possibly depends on which perspective you view it from.
We were impressed with the claimed 38.7mpg, though we found it struggled to hit 30 mpg on the road, which was a bit disappointing. For comparison, BMW's 330i M Sport, which boasts the same sized engine but with only 252PS, claims economy figures of 43.5mpg.
In terms of CO2, emissions are 167g/km, which is still impressive for a car with so much potency.
The price is a shade over £41,000, which seems expensive. The BMW can be had for £36,000, while the equivalent Audi A4 in S Line trim and 252PS costs £39,985. Mercedes-Benz offers its C300 AMG Line for £40,380, making the Jaguar pricey.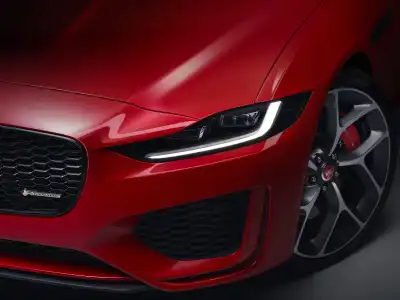 Quality & Reliability
The quality is noticeably improved from the older models, and with the more environmentally-friendly powertrains from the Ingenium range, the new XE should be a success.
Overall customer satisfaction has been high, and owners of the car love it, so Jaguar is doing something right. We just need the automaker to climb the final few rungs to make the XE a really great car.
And any review of the XE has to be seen in context – it is ahead of the vast majority of saloons on the market.
But the reality is, this set-of-wheels will be judged against Audis, BMW and Mercs, so it needs to deliver.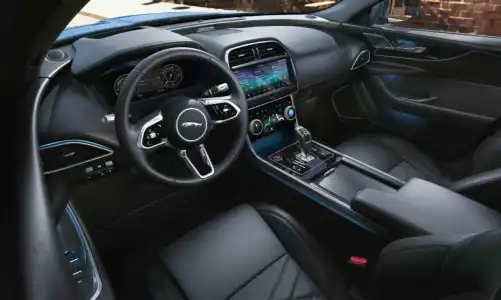 Safety & Security
The Jaguar is as safe as houses, with a five-star Euro NCAP rating.
It scores 92 per cent for adults and 82 per cent for children, while the safety gizmos are plentiful. It features automatic emergency braking, lane departure warnings in case you get out of shape on a motorway, recognises traffic signs and has rear-parking sensors.
Optional extras include front parking sensors, blind-spot monitors, as well as Forward Traffic Detection. This can detect traffic approaching from ahead if you're pulling out from somewhere with an obstructed view.
More On This Car
Take one for a spin
Request a Jaguar XE test drive