£32,995 after Government grant
Pros:
Real-world range of 250ish miles

Peppy performance, especially in urban areas

Sensible and practical family car with loads of equipment
Cons:
Expensive to buy compared to traditional cars

Drive lacks engagement

Takes time to charge
More On This Car
Take one for a spin or order a brochure
Request a Kia Niro brochure
Request a Kia Niro test drive
Introduction
You might have heard of the Niro before, as it's been around for a couple of years. Powered by either a petrol-hybrid engine or a plug-in petrol-hybrid option, it's a competent and practical crossover.
If hybrid power isn't green enough for you, there's now the e-Niro. The cunning addition of the 'e' might give away the fact that this is a pure electric car, with nothing but an electric motor and a large battery pack under the bonnet.
The result is a car that combines the best of a practical family car with the running costs and entertaining drive of an electric powertrain, but with a realistic 250-mile range an asking price that won't frighten people off. Game-changer is a phrase that's used too frequently, but it might just be applicable here.
On The Road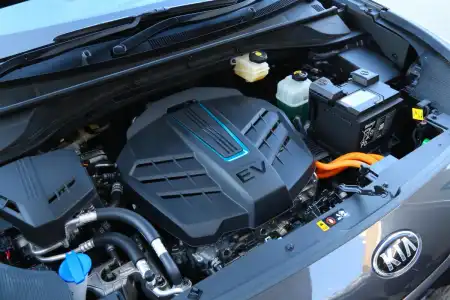 Performance
One benefit of electric power is that you get 100% of the torque available at all times, so the e-Niro positively leaps from the line. The 0-62mph sprint takes just 7.5 seconds, although it starts to run out of go once it's topped motorway speeds. At 105mph it gives up, but that's fine for UK motoring.
It feels sprightly right across the board, with a slight twitch of the foot being all that's needed to bring about extra acceleration. Responses are instant and linear, allowing for fine control at all speeds, right down to a crawl.
Of course, using all the power eats into the energy available, and therefore the distance you'll be able to go, but it's nice to know that instant response is there when you need them.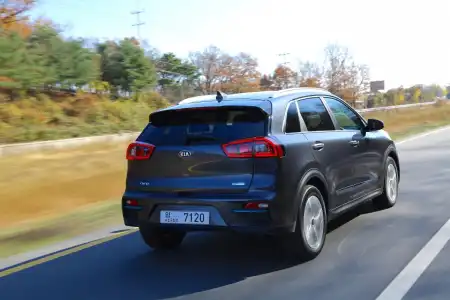 Ride Handling
It's quite clear that Kia didn't fancy setting the e-Niro up for any track days or lap record shenanigans. It lacks engagement when driving, but that's not to complain about it - instead it's utterly predictable, feeling safe and secure on the road. There's little feel through the wheel, but push hard and you'll find a surprisingly high level of grip available, something that'll be reassuring on a dark country lane.
The ride quality is reasonable, although it doesn't smooth out every imperfection. It gets better at speed, settling nicely on the motorway, but still lets small surface ripples find their way into the cabin. Overall it's pleasingly comfortable, even if it falls short of being class leading.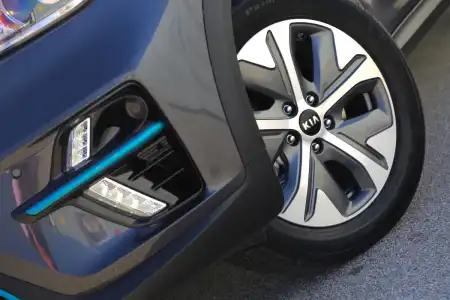 Styling
Lacking an engine means there's little in the way of noise or vibration in the car, which lends it a particularly rarefied atmosphere. There's a slight high-pitched whine from the drivetrain, but it's magnitudes quieter than a proper engine, and won't be noticed once the car is travelling at anything beyond urban speeds.
That lack of noise means the engineers at Kia have had to pay more attention to things like windscreen wipers (hidden behind an aerodynamic cowling) and wing mirrors (shaped differently to the normal car) to prevent the wind noise they usually make sounding louder than normal. Aerodynamic wheels, some tricky spoilers and airflow conditioners around the car, and a near flat floor, also help keep wind noise at bay.
There's really nothing there to break the spell, leaving you so isolated from the outside world that there's little this side of a Rolls-Royce that could offer an environment quite so refined. Granted, the plastics and leather trim isn't quite up to Goodwood's finest...
In The Car
Behind the Wheel
Kia has taken the opportunity to facelift the interior of the car. The lack of a gear lever means the centre console has seen most changes, with extra storage taking its place, along with repositioned power sockets and a convenient slot for storing (and wirelessly charging) a mobile phone. Selecting forwards or backwards is now a simple twist of a dial.
The instrument binnacle has also been updated with an all-digital display, adding a high-tech flavour to the car, and preparing the driver for a long list of standard equipment.
Heated leather seats and steering wheel (these use less energy than heating the cabin) and climate control are standard, as is adaptive cruise control, an eight-inch touchscreen infotainment system with DAB radio, Bluetooth connectivity, navigation and both Android Auto and Apple CarPlay mirroring, all pumping out sounds through an eight-speaker JBL Audio system.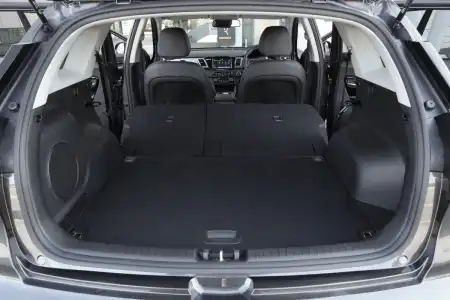 Space & Practicality
There's enough space in the e-Niro to keep most buyers happy. As is the norm, there's plenty of room in the front for two adults to get along without banging elbows, and the addition of the new storage area between the seats makes storing bits and pieces much easier.
Naturally there's less room in the rear, but there's plenty of headroom and two adults again wouldn't be uncomfortable. Squeezing a third person into the centre seat for a long journey would be tight, though.
The boot is a good size, with 451 litres of storage space available under the parcel shelf. That's more than you'll find in a Nissan Qashqai, for example. Fold down the rear seats and you'll find a flat floor that will swallow a huge 1,405-litre load. Certainly squeezing in a bike should be easy enough, and there are four tie-down points to keep things secure.
Ownership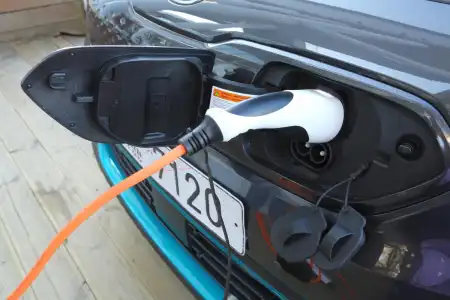 Running Costs
Skip past the purchase price and the effect that has on PCPs and leasing costs, and you'll find the e-Niro to be exceptionally cheap to run. Instead of burning up petrol or diesel, the electricity you pump into the car will get you more than 35 miles for every £1 spent. That's more than three times cheaper than a petrol or diesel car that returns even an optimistic 60mpg.
With zero emissions, tax is low. Car tax is priced at zero, and is set to continue at that, while company car drivers will be pleased by a BIK burden of 13%. That means a 40% taxpayer faces a bill of a little more that £150 a month, which compares favourably to something like a Ford Focus.
It's electric power plant also means the e-Niro will neatly sidestep any current (and probably future) city centre charges, such as the London Congestion Charge, potentially saving hundreds a year.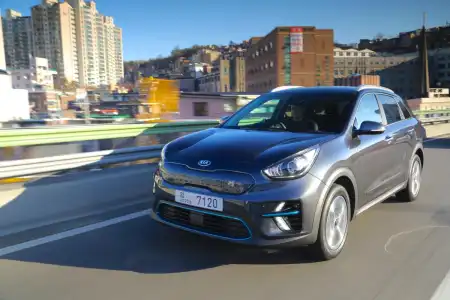 Quality & Reliability
When Kia slap a seven-year warranty onto the e-Niro, you can be sure that it's got confidence in the product. It certainly feels well built, with perceived quality being top notch, even if some of the materials are a tad on the cheap side.
That warranty applies to the electric motor and battery too, reassuring buyers that there's plenty of life in the e-Niro.
That's on top of the theoretically improved reliability of an electric car. Yes, there's still the normal potential issues to face with suspension, steering, and so on, but there's no gearbox, no engine, no exhaust and less wear on brakes, amongst other things. That means there's less to go wrong in the first place.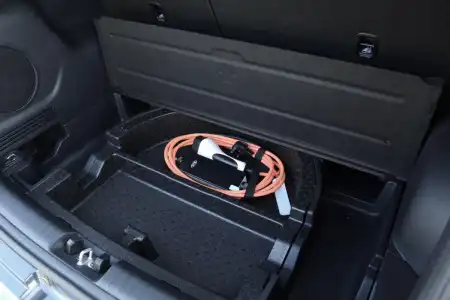 Safety & Security
The e-Niro hasn't been tested by EuroNCAP yet, but its conventionally powered Niro sibling scored four stars after crash tests in 2016. It was marked down for missing out on some safety tech that's fitted as standard to the e-Niro. The car scored high marks for adult protection, and top marks for side impacts.
Comprehensive safety equipment is fitted as standard to the e-Niro, including automatic emergency braking with both pedestrian and cyclist detection. This works using a combination of radar and cameras to scan the road ahead, alerting the driver to collision risks before they happen. If there's no reaction, the car will brake automatically, possibly avoiding the collision entirely.
Adaptive cruise control and lane following assist also help keep the car out of trouble at higher speeds, although all of these systems can be overridden by the driver immediately, if necessary.
More On This Car
Take one for a spin or order a brochure
Request a Kia Niro brochure
Request a Kia Niro test drive