TBC (Expect c.£40,000)
Pros:
Handsome exterior design

Strong pulling diesel engine

Comfortable and planted on the move
Cons:
Body roll in corners

MPG could be better

Quite pricey
Buy and save on quality approved and used cars
Introduction
Kia is a brand that has been going from strength to strength over the last few years. Once a badge almost ignored on the roads of Britain, the South Korean motor manufacturer is now a serious player in the SUV, family and small car market. The Sorento has been on the scene for a while, and it's time for a refresh to keep the seven-seater SUV in our minds. So, is it any good? Well, we had exclusive early access to this model…but there was a proviso - we had to go to the Far East to drive it.
On The Road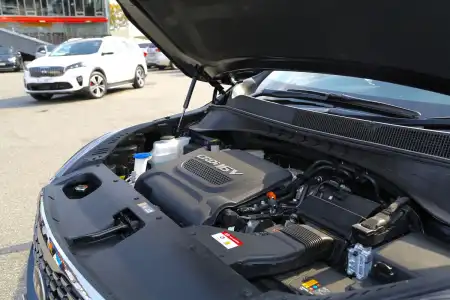 Performance
Kia is debuting a new automatic gearbox in this Sorento, and it has eight-speeds. It replaces the six-speed auto transmission, and is only going to be available with the 2.2-litre diesel engine. But this is what we tested, and what we'd recommend you getting anyway. It's got the grunt and the torque to move you along at a rate that won't infuriate you, and that's about all you can ask for in a seven-seat SUV. With 200PS, the fresh, eight-cogged automatic diesel Sorento gets you to 62mph in 9.4-seconds and will hit a maximum speed of 127mph, while returning over 45mpg.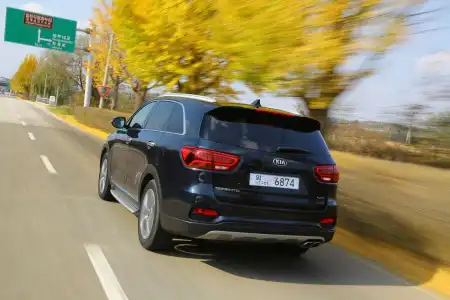 Ride Handling
The upcoming 2018 Kia Sorento is like the present one – in the sense that it's a seven-seat SUV, so you can probably guess how it drives. Supple and comfortable in a straight-line cruising down a motorway or dual-carriageway, and lurchy, slow, and with a fair bit of body-roll in the corners. It's a car that weighs around two-tonnes, so it won't exactly enjoy being subjected to G-Forces in the corners. That said, what it's good at - cruising around with a group of people in it - it's very good at. It's also just about compact enough to mooch around town in. And, given Seoul's horrendous traffic, mooching is all we could do while in the South Korean capital. The steering is smooth, and the levels of traction from the road encouraging. A 4WD drive system is there for you, but it's unlikely this Sorento can scale any mountains- it's built primarily for the road. No complaints at all from us, though.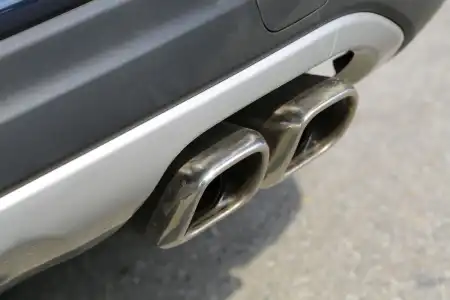 Styling
Yes, an SUV is meant to be sophisticated, especially when you're forking out anywhere between £30,000 to £40,000. This is the region where the likes of Mercedes-Benz, Audi and Jaguar begin to lurk, so SUVs in this sector need to be able to fight their own corner. While the Sorento's 2.2 oil burner isn't as hushed as some of its competitors' power units, the solid cabin makes up for this lack of engine refinement. Comfy seating, more soft-touch materials and tech, such as climate control, cruise control, satellite navigation and a newfound eight-speed auto 'box make the 2018 Sorento fairly secure in the party of contending SUVs. While the Kia's cabin quality isn't unflawed, it's still a noble effort. You just might be unfulfilled by the quality of some of it if you've swapped from, say, a BMW X3.
In The Car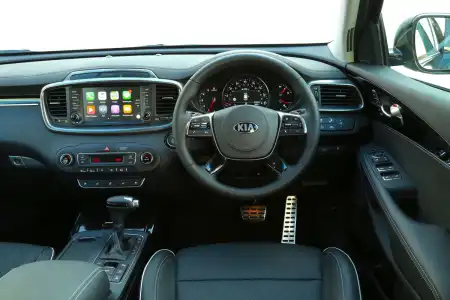 Behind the Wheel
The 2018 Sorento's driving position is outstanding, and the seats are supportive for long distance cruising. Yes, once out of Seoul, we did manage to stretch the Kia's legs somewhat.
This model looks good inside, too, with a freshly-designed steering wheel and driver instrument cluster. As the driver, you've got a large amount of tools you'll need for a secure and soothing trip, including an eight-inch Audio Visual Navigation system. The two front seats are kitted out with four-way and two-way alterable lumbar support, to boost seating comfort.
What's more, the 2018 Sorento is Kia's first SUV to be fitted with the aforementioned eight-speed automatic transmission. The gearbox delivers a more decisive drive, while reducing emissions slightly. The automatic 'box offers up four drive styles: Eco, Comfort, Sport and Smart. You can choose your favourite mode with the Sorento's electronic Drive Mode Select system. Each setting allows you to tailor the powertrain's replies to your inputs, improving fuel economy or acceleration, depending on your predilection.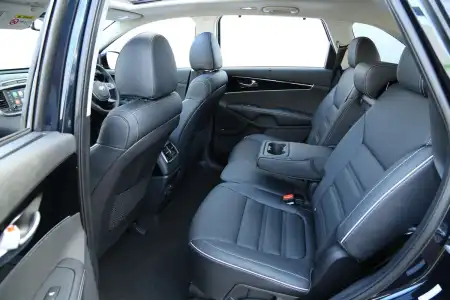 Space & Practicality
This is this Kia Sorento's bread and butter - at least it should be - because if a seven-seat SUV can't be practical, what on earth is it for? Of course, the spanking Sorento is just that. Impressive amounts of space for four fully-grown human beings with generous leg and head room in the second row, and decent to acceptable space for the small humans that would go in the two seats that make up the third row.
As usual with seven-seat SUVs, you can fold down or remove the third row to create a large boot space. In total, 660-litres of cargo room is available, and the load area can be expanded to 1732-litres, if required. That's especially handy when carting away your oversized purchases from certain Swedish furniture stores!
We should also emphasize that the all-wheel drive system is very practical, giving you that additional toehold and well-being on the roads. We're advancing into the winter now, so driving rain, grime, frost and even snow will likely kick in before we know it.
Ownership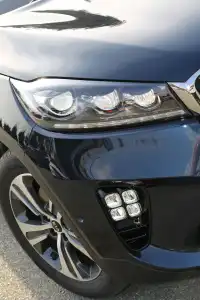 Running Costs
SUVs often get a bit of a bad press when running costs are mentioned, and certainly the 200PS, 2.2 diesel offered by Kia doesn't win any medals for ultra-efficiency. The 2018 Sorento will return over 45mpg, but expect to see late thirties in the real-world, especially when fully loaded on British roads.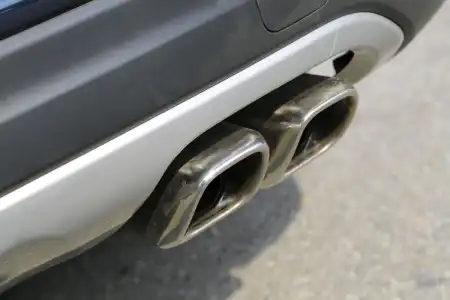 Quality & Reliability
The Sorento's engine has been well-tried in other vehicles, including Hyundai's Santa Fe, so it should prove free from trouble. The eight-speed automatic transmission is too new to know what to expect yet. But, it has been developed in-house at Kia, and the firm has a reputation for dependability.
You also get the security of a seven-year warranty, if you don't drive over 100,000 miles during that period. Free roadside assistance is offered for the first year, covering you when you're driving in Britain or continental Europe. Breakdowns at your home come as part of the deal, too.
For a seven-seat SUV - a motor that's not exactly easy to style - it's a handsome machine. A series of changes to the car's exterior encompass improved bumpers, LED head and tail-lamps, and a contemporary dark metallic finish to the grille. The outcome is a more erudite and decisive front-end look.
The interior is a quality place to sit and spend time, too. If you've not been up close and personal with a Kia in the last couple of decades, go and have a look around. This model will be in showrooms from December.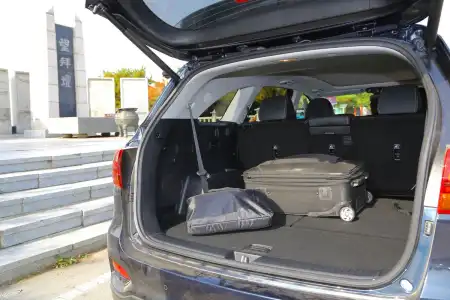 Safety & Security
The Sorento is, for the first time, available with DRiVE WISE Advanced Driver Assistance Systems (ADAS). DRIVE WiSE represents Kia's philosophy to make intelligently safe cars with active safety technologies designed to circumvent or lessen the consequences of accidents.
The Driver Attention Warning (DAW) system tackles inattentive driving. The system emits a chime and shows a graphic in the dashboard binnacle if it detects a lack in driver concentration.
Other safety highlights on this Sorento incorporate: Full LED headlamps with Dynamic Bending Light and a Lane Keeping Assist System.
The Kia was given the top five-star rating following 2014 Euro NCAP crash tests, with grades of 90 per cent for adult protection, 83 per cent for child protection and 67 per cent for pedestrian protection.
Security comprises an engine immobiliser, and alarm and an obvious vehicle identification number (VIN). Security gurus, Thatcham, granted the Sorento five stars for safeguarding against being pinched and four stars for withstanding being broken in to.
The 2018 Sorento is a good bet for people who can't quite make it into BMW/Audi/Merc SUV territory, because it really does feel upmarket. Whisper it quietly, but Kia might just have made a desirable seven-seat SUV here.
Buy and save on quality approved and used cars