Pros:
Distinctive design appeals

Hybrid power improves the economy

Strong warranty
Cons:
Top models become pricey

2.0-litre and 4WD isn't necessary

Hybrid power takes some boot space
Buy and save on quality approved and used cars
Introduction
The Sportage is Kia's best selling car, so any changes need to be well-considered and for the benefit of consumers. When it got a mid-life refresh, the updates were few and far between, but significant enough to warrant attention.
Ok, the new fog lights and added gloss trim around the front of the car aren't critical but tidy up the Sportage nicely. The grille has been slightly modified, and there are now 'ice-cube' daytime running lights.
More important are the changes under the bonnet. The 1.6-litre petrol engine has been tweaked to lower emissions, while the 1.7-litre diesel engine has gone, replaced by a smaller 1.6-litre unit that joins the 2.0-litre diesel. There are six-speed manual and seven-speed auto options too (and an eight-speed box on this model) as well as front-wheel-drive and four-wheel-drive.
And, of course, there's now electrification. Each of the diesel engines have been paired with a 48-volt electrical system and electric motor, promising improved economy and lower emissions. We find out how it affects the popular SUV…
On The Road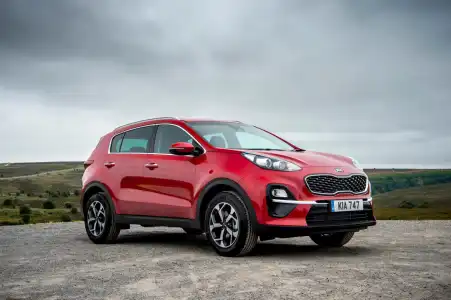 Performance
At launch, there was just the top-spec 2.0-litre diesel engine available, with a healthy 182hp on tap and an even more interesting 400Nm of torque. It's fair to say that the Sportage pulls well with that power available, but the stopwatch shows the headline 0-62mph dash takes a rather steady 9.2 seconds.
That's perhaps where the first benefit of the hybrid system comes in. There's an integrated starter-generator unit (or electric motor to you and me) that is attached to the crankshaft. The 48-volt electrical system allows the motor to add a little extra power directly to the crankshaft, boosting reactions and filling in blanks while the turbo spools up.
The result is it feels quite zesty at lower speeds, but the sensation fades as speeds build. Still, for a 1.7-tonne box on wheels, it's a long way from being slow.
The smaller capacity diesel engine isn't as quick, as you'd expect, but it's still no slouch. It gives up 50hp or so, and 80Nm of torque, but it's lighter so makes up for some of that deficit.
The petrol engines appeal to those moving away from diesel power, but the lower torque figures mean you've got to work the engine hard to make progress.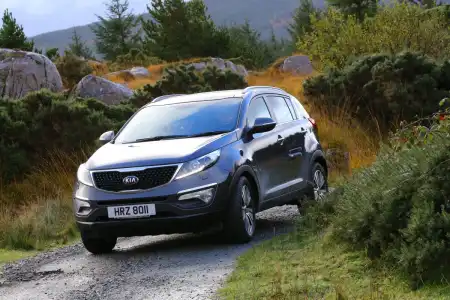 Ride Handling
Surprisingly stiff suspension ensures the Sportage remains mostly free of body roll in corners, improving driving confidence. Combined with significant levels of grip from the wide, low-profile tyres fitted to the 19-inch wheels of this test model, it's almost entertaining to drive.
The ride quality suffers for that enhanced ability, where it doesn't feel to settle down until you reach motorway speeds.
The Sportage ends up straddling a line somewhere between sporting and comfortable but fails to hit the mark on either. That's not necessarily a bad thing, as buyers are unlikely to be pelting around race tracks in a medium-sized SUV. Moving closer to the comfortable side of the bell curve wouldn't go amiss, though.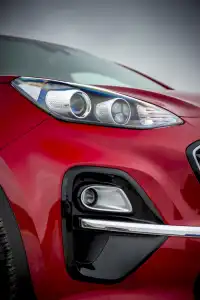 Styling
Kia has worked some magic on its diesel engines, as both the 1.6-litre and 2.0-litre engines are pleasantly smooth and refined, notably more so than many of its rivals.
Beyond that, there's not much to say about the Sportage. It's not bad in any way but doesn't stand out as being ahead of its rivals either. It's quiet enough, but there is some tyre noise and a bit of wind roar.
Overall, it falls short of the premium German rivals but is someway ahead of its cheaper rivals, which is exactly where you would expect it to be.
In The Car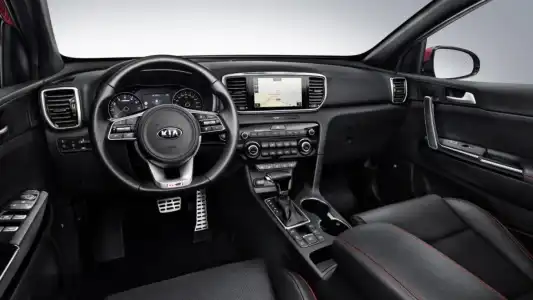 Behind the Wheel
At launch, the Sportage's interior worked well, but time hasn't been entirely kind to it. The centre stack houses a huge number of buttons (I counted 28) that control the heating and ventilation and the infotainment system. That system is displayed through an eight-inch screen sat between the air vents at the top. It's all fine really, but competitors have moved on, and even Kia's latest models have a bit more style and a more modern 10.25-inch screen.
It's all surrounded by swathes of grey plastic, some are soft to the touch but none of it appearing to be particularly premium. It's a long way behind its German rival now, which may seem harsh a harsh comparison, but then the Sportage can command a price tag of more than £35,000.
The flip side is that the Sportage is absolutely loaded with equipment, especially at the GT Line S trim level tested here. Luxuries such as ventilated seats, a heated steering wheel and even LED lights in the boot. Even the entry-level model comes well kitted out but obviously misses out on some of the more superfluous options.
Space & Practicality
The Sportage recovers some ground here, as it's particularly good for passengers. There's legroom and headroom across all seats to spare, with the rear seat backrest angle able to be changed to balance comfort with a little extra boot space.
Even squeezing in a fifth passenger won't worry the unlucky extra guest too much, as there's plenty of room for feet either side of a small transmission tunnel.
The boot is spacious too, although it depends on which model you choose. Petrol-powered Sportages have a whopping 491 litres of capacity, which is 61 litres more than you'll find in a Nissan Qashqai. However, the diesel models lose some of that thanks to the addition of an AdBlue tank underneath, reducing capacity to 467 litres.
The 48-volt mild hybrid models such as this suffer, as the battery pack eats up more space, leaving the boot able to take 439 litres of luggage. That's still nine litres more than the Qashqai, though.
The rear seats don't fold completely flat, but the boot floor runs flat from the lip to the base of the seats. That lip is quite high too, thanks to the chunky styling of the Sportage.
Ownership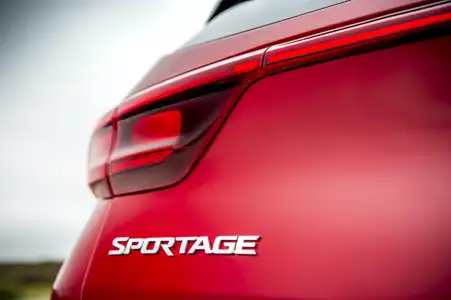 Running Costs
With a 0.44kWh battery pack, compared to the 64kWh battery you'll find in the Soul EV, you wouldn't expect to go far on electric power alone, and you'd be right. That's to misunderstand how the hybrid system works though.
The battery is topped up when braking or coasting and then uses that stored energy to boost acceleration and aid efficiency. It's possible for the engine to switch off entirely at times, although this would be quite unusual on UK roads.
The efficiency gain is small, with Kia suggesting between 4 and 7% improvement depending on model and specific demands, but that's enough to warrant fitting the system. It's small, light and cheap, so offers benefits with little downside, and explains why it's slowly spreading across the entire Kia range.
Fuel economy promises to reach as much as 41mpg, which isn't great. However, the on-board computer recorded an average of around 50mpg on one journey, so hybrid power worked well there. CO2 emissions of this top-spec car are 182g/km. That means company car drivers will face the maximum 37% benefit-in-kind rate.
However, eschewing the 4x4 option, and perhaps dropping down to the excellent 1.6-litre model, sees the economy improve by 20%, with similarly lower CO2 emissions.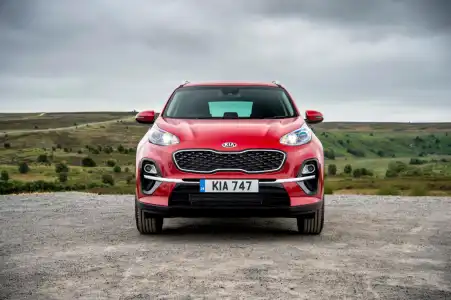 Quality & Reliability
Kia offers a seven-year warranty on all of its cars, and the Soul EV is no different. It might be limited to 100,000 miles, but it extends to the battery pack so should ensure you have many happy years of backup.
As a brand, it finished third in the most recent Driver Power survey, ahead of Honda and Toyota, while the Sportage finished 13th individually. That's a strong result, ahead of the Honda CR-V and Lexus NX.
The results are broadly similar in the JD Power Vehicle Dependability survey, where Kia finishes seventh.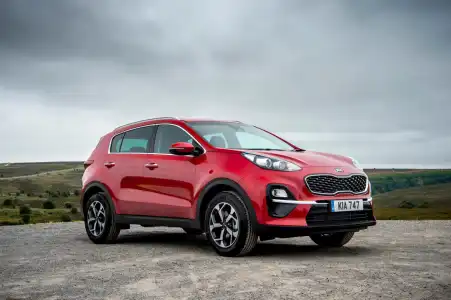 Safety & Security
There's an odd imbalance between different levels of the Sportage, with the top-spec '4' and GT Line S getting every safety feature imaginable. However, drop to the entry-level '1' model and you miss out on blind spot warning, lane-keeping assist, and even automatic emergency braking with pedestrian detection.
Still, despite that, the Sportage scored the maximum five-stars in EuroNCAP crash safety testing, with particularly strong results for adult and child occupant protection. Pedestrians fared less well, with that tall nose taking its toll.

Find out our latest offers for used Kia Sportage.
Buy and save on quality approved and used cars