Pros:
Very pretty

Feels special

Tried and tested hybrid powertrain
Cons:
Sporty? No.

More expensive than rivals

Too different for some people
More On This Car
Take one for a spin or order a brochure
Request a Lexus RX brochure
Request a Lexus RX test drive
Introduction
What a treat it is to feast your eyes upon the Lexus RX. It's one of the most striking, exciting SUV designs in the world of cars, and it also happens to be one of the most successful SUVs in motoring history. That's because it's been around for so long. You thought SUVs were an invention of the 2010s? Well, the Lexus RX arrived on Earth in 1998, and since then Lexus has managed to shift more than three million of them.
That number is one you can't argue with. If a car has managed to sell that many units then it's doing something right, not that it's that popular here in the UK. Lexus's strongholds are in the USA and its homeland of Japan, but that doesn't mean that it doesn't have something to offer us Brits.
On The Road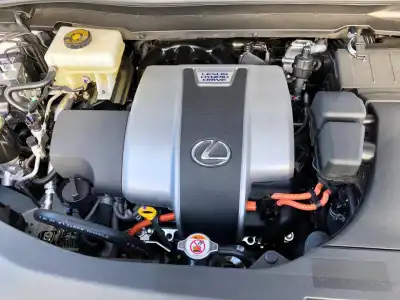 Performance
Big, luxurious SUVs often have engine options that help shift their considerable weight, but the focus of the world has changed over the last few years to be all about efficiency. Besides, do you even need a big SUV to be quick? Does a warehouse worry about how fast it can accelerate? Of course not. Anyway, this pursuit of efficiency and planet-saving levels of improvement in CO2 emissions have led to a significant trend of downsizing, and engines are small, characterless little three or four-cylinder petrol units, but wait a minute…
Lexus is still using a 3.5-litre V6 petrol engine here. We can't tell you how rare this is. Now, don't get too excited, this isn't like a Porsche six-cylinder in that it screams and shouts and makes you feel all tingly. Instead, it's a quiet, unassuming but fairly powerful unit that works in tandem with an electric motor for a combined 308bhp. We like it a lot, partly because it's rare and partly because it's more special than a lot of the engines you'll find in a fair few cars sub-£100k, even if it won't set your world on fire.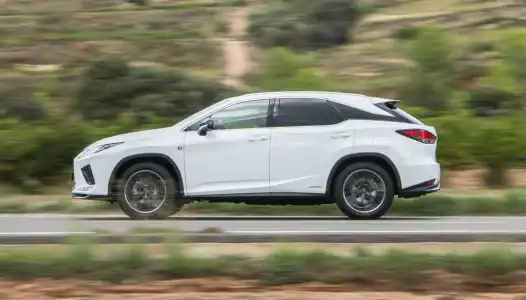 Ride Handling
There are two ways of looking at this. Firstly, there's the sensible way. This is a large SUV that comes in five or seven-seat configurations. It features a massive amount of weight and equipment - and is the closest road-going alternative to the Lexus LY 650, the firm's 65ft superyacht. If we are hoping for a big, comfortable, relaxing ride to help us get from A to B with plenty of kit and absolutely no drama, then the Lexus RX does a stellar job. It drives like a dream when you're cruising around, aided by a CVT gearbox and the cohesion between petrol and electricity.
So, then there's the other way - the silly way. To feel that somehow the RX is a sporty, involving and fun car to drive, to believe, for inexplicable reasons, that a motor like this should excite. No, it shouldn't, it isn't, and we'll leave it at that. Comfortable, capable and luxurious cars are just fine as they are, and the RX gets this spot on.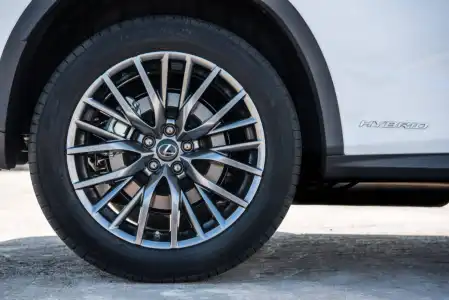 Styling
Refinement has never, ever been a problem in a Lexus product. The firm's models are the motoring equivalent of wrapping yourself up in a lovely thick blanket – reassuring and cosy in a mile-covering sort of way. Here's the interesting thing though, not everyone will like how this car presents itself. This is luxury executed in a distinctly Japanese style - something we aren't used to in the UK. After all, how many people who've not owned a Lexus can say they've experienced a Japanese flavour of luxury before? Most people you meet will have known the German take on it – Audi, BMW, Porsche, Mercedes-Benz – these are brands most of us in this corner of the market have experienced before, but Lexus isn't like any of those marques.
Keep this in mind when you test drive this car – you're climbing inside an environment produced by another culture. You might like it; you might not like it - the layouts, the shapes, the presentation of things – it's all different. Just don't get into a Lexus expecting it to feel immediately familiar. Instead, try to give it time - and we're pretty confident you'll fall for it.
In The Car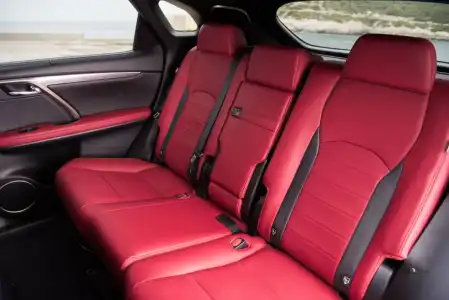 Behind the Wheel
Lexus's press office tells us that the "The ambience is spacious, yet intimate…" inside the new RX. We don't fully understand what the firm means by that either, so here's another way of putting it – it's lovely.
The materials used in the construction of the inside of the car are top-notch, with an overall build quality that'll give any other luxury car manufacturers cause for concern. One criticism we could level at it is that the interior drama doesn't match that of the exterior.
Despite that, it feels exceptional in the RX - and driving it is still an event. It just makes you feel good, and that's what you want in a car of this type.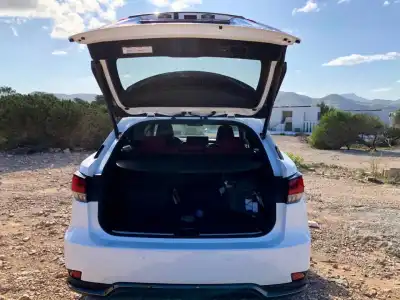 Space & Practicality
Nothing all that new to report here, with the new Lexus RX being unchanged inside from the last model. The RX is a spacious car, as you'd expect from something of this category, and passengers in the rear shouldn't be forming any complaints.
The critical thing with the RX is to remember that there's an RX L – yes, the L means bigger. The difference between the two models is the number of passengers they can carry. If you opt for the L, you can transport up to seven people. Those last two seats are perfect for children, but less so for adults. On the other hand, you could order the L just for the extra space inside or to solely have that option there if you need it.
Ownership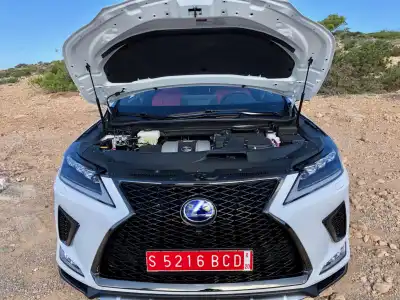 Running Costs
We can't sit here and write that this is an affordable machine. It's a luxury machine that is going to hit you in the pocket a bit. Well, a lot. Prices start from a bit under £53k and can go as high as £62,605. Having said that, Lexus is more generous with equipment than some of its competitors, with the firm reluctant to offer options lists that are any longer than they need to be. Compare that with the likes of Audi. The German automaker offers an options list longer than some novels.
Concerns over running a V6 engine over a longer period are rightly present. Officially, Lexus says the powerplant should return around 35mpg, but we don't know how lightly we'll have to tread on the pedal to get that. Testing procedures are more reflective of the real world than they used to be, but we still take them with a pinch of salt. At least the CO2 levels are respectfully low, around the 134g/km mark – you'll be searching a while for another petrol V6 with emissions that low.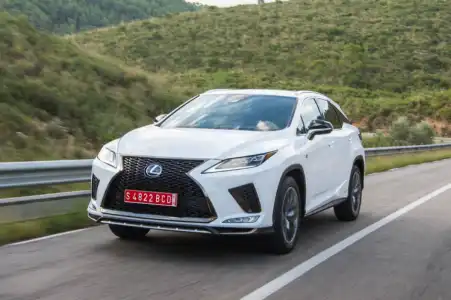 Quality & Reliability
Lexus has proved itself time and again with its quality and reliability. Worrying about your Lexus breaking down is a bit like fretting about being munched by a Tiger. Sure, it could happen, but the chances are rather small, so it doesn't keep you up at night. Lexus always ranks near or at the top end of many driver surveys, so this is a brand you can put your faith in.
As for the quality, well, there's nothing to sweat over here either. Lexus manufactures products to a very high standard. The RX is nicer than a Maserati, and that's a lot more expensive. Is it as sexy? Well, no probably not, but the finish is better, even if the magic isn't quite as potent. In the end, you have to choose what you prefer in a car, and while the Lexus might not be perfect, its quality is something you really shouldn't concern yourself with.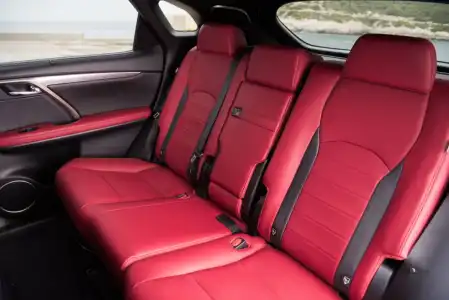 Safety & Security
Lexus has thrown in its new 'Safety System+' with the new RX as standard. This pack features several active safety features that keep an eye out on what's going on for you. It all tries to help you not get into a shunt. If you do, the system does everything it can to help protect you – it knows if you're about to crash and takes preventative measures to help.
The RX also features an all-wheel-drive system and all the essential standard safety equipment that is expected. So, unless you're pushing your luck, you won't find this to be anything close to a handful. It looks safe, it feels secure, and these fancy new active safety technologies are literal life-savers. You're in good hands.
More On This Car
Take one for a spin or order a brochure
Request a Lexus RX brochure
Request a Lexus RX test drive