Pros:
Tasty, terrifying, and tantalising

A Ferrari-derived engine

Outstanding driving dynamics
Cons:
Too pricey for its own good

An SUV wearing a Maserati badge looks strange
More On This Car
Need more information?
Request More Information
Introduction
It only seems two minutes ago that we were having impassioned debates over Maserati's goals to build an SUV. For some, the decision to fit the celebrated Trident on an SUV was borderline heretical. It seemed that Maserati, the luxury sports car maker with a motoring history as long as your arm, was jumping on the rather humdrum bandwagon.
But, here we are in the early days of 2021, putting to test the wildest and costliest version of the Levante – the Trofeo. Is there any necessity for a 580PS SUV? Categorically not, but it's here in the metal - and we're going to try to get inside the heads of those who genuinely want one. And possibly, just possibly the Levante Trofeo will blow our minds in the process.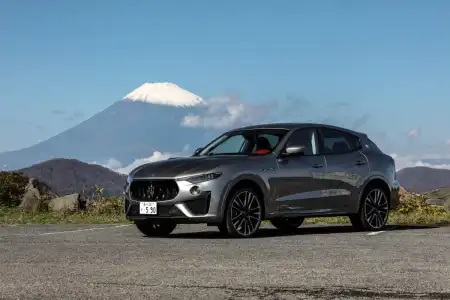 Ride Handling
A "super" SUV will never drive as well as a good sports car, but you've got to admire the engineers at Maserati. Because, regardless of physics, they've made the Levante behave exceptionally well. A large part of this is thanks to complex software that scrutinises what's going on and determines what it can do to help you stay on the asphalt. It's an essential system in such a car.
Recalibrated air suspension takes care of many of the additional weight and power issues an engine this immense can cause. It gets around bends with zeal, and it's tough to make the Levante feel rattled. This is exactly what you want from a high-rider like this. Let's not forget that SUVs are essentially family-oriented cars. Even if some parents are hip enough to go for this roaring V8 SUV- it still needs to be safe, and it's still got to be obedient.
Additionally, the Trofeo gets a distinct driving mode called "Corsa". No other Maserati Levante gets this, but it's handy to have because it lowers the car by 35mm, then stiffens everything up. So, it's not the button you're going to want to press if you're nipping to the shops. But at the right time on a deserted road, you're going to select "Corsa" and grin all the way to your journey's end - or the wrong end of the law.
On The Road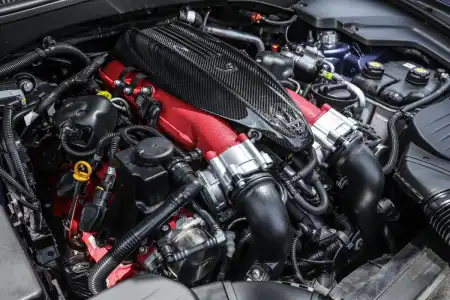 Performance
As you can undoubtedly guess, this is the attention-grabbing part of this SUV. There is a lip-smacking powerplant under the hood - a 3.8-litre twin-turbo V8 (made in association with Ferrari) that pushes out a monstrous 580PS. Maserati has fine-tuned it and prepared it to be one of the most compelling engines the company has ever made. Zero to 62mph is achieved in a mere 4.1-seconds, and the top speed is recorded as 186mph.
Together, these numbers put the Maserati Levante Trofeo close to the pinnacle of the "fastest ever SUVs made" list. Acceleration is bolstered by the Italian firm's Q4 all-wheel-drive tech, and the cog-exchanging responsibilities are taken care of by an auto transmission with some F1-esque paddles. Understandably, you may have some fears about halting something this brisk, so Maserati has enhanced the brakes, and it has tweaked the ABS to handle the loads that this heavy-duty V8 puts upon them. This is indeed a serious vehicle with hardcore performance that will demand your attention; it just also happens to be in an SUV shape.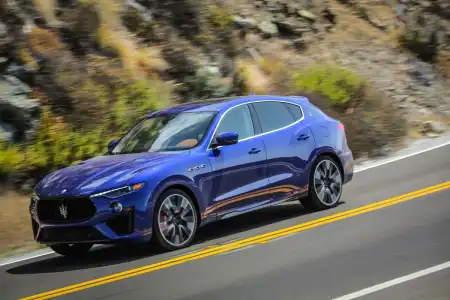 Styling
All right, so this is a bit of a difficult one. SUVs need to be hushed, unruffled and relaxing at times. On the other hand, there's an out-and-out jewel of a Ferrari-ripened V8 lump under the hood, and clearly, we want to hear it babble to us. Maserati has a decent balance in this model, with the V8 staying restrained until it's told to go for it. In some ways, this makes the Levante feel almost organic, regardless of all the expensive computing going on under the metal. If you poke a lion gently, it might snarl a bit. But give it a kick in the rump, and it's bound to lose the plot and roar at you. That's how the sound levels work here in the Levante Trofeo.
This is a Maserati, so taken as a whole, refinement is admirable, and the quality is present. But it's not going to blow you away, and with an eye-watering high price-tag, it really should do. Is it too much to ask Maserati to make this car feel more refined than, say, BMW's X5? We don't reckon so, and we'd be insincere if we told you it was.
In The Car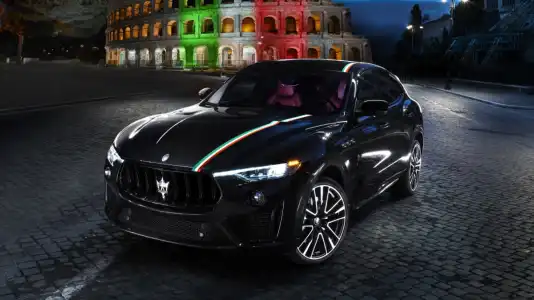 Behind the Wheel
This is where the most noteworthy issues with Maserati creations are to be found. Securing a motor with the Trident on it is going to cost you lots more dosh than many rivals. And if we're blunt, the SUV just isn't as awesome as the outlay suggests. The cabin already feels a tad out-of-date, so imagine what it'll be like in another few years. This will turn some folk off, especially when you can buy a Porsche Cayenne Turbo for a similar amount. Mind you, some people like the "retro" look – and the materials and quality of the fit and finish are all up to scratch.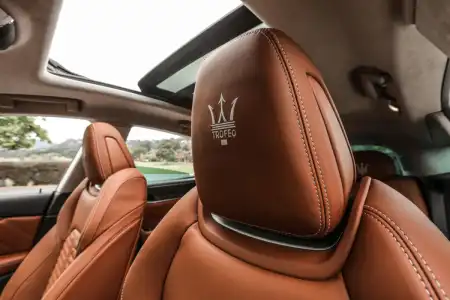 Space & Practicality
This is probably the primary reason to purchase this motor over a conventional sports car, although we can't quite fathom it. It's an SUV weighing in at 2.1-tonnes, so, there's going to be space in the rear for a couple of extra passengers. And there's ample boot space for a load of shopping bags or an assortment of golf clubs. There's no need to get your panties in a bunch about pragmatism here, then. But if you're prioritising space over other aspects of the car, we suggest looking at one of the less big-ticket petrol V6 Levantes. They have the same amount of room in the back – and they house identical boot-capacity, so you can pile all the many thousands of pounds you've conserved into it.
Ownership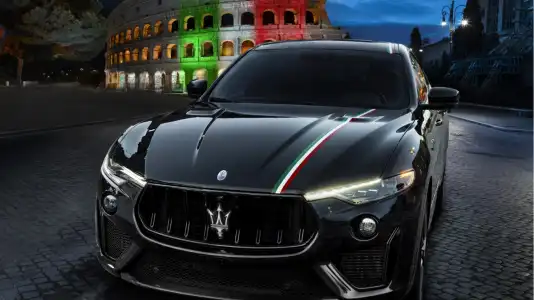 Running Costs
Let's be candid; if you're purchasing a V8-driven luxury Italian SUV, you're not going to worry about running costs, as you probably have enough money, no matter what.
There's no real efficiency to speak of when it comes to the Trofeo version of the Levante. Mpg figures sit around 13. Yes, you read that correctly - thirteen miles per gallon – and that's if you're not a hooligan. It'll go down to single figures when you drive this motor with the furore it warrants. And you'll doubtless be entitled to a gilded membership at your local fuel station.
Insurance and serving won't be low-cost either, and brake pads and new tyres will be needed frequently. There's just no way to say this kindly; this is an immensely expensive vehicle to run. So, if you're upset about that or your bearing on the environment, this isn't the car for you. Leave it well alone.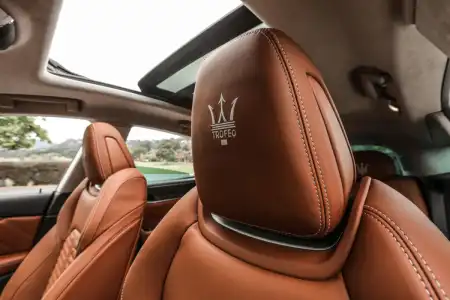 Quality & Reliability
Don't expect Lexus-style dependability here. That said, the modern generation of Italian motors are getting improved feedback. For instance, Alfa Romeo is now getting into the news for being among the better new breed of cars that you can purchase for reliability.
Servicing this Levante is going to be expensive, and you better stick to the schedule, because if something goes "bang", it'll be a long way from low-cost to put right.
Are there any significant fears about the quality of the Maserati Levante? Chill out, no. This is a well-made luxury machine with a reputation to maintain. The only issue here is that it's not quite one-eighth of a million-pounds worth of quality.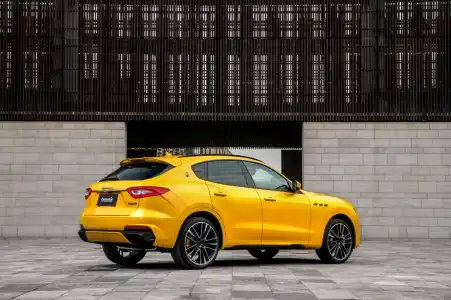 Safety & Security
A significant aspect of any vehicle like this is safety and security. High-performance motors are some of the safest cars on the road. This is due to their advanced braking systems and hi-tech software that help identify and amend factors like over and understeer. The thing is, these rides are also driven in a more uncompromising way than many, but as the Levante is an SUV, we think it's unlikely to be chucked about like a Lotus Evora. All the computing tech and upgraded workings add up to a safe machine - as anyone buying a modern car should expect. No worries here at all.
More On This Car
Need more information?
Request More Information