Pros:
Head-turning road presence, spacious interior and packed with Italian flair

The performance is blisteringly quick and the power from the V8 engine is relentless

It's a Maserati – that's good enough!
Cons:
The interior has some hard-plastic surfaces that lower the tone

Driving dynamics are better on some high-end German rivals

Running costs are high
Speak with our Concierge team to discuss your car buying options
Request a free call back
Introduction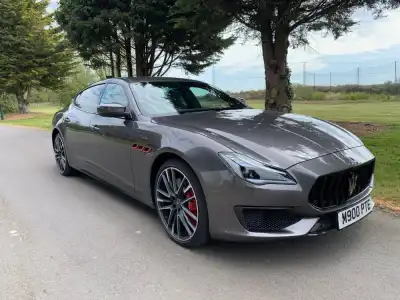 Maserati's range-topping Trofeo collection is finally complete. The newly-launched Ghibli and Quattroporte Trofeo saloons follow on from the arrival of the Levante Trofeo SUV last year, and they sit at the pinnacle of the Italian marque's line-up with regards to performance and package.
These rear-wheel drive saloons are also the fastest ever road cars produced by Maserati. Powered by a mighty 3.8-litre V8 engine, the Quattroporte Trofeo has a 4.5 second 0-62mph sprint time and a top speed of 202mph.
The cabin is exquisitely designed and wrapped in 'Pieno Fiore' full-grain natural leather and there is a wealth of technology to explore.
On The Road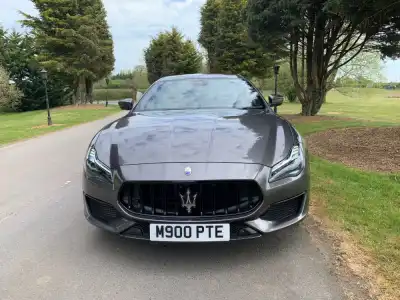 Performance
The rear-wheel drive Trofeo is fitted with the most powerful V8 engine ever to feature in the Quattroporte. It's like a step back in time to when the Quattroporte was born in 1963 and a V8 engine was combined with a beautifully elegant body to create the fastest saloon in the world.
Now history repeats itself with an evolution of the V8 unit of the Levante Trofeo, evolved in turn from the Quattroporte GTS. This 3.8-litre twin turbo V8 petrol engine, delivering 580hp and 730Nm of torque, has been developed by Maserati Powertrain in cooperation with Ferrari.
The four-door Quattroporte Trofeo can power from 0-62mph in just 4.5 seconds and tops out at 202mph. It is matched to an eight-speed automatic transmission with giant steering wheel-mounted paddles for added driver engagement and there are buttons galore to explore that add to the exhilaration of the driving experience.
As well as the Normal, ICE (stands for Increased Control and Efficiency) and Sport modes, the Quattroporte Trofeo boasts a Corsa mode – a dream come true for performance purists.
Activate this system and the gear shifting becomes faster than Sport, there is a more ground-hugging damper set-up and the intervention of traction control and electronic stability program is restrained for maximum driving enjoyment.
There is even a Launch Control feature, which like racing starts means revving with your right foot, while braking with your left – watch the rev counter rise and then take your foot off the brake. It's not for the faint hearted and not for busy road settings either.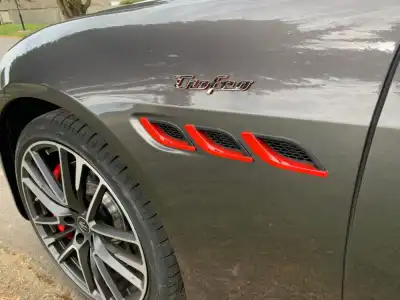 Ride Handling
Despite offering jaw-dropping acceleration and a top speed to make your nerves jingle, the Quattroporte Trofeo feels really well balanced on the road.
The company has worked tirelessly on improving the ride quality and the new vehicle boasts the very latest technology by adopting the Integrated Vehicle Control (IVC) system by Bosche, a system that helps to prevent vehicle instability, enhance safety and improve the driving dynamics.
The IVC uses technology that predicts driving situations in advance and then adapts the engine speed and brakes accordingly. This improves the traction and balance as the 2.0-tonne car travels at higher speeds.
Another new feature of note is the Skyhook suspension system which means all four dampers can be electronically controlled independently of each other. The default mode for Skyhook is comfort, but this becomes more athletic if the driver presses the suspension button whereby the damping stiffens. This system was developed in both extreme driving and racetrack scenarios to push the handling characteristics to higher levels.
The grip on country lanes is superb meaning tight bends can be attacked with confidence and it's good fun flicking through the various drive modes to see the change in behaviour.
The Electric Power Steering offers bags of driver feedback, but be careful on narrower roads as the Quattroporte Trofeo is quite a wide car measuring just shy of 2.0 metres in width.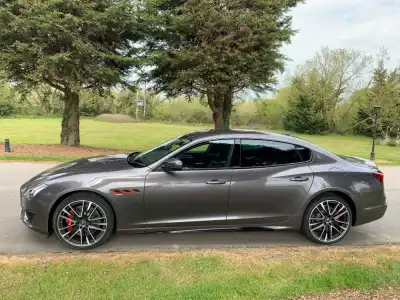 Styling
The Maserati Quattroporte Trofeo boasts a fresh new look with lots of extra features that help accentuate its muscular and sporty prowess.
There are new carbon fibre aerodynamic appendages, a new rear extractor and new air duct trims. There is red detailing in the bottom edges of the side vents, in the Trofeo badging and in the logo on the pillar. The B pillar also has a small Italian flag as a gentle reminder to this car's heritage.
New rear light clusters are set in a boomerang design for effect and there are 21-inch forged aluminium alloy wheels with high-performance brake calipers available in red, blue or silver.
Moving inside, the interior is a clever blend of luxury and sportiness along with true Maserati elegance.
Great attention has been given to the finer detailing, such as the new clock with exclusive graphics, plus the Trofeo name and Trident emblem on the headrests.
Keyless entry and assisted soft touch door closure is another hint to the level of refinement on offer in this Maserati.
When it comes to driver and passenger refinement, the Quattroporte Trofeo is well-insulated against outside road surface and wind noise. Of course, you can crank up the sound of that V8 engine by firing through the various driving modes, but if you want a calm, relaxing and quiet drive, it is possible.
The Skyhook suspension system does a great job of smoothing out the road surface and helps deliver a comfortable ride. Press the suspension control button and the ride does firm up considerably and you will feel the occasional judder vibrate through the car.
In The Car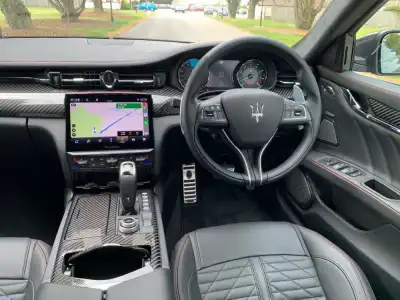 Behind the Wheel
The first thing you notice when you open the door to the Quattroporte Trofeo is the beautifully crafted black leather upholstery with quilted pattern and red contrast stitching.
The seats are power-operated and there is plenty of steering wheel adjustment so finding the perfect driving position takes just seconds.
There is a new, larger infotainment screen measuring 10.1-inches with multi-touch function. A wireless charger is positioned on the centre console for ease of use and there is Apple CarPlay or Android Auto smartphone connectivity.
Behind the steering wheel is a large rev counter and a large speedometer – both analogue – and these are backlit on a black background for effect. Next to these dials is a seven-inch TFT display for the car's operating functions.
All dials, controls and readouts are well-placed for driver usability, although the steering wheel paddles are really oversized so you may occasionally indicate unintentionally.
New this year is the Maserati Connect program which is fitted to all the latest models. This system helps to monitor the vehicle's health or prompt you to book a service. It also enhances the safety and security of the vehicle with assistance in an emergency or if the car is stolen.
Owners can use a Smartwatch or Smartphone to stay in contact with the car via an app and there are free services for three years with Alexa integrated into the system. The onboard maps are updated regularly throughout these three years and there is a complementary Wi-Fi hotspot to connect up to eight devices too.
The driver visibility is great forwards and sideways, but the wide B pillar hinders over-the-shoulder views and the narrow rear screen means limited rearview mirror visibility too.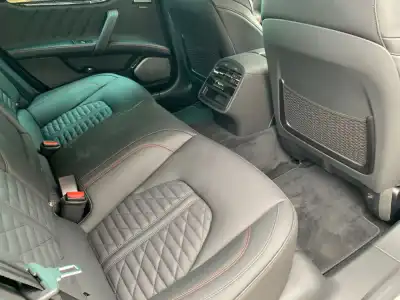 Space & Practicality
The Maserati Quattroporte Trofeo is a large four-door saloon car measuring 5,262mm in length, 1,948mm in width and 1,481mm in height.
These dimensions may have their downside when firing along a narrow lane, but on the positive side of things, the cabin is very spacious with ample room for five adults to travel in comfort, although the middle passenger in the back will have to straddle quite a high tunnel.
The boot is also deep and well-sized with a 530-litre capacity. This is impressive for a saloon car. And there are numerous storage compartments scattered throughout the vehicle, including a glovebox, door bins, central cubby, nets in the seat backs, four cup holders including two in the fold-down rear armrest and a couple of handy trays.
Ownership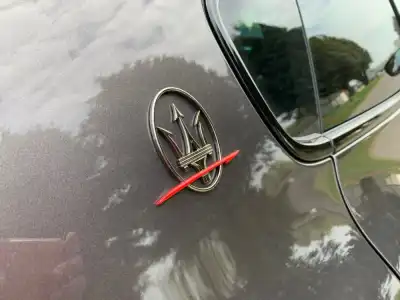 Running Costs
So, down to the nitty gritty of the costs and keeping the Maserati on the road. Our test car started out with a £127,310 price-tag, but a number of optional extras saw the final price creep up to £136,060. So, it's not exactly cheap, but neither is anything about this high-end model.
Options on our car included an upgraded 15-speaker Bowers & Wilkins surround sound system (£1,585), a heated leather sports steering wheel (£265), Alcantara headlining and pillars (£1,275) and a Driver Assistance Package Plus costing £3,190.
To be honest, many optional extras are not necessary. For example, I'm sure the standard Harmon Kardon premium sound system would be just fine for anyone but a music producer!
Powered by a V3.8-litre twin turbo V8 petrol engine, delivering 580hp and 730Nm of torque, the Quattroporte Trofeo can deliver a combined 19.0mpg with carbon emissions of 280g/km (under WLTP testing).
This CO2 emissions figure means owners will face a hefty Vehicle Excise Duty, or road tax, bill of £2,245 for the first tax year and £155 after that. However, there is more bad news on the financial front because vehicles costing more than £40k incur an additional levy of £335 for five years starting from the second year of ownership.
The car is also in the highest insurance group – 50.
Quality & Reliability
The beating heart of the Maserati Quattroporte Trofeo is the Ferrari sourced, Maserati worked V8 3.8-litre engine. This tried and tested collaboration has been working successfully for several years now, but is due to end next year with Maserati taking control of building its own unique V6 powertrains.
Although the Italian manufacturer does not score particularly well in customer satisfaction surveys, reliability is an area that designers and engineers are addressing as a priority. As a result, the Maserati reputation has improved over recent years.
There can be no disputing the build quality and level of luxury within the cabin. The Pieno Fiore natural leather is of the highest standard and all the screens, dials and switchgear feel sturdy in their design too.
However, there is a little hard plastic on show that, not only lowers the tone a little, but could also prove susceptible to scratching over time.
The Quattroporte Trofeo comes with the reassurance of Maserati's three-year, unlimited mileage warranty.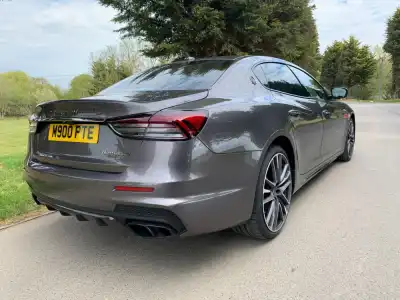 Safety & Security
The Maserati Quattroporte Trofeo is packed with safety features and driver assist systems to protect occupants, other road users and also help prevent or reduce the severity of an accident.
Our car featured a Driver Assistance Package Plus pack costing an extra £3,190 that added adaptive cruise control with stop & go, blind spot alert with rear cross path, a surround view camera, advanced brake assist featuring forward collision warning and automated emergency braking, pedestrian recognition, active driving assist and traffic sign recognition.
The Quattroporte Trofeo is also one of the first vehicles to adopt the Integrated Vehicle Control (IVC) system by Bosche. Basically, this system prevents vehicle instability which in turn improves the driving dynamics and enhances safety.
It's also worth noting there are certain safety measures in place in order for the Launch Control function to be enabled. These include monitoring the coolant and oil temperatures, checking for any engine or on-board system alerts, ensuring the car has completed at least 435 miles, checking the Corsa drive mode is activated and the gear lever is in 'D' or 'M' position, the car must be stationary on a flat road and the driver's door must be closed with the seatbelt fastened.
An excellent alarm system is fitted to keep away any uninvited attention.
Speak with our Concierge team to discuss your car buying options
Request a free call back