Pros:
Competitively priced compared to rivals

Beautifully styled inside and out with a wealth of techno treats

Nice balanced ride and good handling on open road
Cons:
Low driving range compared to other EVs

Poor over-the-shoulder visibility

Rear 'freestyle' doors are like marmite – you'll love or hate them
Introduction
Mazda has launched its first electric production car called the MX-30 and by carrying the MX prefix it suggests the vehicle will feature plenty of dynamic driving ability like its sporty sibling - the MX-5.
The car is fitted with a smaller battery than many rivals, so it is lighter and the price is also very attractive for the sector. On the downside, that compact battery limits the driving range between charges, but it's ideal for daily commutes and a little further.
The MX-30 is available in First Edition (limited to 500 models), SE-L Lux, Sport Lux and GT Sport Tech trim grades.
One of the major talking points is the freestyle door set-up which is being met with mixed views – the front doors open forwards like normal, but the rear doors open backwards to create a clean opening free from B pillars. The jury is out on this.
On The Road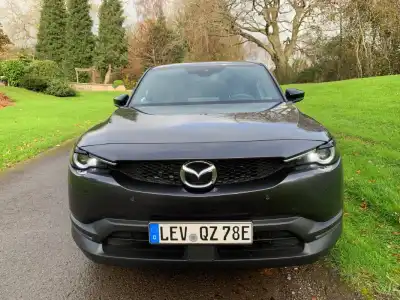 Performance
Mazda's all-new MX-30 SUV is the company's first production EV and is priced between £25,545 and £29,845.
The car features Mazda's new electric drive technology called e-Skyactiv. The MX-30 has a relatively small 35.5kWh battery delivering a maximum 145PS and 271Nm of torque. This allows the car to reach 62mph from a standing start in 9.7 seconds and it has a maximum speed of 87mph.
The driving range of just 124 miles is far less than some rivals but is similar to the new Honda e which can travel 125 miles between charges and is priced similarly. Mazda believes the range is just perfect as most people travel much smaller distances for their daily commute, and developing the smaller battery is kinder to the environment as it creates less CO2.
We were testing a pre-production model akin to the high-end GT Sport Tech trim priced at £29,845. The front-wheel drive MX-30 was beautifully balanced on the fast country lanes and the road holding into tight bends also impressed.
It can cruise effortlessly on motorways but the range will start to drop quite rapidly at 70mph. However, remember this isn't a car designed to excel on longer motorway journeys. It is just ideal for lots of short trips with plenty of stop start driving which it completes very well. In town centres, it was agile and easy to manoeuvre as it weaved through the busy traffic, with the light steering proving a real bonus.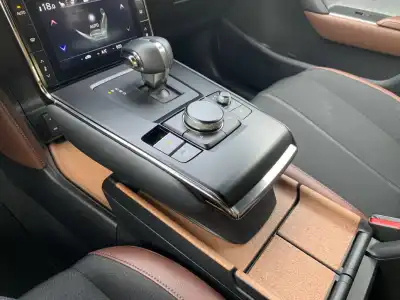 Ride Handling
Mazda has an enviable reputation for developing cars that are very big on driver engagement and while the MX-30 is geared towards cleaner, greener, electric driving in shorter bursts, it still boasts plenty of dynamic handling along the way.
The acceleration from a standing start is rapid with a constant stream of power at your disposal. This tends to drop off a little as you reach the mid-40s, but it is still nicely responsive.
The smaller battery also means the car carries less weight and that is beneficial to the handling and dynamics when out on the open road.
The steering wheel paddles can be used to change the level of regenerative braking with five levels to choose from. This will, in turn, increase the car's driving range. This set-up is superior to many rivals and can almost bring the car to a standstill without touching the brake pedal.
The G-Vectoring Control (GVC) is an important contributor to Mazda's cars delivering impressive handling and it is called e-GVC Plus in this model. This system helps to optimise the performance and balance of each tyre during cornering. It improves the stability too working away very effectively in the background.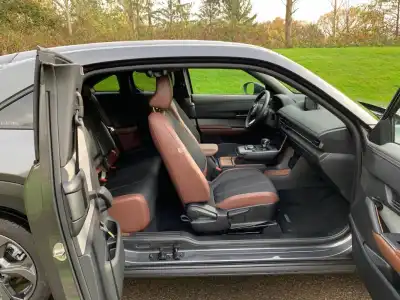 Styling
Viewed from any angle, the Mazda MX-30 is guaranteed to turn heads. It's sleek lines and powerful new front grille with sweeping headlights help to produce a thoroughly modern appearance. And then there are the freestyle doors that open from the centre outwards creating a very open space.
Move inside and there is a hi-tech and upmarket interior with quality fixtures and fittings throughout, plus an emphasis on natural and recycled materials. For example, the heritage cork used in the centre console tray is harvested from the bark of trees without any felling – this looks chic and also prevents keys and phones sliding around. The door trim fibres are made from recycled plastic bottles and Mazda has replaced real leather upholstery with a vegan alternative.
When it comes to driver refinement, the MX-30 certainly impresses. Being an EV, there is no engine noise, but Mazda has added a false engine noise so you can get a feel for the levels of torque being used while driving.
Road surface and wind noise are well supressed and the car has a fairly soft suspension set-up similar to the Mazda3 and CX-30. This means the ride is nice and forgiving on our pothole-ridden roads without feeling too spongy or wallowy into bends. This is also beneficial when attacking twisting country lanes where the stability into and out of corners is assuring.
In The Car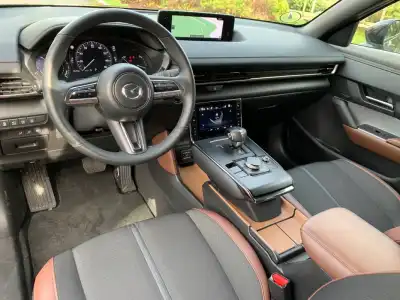 Behind the Wheel
A powered driver's seat and a fully adjustable steering wheel means finding the perfect driving position takes a matter of seconds and there are memory settings to store the set-up.
The seats offer additional pelvis support and can be heated, along with the steering wheel, to fend off the winter chill.
The interior of the MX-30 is upmarket and beautifully crafted with a floating central console that houses the gear selector, a rotary dial to access the touchscreen features, audio volume and parking brake.
There is a seven-inch touchscreen that controls all the air conditioning functions and the main 8.8-inch infotainment screen is dashtop-mounted with sharp graphics and a widescreen design.
Our car featured an upgraded 12-speaker Bose sound system that eats slightly into boot space, but is pitch perfect in its quality, Other techno treats include a navigation system, full Apple CarPlay or Android Auto smartphone connectivity, Bluetooth, a DAB radio and a head-up display.
The screen behind the steering wheel is nice and simple. Many EVs leave the driver suffering from an information overload with far too much data about charging processes with complicated graphics. The MX-30 shows the driving range in miles or percentage, along with speed dials, a power/charge dial and an indication as to what level of regenerative braking you are using via the paddles. It's all nice and simple while still delivering the vital details.
My only slight gripe was the poor over-the-shoulder visibility due to large blacked-out sections in the rear doors.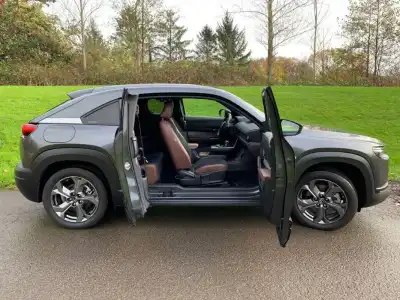 Space & Practicality
So, let's address the main issue with the MX-30 here (apart from its limited range). Those rear-hinged back doors. Firstly, they can only be opened if the front doors are open. Secondly, anyone over the age of twelve will have to squeeze through a fairly narrow opening unless the front seats are pushed forwards. Children will love the quirkiness of them, but will not be quite so happy with the tiny rear windows which offer little in the way of light or visibility and cannot be opened at all.
The car measures 4,395mm in length, is 1,795mm wide and 1,555mm high with a turning circle of 5.3 metres. The boot can swallow 366 litres of kit which is increased to 1,171 litres with the 60:40 split-folding rear seats dropped flat. This limit reduces to 341 litres and 1,146 litres respectively if the car is fitted with the upgraded Bose sound system.
There are plenty of convenient storage compartments throughout the car, including a large glovebox, plenty of space beneath the floating centre console, cup holders, door bins and a sunglasses holder. Back seat passengers have two cup holders in the fold-down armrest, door bins and a pocket in the back of the driver's seat. There are also handy buttons in the back of this seat so passengers can automatically tilt and slide the seat forward when getting out of the car.
The MX-30 battery can charge from 20 per cent to 80 per cent using AC power in three hours or 36 minutes using rapid chargers on DC power.
It's worth noting that while the limited range may create some practical issues for certain owners, there is a petrol-electric range-extending model being launched in 2022 with details due to be announced in 2021.
Ownership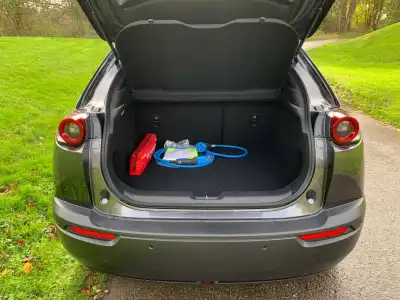 Running Costs
The new Mazda MX-30 line-up is priced from £25,545 and rises to £29,845, which includes the Government's £3,000 Plug-in Car Grant subsidy. This means the vehicle is competitively and attractively priced and very much in line with the Honda e, which also has a similar driving range.
Being an EV, the MX-30 has a 0g/km carbon emissions figure which results in many financial benefits. The first year Benefit in Kind tax would be zero per cent. And the annual Vehicle Excise Duty charge or road tax cost is pleasing on the eye too as the car would be exempt.
Running the car will also be cheaper than that of a traditional petrol or diesel model. And these costs can often be reduced further by charging overnight when electricity is generally cheaper to buy – depending, of course, on tariffs.
Insurance group ratings for the MX-30 are yet to be announced.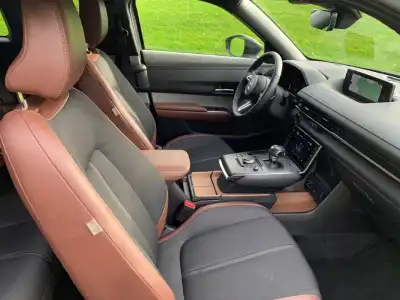 Quality & Reliability
Mazda has a superb reputation for developing well engineered cars that are reliable and just run and run. The company frequently scores very well in any customer satisfaction surveys, so despite the MX-30 featuring so much brand new technology, it should survive the test of time.
The build quality is impressive and although Mazda has adopted an approach with sustainability in mind, the recycled materials and introduction of bark inside the cabin works quite well. I did feel I should be pinning some reminder notes to the cork surfaces but that aside, it all looked and felt upmarket.
There is a fairly minimalist feel to the cabin but it is well equipped with all the latest tech and the main screen is accessed via a handy dial so will remain free from mucky fingerprints.
For peace of mind, the MX-30 comes with the company's three-year, 60,000-mile warranty. In addition, the battery is covered by an eight-year, 100,000-mile warranty.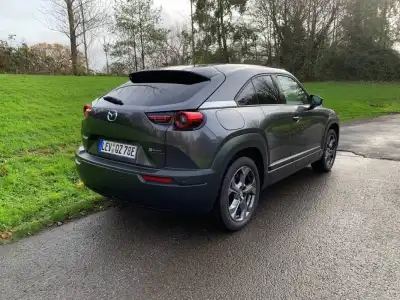 Safety & Security
Mazda has an excellent reputation when it comes to safety and the MX-30 has just been awarded a maximum five-star Euro NCAP rating.
The vehicle boasts a strong, yet lightweight body structure that helps to protect all occupants in the event of a collision. And the car comes fitted with a comprehensive list of safety kit and driver assists systems to help prevent accidents happening in the first place.
All models get blind spot monitoring with rear cross traffic alert, smart brake support, emergency lane keep assist, blind spot monitoring, lane departure warning, driver attention alert, hill hold assist, a full suite of airbags and e-call with GPS that will notify the emergency services with an exact location if the car is involved in an accident.
Our range-topping GT-Sport Tech model also gained a 360-degree camera view, cruising traffic support, front cross traffic alert, a rear smart brake alert system, plus driver monitoring that detects fatigue and suggests when a break is recommended.
All MX-30 vehicles are fitted with a Thatcham accredited alarm and immobiliser system.