From £18,995 - RF model from £22,595
Pros:
Beautifully balanced and outstanding driving dynamics

Upgraded engines deliver additional power

Very few competitors come close when it comes to sheer two-seater appeal (Fiat 124 Spider is nearest rival)
Cons:
Rough road surfaces will unsettle the ride

Boot space is limited

Poor all-round visibility when the roof is raised
More On This Car
Take one for a spin or order a brochure
Request a Mazda MX-5 brochure
Request a Mazda MX-5 test drive
Introduction
It was 28 years ago that Mazda introduced the MX-5 to the waiting world. It offered exhilarating driving dynamics and was welcomed with open arms in the UK – a nation that simply adores open-top driving despite the inclement weather patterns. That original Model was priced at £14,249 and the latest incarnation of the fourth generation MX-5 costs just £4,700 more. That's an indication of the respect Mazda has for its loyal fan-base and may be just one reason why more than one million MX-5 models have been sold globally.
The car is available in two body style – soft top convertible and hard top RF (which stands for Retractable Fastback). Customers can choose from SE+, SE-L Nav+, Sport Nav+ and new GT Sport Nav+ trims for the soft-top, while from £22,595 the RF is available in SE-L Nav+, Sport Nav+, and GT Sport Nav+, with the higher two trims offered with an automatic gearbox.
But the really big news can be found beneath the bonnet with technical upgrades to deliver improved performance.
On The Road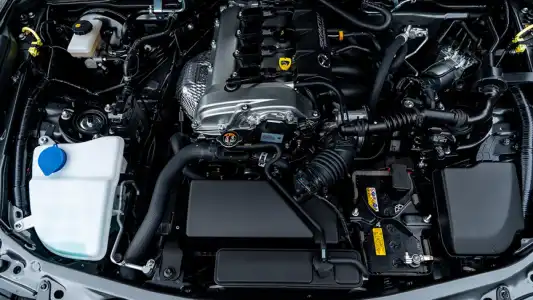 Performance
The 2019 upgrades to the MX-5 may not be that apparent to the naked eye, but they are certainly noticeable once you take your seat behind the wheel. That's because those clever engineers at Mazda have reworked the 1.5 and 2.0-litre petrol engines and that has resulted in more power, faster acceleration and, yes you guessed, more fun.
The headline-grabber is the higher revving and more powerful 2.0-litre SKYACTIV-G engine that gains an extra 24PS of punch so increasing from 160PS to 184PS. There is also a heightened redline which rises from 6,800 to 7,500rpm.
These facts and figures may not sound much, but when they are factored into the ultra-lightweight MX-5 it means the soft-top convertible can now sprint from 0-62mph in 6.5 seconds which is 0.8 of a second quicker than its predecessor. Manual and automatic versions of the hard-top RF models are also 0.6 and 0.5 seconds faster.
As well as the 2.0-litre engine gaining extra oomph, the 1.5-litre SKYACTIV-G also gets a slight power boost to 132PS.
We tested the 2.0-litre 184PS GT Sport Nav+ in RF guise on a two-day road trip across the top of Ireland with beautifully smooth road surfaces, an abundance of twisting country lanes and, perhaps most importantly, next-to-no traffic.
Our car could reach from 0-62mph in 6.8 seconds and maxed out at 137mph. That might not sound particularly quick, but it feels much faster in the low-to-the-ground roadster. The rear wheel drive car is beautifully balanced and the extra power is very noticeable especially when short bursts of firepower are needed to overtake slower moving vehicles. The six-speed manual gearbox is perfectly timed and the road holding is super assured no matter how fast the car is pushed into tight bends.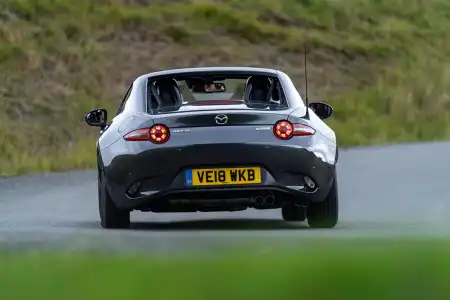 Ride Handling
If Mazda ever did anything to alter the ride and handling of the MX-5 they would have a mini-revolution on their hands. It's a fairly softly sprung car which makes it great to drive across most surfaces although harsher ridges in the road will upset its course slightly.
But the handling is the MX-5's trump card – it's light, agile and quick to change direction. The feedback and feel from the steering are excellent and it's a car that's completely engaging to drive. That's because all versions of the MX-5 feature a space-saving duel-pinion electric power assist steering system designed to deliver direct feedback and feel.
Mazda's engineers placed the steering system closer to the front wheels and ensured stiffness below the steering column with the overall result being lighter, faster and more precise steering.
The RF test car features the same award-winning chassis as the MX-5 convertible, while the suspension, steering and brakes have been specifically tuned to deliver a more sophisticated driving experience. But don't for a second think the RF is the soft option. It isn't. The RF is brilliant fun to drive. In fact, if the MX-5 doesn't put a big wide grin on your face, you could just be an android!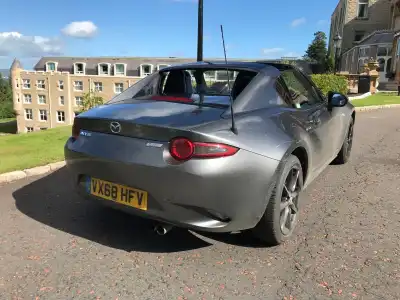 Styling
The interior of the two-seater MX-5 is totally driver-focused. It's compact but surprisingly comfortable with fine Nappa leather upholstery and, of course, heated seats to stay warm with the top lowered on winter drives.
Obviously with the roof lowered, noise levels are fairly high, especially when the newly engineered engine is pushed hard. But the hard-top roof which comprises three sections, can be raised at the push of a button. It takes just 13 seconds to raise or lower at speeds up to 6mph and with the top up it all becomes rather civilized with barely a sound from the engine or road surface filtering through into the cabin.
The MX-5 RF boasts a noise absorption headliner that is integrated into the roof design and there is extra sound insulation material in the rear wheel housings along with improved sound deadening of the transmission tunnel, around the gear lever and behind the dashboard.
When driving the MX-5 you sit inches from the Tarmac so you will feel some vibration through the pedals on rougher road surfaces, but it's not that severe.
The current MX-5 model was awarded the World Car Design of the Year award on its debut, so there has been little change to the exterior for 2019, but there are new 16 and 17-inch alloy wheels, along with seven colours to choose from called Artic White Solid, Eternal Blue Mica, Ceramic Metallic, Snowflake White Pearlescent, Jet Black Mica, Machine Grey Metallic and Soul Red Crystal Metallic.
In The Car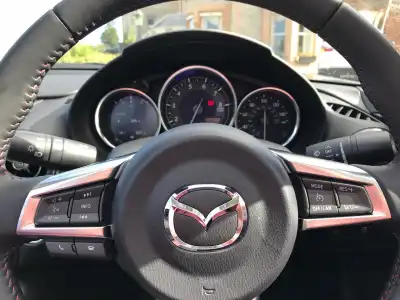 Behind the Wheel
Getting comfortable in the latest MX-5 has become easier thanks to some additional seat adjustment and the introduction of telescopic steering wheel adjustment. The pedals are slightly off-set but this feels perfectly natural after a few minute's driving.
The instrumentation is very driver focused with all dials, controls and readouts perfectly positioned for ease of use. The gear stick is also perfectly placed for instant shifting.
Obviously, space within such a compact cabin is restricted, but Mazda engineers have still managed to pack the car with a wealth of technology. Features include the likes of a seven-inch touchscreen navigation system, a premium nine-speaker BOSE sound system (depending on trim level), a DAB radio, Bluetooth, heated seats and lots more besides.
There is a button neatly located in the dashboard that lowers and raises the roof and the status of the opening or closing operation is shown in the high resolution TFT display so you know when the roof is safely in place.
With the roof lowered the all-round visibility is good, although it's nigh on impossible to see the end of the bonnet from such a low-slung seating position. But the real visibility issues surface when the roof is raised - there will be lots of neck craning to look round the chunky pillars.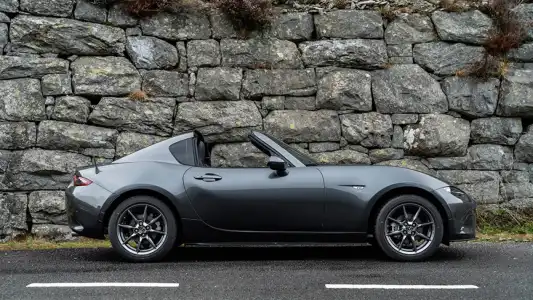 Space & Practicality
The Mazda MX-5 is a two-seater roadster so get used to travelling light. That said; the boot capacity is a respectable 127 litres which is perfect for a couple of overnight bags as you head off to the countryside for the weekend. The clever roof mechanism on the RF model means there is no compromise on that capacity which is a plus factor, but if golf is your passion you may need to travel alone on a regular basis – basically it's a passenger or the clubs!
There is a pair of detachable cup holders that can be attached to the front of the console by the passenger's leg or one of the two positions between the seats, along with a lockable central box and a console tray which is ideal to hold a mobile phone or iPod. There are also two USB slots to connect your multi-media. There are a couple of small cubby holes behind the seats too.
Ownership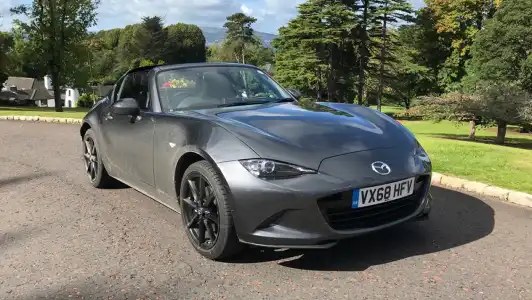 Running Costs
When the MX-5 was first launched 28 years ago it carried a price-tag of £14,249. Now all those years later and with more than one million cars sold globally, the latest car is priced from just £18,995. That's for the entry level SE+ model but you will need to splash out a bit more for high-end RF models that cost as much as £29,195.
Despite the engine enhancements with a more dynamic performance, the car's efficiency has not been compromised and all the 2019 MX-5 engine line-up have achieved Euro 6d Temp emission regulation compliance. The 2.0-litre 184PS models actually have a lower C02 output than the outgoing 160PS car.
According to official figures, our test car could deliver combined fuel economy of 40.9mpg with carbon emissions of 156g/km. This would mean a first year Vehicle Excise Duty cost of £500 reducing to £140 the following year.
The test car was rated insurance group 31.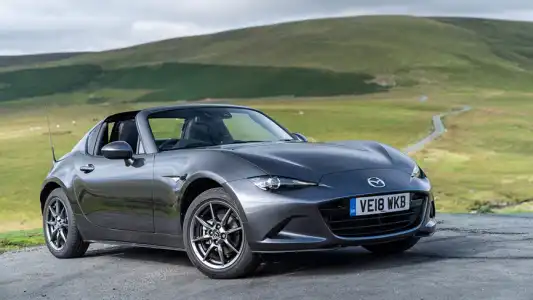 Quality & Reliability
Mazda has a good reputation for building cars that are reliable and survive the test of time. The interior of the MX-5 feels very upmarket with supportive leather seats, durable switchgear and solid materials, including the air vents and infotainment screen.
Many buyers will drive their MX-5 in an 'enthusiastic' manner so the wear and tear may take its toll over the years, but if given a little respect there are no obvious reasons why this stunning roadster shouldn't provide many years of fun. And if you want further proof just look how many older MX-5 cars are still being driven today.
The car comes with a three-year, 60,000-mile warranty.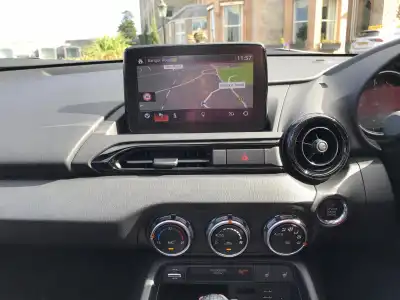 Safety & Security
Mazda has improved the level of safety equipment on the MX-5 and it varies according to trim level. For example, Sport Nav+ cars and above are equipped with front smart city brake support, a lane departure warning system, rear smart city brake support, traffic sign recognition and driver attention alert. A blind spot monitoring system with rear cross traffic alert, adaptive LED headlights and a reversing camera are standard on GT Sport Nav+ and optional as a safety pack costing £800 on Sport Nav+.
The 2015 model (on which the latest car is based) was awarded four out of five stars when it was tested for its Euro NCAP safety rating.
There is a Thatcham alarm system to keep intruders at bay, but the hard-top model would be less susceptible to break-ins or roof vandalism than its soft-top stablemate.
More On This Car
Take one for a spin or order a brochure
Request a Mazda MX-5 brochure
Request a Mazda MX-5 test drive