From £208,600
Pros:
Drop dead gorgeous styling with an engine soundtrack to match

Blistering performance capabilities

It can be driven with ease on UK roads
Cons:
Price-tag is high compared to rivals

Poor visibility when pulling out of junctions

Noise levels will leave neighbours striking you off their Christmas card lists
More On This Car
Take one for a spin or order a brochure
Request a McLaren 720 brochure
Request a McLaren 720 test drive
Introduction
If you have a spare £200,000 tucked away under the mattress and can't quite decide what to buy then the McLaren 720S could be the perfect answer to that dilemma. But you'll have to wait until next spring for delivery because the current order books are already full - such is the appeal of the McLaren.
Each model is hand-made at Woking and numbers are limited which gives the supercar such exclusivity. Factor in the 0-62mph sprint time of just 2.9 seconds and top speed of 212mph and you realise this is a serious performance car.
On The Road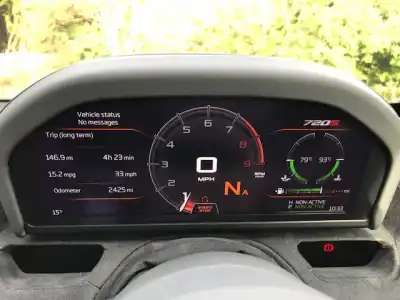 Performance
The McLaren 720S replaces the outgoing 650S model and is new from the ground up boasting 91 per cent new parts. Powered by a 4.0-litre 720PS V8 engine delivering 770Nm of torque, the supercar can race to 62mph from a standing start in just 2.9 seconds and doubles that speed reaching from 0 to 124mph in a blisteringly quick 7.8 seconds.
Obviously unless you are taking to the track or planning on visiting the unrestricted sections of the German autobahns, then the top speed of 212mph will not be that relevant except, of course, when discussing the car with admiring bystanders - there will be many of them!
Having been lucky enough to have driven the 650S this model is definitely more refined. It's hard to comprehend how a supercar of the McLaren's magnitude can cope with the UK's road network, but it does. Of course, if the throttle is given an ounce of pressure then the power and acceleration is mind-glowingly fast. But it can 'potter' too. There are three driving modes called Comfort, Sport and Track and you can adjust the engine and chassis on the move to suit your mood.
The road-holding is exceptional and the roar from the engine is guaranteed to make you smile no matter how bad your day has been. Driven in automatic the car shifts through the seven-speed twin-clutch gearbox at a rapid pace, but for an extra thrill it's worth taking control via the steering wheel mounted paddles.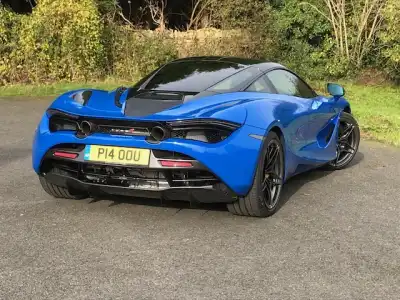 Ride Handling
It used to be fact that driving a supercar meant you would need your chiropractor on speed dial. But that's no longer true and the McLaren 720S is perfect proof of the fact. Yes, you do require a certain amount of agility to get in and out of the car with any ounce of dignity, but the ride quality is exceptional considering you travel along just inches from the ground.
Admittedly, it doesn't exactly glide across the Tarmac but when driven in Comfort mode but the highly effective suspension does iron out the bumpy road surfaces. And should there be a rather large speed bump on the horizon, then the car's height can be raised at the flick of a lever.
The steering is beautifully precise allowing you to cut through the tightest of bends with confidence and you just know the car is capable of performing as hard as your nerves will allow. It's not for the faint-hearted that's for sure.
A new suspension set-up along with McLaren's power-assisted, electro-hydraulic steering all combine to deliver huge reserves of grip, balance and performance making the 720S the ultimate supercar.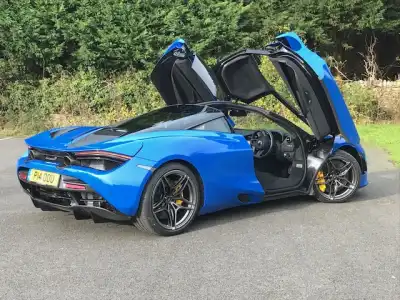 Styling
It's nigh on impossible to ignore the presence of the 720S on the road even when it's not moving. There are twin-hinged dihedral doors with soft-close function, glass C-pillars, an active rear wing, full LED headlights with daytime running lights, sport cast alloy wheels and coloured brake callipers.
It boasts dramatic styling which is completely dedicated to aerodynamics and performance with all the cavities and intakes designed for cooling. There is an absence of radiator intakes on the side of the latest model with this function now carried out by the aerodynamic form of the dihedral doors which channel the air to the high-temperature radiators that cool the mid-mounted engine. It all sounds very technical, but this is car where every ounce of weight, crease or curve, and millisecond of performance matters.
The interior oozes premium quality without being over ostentatious and the cockpit wraps itself around the driver like a track car would. There is the added luxury of fine leather upholstery, plenty of carbon fibre trim and all the on-board infotainment systems we need these days including sat nav, Bluetooth and air conditioning all via an eight-inch high definition portrait-style touchscreen.
I particularly liked the McLaren Driver Interface which comprises a revolving TFT display screen that offers different feedback and information when driven in Track mode.
In The Car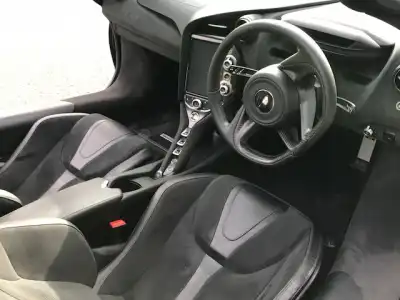 Behind the Wheel
The 720S features a fibre cage which replaces the tub used in its predecessor. This results in a weight loss which is paramount to performance capabilities. It also helps improve driver visibility thanks to thinner pillars.
That said; the ultra long bonnet along with some country lanes with overgrown verges and high hedgerows, made exiting certain junctions particularly precarious.
All the bespoke switchgear is perfectly positioned for driver usability and relatively simple to comprehend which makes light work of altering the driving modes, switching to manual gear changes or programming the sat nav.
The test car in mid-trim Performance grade priced at £218,020, featured a beautifully stylish mix of Nappa leather and Alcantara upholstery along with carbon fibre race seats (a £5,120 option) and a jet black leather steering wheel with carbon fibre centre. There was ample steering wheel adjustment and the seats could be moved manually too. If you're thinking that electric seats should be fitted on a £200k-plus car then once again it's about saving weight as manually-adjustable seats are lighter.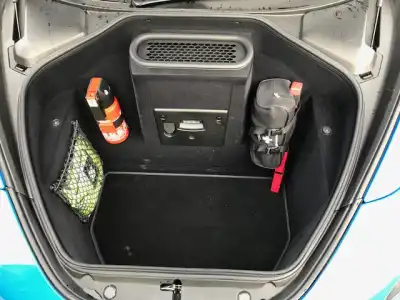 Space & Practicality
Supercars are not exactly designed to be big on space or practicality but in fairness to McLaren, it's 720S model does rather well. Yes, you need to be fairly nimble to get in and out of the dihedral doors that slide outwards and forwards when opened to represent wings. But the fresh door design does actually make entering and exiting the car slightly easier.
The two-seat cabin feels quite spacious and light floods into the cabin through all the glazed areas. McLaren has ensured that all the surfaces are pushed as far away from the occupants as possible and the glazed C-pillars also add to the feeling of space. There is some room behind the seats for a couple of soft holdalls equivalent to 210 litres and there is 150 litres of storage space beneath the bonnet.
I rather liked the cup holder tucked away under the central stack - obviously you would cruise along in a McLaren sipping a latte!
Ownership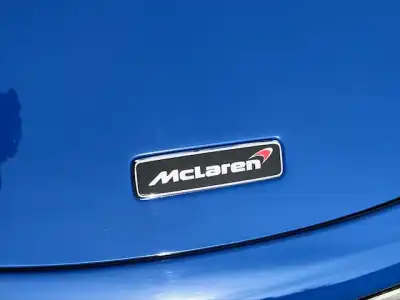 Running Costs
Onto the nitty gritty then - how much will a McLaren 720S cost? Like the performance capabilities, the pricing is not for anyone suffering from a nervous disposition. Despite its well-respected Formula 1 heritage, McLaren Automotive was only created in 2010 to develop road cars. There is a three-tier line-up - Sports Series, Super Series (where the 720S sits) and Ultimate Series.
In addition, the 720S is available in three trim levels - 720S, 720S Performance and 720S Luxury. The test car was the Performance spec priced at £218,020. This car, with the aid of Launch Control, rockets from 0-62mph in 2.9 seconds.
Combined fuel economy of 26.4mpg will not sit comfortably with the 'green brigade' nor will the carbon emissions figure of 249g/km. This would mean owners would face a Vehicle Excise Duty cost of £1,700 for the first tax year and £140 after that.
It's worth noting too that under the recent restructuring of the tax system cars with a list price above £40,000 pay a £310 supplement for five years. After the five-year period the vehicle is taxed at the applicable standard rate.
Not surprisingly, the McLaren 720S is in group 50 for insurance - the highest possible.
However, despite leaving us mere mortals gasping in shock, these running costs are unlikely to deter the super-rich McLaren buyers and one bit of good news is the car's depreciation value is better than most rivals.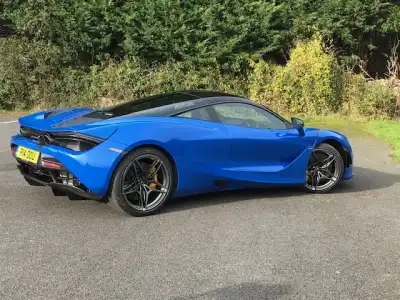 Quality & Reliability
The McLaren 720S is hand-assembled from start to finish in Woking and numbers are always limited to give customers a real sense of exclusivity. The company has no intention of developing mass production like some rivals. With that individual care and attention, every McLaren is finished to the highest order and although it's difficult to determine reliability prospects because the car is so new, other stablemates have a good record.
The car also comes with the reassurance of a three-year, unlimited mileage warranty.
McLaren also prides itself on its use of an all-new carbon fibre cage which adds strength and rigidity in a lightweight structure making it the base for any supercar.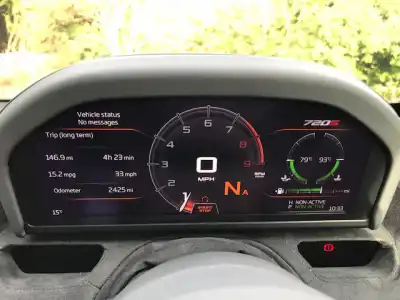 Safety & Security
One figure that stands out apart from the amazing sprint stats is the braking times. Thanks to its carbon ceramic brakes, the 720S can go from 186mph to zero in 6.9 seconds or possibly more relevant would be the 62mph to stop time of 2.8 seconds.
In addition, the McLaren 720S boasts a vast array of safety systems to keep the vehicle grounded with maximum traction and grip - provided the driver keeps them all switched on of course.
The carbon fibre shell is extremely strong and there are airbags and the likes of traction control, variable drift control, electronic stability control and anti-lock brakes.
More On This Car
Take one for a spin or order a brochure
Request a McLaren 720 brochure
Request a McLaren 720 test drive