Pros:
Very safe

Great interior

Lovely to drive
Cons:
Divisive image

Access to boot on the saloon

Costly to buy
Buy and save on quality approved and used cars
Introduction
Mercedes's pervasive C-Class saloon resides in a segment that has been shrinking for more than a decade. So why bother manufacturing it, then? Well, the motor-maker feels its executive-focused booted model still has a lot to contribute to the automotive arena. To be fair, you can also get the car in coupe, estate, and cabriolet body shapes, making it even more appealing. Indeed, the latest C-Class is more attractive than before, but can the German car compete with the likes of Audi and BMW?
On The Road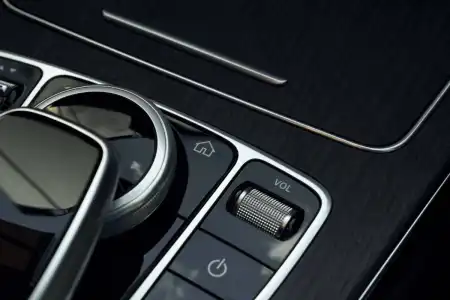 Performance
The Mercedes-C Class comes fitted with an assortment of engines. You can select petrol or diesel, with clout ranging from 156PS to 510PS. The relatively recent distaste for diesel is a pity because this type of fuel propulsion suits the Mercedes. The 194PS C 220 d we tried is great, offering a good blend of efficiency and performance. Let's face it, zero to 62mph in just 6.9 seconds is not to be sniffed at. But, if you don't want to go in the direction of diesel, the next best thing is the 184PS C 200, housing a 1.5-litre petrol turbo engine assisted by a mild hybrid system. This 48-volt unit, which Mercedes-Benz dubs "EQ Boost", provides an extra shot in the arm in terms of acceleration, as well as energy reclamation for the battery. The C 200 charges to 62mph in 7.7 seconds and, like the C 220 d, comes with a nine-speed auto gearbox.
Ride Handling
Aside from a jittery ride around the pothole-dotted streets of Leicester, we found our C-Class C 220 d SE auto saloon to be a strong car. Once out of the clogged city and on the M69 motorway heading west, our turbo diesel test vehicle was swift, planted and hushed. The harmony of the neat-shifting auto 'box and the 1,950cc engine made for a dynamic, confidence-inducing and comfortable ride. The suspension is not overly rigid like some Audi A4 and BMW 3 Series models can be, but it doesn't make you sea-sick by bouncing around, either. When we swung off the M69 onto fast, snaking rural roads, the C-Class did a lovely job of sticking to the blacktop. It really is on the bucolic bends that you start to become conscious of the C 220 d SE's assured cornering conduct.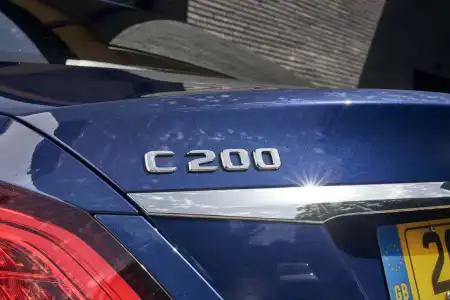 Styling
The C-Class' sporty cabin radiates class, housing fluid forms in a new interpretation of contemporary luxury. The model's centre console is distinguished by an elegant trim. This is obtainable in anthracite oak or brown walnut. The 3D genuine wood veneer in the car's centre console unites a modern feel with a hand-crafted character. Black or magma grey suit the interior, or you can crank it all up a notch by going for saddle brown in the AMG Line models.
The KEYLESS-GO starting function is factory-fitted, and the multi-contour seat package is something we highly recommend. It's C-Class and allows the side bolsters and lumbar support to be adjusted by way of an electrically operated pump. A massage effect in the lumbar region of the seats is delivered by air chambers which are puffed up and then deflated in a wave-like or pulsing motion when the function is triggered. These functions are all operated through the car's multimedia system.
Whichever trim level or package you go for, the cabin of the C-Class is a delightful place to be. In terms of kit, it competes with, if not betters, the Audi A4 or BMW's 3 Series.
In The Car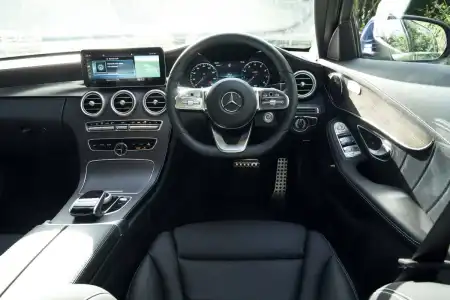 Behind the Wheel
Mercedes-Benz is a firm well-known for its interiors, and the C-Class doesn't let the side down here. It flaunts the best and neatest quality, if not the classiest design of the compact executive sector.
The driving position is top drawer and, each facet of the switchgear feels hearteningly solid, with clean design and detailing. And, on the go, the C-Class is tremendously competent and doesn't ram its satisfactorily punchy power into your face, as much as a comparable BMW does.
The energy is self-possessed, but there are mountains of shove when you need it. Even fully weighed down with possessions and people the C 220 d SE never runs out of strength, enabling you to hoover up masses of miles gamely. There's little in the way of body roll, and the sporty steering wheel gives the car a dynamic feel. A BMW's steering is more thorough, but the Merc is still a delight to drive.
The car also adopts the display concept of the S-Class, with an elective wholly digital instrument display, offering Mercedes' trio of display styles "Classic", "Sport" and "Progressive".
Additionally, the car has touch-sensitive switches on the steering wheel. They react to swiping motions like the display of a smartphone. They enable you to control the instrument cluster's functions and the infotainment system without having to lift your hands from the wheel.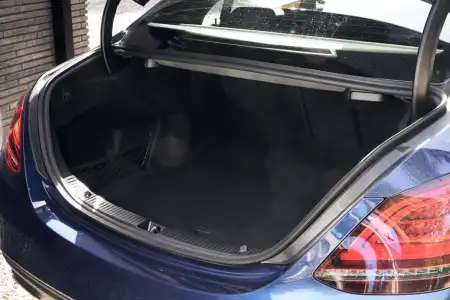 Space & Practicality
Occupants in the rear of the C-Class saloon get a nice amount of legroom and headroom. Mind you, the back seats are best suited for two adults, but this needn't be a deal-breaker because it's the same for the Merc's main opponents – namely Audi and BMW. If getting a trio of people into the rear is a priority, then check out VW's Passat or the Skoda Superb as an alternative. There are no worries in the front of the Merc, though – you and your passenger will have more than enough room to swing a cat.
As for storage, there's lots of it in the C-Class' cabin, including two cupholders and big door bins. There's also a liberal middle storage compartment underneath the armrest, plus a sensibly sized glovebox. And when it comes to boot space, the Benz saloon has a cargo capacity of 455-litres. Okay, it's not quite as big as the 480-litres you get in a 3 Series or A4, but it's fine for this segment. Also, because it's a saloon, the limited opening impedes access a tad, but you'll get two sets of golf clubs and a weekly shop in there. Oh, and it's also worth knowing that the EQ hybrid versions boot sinks to 300 litres. This is due to where the electrical gubbins is situated.
Ownership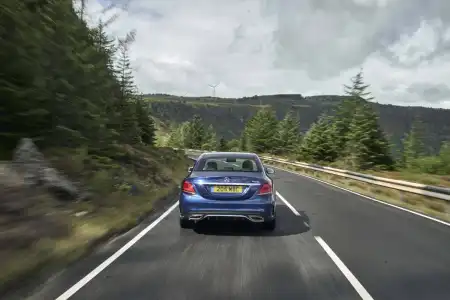 Running Costs
he Mercedes-Benz C-Class C 220 d SE auto, as tested, will do a claimed combined mpg of 61.4 while emitting 121g/km of CO2. This is reasonable for this size of car. Mind you, while travelling around the roads of Leicestershire and the M69, we only managed to get early-50s mpg.
If you need an executive saloon, and your mind is set on a petrol-propelled C-Class, then the C 200 with its mild hybrid support, and in the same SE auto trim, will do 46.3mpg.
Quality & Reliability
The C-Class' interior and exterior build-quality are solid as granite, so the German car will handle years of use. However, that doesn't mean it's flawless. Problems with the Mercedes' AdBlue emissions system are renowned, with several amendments to the NOx sensor.
For extra confidence, though, the German automaker provides a three-year warranty. And, for a modest cost, you can increase the cover on your C-Class with an extended warranty.
Quality & Reliability
One of the main reasons for purchasing a Mercedes-Benz C Class, apart from it being a fine-looking car that's a joy to drive, is its reputation for quality and reliability. The model's interior and exterior build-quality are solid as granite, too, so the car will handle years of use.
However, Mercs aren't always flawless. Problems with the Mercedes' AdBlue emissions system are renowned, with several amendments to the NOx sensor.
But, for extra confidence, the German automaker provides an all-embracing three-year warranty. You'll be able to get behind the wheel knowing that you're covered as you drive across the UK. You'll even be sorted for a couple of years from the first registration date while motoring across a multiplicity of European countries.
If anything does go awry, the warranty will cover all items that are made by Mercedes-Benz, meaning you'll be able to get them fixed and be back driving in no time.
Although Merc's warranty covers repairs sparked by manufacturing defects, it doesn't cover costs of servicing, maintenance, accidental damage, or wear and tear.
It's also worth being aware that, for a modest cost, you can increase the cover on your C-Class with an extended warranty.
Safety & Security
The Mercedes-Benz C-Class earned all five stars from Euro NCAP for its ability in protecting occupants in a smash. There are no less than seven airbags installed into the model, while a couple more can be selected via Mercedes' options list.
Other factory-fitted kit incorporates Collision Prevention Assist Plus, which can brake the car for you and Attention Assist, which alerts you if the C-Class senses you're drowsy. What's more, the latest C-Class' bodyshell is made of stronger metals than on preceding pre-2018 models.
And on the security side, Mercedes Benz equips, as standard, a category one alarm or Thatcham category two immobiliser to nearly all its new cars produced for the UK market.

Find out our latest offers for used Mercedes C-Class.
Buy and save on quality approved and used cars