From £34,870 (E 220 BlueTEC SE)
Pros:
Immense solidity

AMG Line models are eye-catching

Eats miles with zero fuss
Cons:
Rivals are more dynamic

Some surprisingly weak engines

Getting on a bit now
Buy and save on quality approved and used cars
Introduction
If you're in the market for an executive saloon car, you're probably already thumbing through Mercedes-Benz E-Class brochures. It's one of the staples of the sector and, despite being around for what seems like forever, still one of its strongest players. Mercedes-Benz has traditionally defined the standard in this sector and this E-Class, although not the newest model around, remains one of its key players.
Mercedes-Benz plays a straight bat with the E-Class. It's a traditional three-box shape, with just the slightest hint of stylistic fancy with the front and rear lights. No outlandish curves or standout graphics here, just a solid and upright player that will reassure the board their company is in safe hands. Needless to say, its performance across the board is reassuringly capable…
On The Road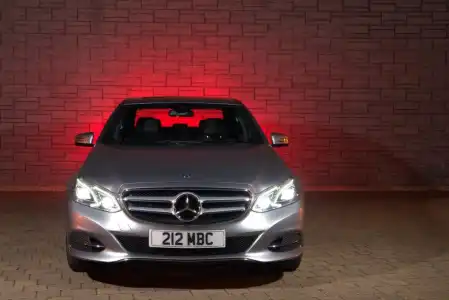 Performance
Mercedes-Benz used to offer a somewhat confusing range of engines with the E-Class, but these days it's simplified the offer significantly. It's built the range around a very long-running 2.1-litre four-cylinder diesel, a V6 diesel alternative and a monstrous 5.5-litre V8 that's as much like as muscle car as it sounds.
The range starts with the E 220 BlueTEC, which produces 177hp and is offered in Euro 6 guise. There's a more powerful E 250 CDI version of the same 2.1-litre four-cylinder diesel too, producing 204hp, but do note: this engine is not Euro 6 compliant, and so does not have long to live. Expect an E 250 BlueTEC variant sooner rather than later – and don't get carried away on the test drive: yes, it performs impressively well, but it's not the smartest tax-conscious buy…
For most, the E 220 BlueTEC will be fine: that's why you see so many – people are prepared to put up with its slightly rattly nature for the more than ample pull it offers for the money. If they spend more, they can have the E 300 BlueTEC Hybrid, which adds short-distance hybrid electric running, but again this (surprisingly) is only Euro 5 compliant, and so will be phased out soon. It seems the range is still a bit confusing after all.
At least the creamy 3.0-litre V6 E 350 BlueTEC is Euro 6 and, with 258hp, a very sweet performer indeed. Sweet enough to have seen off every petrol apart from the E 250; with a 211hp 2.0-litre turbo four-cylinder, that car is sprightly but hardly executive-level refined. If you're going to go petrol, and have the cash, choose the E 63 AMG, which offers 557hp or, in S guise, 585hp. They're as hysterical as they sound (and boy, do they sound good).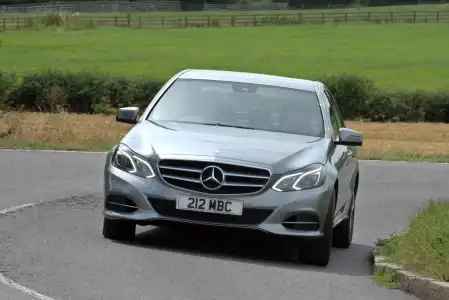 Ride Handling
The Mercedes-Benz E-Class is all about ride refinement: if you want sporty back-road entertainment, take a BMW or a Jaguar. Mercedes knows its customers demand elegance across all road surfaces, and boy, how the E-Class delivers it.
Ride quality has considerable depth, with very impressive absorbency and compliance even over broken and pitted surfaces. It's at its best in regular guise, without the larger AMG-branded wheels of pricier variants, but even the focused AMG Line and AMG cars are more absorbent than some rivals (we're looking at you there, Audi).
That's not to say the E-Class doesn't handle. It's perfectly safe and secure, with predictable manners and decent precision. But it's no BMW 5 Series or Jaguar XF; it leans more in corners, offers less feedback and generally feels that bit heavier and less responsive to steer. The E-Class knows its place.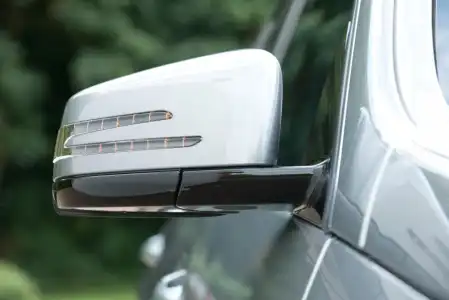 Styling
The E-Class is an extremely refined car, probably the most composed executive car all-rounder on sale. OK, engine noise in the four-cylinder diesels can be a bit prominent at times – during heavy acceleration and when starting from cold – but any E-Class is a peaceful thing at speed, cruising with considerable composure.
Wind noise is kept at bay, road noise doesn't intrude and various other background sources of noise you find in other cars have been well isolated here. All the better for listening to the decent stereos; consider a premium audio upgrade as you'll certainly get your money's worth.
In The Car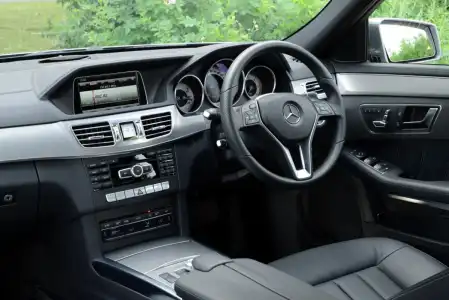 Behind the Wheel
The E-Class rather feels its age behind the wheel. This is a previous generation of Mercedes-Benz design, so is more blocky and upright than the curvaceous, modern interiors found in the C-Class and S-Class.
The spongy dashtop in particular looks rather early 2000s, with the infotainment screen sitting gloomily within it; this is also, in common with most modern Mercedes, rather awkward to use at first acquaintance. You will be disappointed if you don't go for a system upgrade: the standard screen is too small and low-res.
There's absolutely no concern about space or comfort, though. Mercedes-Benz has always produced excellent seats that support well over long distances and the E-Class is no exception. OK, some find them hard and unyielding at first, but they come into their own on long journeys and, once you're used to them, you'll find most other car seats seem soft and unsupportive.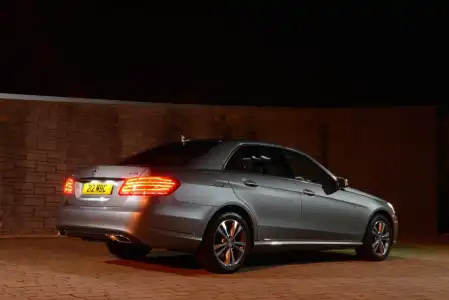 Space & Practicality
The E-Class is an extremely spacious car, even considering its ample exterior dimensions. Other cars in this class are also big on the outside but the E-Class carries this through to the interior too. If you don't have limousine cash to go for an S-Class, the E-Class won't leave you feeling too short-changed in terms of lounging limo luxury.
Those in the rear will particularly welcome your choice. Compared to a BMW 5 Series or Jaguar XF, there's a tremendous amount of leg and headroom back there, with big windows and flat sides adding to the slightly regal view out.
The saloon E-Class has a 490 litre boot that stretches to 1735 litres. The estate is even better, expanding from 600 litres to 1855 litres; this makes it the most spacious and practical large SUV car on the market, by a huge margin. It holds almost a Ford Fiesta's worth of space advantage over a Volvo V70, for example…
Ownership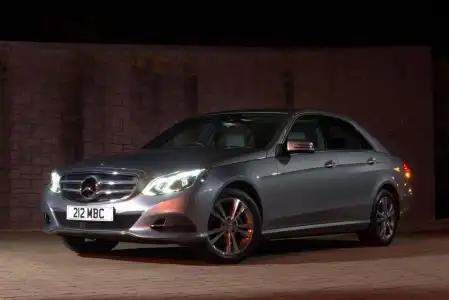 Running Costs
The E-Class range is now focused around fuel-efficient four-cylinder diesels, all of which are fuel efficient and cheap to run. They have low CO2 emissions which helps ease the tax liability and Mercedes-Benz fits more equipment to its cars as standard these days, so you don't need to indulge too heavily with the options list.
It's perhaps not got quite the glowing retained values it once did have, but the E-Class still holds into a decent chunk of its original list price, again helping keep overall running costs down.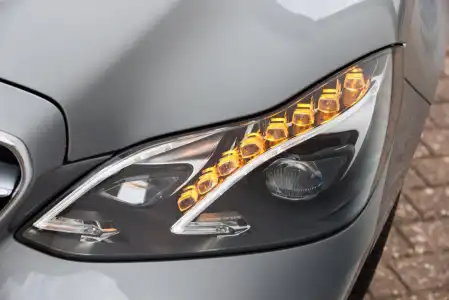 Quality & Reliability
Mercedes-Benz builds its cars to an exemplary standard. That's what you pay for: that's why you trade a little equipment offered as standard on rivals. It really does feel like a car built for the long run too – it's certainly up with the S-Class for built-in integrity.
Bits of it might not look like they're of the very finest quality – parts of the interior, for example – but they are. It leaves you confident the E-Class will last a very long time with no reliability issues, something Mercedes-Benz itself backs up with a 30-year anti-breakdown warranty.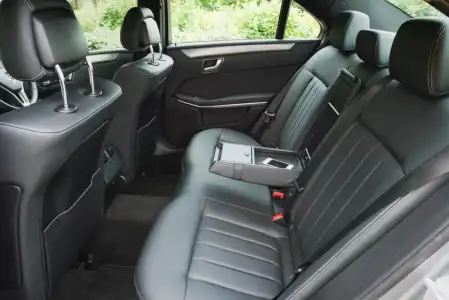 Safety & Security
The E-Class has a peerless safety score, both through official test regimes and via Mercedes' own assessments. The bodywork is so strong, the firm had to stamp in 'cut' points at key points to help emergency services know where they'd be able to chop the bodywork in the shape of an accident.
Its sober understated style will mean it's unlikely to be a theft magnet and Mercedes-Benz-standard door locks don't cause us any worries.
Buy and save on quality approved and used cars