From £17,999
Pros:
Car-like handling

Economical

Excellent driving position
Cons:
Leaf-spring suspension

Unsubtle looks
More On This Car
Take one for a spin or order a brochure
Request a Mitsubishi L200 brochure
Request a Mitsubishi L200 test drive
Introduction
Double-cab pickups are an ever-increasing sight on our roads and it's not surprising really. Not only do they fulfill a workhorse, industrial role during the week, they also comfortably ferry a family around come the weekend.
Fiat, Renault and even Mercedes have recently thrown their hard-hats into the ring, but in the shape of this 5th generation L200, Mitsubishi have experience on their side.
With more manufacturers vying for buyers in this lucrative market, even the established brands have been forced to up their game: bring on the latest Mitsubishi L200.
Ride Handling
Look underneath the vast majority of double-cab pickups and you'll find a slightly old fashioned leaf-spring suspension setup. There's a very good reason for this, though - this system is well suited to handling heavy loads, and this is the inherent job of the pickup, after all.
Mitsubishi have tweaked the setup in the L200, though. They've lengthened the leaf-springs and generally stiffened the whole chassis to stop it flexing and bending out of shape.
They've also taken their Super Select 4WD II system that's found in Shoguns and fitted it to all but the lowest spec L200s. This means 4WD for off-roading or slippery conditions and even a locking centre differential and low range transmission for extreme surfaces.
In real terms, all of these improvements to the L200 add up to a far more civilised on-road experience. It's stable and reassuring where previous generations would dive into corners and not handle changes in direction at all well.
Unladen, the rear end still has a tendency to bounce around over bumps, though, and it can easily come unstuck if you're heavy on the accelerator when setting off in 1st gear.
On The Road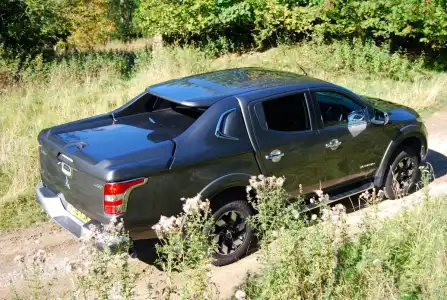 Performance
Whichever L200 you choose, it'll come with Mitsubishi's 2.4 litre aluminium, turbodiesel engine under the bonnet, mated to either a 6-speed manual or 5-speed automatic transmission. This is a good thing.
Lower-spec 4Life and Titan models are available with this engine in 152bhp guise, but go for a Warrior or Barbarian L200 like our test car and you'll get an impressive 178bhp.
There's plenty of low-end grunt further down the rev-range, with peak torque reached at 2500rpm. This is something of a prerequisite in a vehicle of this nature for lugging loads, towing etc.
It's not just about the torque, though. When mated to the manual 'box that's available across the range, this most powerful L200 achieves 0-62mph in 10.4 seconds.
The L200 is no sports car, it's not meant to be, but it's no slouch either. This manual gearbox is also far more user-friendly with ratios fairly close together and a smooth, fuss-free feel as you change gears.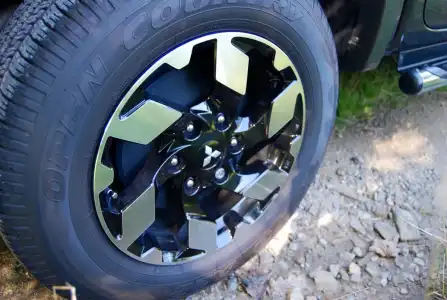 Styling
The addition of Mitsubishi's more intelligent 4WD system means the L200 is far more settled around corners, staying fairly flat and stable. Bumps and uneven surfaces still transmit through the steering wheel, though.
Economical it may be, but this engine still has that typical diesel sound. Mitsubishi have compensated for this with increased cabin insulation and, inside at least, there's hardly any audible diesel rattle at tickover.
Motorway cruising isn't deafening either. It's only if you really push above the engine's 3000rpm comfort zone that you're reminded this is predominantly a vehicle designed for work, not leisure.
Wind noise is also reduced slightly over the outgoing model, although there's only so much you can do with such a tall, boxy shape. Oversized door mirrors will always cause buffeting at higher speeds.
In The Car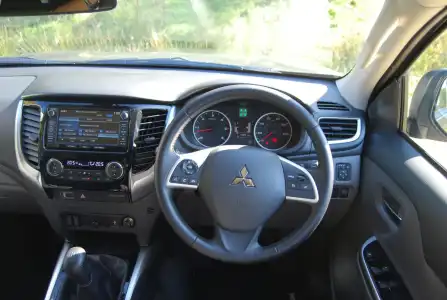 Behind the Wheel
It would be somewhat disappointing if such a tall, commanding vehicle didn't provide a good vantage point for driving, and the L200 does just that. This is the range-topping Barbarian model and so leather comes as standard, with the driver's seat being electrically adjustable 4 ways to achieve that optimal position.
All L200s come with height adjustable seats and all but the lowest-spec 4Life L200s get a steering wheel that's both rake and reach adjustable. Any driver should feel comfortable with good visibility of all four corners out of the extensive glasshousing.
For added reassurance when manoeuvring this 5.3m long pickup, Barbarian and Warrior spec models come with a reversing camera as standard. Not only is this great for parking, it's very useful for backing onto a trailer or caravan unaided.
Switchgear has improved slightly over previous L200s but it's still not what you'd call premium. A natty dial replaces the unwieldy manual lever for switching between 4WD/2WD and high/low ratios, otherwise, it's still very much function over form.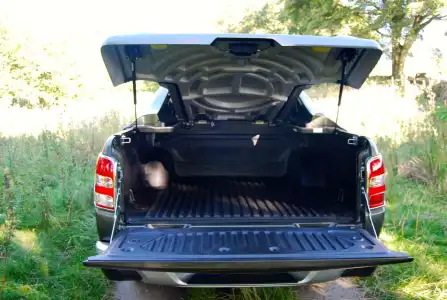 Space & Practicality
There's loads of space inside, as you might expect. 5 six-foot adults will fit with ease with no sloping roof to reduce rear headroom.
There's storage, cupholders and cubby-holes aplenty to keep things uncluttered and every double-cab variant comes with Isofix mounts in the rear seats.
One omission from the last generation L200 is the opening rear window. The load-bed is over 1.5m long and big enough to carry a Euro pallet, but where overlength items could previously be fed through into the cabin, that's no longer possible.
Ownership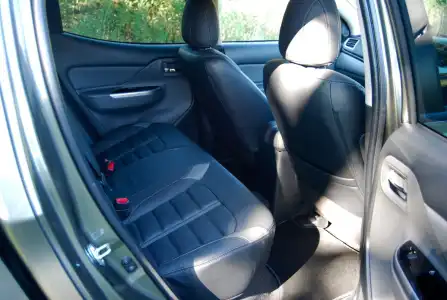 Running Costs
This is where L200 has improved massively, putting itself right up there with the competition. This higher-powered Barbarian's 178bhp engine achieves 39.8mpg combined and emissions have dropped to 186g/km CO2. These figures keep the L200 on a par with the likes of the Nissan Navara and Ford Ranger and it's cleaner than the VW Amarok.
The engine is Euro 6 compliant on emissions with VED for the first year costing £230. Service intervals are 12,500 miles or 12 months and every L200 comes with a 5-year warranty for added peace of mind.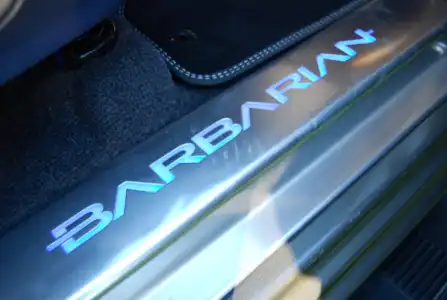 Quality & Reliability
Interior plastics may not be of the highest quality but everything feels solid and properly screwed together. This Barbarian is the highest spec model with sat nav, dual-zone climate control, DAB radio and leather upholstery. There's even handy puddle lamps; it can't really be accused of lacking kit.
Double-cab pickups are designed to take some pretty serious abuse so this Mitsubishi should easily handle anything normal family life can throw at it.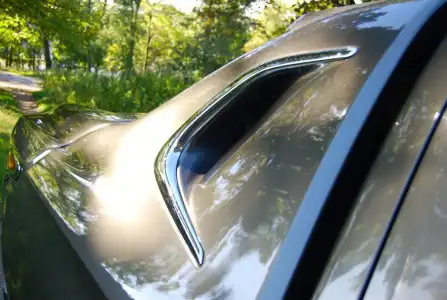 Safety & Security
Barbarian, Warrior and Titan L200s have been loaded with safety equipment, making them a genuine proposition for family use.
There's ABS, active stability and traction control, brake assist, hill start assist, front, side, knee and curtain airbags, lane departure warning and trailer stability assist for towing.
Side impact systems, child proof rear door locks and Isofix mean it'll look after your loved ones as well as a traditional family-hatch or SUV would. A Thatcham category 1 alarm and immobiliser comes as standard so it should hopefully still be where you left it.
More On This Car
Take one for a spin or order a brochure
Request a Mitsubishi L200 brochure
Request a Mitsubishi L200 test drive