Pros:
It has real road presence

Claimed range

Performance
Cons:
Bears little resemblance to a traditional Mustang

Some tech is unproven

It's pricey to buy
More On This Car
Need more information?
Request Dealer Contact
Introduction
This isn't a standard Ford Mustang by any stretch of the imagination. Some might argue that this car shouldn't even have the coveted pony emblem on it at all. Why? Well, the Mach-E is an all-electric SUV - not an out and out muscle car with a dirty, monstrous V8 throbbing away under the bonnet. Indeed, the model has a "green" streak running all the way through it like a stick of seaside rock.
One thing's for sure - the Mach-E is going to be divisive - some will love the electric offering, but others might think it's a "phoney-pony". So, is the Mach-E an "e-donkey" or an electronic delight? We took a spin in it around London to find out.
On The Road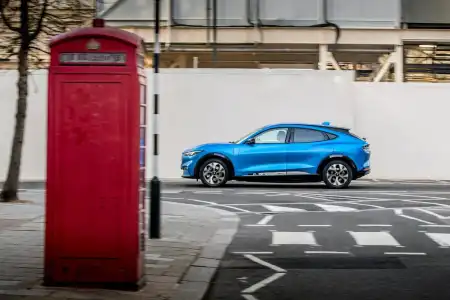 Performance
If you're going to buy yourself a new Mustang Mach-E, choosing which power unit to go for is straightforward. When it officially arrives in the UK later this year, the Mach-E will come with standard and extended-range battery options. It'll also have either rear-wheel drive or all-wheel drive. The 337ps Mustang accelerates rapidly and has a range of up to 370 miles. Ford also plans to offer an exceptional 465ps performance GT version, capable of zero to 62 mph in under five seconds.
The sporty SUV delivers a trio of drive modes – Whisper, Engage and Unbridled – each offering driving dynamics parcelled with a different sensory experience. Features comprise sportier steering controls, ambient lighting, sounds, and dynamic animations that are linked to driving behaviour.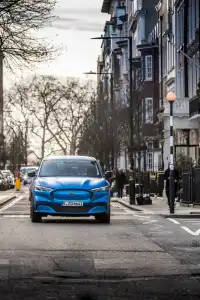 Ride Handling
The power and size of the Mach-E make it perfect for the open road, yet it also handles narrow, congested streets – as we found out during the car's European debut in London. It takes off like it's had too many cups of coffee and snaps your skull backwards when the pedal is buried into the carpet. This thrust was demonstrated in a specially coned-off underground carpark.
The smooth concrete floor wasn't enough for us to make a proper assessment of real-world ride comfort at pace. However, the SUV certainly delivers a hushed magic carpet ride at slow speeds. This is down to the spring and damper specifications, and the electronic stability control and electric power-assisted steering settings that have been tuned for British roads and driving styles.
There's almost no roll in corners, so the Mach-E never feels unstable. Sure, we were lucky if we got much above 30mph in the beating heart of London – but, even at this modest rate, it's clear the electrified Mustang makes for comfortable, "clean" transport.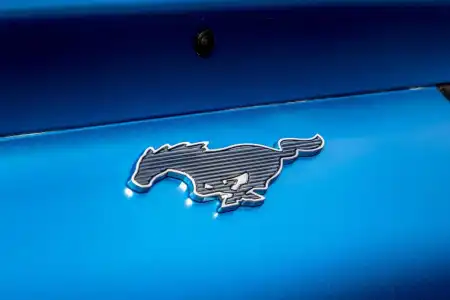 Styling
There is no doubt that the new Ford Mustang Mach-E is a reasonably refined machine. It's more than ready to take on the new decade with a cabin that looks like it's straight from a sci-fi series. That alone will satisfy Instagrammers in a heartbeat. Forget these so-called "influencers", though. In the real world, we know there will always be cars with better refinement than a Ford. But, electrified, or not; Mustang, or not, this car is excellent for what it is. It's no bone-shaker, and it's no Bentley – simply, for forty-odd grand, it's more than acceptable.
The seats are well-trimmed, and vibration levels are almost non-existent. Add a light open and airy interior to the mix, and you have a car that's a chilled place to be, even when picking up the pace. Indeed, because it's a pure-electric car, there's little clamour to disturb anything. This enables you and your fellow occupants to soak up some tunes, have an uninterrupted conversation or indulge in much-undervalued quiet time.
In The Car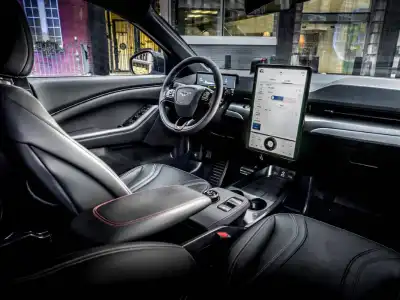 Behind the Wheel
Everywhere in the cabin, the Mustang Mach-E represents a blend of sleek, modern design and functionality. A premium B&O sound system includes speakers floating above the air vents like some kind of sound-bar. A folding armrest doubles as a place to keep valuables, and Mustang design cues, like the double-cowl instrument panel, complete the interior.
Making its debut in the Mustang Mach-E is Ford's hottest SYNC communications and entertainment system. This interface uses machine learning to understand driving preferences quickly and makes it easier to access information with a touch, swipe or a pinch. Additionally, thanks to cloud-based connectivity and voice recognition, the system makes navigation, music and connecting a smartphone to the Mustang faster. It also introduces wireless compatibility with Apple CarPlay, Android Auto and apps.
Elsewhere, the Mustang's panoramic fixed-glass roof has a secret: a glass coating with infrared protection helps the cabin stay cooler in the summer and warmer in the winter. Furthermore, a layer between the glass helps shield you and the interior from ultraviolet rays.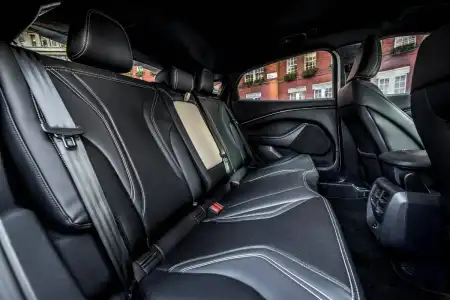 Space & Practicality
Using Ford's all-electric architecture that places batteries inside the underbody, engineers and designers have been able to create a machine that's not only true to Mustang but also maximises SUV space for five people. Smart design and engineering deliver surprising rear-seat roominess and decent load space.
The Ford holds another surprise under its bonnet: a drainable front boot stowage unit. Providing 100 litres of space, the front cargo area is large enough to hold a carry-on luggage bag. And because it's drainable, it's a convenient place to dump wet or muddy sports clothing, or, say, beach gear.
In addition to the front boot, the rear load area has 402 litres of cargo capacity. With the rear seats folded down, the Mustang Mach-E boasts 1,420 litres of room – more than enough for luggage, camping gear or whatever else you may want to move around.
Ownership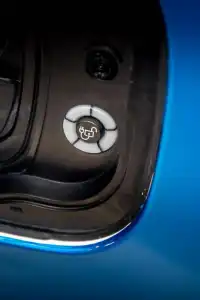 Running Costs
As well as buying or leasing the Ford for its stunning looks and its space-age interior, you'll obviously want it for its efficiency. The Mach-E has a pure-electric driving range of 370 miles, so it'll kick any range anxiety to the kerb – what's more, it marks the beginning of an expanding Blue Oval electrified vehicle line-up. Ford customers will be able to choose from 18 electrified vehicles by the end of next year (2021), up from 14 by the end of this year.
As electric vehicle owners do around 80 per cent of their charging at home, Ford offers a connected wall box solution, delivering five times the charging power of a domestic socket. This means you can add an estimated average range of 38 miles per charging hour, based on extended-range, rear-wheel-drive configuration. The home charge cable, included with the Mustang, can add around nine miles per charging hour using a typical domestic outlet.
What's more, the Mach-E's connected navigation system will identify public charging locations during trips. It'll also prompt you to charge at the most convenient points on each drive – all to help ensure you don't have to be apprehensive about how much range you have.
The Mustang Mach-E certainly heralds a new era for Ford – but it represents more than just zero-emission motoring; it's about stress-free experiences, driving fun - and total peace-of-mind.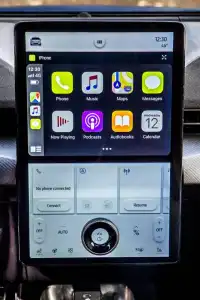 Quality & Reliability
Ford has always been the go-to choice for motorists wanting reliable, good-driving cars. Yet, we're the first to admit, the Mach-E's electric powerplant system isn't proven. That said, some of the other tech within the Mustang is already used elsewhere. Additionally, there aren't any major concerns when it comes to general Ford quality. Most of the automaker's modern vehicles have a good name, and they've borne this out over the years.
Perhaps more significantly, Ford has so much faith in the new electrified Mustang that its new car warranty covers the Mach-E's electrics for eight-years or 100,00 miles. Elsewhere, you don't need to worry about rust, because corrosion is covered for five-years. Oh, and Ford's Electric Vehicle Roadside Assistance Programme lasts for five years or 60,000 miles.
Safety & Security
The Mach-E hasn't been crash-tested by Euro NCAP yet. But things are looking good for it. Indeed, we'd be surprised if it didn't get the full five-stars because the all-electric pony is heaving with technology, helping to look after you and your occupants. There are multiple airbags, and other safety aids to help take care of everyone should a crash happen. Kit includes blind-spot monitoring and rear cross-traffic alert; lane-departure warning and lane-keeping assist; forward-collision warning and automated emergency braking.
Security-wise, it's worth noting that getting in and starting the SUV involves 'Phone as A Key' technology. Using Bluetooth, the car can detect your smartphone as you approach, unlocking the Mustang and allowing you to drive away without getting your phone out of your pocket or using a key. A backup code can be tapped into a keypad on the car to unlock it, and a separate code can be entered into the centre touchscreen to start and drive the vehicle, in the event your phone battery dies. Will tech-bandits find a way to breach this? Well, it's unlikely – but never say never. For now, though, Ford is convinced the technology is sound as a pound.
More On This Car
Need more information?
Request Dealer Contact