Pros:
Excellent build quality

Precise handling

Has an air of class
Cons:
Divisive looks

Restricted headroom in the rear

Harsh ride in M Sport guise
More On This Car
Take one for a spin or order a brochure
Request a BMW 2 Series brochure
Request a BMW 2 Series test drive
Introduction
BMW is churning out more models than ever - The automaker's newest offering is the 2 Series Gran Coupe - a booted form of the 1 Series hatchback. In many ways it's a pure coupe, but, being a four-door car, it slightly lacks the sporty look of sleek two-door one. Mind you, that's no bad thing from a practical point of view. Furthermore, it stands up well against competitors such as Mercedes' A-Class Saloon and CLA, as well as Audi's A3 Saloon.
On The Road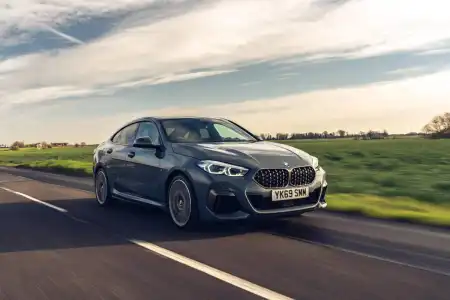 Performance
The flagship M235i xDrive is a rapid machine, with the added benefit of all-wheel-drive. It shoots along the straights and races around corners confidently but crazily – if you want it to. The car produces 306ps, so zero to 62mph comes in a mere 4.9 seconds and its maximum speed is 155mph. Put it this way; overtaking is never an issue in a motor with this much punch. But does it make you drive like a complete unmentionable? Erm, yes, if I'm honest. The slower 218i is perhaps a better bet if you're scared of losing your licence and your dignity. With a 0-62mph time of 8.7 seconds and a top end of 134mph, it's swift enough to keep you on your toes but conservative enough to mean it's less likely you end up the wrong side of the law. I tried both cars and was particularly impressed by the smooth-shifting eight-speed automatic "Steptronic" transmission. Quick changes make sure the 2 Series Gran Coupe is driving in the highest achievable gear, even when moving at low speeds.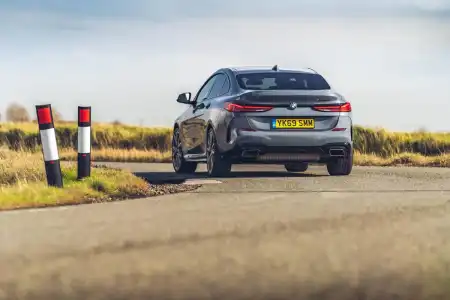 Ride Handling
The 2 Series Gran Coupe's handling is remarkable, and the steering precision is impressive, with lots of sensitivity. Only the smallest of inputs generates a perceptible difference to your direction. Mostly, it's a sporty driving experience, and the standard car soaks up bumps in the bitumen without bother. But get in the M Sport, and the suspension on this model doesn't do a good job of disguising rough road surfaces at all. Nevertheless, it makes tackling snaking roads exciting, with the M Sport suspension virtually eliminating body roll, giving you the confidence to attack corners without scrubbing off much speed. Add intelligent four-wheel-drive to the mix, and you have a Bimmer that doesn't have any plans to leave the tarmac any time soon. As well as the all-wheel-drive system, standard spec for the M235i xDrive incorporates a freshly developed limited-slip differential, which gives the model an even more incisive edge.
Styling
BMWs should be refined – it's in the firm's DNA. What good is a Bimmer with an overwhelming reek of cheapness? True, BMWs are hardly meant to be Bentleys, but a classic German brand is expected to have a certain class that you don't necessarily find elsewhere. The 2 Series Gran Coupe doesn't disappoint here, then again it still doesn't feel as luxurious as some of its competitors. Mind you, the seats are supportive, and M Sport cars go the extra mile by having leather upholstery and heated front seats as standard. What's more, the interior offers a bunch of ambient lighting, including trim strips on the door panels and instrument panel. These keep their regular appearance in daylight but operate as attractive lighting elements at night. Elsewhere, the customary BMW levels of insulation and build quality are present, and you aren't going to feel short-changed here, because this car looks and feels every bit a premium model from the inside.
In The Car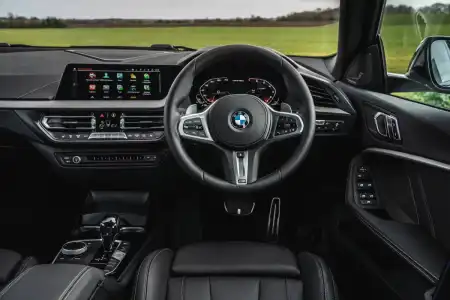 Behind the Wheel
Well, anyone acquainted with a BMW product will feel at home here. The BMW 2 Series Gran Coupe's interior is very like the 1 Series' with only a few alterations. The driver's seat can be set sportily low, and there's an infotainment screen that can be operated either by voice control or touchscreen - or through BMW's established iDrive controller. On that last note, here's the point in this piece where we remind you that BMW makes one of the best infotainment systems on the market with its incorporated rotary wheel near the gear shifter. This enables you to instinctively look through the car's modes and menus without having to jab the touchscreen. Mind you; as mentioned, you can also do it that way if you want. As for the voice control – the tech is a little less precise and, therefore, can be a tad frustrating. Overall, the 2 Series Gran Coupe's cockpit is driver-focused, with top levels of quality and controls that are in all the areas you'd like them to be - a characteristically excellent effort from BMW, with no nasty surprises.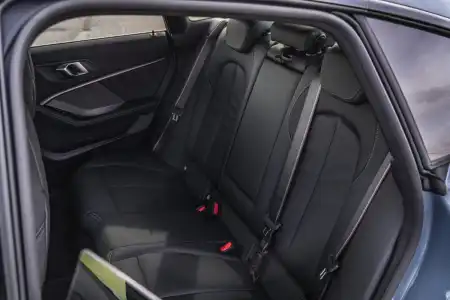 Space & Practicality
With a plummeting roofline at the back, the 2 Series Gran Coupe's headroom isn't the best. I'm six-foot tall, and, when I sat in the stern, I had to bob down to get under the BMW's roofline while clambering into the rear doors. Happily, once inside, the new Bimmer's knee room is more generous. The back of your head will still skim the headliner, though. But, there won't be any dramas for smaller people, and kids will have plenty of space. Well, two of them in child-seats will. A third, taller child, who doesn't need a booster seat, will cope with sitting in the middle. As for the 2 Series Gran Coupe's 430-litre boot, this is handily deep for loading long items, and it has substantial additional storage beneath its floor. The rear seats can also be folded to boost cargo-carrying room. Only the low bootlid rains on the parade, making the transportation of taller objects difficult.
Ownership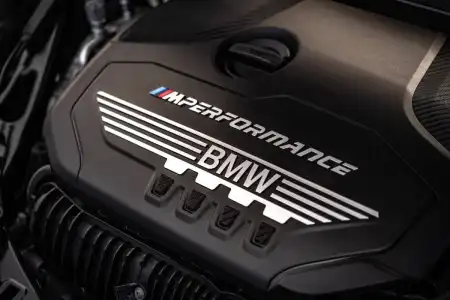 Running Costs
The 218i Gran Coupe's claimed fuel economy is between 42.2-47.1mpg, so that's pretty good. Its 1.5-litre three-cylinder power unit produces CO2 emissions of just 123 to 114g/km.But the other model I spent more time in - the high-revving M235i xDrive – is by far the hungriest car, offering only 36.2-37.2mpg. It also produces 153g/km of CO2. The all-wheel-drive system adds to the car's fuel consumption, too. Furthermore, be aware that if you're going to be driving this model energetically - and you will be - you're going to have to expect brake pads and tyres to wear out just a bit more quickly.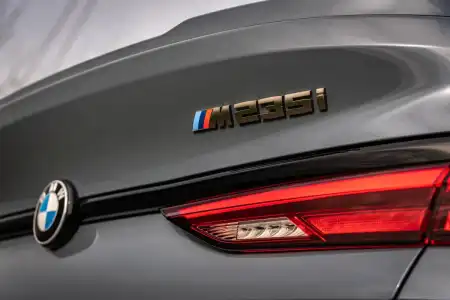 Quality & Reliability
BMW has a mixed record when it comes to dependability. Some of its cars have been the subject of grumbles from owners. That said, BMW still has a commendable reputation generally, and its dealerships often receive good feedback. What's more, the 2 Series Gran Coupe is protected by a three-year/unlimited mileage warranty. This equals the cover provided by Mercedes-Benz for its A-Class and betters Audi's three-year warranty, which is restricted to just 60,000 miles.There's certainly no questioning the general quality of the Bavarian goliath's cars, and this new 2 Series Gran Coupe is no different. Everything you handle feels well made, and the finish of the entire model is of an exceptionally high standard. You should also take some reassurance that many components for this car are carried across the BMW line-up. And the engines and transmissions are some of the best on the automotive market. When making a deal with your local BMW outlet, you might also be able to get free servicing chucked in, taking the sting out of the initial ownership period of this motor.
Safety & Security
The BMW 2 Series Gran Coupe uses lots of driver assistance systems familiar from BMW models higher up the hierarchy. Standard kit comprises lane departure warning, cruise control with braking and collision and pedestrian warning with city braking.The driving assistant additionally encompasses a lane change warning system that reminds you to steer the BMW back into the correct lane via a visual warning and, if required, a steering input. The driving assistant's other functions embrace rear collision warning and crossing traffic warning.
Furthermore, the 2 Series Gran Coupe offers park distance control with sensors at both the rear and the front, while a rear-view camera can be installed with a park assistant option. The parking assistant offers automatic supported parking in spaces that are either perpendicular or parallel to the road. This tech takes care of steering the BMW as well as braking and accelerating.Euro NCAP hasn't crash-tested the model yet, but the 1 Series to which it's closely related notched up the highest five-star score. So, you can expect the 2 Series Gran Coupe to repeat that result.
More On This Car
Take one for a spin or order a brochure
Request a BMW 2 Series brochure
Request a BMW 2 Series test drive