Pros:
Very economical

Good looking

Versatile practicality
Cons:
More expensive than non-hybrids

The infotainment system isn't the best

Handling not great
More On This Car
Need more information?
Request More Information
Introduction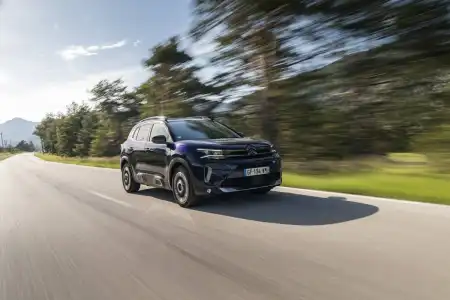 When you're thinking of buying or leasing an SUV, the Citroen C5 Aircross might not be the first vehicle that springs to mind.
But it isn't easy to see why. It's attractive – even more so now – as well as economical and practical - and it has decent performance.
The petrol and diesel models have three trims, with Sense Plus at entry-level. However, that grade isn't available on the plug-in hybrid variant, so there are only two trims for us to look at.
'Shine' is first. It offers 18-inch alloys, a 12.3-inch digital instrument cluster, dual-zone automatic climate control, a dark chrome colour pack, and a 10-inch infotainment touchscreen with navigation. You also get a reversing camera with the included 'City Camera Pack', which provides a top-down rear view.
'C-Series Edition' offers the same, but with some extra garnish. The car boasts 19-inch rims, a black roof with a panoramic sunroof, an electric blind, part-leather advanced comfort seats, a colour pack called 'anodised bronze', and a drive assist bundle.

On The Road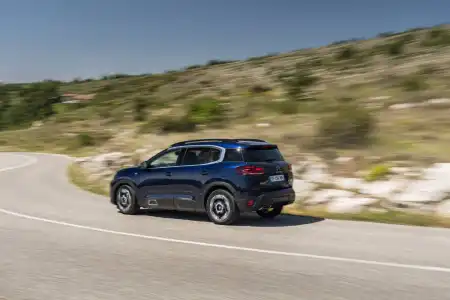 Performance
There's only one powertrain available with the plug-in hybrid, which is a 1.6-litre four-cylinder turbo-petrol. The unit produces 225PS in partnership with the electric motor.
That's enough to propel the Citroen to 62mph in 8.7-seconds, which isn't bad for a reasonably hefty vehicle. Its top speed is 140mph, too, which is impressive, not that you're ever likely to drive it that fast.
Acceleration from a standing start isn't fierce, but, as the figures suggest, it's no slouch. The Aircross pulls well and never feels lethargic, even when you put your foot down to overtake on a dual-carriageway or motorway.
The eight-speed automatic gearbox helps the French car's performance. The electrified transmission changes gear smoothly and complements, rather than hinders, your progress.
Engine-free driving is possible, too. But when the engine is called into action, it switches on smoothly to the point that you barely notice it.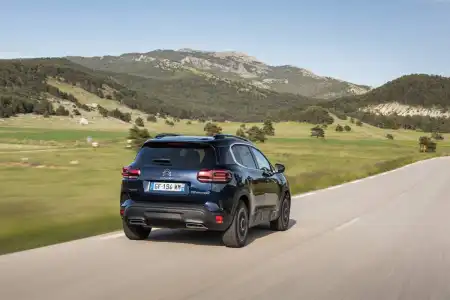 Ride Handling
The weight of the Citroen's hybrid gubbins helps lower the centre of gravity, which, if anything, benefits a taller car like an SUV.
But it's still an SUV, so it doesn't respond particularly well to being chucked into bends. It's not bad, though, and, around town at lower speeds, it's terrific. However, anyone who mistakes this vehicle's sportier looks for sporty handling will be disappointed.
The steering doesn't help matters, as it's very light. Of course, that's an advantage when driving slowly around town centres, but when on faster, twistier back roads, you'll want it to firm up more than it does.
Activating 'Sport' mode usually does the trick, but it makes little difference to the car's behaviour.
The ride isn't the most absorbing, either. It's not bad, but at lower speeds around town, it can be slightly jarring over bumpier road surfaces. However, it does seem to settle down very well at higher speeds.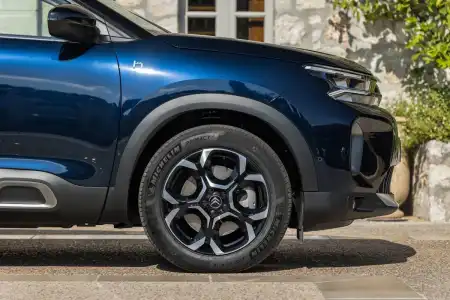 Styling
The new C5 Aircross's body now looks larger and more credible, while the grille has been given a makeover.
The front retains its more friendly, rounded shape, yet it still looks reasonably sporty. Meanwhile, cladding with coloured inserts around its extremities gives a rugged, off-road-ready appearance.
A small roof spoiler overhanging the rear windscreen completes the look.
The Citroen looks fashionable, durable and appealing – and there are few noticeable differences compared with the non-hybrid C5 Aircross. However, there is blue badging to indicate the model's low emissions.

In The Car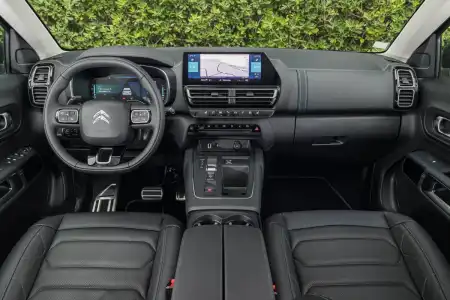 Behind the Wheel
The cabin of the old C5 Aircross looked a bit blocky and fiddly, but the new-for-2022 interior is a breath of fresh air.
It isn't the height of interior design, though, and some of the materials still feel on the cheap side. But the repositioning and re-shaping of the air vents have tidied up the layout considerably. Meanwhile, the shape of the infotainment screen, which now sits partly poking up from the top of the dashboard, looks more stylish.
The system isn't amazing, though. Technophobes may find it confusing, and the climate controls are now part of the touchscreen system. This means changing the temperature on the move is more of a faff than it needs to be. This is despite the additional touch-sensitive shortcut buttons which reduce the chance of feeling your way to pressing the right one without looking.
Meanwhile, the 12.3-inch digital instrument cluster is clear, providing a lot of helpful information without complicating matters. It's also customisable, so you can choose, within reason, what info you want it to display.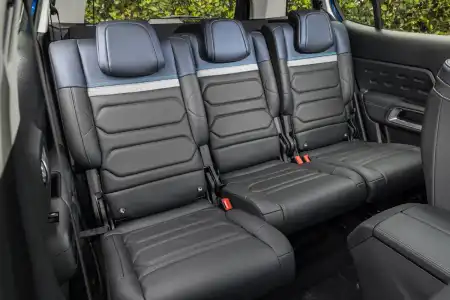 Space & Practicality
The French car's seats are comfortable, and the cabin is spacious. So you certainly won't feel constrained when driving, plus the accommodating interior means that finding a relaxed driving position is easy.
What's even better is that, rather than a bench with a small middle seat, the rear has three full-sized seats. Moreover, these chairs can be moved forward and backwards individually.
Consequently, there's lots of room in the back, keeping your passengers happy, comfortable, and sprawled out. Meanwhile, the floor in the rear is completely flat, too, with no transmission tunnel running through the middle.
The Citroen's boot space is reduced by 120 litres compared with the non-hybrid versions, but there's still 600 litres of space, increasing to 1,510 litres with the rear seats folded down.

Ownership
Running Costs
Up to 222mpg is possible in the Aircross, according to Citroen. However, achieving that figure will depend on keeping the batteries topped up. Citroen says you'll be producing just 32g/km of CO2 if you do.
You can do up to 38 miles of emissions-free driving on the electric motor, thanks to its 13.2kWh battery. But you're likely to find the range a bit lower than this in the real world.
There's no super-fast charging available, as the Aircross tops itself up at a rate of just 6.6kW. However, that's not much of an issue given the small battery size, so a 0-100 per cent charge can be done on a home wall box in a couple of hours.
Citroen provides the cables with the car, too, unlike some manufacturers - and has previously offered home wall boxes via a third party. So, that's worth enquiring about.
The first year of road tax is free thanks to its low emissions, and it's in the 12 per cent band for Benefit In Kind, so company car users will be happy.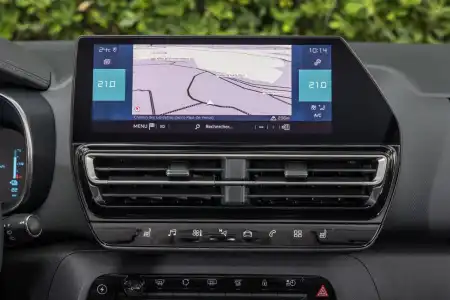 Quality & Reliability
Reliability isn't traditionally a strong point of Citroen's, but it's still early days in terms of being part of the Stellantis group.
The hybrid powertrain has been used in several other Stellantis vehicles, though. So, we hope its development as an essential asset in the group's hybridisation means it's dependable.
As standard, you get a two-year unlimited mileage warranty, and a third year limited to 60,000 miles. However, the electric motor's battery is covered by a separate eight-year warranty which is good for 100,000 miles.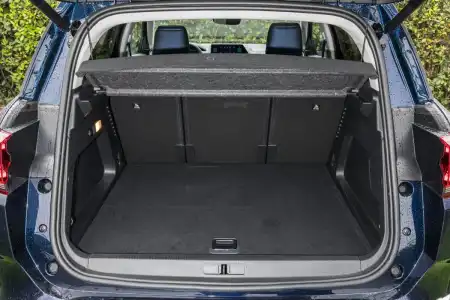 Safety & Security
Euro NCAP is unlikely to crash-test the new Citroen C5 Aircross, so we only have its predecessor's score to go by from three years ago.
It got a four-star rating, although this became five stars once an optional Safety Plus Pack was added, scoring 87 per cent for adults, 76 per cent for children and 75 per cent for safety assists.
You get lane departure warning, traffic sign recognition, driver attention alert and lane-keep assist. The car also houses front and rear parking sensors, blind-spot monitoring, and a rear-view camera, as standard.
The higher C-Series Edition trim also gets active safety braking with video and radar assistance, adaptive cruise control, and stop/go as part of the Drive Assist Pack. What's more, this trim gets an upgraded automatic emergency braking system.

Summary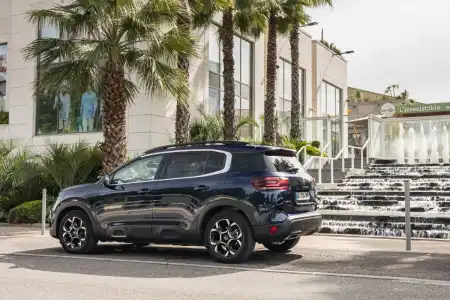 2022's Citroen C5 Aircross Plug-in Hybrid is better than the last one, although it's not perfect.
The car is practical, with an accommodating interior and boot. Meanwhile, those who regularly carry adults in the back will find their boxes have been well and truly ticked.
The powertrain performance is decent too, but if handling is crucial to you, there are better SUVs for the job.
If you're buying outright, you'll be paying a lot more for this plug-in version. But it's very economical, so day-to-day running costs will be kept low, despite recent fuel and electricity price-hikes.
Overall, this Citroen is a very likeable car – admittedly with a few frustrations – that nevertheless has a lot going for it.

More On This Car
Need more information?
Request More Information