Pros:
Great looks

Pleasurable driving experience

Genuinely comfortable and safe as houses
Cons:
Pricey and unfamiliar image

Tricky infotainment system

Not particularly economical
Speak with our Concierge team to discuss your car buying options
Request a free call back
Introduction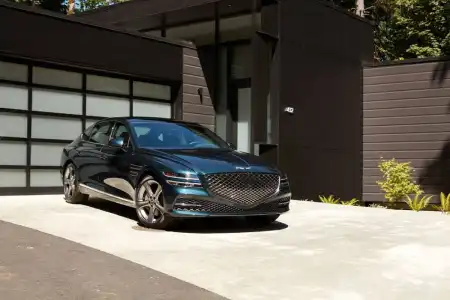 The G80 looks the business – and Hyundai, ahem, we mean Genesis, will be tickled pink to read that.
To be frank, Toyota's premium division, Lexus, has done well in lots of territories, but it has never sold masses in the three decades it's been sold in the UK. But that's cool, the Lexus is seen as high-class here, and that's what matters.
Genesis wants its models to be perceived as credible, too - and we reckon they will be. It will just take time – and when the time comes, the G80, on test here, will indeed be viewed as a worthy alternative to the benchmark that is the BMW 5 Series saloon.
With a sleek profile, a Bentley-like grille and a rear that has hints of Germanic business-like automotive opulence, there's enough about the G80 to write home about.
On The Road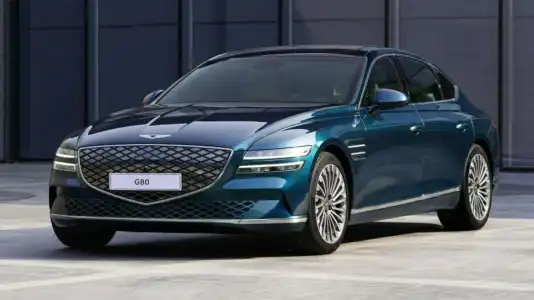 Performance
We got behind the tiller of the turbocharged 2.5-litre, which has a hard-hitting 304hp and 311lb-ft of clout on tap over a wide rev range. An eight-speed auto transmission comes factory fitted, which is operated via a revolving control. Add all-wheel-drive grip to the mix, and, unsurprisingly, zero to 62mph in 6.0 seconds is achievable. Top speed is 155mph.
The petrol-propelled lump starts up purposefully - almost aggressively, but it soon takes a chill pill once you start rolling. Although smooth as butter, there isn't a gratifying six-cylinder rumble, and that's because this 2.5-litre car is a four-pot. On the one hand, the lack of "thunder" is disappointing, but on the other hand, the quietness is calming and classy.
The near-silence is partly due to Genesis' active noise cancellation technology and double glazing. The automaker has done an excellent job because you need to hammer the throttle before the engine emits anything approaching loud and unruly.
It makes no difference if you gracefully or impatiently accelerate because the G80 gathers pace painlessly. Indeed, it's easy to forget you're in a large saloon weighing 1.9-tonnes.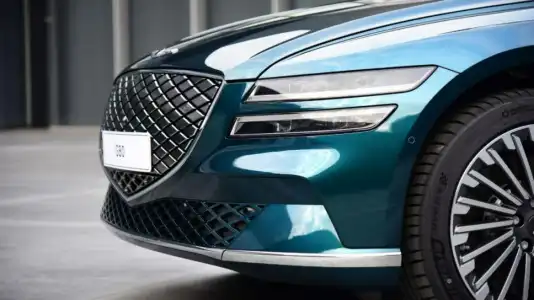 Ride Handling
The Genesis G80's handling is satisfying rather than sporty, which is what you want from a premium cruiser. As we've mentioned, the car is large and heavy, and it's only when you approach bends too quickly that you become aware of the heft. In some ways, it's no bad thing because it adds a tangible, sophisticated edge.
Genesis worked long and hard to bring the G80 to Britain. So, it licked the saloon into shape at Germany's iconic Nürburgring. No, the company didn't test the car there for racing purposes; it assessed it for comfort. Let's face it, much of the UK's roads are demanding, so this kind of analysis is vital for a new auto brand entering our market.
Regardless of the testing, there is a shortcoming. The G80 houses technology that scans the road ahead and tweaks the dampers according to what delights the tarmac is about to deliver. Sounds great, except the ride is still hard. Okay, maybe we're a tad overcritical here; what we mean is that the "Ride Preview" tech works better on non-urban roads. The firmness is more apparent in slower town traffic than it is on longer runs. We guess the system simply needs time to work, so open roads are better.
Furthermore, 19-inch alloys on lesser grade models are likely to be more tolerant of imperfections in the asphalt. The 20-inchers fitted to our "Luxury Line" were a little less forgiving.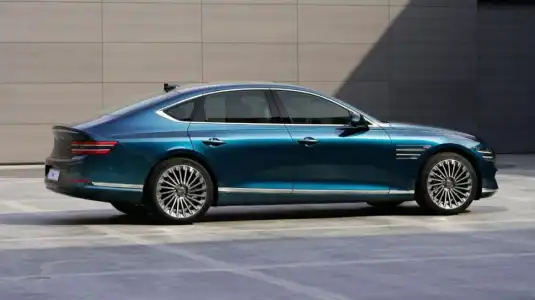 Styling
The G80 incorporates the marque's confident "Athletic Elegance" design values, resulting from teamwork between Genesis Design studios in South Korea, Germany, and the USA. While other Genesis vehicles are pitched more towards vigour, as the heart of the model line-up, the all-new saloon is typified by the perfect balance between these twin design bases.
These signature elements can be seen on the G80 when observed from any perspective. At the front of the car are the hallmark design cues of the dual lined Quad Lamp composition and Crest Grille, which unite to give a contemporary but prominent look.
Running along the sides of the G80 is a Parabolic Line graphic, reminiscent of the elegance associated with classic cars. This line gives the saloon a self-assured presence.
An ostentatious, tapered look at the back is emphasised by Quad lamps and a slanted boot lid, which emulate the lights at the front. What's more, the double exhaust finishers reference Genesis' trademark Crest Grille.
In The Car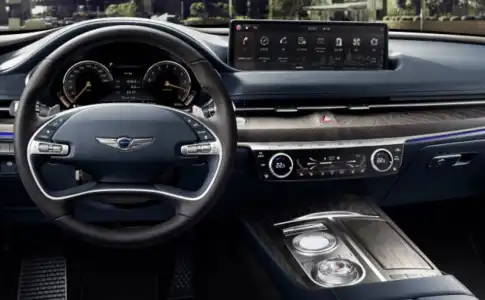 Behind the Wheel
Genesis has made the G80 genuinely luxurious. The finish more than deserves a "premium" label. The materials are all high quality, especially the Nappa leather seats fitted in our car. The wood is real, as is the metal – there's no fakery here. This is a saloon with an interior equal to, if not beyond, BMW's 5 Series offering.
Genesis' switchgear is intuitive, and the large infotainment system is vibrant and easy to read. However, unlike the switchgear, it's not easy to use. In fact, the touchscreen - but mostly the trackpad - is darn right tricky. Well, in fairness, we didn't have that much time to test the car, so once you get used to the trackpad and infotainment set-up, they won't trouble you.
The seats are as supportive as a 5 Series', but they're set higher, so you and your front-seat passenger get a clear view of the road. Any car that gives you a commanding driving position is good in our book. Not only is it safer, but the elevated seating also makes you feel more confident behind the wheel.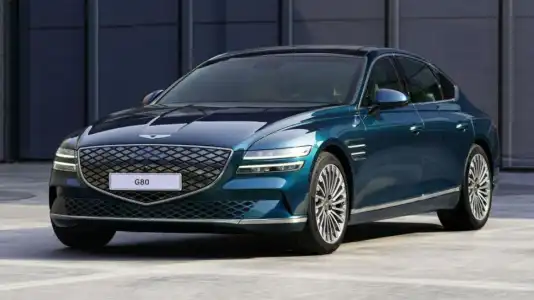 Space & Practicality
Constructed on the "Beauty of White Space" notion inspired by customary South Korean architecture, the G80 blends spaciousness with premium design and up-to-the-minute technology.
Made to meet the needs of a connected and active lifestyle, the pleasingly styled cabin underlines the saloon's quality positioning and excellent craftsmanship.
Despite a slight coupe-esque appearance, the G80 is a saloon through and through - and comes with 424-litres of cargo capacity under its sloping boot lid. Okay, that's less generous than the 5 Series' boot space, but it's enough for a five-up executive express.
At the front, there's loads of room for you and whoever's riding shotgun. As for the rear, the G80's back seats are big enough for three, and they're well stuffed enough to be described as luxuriously comfortable.
Ownership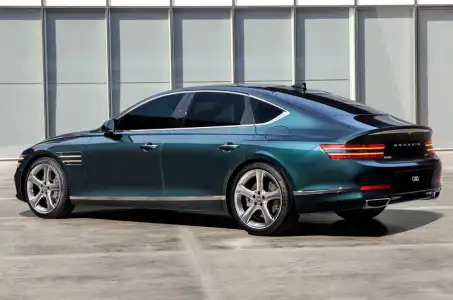 Running Costs
According to Genesis, the G80 we tried does 30.4-31.2 on the combined cycle and gives off 205 -210g/km of CO2. We feel those mpg figures are fair, as on the test route to Marlow and around the Chiltern Hills, we achieved late-20s mpg. We weren't light-footed for most of that trip, either.
You will suck up the fuel quicker if you use the 2.5-litre model as a town car. But this is a motor made for the executive world, remember - so, in non-pandemic times, you'll be munching motorway miles to and from corporate meetings. The 65-litre fuel tank will see you right, though.
You don't necessarily purchase a car like this for its thriftiness - you buy it because of how it makes you feel. And that could well translate into high residual values because of expected demand and the relatively low number of G80s trundling off the production line.
However, if efficiency does pip luxury to the post for you, then a 2.2-litre diesel G80 is available, and an electrified version is in the pipeline.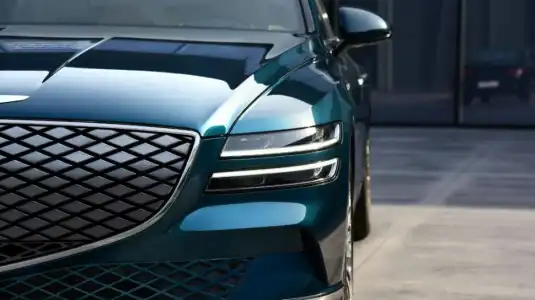 Quality & Reliability
There is no doubting the quality of the South Korean firm's cars, and if this G80 is anything to go by, then Genesis really is a BMW 5 Series equal in every respect. Everything you stroke, pat or tap feels solidly made, and the finish of the whole saloon is impeccable.
You should also take some comfort that Hyundai is seen as a dependable make here in the UK. So, even though Genesis won't want direct comparisons to be made with that brand, it's still a subsidiary of the Hyundai Motor Group. So, rest easy – we'd eat our office hats if the G80 turns out to be an unreliable car.
That aside, the five-year plan that comes with all Genesis products is enough to chill you out. The G80 comes with a warranty for that duration as well as half a decade's worth of servicing - and roadside assistance - in the unlikely event you'll need it.
Additionally, you don't need to visit a dealership to buy a G80 or get it serviced. You can't; Genesis doesn't have any dealers. Instead, it has Genesis Studios in shopping centres. And this is the best bit – you'll get a Genesis Personal Assistant (GPA) to sort you out - from test drives before you buy to the nitty-gritty of servicing. The G80 really does have "premium" stamped all over it, doesn't it?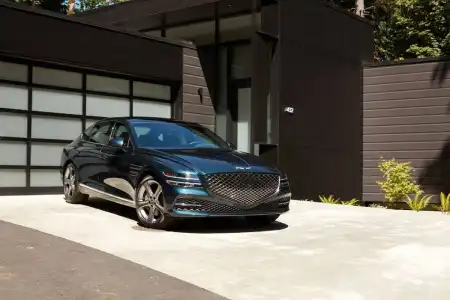 Safety & Security
The G80 comes with standard active and passive safety systems that give supreme crash protection and driver assistance.
A significant feature of the car is its front centre airbag. Placed in the driver's seat near the centre console, it triggers in a mere 0.03 seconds should a side collision occur. It will not only stop you and your front passenger from colliding, but it'll also prevent you both from striking cabin components. It comes factory fitted on all G80s, alongside nine other airbags.
Unsurprisingly, the Genesis achieved the maximum five-star result from the crash-test body, Euro NCAP. So, if you're searching for a first-rate saloon, it's challenging to think of many other cars with this level of safety as well as design and luxury rolled into one.
Summary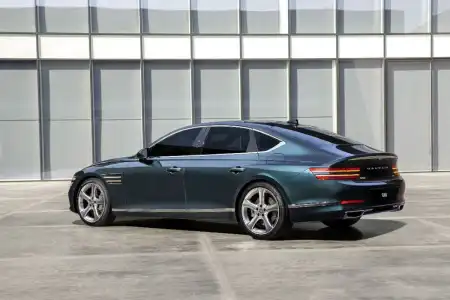 The G80 is a perfect introduction to Genesis. The new brand has got its work cut out to entice motorists from the benchmark German cruisers, but we have a feeling it'll do it. Put it this way; your car will stand out from the crowd of BMWs in the company car park if you decide to wear the Genesis badge. Success won't come overnight for the G80, though. The premium saloon car market has always been a tough nut to crack on this side of the world.
Speak with our Concierge team to discuss your car buying options
Request a free call back