Pros:
Great handling

Lots of shove

Intuitive infotainment system
More On This Car
Need more information?
Request Dealer Contact
Introduction
There was a time when motorists would have recoiled at the thought of Jaguar producing a Sport Utility Vehicle (SUV). But ever since auto aficionados accepted the BMW X5, the SUV rapidly became the norm, with Maserati, Lamborghini, Bentley and even Rolls-Royce getting into the scene.
Jaguars are no longer viewed as "vehicles for retired folk", and the F-Pace has helped Jag stay relevant, with many awards along the way to confirm it. Indeed, just as the likes of Mercedes, BMW and Audi eventually updated their popular SUVs, Jaguar has now done the same.
A raft of upgrades geared towards luxury, connectivity and efficiency means expectations are on the high side. So, we took it to the roads of leafy Warwickshire to discover what it's really like.
On The Road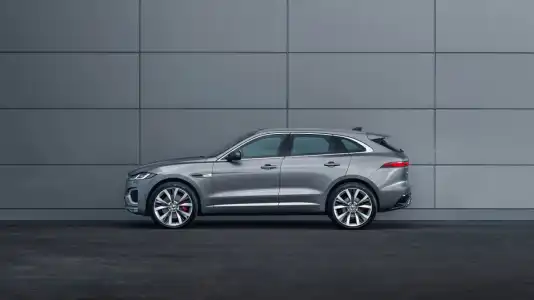 Performance
We tested the latest F-PACE in 3.0-litre six-cylinder petrol guise. The 400PS petrol unit with Mild Hybrid Electric Vehicle (MHEV) technology uses a supercharger and turbocharger. The result is enhanced torque delivery at low speeds for greater responsiveness. The turbocharger features an exhaust manifold divided into twin 'scrolls' that nourishes the turbo from a trio of cylinders. This splits the flow and produces spacing between exhaust pulses, leading to enriched driveability from low engine speeds.
The state-of-the-art Continuously Variable Valve Lift (CVVL) system lowers pumping losses by varying inlet valve lift. Along with variable cam timing, this enables the powerplant to breathe with maximum efficiency, boosting torque, power, fuel efficiency and slashing CO2 emissions. The progressive new MHEV system utilises a Belt integrated Starter Generator (BiSG) located under the bonnet to gather energy lost when braking and slowing, which is then stockpiled in a 48V lithium-ion battery housed beneath the rear load space. It redeploys the amassed energy to help the engine when accelerating while also providing a seamless and reactive stop/start system.
Available with 550Nm of torque, this version of the SUV we tested is capable of zero to 62 mph in just 5.4 seconds. Oh, and in case you're wondering – and we know you are - its top speed is 155mph.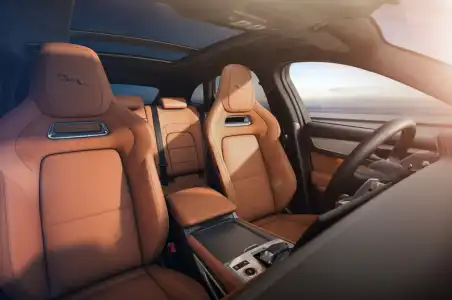 Ride Handling
The handling is remarkable, considering this Jaguar is a mid-sized SUV. The steering accuracy is outstanding, and there's a great deal of feel. Only the smallest of inputs produces a perceptible difference to your bearing. Mainly, it's an athletic motoring experience, given the vehicle's mass, but its suspension arrangement occasionally compromises the ride comfort. That said, it could have been the pothole peppered roads we drove on.
Our test model came with the 22-inch alloys, shod with Pirelli P-Zeros, which helped us tackle corners with gusto. The SUV also limits body roll well, giving you the confidence to attack less than linear routes without slackening off too much. Just keep anticipations in check – this is an F-PACE, not an F-TYPE.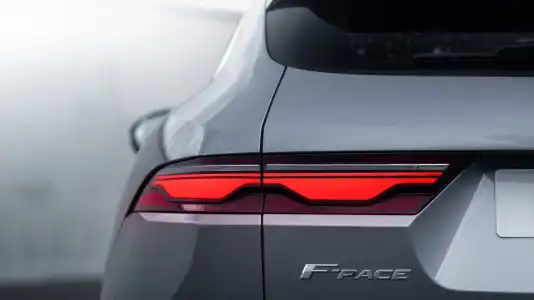 Styling
This is one perfected motor; you can tell just by looking at it: An engorged grille features Jaguar's 'diamond' detailing, while the side vents now feature the legendary Leaper badge, signifying the attention to detail found right across the F-PACE. A new front bumper with reshaped air intakes and mesh details widens the SUV for a more dynamic presence, too.
What's more, new slim LED headlights deliver better brightness. With Adaptive Driving Beam capability, which assesses the road ahead and adjusts the high beam to mask approaching traffic, the system generates variable light beam shapes by picking different LED sections. This boosts visibility and diminishes the risk of blinding other drivers.
At the rear, slimline lights showing off Jaguar's chicane graphic – first revealed on the electric I-PACE – emphasise the width of the F-PACE. The new sculpted tailgate and bumper design also add visual theatre and deliver a more poised appearance.
As reviewed here, the up-to-the-minute F-PACE displays a series of design elements for a sportier look in R-Dynamic spec. At the same time, an all-new cabin boasts increased luxury, improved connectivity, and greater refinement.
In The Car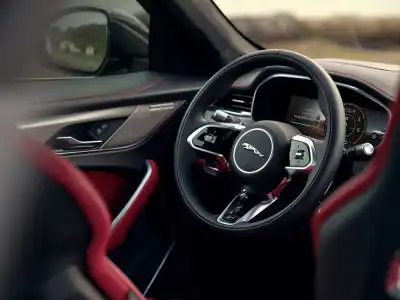 Behind the Wheel
There are far worse places to be than behind the wheel of the new F-PACE – it's all very comfy and attractive. The cockpit design for 2021 is braver, more vibrant and it has a significant focus on you - the driver. A stylish centre console, quicker in profile, swoops up to the instrument panel and includes an optional wireless charger.
At the core of the new cabin is an impeccably integrated centre-mounted HD touchscreen in a sophisticated magnesium alloy shell, which provides you with control of the brand new Pivi Pro infotainment system. Authentic finishes, including aluminium and wood veneers, are dotted around the interior, while the rotary dial of the JaguarDrive Control epitomises the automaker's attention-to-detail. It's a delightful place to be.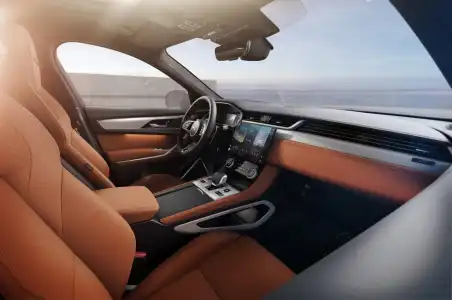 Space & Practicality
The new F-PACE delivers on space and practicality. Whereas some powerful SUVs need to trim their load space to lodge extra equipment under the flooring, the Jaguar avoids this, boasting a luggage capacity of 793-litres. When you need additional room, you can fold the rear seats down to access 1,842 litres of space.
Being a five-seater, there's room on hand for a family of five, and the seats are bang on the money for comfort. Why? Well, the new front seats offer broader cushioning, and as for the rear, you'll fit a trio of adults in there without a problem.
The F-Pace is also tall, so the headroom is good - as is storage space. For instance, you get door pockets that are sizeable enough to hold large bottles of water. Whether it's the weekend or a weekday, the F-PACE is likely to meet your needs – unless you're a large family. If that's the case, you need to start looking at vehicles with seven-seats.
Ownership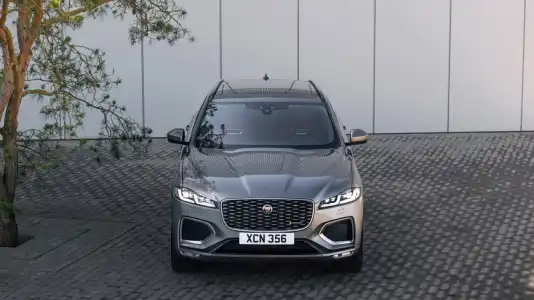 Running Costs
As mentioned previously, we drove the six-cylinder petrol P400 MHEV. It takes the sting out of paying a fortune at the pumps, but not by as much as you might think. Sure, the delicate electric helping-hand tech under acceleration is welcome, but it's still a big 3.0-litre car. So, expect a real-world figure of around 28mpg – and CO2 emissions of 221g/km. In other words, just because it wears a hybrid badge, don't go thinking this version of the new F-PACE is overly frugal.
Certainly, this isn't the F-PACE model you'll want to tick on your company car list. The Plug-in Hybrid (PHEV) version is the one to go for if you're seeking to lower your fuel consumption and CO2 emissions. You'll pay a monthly benefit-in-kind tax from just 10% for the financial year 2020/21.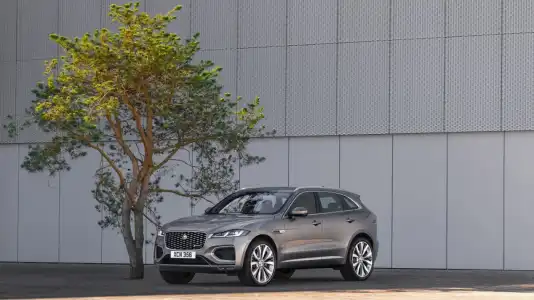 Quality & Reliability
We can't say the F-PACE is the most reliable model to buy because there have been quite a few electrical faults. However, this is the updated model we're reviewing, so many of the original gremlins will have been ironed out. Plus, the SUV shares mechanical components with other models, which are tried and true.
On top of the above, the F-PACE comes with Jaguar's three-year unlimited mileage warranty, which should give you peace of mind – and there are options to increase this if you wish. You also get roadside assistance for three years, so there's very little to worry about.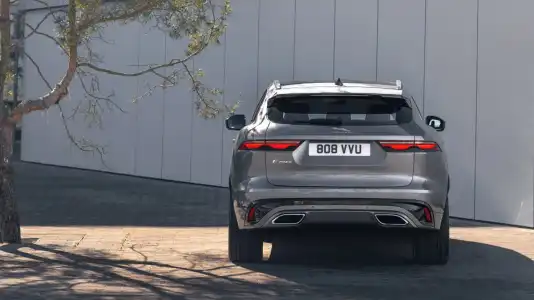 Safety & Security
The F-Pace was assessed by Euro NCAP and got a top five-star score, recording 93% for an adult occupant and 85% for a child. It comes with multiple airbags, automatic braking incorporating pedestrian detection, as well as lane departure warning. This is on top of the safety features, such as stability control and anti-lock-brakes that have to be installed by law.
More On This Car
Need more information?
Request Dealer Contact