Pros:
Proven technology

Quick off the mark

Generous boot
Cons:
Good looking? No.

Taxi-driver image

Headroom for rear-seat passengers
More On This Car
Take one for a spin or order a brochure
Request a Nissan Leaf brochure
Request a Nissan Leaf test drive
Introduction
What a joy it is to feast your eyeballs upon Nissan's latest Leaf. Not. It doesn't exactly have the most striking or exciting designs in the automotive arena. Yet – and it's a big "yet", it happens to be one of the most successful electric cars in recent motoring history. That's because it's been on the scene for so long. You thought electric vehicles were only an invention of the 2000s? Nah, they've been around for yonks – and the first Leaf arrived in 2010, and since then Nissan has managed to shift more than 450,000 of them.
That figure is one you can't argue with. If an automaker has managed to sell that many cars then it's on the right track – and the second generation "New Leaf", with its better range, enriched, dynamic design and advanced driver assistance technologies, is set to add to this success story.
On The Road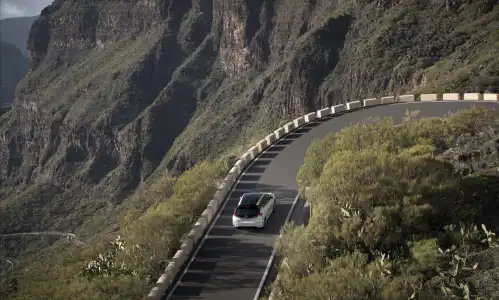 Performance
Electric cars have more shove than the average "normal" vehicle with an internal combustion engine. They're nothing like dodgem cars – and they're miles from the whirring wet lettuce style of "performance" delivered by a milk float. The 2019 40kWh Leaf will do zero to 62mph in 7.9 seconds, while the 62kWh version, named "e+ Tekna" will manage that benchmark sprint in 7.3 seconds. That's quicker than many electric car rivals, including the arguably cooler VW e-Golf.
The Leaf is a joy to drive where it's intended – and that's mainly in urban environments. It's slightly less remarkable on longer runs. But, fair play to it, in this second-generation guise, as tested, it's better at handling motorways than the original was.
There's also now an "ePedal" setting for the model, which ushers in regenerative braking before you even need to touch the brake pedal. This tech makes the new Leaf better at reusing energy – and better to drive - than the last one.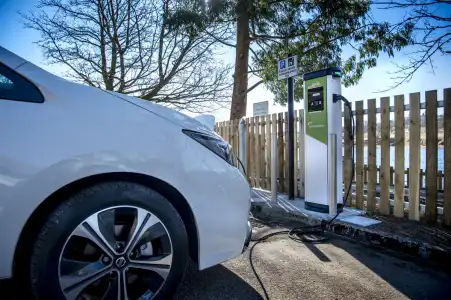 Ride Handling
The Nissan might look a little flaccid, but it handles well on the road. Its low centre of gravity keeps body sway to a minimum, meaning ride comfort isn't compromised. Indeed, the Leaf is more unruffled than another challenger, the BMW i3. Furthermore, the new Leaf rides gracefully over potholes. It's never ideal driving over damaged blacktop, but we sometimes have little choice on our well-worn roads.
Like VW's e-Golf, the Leaf's steering reacts well to driver inputs, yet the Japanese hatchback never delivers quite enough enjoyment. In other words, I didn't ever have the urge to go for a long Sunday drive in it. But that's the point; the Nissan is better as a city car, and, when all is said and done, the latest Leaf is a well-intentioned chariot.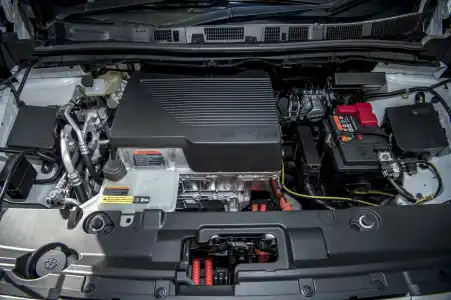 Styling
Refinement has never been an issue in a Nissan product. The manufacturer's creations are the automotive equivalent of covering yourself up in a duvet – gladdening and soothing in a mile-munching kind of way.
Of course, Nissan isn't a luxury automaker, but it can always be relied upon for hard-wearing, decent build quality. You've only got to look at how many taxi firms operate Leaf models for proof that it's refined. If it's good enough for thousands of passengers each year, the new Leaf will meet your needs – trust me.
What's more, electric vehicles are far quieter than their diesel and petrol propelled equivalents because there's no internal combustion engine firing away.
Therefore, if you've never driven an electric car, you'll be surprised at how serene the Leaf is - only road and wind noise interrupts the hush.
In The Car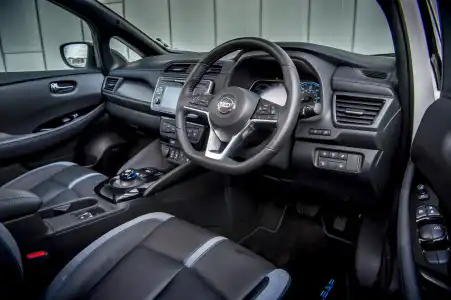 Behind the Wheel
Inside the new Leaf, all is good. The materials used in the cabin are excellent, with a general build quality that will give some other electric automakers cause for concern. For example, the interior is notably better than the Renault Zoe's, but the e-Golf and the e-Niro just pip it to the post.
Every second-generation Leaf is fitted with a seven-inch touchscreen that's easy enough to operate, due to a sound operating system. The newest version of Nissan's navigation System consists of DAB radio and Bluetooth connectivity. As well as standard nav features, it incorporates real-time facts on the closest charge points. Android Auto and Apple CarPlay are also offered for enhanced connectivity.
One of the most popular attributes in the first Leaf is the ability to set the vehicle's climate control to kick in at a specific time, warming the hatchback up or cooling it before starting a journey. This enables you to save battery charge by heating or freshening the Leaf up from the mains while it's charging.
The driving position does rain on the parade, though. Why? Well, you sit too high (at least I couldn't get the seat low enough for my six-foot frame) and the steering wheel doesn't move telescopically. The column only moves up and down. That will be a deal-breaker for some.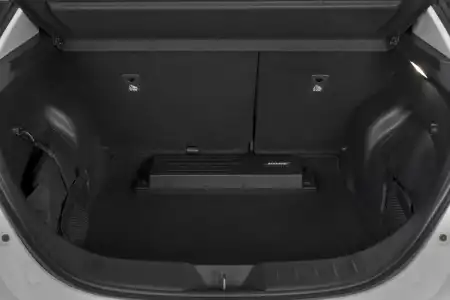 Space & Practicality
This five-door hatch isn't the biggest electric car around. Four adults will find sufficient space, although the front-seat passenger and driver get the thickest slice of the pie. This is because there's more space here to stretch out. There's decent enough visibility, too, so you don't feel overly hemmed in. There's okay space in the rear; however, headroom is an issue if, like me, you're on the tall side. Legroom is excellent, though – better than in Renault's Zoe – and sticking a child seat or two in won't be problematic. As a dad, I can vouch for that.
Furthermore, with some storage areas onboard, you won't have any reservations taking your road-trip supplies with you. Also, Nissan has been able to supply an agreeably sized boot. It trounces the e-Niro's cargo capacity and just about beats the e-Golf and the Zoe for load-lugging. It also houses convenient nets on each side of the hatch for storing its charging cables.
You should know, though, that the Tekna grade's posh Bose sound system relinquishes a slice of boot volume for the associated subwoofer and amplifier.
Ownership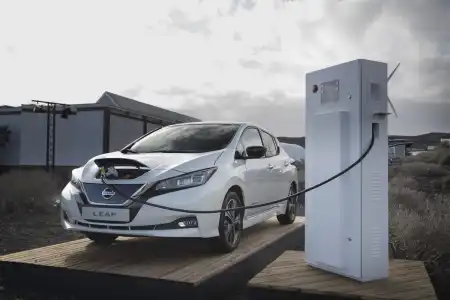 Running Costs
As well as leasing or buying the new Leaf for its decent interior, ride and handling, you'll want to get your mitts on it for its non-existence of emissions. And, to be honest, because it's a pure-electric car, it's always going to be more cost-efficient than a regular internal combustion-engine driven car. The hatchback's all-electric motor and its battery have a stated range of 168 miles, or 239 miles if you go for the 62kWh model. And you can charge it up at public charging stations or, maybe more easily, while sleeping at home.
The time it takes for the new Leaf to charge to the brim depends on the power attainable. Using a 50kW CHAdeMO rapid charger, you could regain 80 per cent of range in 40 minutes. Or you could be looking at around eight hours to charge it to full using a 7kW wall box. Whichever way you slice the cake, the fast-charge capability of the Nissan's progressive powertrain is geared up to provide admirable usability to meet the needs of low-cost urban commuting.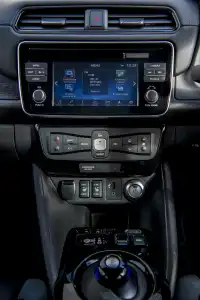 Quality & Reliability
Nissan has proved itself with its reliability in years gone by. It's had a few glitches with other products of late, but the first-generation Leaf was always bang on the money. So, fretting about your new Leaf breaking down is a bit like worrying about being mauled by a Lion. Sure, it could happen, but the chances are minuscule, so it shouldn't keep you up at night.
As for the quality, well, there's nothing to panic over here, either. Nissan manufactures products to a high standard. And, for extra assurance, the Leaf is accompanied by a three-year or 60,000-mile warranty, whichever comes first for its regular components. Better still, the car's electric powertrain is guaranteed for five years or 60,000 miles.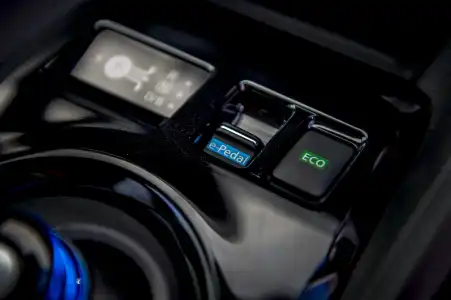 Safety & Security
Security is not a concern with the new Leaf because Nissan fits a Thatcham-approved alarm as standard. And, as is the case with pretty much all brand-new cars, remote central locking is the norm.
Safety is something Nissan isn't carefree about, either. The new Leaf is stocked with class-leading features. These include: Six airbags, comprising front, side and curtain, anti-lock braking system, ISOFIX, brake assist, electronic brake-force distribution, hill start assist, blind-spot warning, intelligent emergency braking and traffic sign recognition. Advanced safety technology such as intelligent lane intervention, lane departure warning and rear cross-traffic alert also form part of second-generation Nissan Leaf's factory-fitted equipment.
With all that protective safety technology, it's no surprise the Nissan Leaf gained five out of five stars in Euro NCAP's demanding crash tests.
More On This Car
Take one for a spin or order a brochure
Request a Nissan Leaf brochure
Request a Nissan Leaf test drive