From £19,490
Pros:
Extended range

Instant torque

Comfortable seats & ride
Cons:
Lots of hard-touch plastics

Exterior styling is… questionable

Not much fun to drive hard
Buy and save on quality approved and used cars
Introduction
There has been over 12,000 Nissan Leafs built at the Sunderland production plant which stands at 57% of the whole Electric Vehicle market. The changes for this 30kwh model are evolutionary, opposed to revolutionary, and the car seems largely unchanged from the previous. Why change a winning formula? What has changed though is the battery, now offering up to 25% more range than the model it replaces.
Since production first began, Leafs have now covered 1 billion miles collectively, and Nissan claim that 96% of owners would recommend them.
On The Road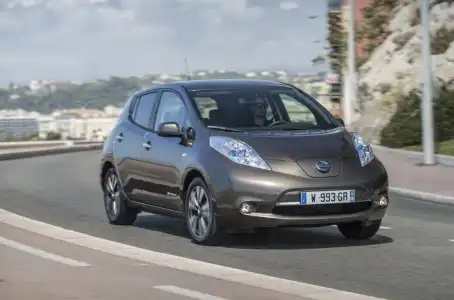 Performance
On the roads the Leaf does feel a bit… 'floaty.' The steering does feel slightly loose and there is little/ no feedback of the road emitted through the wheel, and this sense of floaty-ness is exaggerated by the absence of engine noise, of course. At first this seems like a criticism but after a 50 mile jaunt in the Leaf we concluded that this actually compliments this type of vehicle rather well. The loose steering helps the car feel as though it glides through corners and encourages the driver to operate the car in an efficient manner, instead of aggressively.
The power delivery has changed in this model too, whereas in the original Leaf starting from standing can sometimes be quite sudden, it is now more progressive and gradual, perfect for pulling onto roundabouts or out of tight junctions. It's still a surprisingly quick car though, the 0-60 of 11.5 seconds isn't mind-boggling as such, but the instantaneous delivery of power is quite something to behold, there's no revs to build-up or turbo to spool, there's just a foot operated-on/off switch to whisk you off the very instant you ask it to.
Ride Handling
As mentioned the steering is slightly loose and disconnected from the road but this works well with the type of vehicle. Built for commuting, the supermarket run and taking the kids to school, there's no need for firm suspension and a steering wheel that needs wrestling. The Leaf is a refreshing breeze to drive through suburbia and feels more than comfortable whistling along the motorway.
We did take the Leaf through some 'enthusiastic' bends and although there was no major understeer, it wasn't hugely exciting to do and it really isn't worth the reduction in battery life. There was noticeable body-roll too thanks to the high roofline although this was somewhat countered by the low centre of gravity provided by the heavy batterys planted beneath the floor.
To summarise, the ride and handling is spot-on for what the car is built to do, and only falls short when being driven contrary to its purpose.
Styling
Electric Vehicles tend to open themselves toward unfair critique. When there is no engine whirring away, squeaks and bumps resonate more within the cabin. Happily though this Leaf doesn't seem to suffer from this too badly at all. While the material selection inside may be rather lightweight and conservative, with hard-touch plastics across the dashboard, the car is still a fairly nice place to be. The seats are all comfortable and supportive and the car takes on potholes and road-blemishes with an almost hovercraft-like level of comfort. The suspension setup in this car really is perfect
One thing we did notice was that after a torrential downpour (such as the one on the day we drove the Leaf) the dirt and stones flicked up onto the bodywork from the wheels were rather audible from within the cabin, again an engine would have drowned this out so it's a slightly unfair criticism, but noticeable nonetheless.
In The Car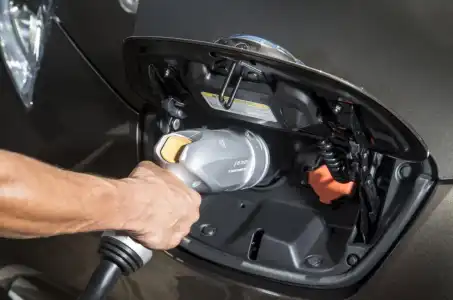 Behind the Wheel
The interior of the Leaf has remained largely unchanged from the previous model, with the main difference being the infotainment system which has come on leaps and bounds. Navigating through menus and sub-menus can be tiresome in some touch screen displays but Nissan have created an intuitive system that works very naturally. It can be slightly slow to respond but better than other similar touch screen systems. One particularly good feature is the NissanConnectEV smartphone app which allows you to warm up your Leaf remotely, allowing you to eat your breakfast while the car de-ices itself on the driveway. Very clever.
You're greeted into the Leaf with a quirky joystick in place of a generic gear lever, this itself takes some getting use to. There's no resistance when moving the oddly-shaped knob from Park to Drive to Reverse gear.
Space & Practicality
Firstly, the boot space is quite excellent, 370-litres of excellence in fact which is only slightly smaller than the Golf and is substantially bigger than the Focus. There is quite a big lip at the foot of the boot though but it really isn't the end of the world. Perhaps something to bear in mind if you have trouble lifting the shopping above waist height.
In the back there is space for two adults with sufficient legroom, or 3 children, making it an ideal runaround for families.
Ownership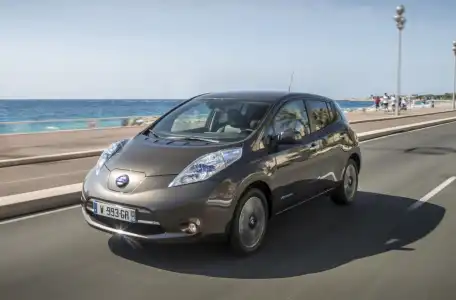 Running Costs
According to Nissan, 90% of the UK travel less than 62 miles to and from their workplace every day. This means that 90% of the UK could travel to and from work without spending a penny on fuel every day, comfortably, knowing that even if they forget to plug it in one night, there'll still be enough for the round trip the day after. There are now 10,257 charging points in the UK at 3,764 which is great, but Nissan don't believe this is hugely relevant, as so few of their Leaf buyers ever need to charge up while out and about. Nissan really want to overcome range anxiety and the new Leaf with 155 miles of range certainly achieves this. You can make massive savings and never be stood holding a fuel pump ever again.
Elsewhere, battery lease can cost up to £70 a month but is included in a number of deals, road tax is free of charge, the Leaf is exempt from congestion charge too and servicing costs no more than any other Nissan vehicle, which isn't a lot really.
Quality & Reliability
Nissan released figures which stated 99.99% of the battery packs are still operating as normal after 5 years. This is an unbelievable achievement for starters, but just incase you're still sceptical they have offered a massive 8 year warranty on their battery's which is class-leading.
As mentioned, interior quality could be improved through better material selection, but it is understandable to use recycled plastics which in-keeping with the environmentally friendly sentiment.
Safety & Security
The Leaf scores a 5 star Euro NCAP safety rating, with a fantastic 89% and 83% for adult and child occupant safety respectively. All Leafs have front, front-side, side-curtain and rear airbags on every spec. Safety kit like anti-lock brakes, traction control, stability programme and a tire-pressure monitor are all included free of charge too.
Buy and save on quality approved and used cars