From £21,795
Pros:
Extremely good looking

Brilliant interior

Very clever technology
Cons:
Occasionally awkward display

Will be quite expensive

Badge snobs will still sneer
Buy and save on quality approved and used cars
Introduction
Forget what you know about Peugeot - it's time to move onwards and, more relevantly, upwards. Peugeot noticed that 44% of consumers who buy their cars are choosing the more prestigious trim levels; allure, GT, GT Line and GTi. While these demand a steeper price tag, it is clear that customers value the finer things in life. Peugeot has launched a surge up the manufacturers hierarchy - their latest effort embodied in this stunning 3008 SUV which will blow your preconceptions out of the water.
Fashionable, sleek and attractive styling makes the 3008 stand out from all competitors in this market.
On The Road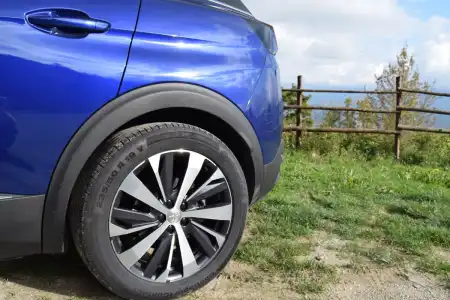 Performance
You've got a range of 6 engine choices to choose from with Peugeot 3008 - 2 diesel engines and 4 petrol engines. For the most poke you'll be best off looking at the 2.0HDi diesel model with 180PS - this was our favourite engine for a number of reasons. Firstly, it offers real grunt to take you from corner to corner on even the most demanding of roads, and secondly this is the best power output to compliment the size and stature of the 3008. If you're a regular tow-er you also get 1,700kg towing capacity, largely due to the colossal 400Nm of torque.
The 1.2litre PureTech 130 petrol engine is a pleasure to plod along in too. The tiny engine, which may seem small for a C Segment SUV, is more than up to the task and is as eager as an un-walked Yorkshire Terrier. Only 130PS may not sound like much but there's a more relevant 230Nm of turbocharged torque which makes this a great choice for suburban driver.
There isn't a single 4x4 model available in the 3008 range, which is a shame, but this car isn't trying to be an off roader and, thankfully, there is a trick up the 3008's sleeve. You can spec your 3008 to feature 'Active Grip Control' which will orchestrate the front-differential in an elaborate fashion to deal with various scenarios. There are settings for Snow, Mud, Sand and Normal. This won't get you across the Andes but it will get you across a wet and muddy field with relative ease. We also tested this technology on sand in the 2008 where it performed well - good if you ever pop down to the beach.
Interestingly, we must have driven about 6 different 3008s across the duration of the launch event, and all of them were Automatic cars, in fact there weren't any manuals to choose from. The Auto gearbox is easy to predict and relatively smooth, with the gear changer a vast, vast improvement to the one in the old 3008. Can't comment on the manual gearbox though, obviously.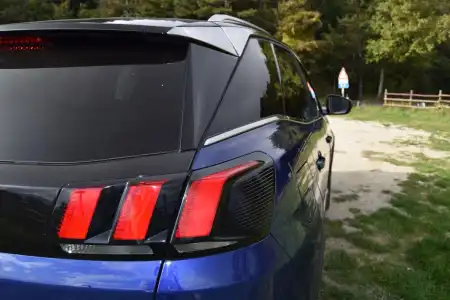 Ride Handling
The 3008 does an impressive job of making itself an encouraging and potent car to drive enthusiastically. If you genuinely think that buyers of SUVs aren't bothered about having a bit of fun when the road opens up after dropping the kids off at school then you are wrong. Plain and simple. The tiny steering wheel makes the 3008 a joy to throw around hair-pin turn and meandering hill climbs - as we tested in the hills of Tuscany.
The ride is plenty smooth enough too. Our test route began with a nice motorway jaunt from Bologna airport into Tuscan countryside. The 3008 certainly imposes itself on other motorists who are quick to scoot over when they see the aggressive front grille expanding in their rear-view mirror. We did eventually come across some rather horrific potholes on relatively fast roads, no that the car noticed. Even our GT model with big 19" alloys was unphased by the seemingly ACNE-ridden tarmac.
Another feature to help the 3008 go anywhere is the Hill Descent Control, which basically does all the braking for you when going down steep hills. We can't imagine it will ever be the most used function on any 3008, but it might save your skin when they've forgotten to spread the salt again this Winter. A genuinely good piece of kit that we tested on a muddy hill, will certainly help if you live at the top of a steep hill and it's snowed heavily overnight - all you have to do is keep the wheel pointing the right way, press and hold the descent control button, and that's it.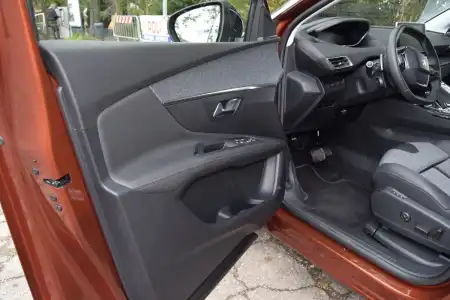 Styling
This is a key category for modern cars which seek to take their manufacturers above and beyond the expectations of buyers. If you want to be considered a premium automaker, the product needs to have equally premium refinement. Happily, we can report that the 3008 really does deliver. Road noise is minimal from within the padded-out cabin. The doors close with a reassuring thud and neither of the diesel engines disturb the tranquility of the gorgeous interior. Even when travelling at pace, we couldn't even get the tyres to make an unsettled squeal - and we really did try. It was only the 1.2 turbo-petrol engine which felt laboured in the 3008, and that was only when we gave it an uncharacteristic thrashing. This is a 3 cylinder engine which we'd happily recommend to buyers who do most of their driving around town and don't often thrash their cars up the steep hills of the historic Mille Miglia course.
Few will choose the 20HDi engine though as it is likely to be pricey and is only available in Allure models up, but 1.6HDi is good to use too and offers plenty of torque to compensate for the less-than-enthralling 120hp. If you do a blend of motorway journeys and suburban driving then this will be a good compromise.
In The Car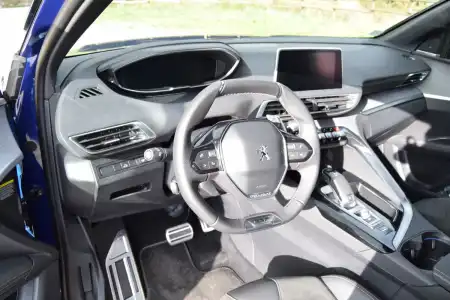 Behind the Wheel
Wow. We tested the old 3008 not so long ago and it was clear that the car is 7 years old, it really had began to show its age. Happily, no components have been carried over to this model. You're enveloped into the cabin by a stripe of textured cloth in Allure models, or dyed Oak in GT models, which wraps around the front of the dash and continues through the door panels. This is all part of the i-cockpit which now exists throughout the entire Peugeot range, fundamentally incorporating a small, dynamic steering wheel as well as an intricate digital dial-cluster sitting above, not through, the steering wheel. This digital dash is definitely worth noting. It's a technological triumph from Peugeot which sees the user customise the their information cluster by scrolling a roller in the wheel. Using the SatNav? Select 'Navigation' and an easy to read map will be elegantly presented in the middle of the dials. Driving at night? Select 'Minimal' and all the confusing features are removed from the cluster, leaving just your current speed. You can also use 'Driving' mode which will assist you into the middle of your lane while also telling you the fuel level, current speed and current RPM. It's all very geeky but it's easy to use and very cleverly executed.
Stitching and upholstery is pleasant throughout the range and we really must express that you need to go and sit in this car when it comes out in January - it's up there with the most luxurious brands, easily surpassing both Lexus and DS.
The i-cockpit succeeds as it offers you a sensory overload from the drivers seat. LED mood lighting creates a warm environment, massaging seats help you get comfortable, the uprated FOCAL sound system teases your earbuds and there is a built in air freshener with a choice of scents, one of which is called Cosmic Leather - which is hilarious.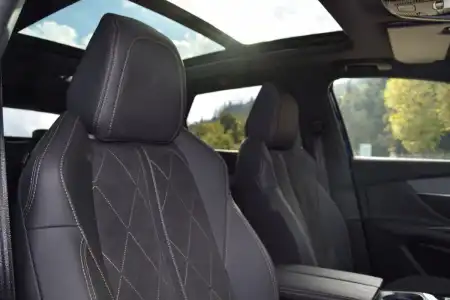 Space & Practicality
The front two seats of the car feel enclosed and cosy - but in a good way. You'll have to trust us on this one, the way the dashboard wraps itself around the front seats, particularly the driver, means that everything is easily within arms-reach and is suitably ergonomic. In the back there's loads of room for a row of 3 adults, no problem.
In the boot you've got a big 591 litres of luggage capacity, comfortably surpassing our '500 should be enough' rule of thumb. If you are ever wanting more, the rear seats fold flat to bring a total 1,670 litres of space. There are few realistic situations where that much space won't be enough.
The old 3008 had a split-folding rear tailgate and this has been ditched on this SUV for weight-saving reasons, instead there is a pull-out lip which serves a similar purpose and can support up to 100kg safely. Another cool practical feature is the electric tailgate which opens and closes automatically at the push of the button or a wave of your foot if your hands are full. This feature is standard on the GT version.
So far, this review has had too many positives. This isn't the best car in the world as this review might have suggested up to this point, there are one or two niggling issues. Firstly, if you're following the SatNav through an unknown Italian village and someone calls you then you have to guess the next few turnings because the SatNav is overlaid. Similarly if you're navigating a small village in Bologna, with a swarm of Fiat Cinquecento's overtaking, undertaking, swearing, and red-light-running around you and you think 'I need to cool down' you're Sat Nav route will disappear temporarily while you turn the Air Con on. Not ideal.
Ownership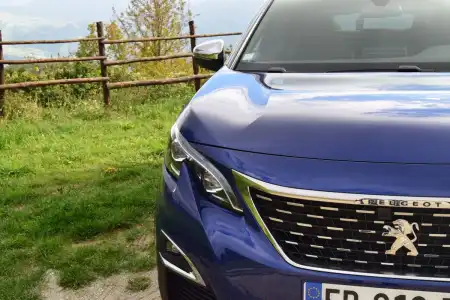 Running Costs
Honorably, Peugeot publish all of their MPG and CO2 figures based on real world testing. They use a number of normal drivers to take their cars out with a boot full of luggage and a passenger on board. The most economical choice of engines is the 1.6Hdi 120 diesel S&S, which returns 80mpg on a motorway run. The 1.2 petrol can return 62mpg on a motorway run, which is still commendable, and the 2.0HDi diesel will offer 70mpg in the same circumstances. There are no engines which are free to tax under current rates, as they all put out over 100g/km of CO2 - but not by much. The 1.6Hdi only pushes out 103g/km, the 1.2Puretech around 117 g/km and the 2.0HDi up to 124 g/km in its full power 180PS form.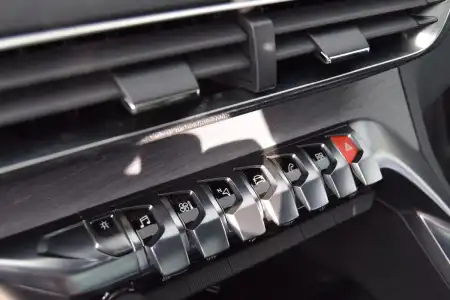 Quality & Reliability
Traditionally the Peugeot brand will concede that they themselves haven't been synonymous with longevity, but, although the 3008 is yet to stand the test of time, we're confident it will fare well. The whole car feels well built and solid, with very few scratchy-plastic within arms reach of the driver's seat, if any at all actually. The buttons are dampened nicely, especially the piano-key row of functions in the centre console which is not only aesthetically pleasing but effectively convenient too.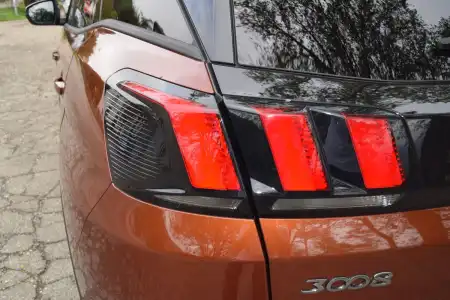 Safety & Security
All upmarket cars must now come with upmarket tech. The 3008 is loaded with kit to keep you in one piece. Here is a list of the highlights; Active Blind Spot Detection, Automatic emergency Braking system, Distance Alert System, Lane Keeping Alerts, Lane Departure Alerts, Driver Attention Alert, Adaptive Cruise Control with stop Function, Peugeot SOS system, Speed Limit Recognition and Peugeot Smartbeam Assistance… Basically, it's got loads of really clever gadgets to keep you and your family safe and the 3008 scored a solid 5 stars on the Euro NCAP safety tests.

See the latest used Peugeot 3008 offers.
Buy and save on quality approved and used cars