Pros:
As modern as a compact SUV can get

Zero CO2 emissions

Futuristic hologram-like driver data
Cons:
"Marmite" Looks

Electric range is only 193 miles

Its not cheap to buy
Secure your test drive today
Request a Peugeot 2008 test drive
Introduction
Peugeot seems to be "hot" again. Its parent company, PSA, is living it large, snapping up other firms here and there. It's already acquired Vauxhall, and now it's merging with Fiat Chrysler. This makes it one of the world's largest automakers. With this kind of power at its fingertips, Peugeot's making some new models that are fit for the 2020s - and beyond. For now, there's a choice of petrol, diesel and electric. And the e-2008 is the one taking all the attention. It's not meant to be a standalone car; it's intended to be part of the all-new 2008 line-up. I took a drive in the French manufacturer's first all-electric compact SUV to find out more about the new model.
On The Road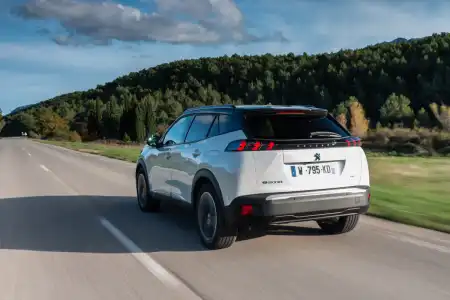 Performance
The e-2008 isn't going to be on Britain's roads until April 2020, so we're some way away from knowing its full performance figures. I drove a pre-production model with inert airbags, so you can tell how early I got to test the car. The 0-62mph and top speed figures are still to be confirmed, but Peugeot claims the battery on the compact SUV has a possible range of 193 miles, which is better than the 180 miles you can get out of the standard Hyundai Kona Electric.
Anyway, with a 100Kw all-electric motor and 50kWh battery, the Peugeot e-2008 SUV pushes out 136ps, meaning performance doesn't feel in short supply. And with zero CO2 emissions, you'll still be doing your bit for the environment. What's more, you won't be forking out on car tax any time soon, and you'll be exempt from London's Ultra-Low Emission Zone (ULEZ) charge.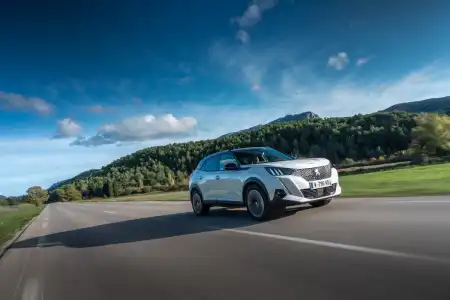 Ride Handling
The latest Peugeot rides like a dream over potholes. It's never ideal driving over scarred tarmac, but we have no choice in congested, busy Britain. Therefore, the patchy asphalt at the model's launch in rural France was an ideal proving ground. Not only is the e-2008 a competent high-rider; it also handles well. The steering reacts immediately and precisely to driver inputs, and the compact SUV stays almost flat in corners. The lack of body roll is largely thanks to the new Common Modular Platform on which the all-new 2008 range is built.
There's not a massive feeling of engagement to make you chomp at the bit for a long drive. But this new all-electric small family-focused vehicle is still a decent enough chariot - and it's especially easy to manoeuvre in constricted spaces. This is thanks to its light, boxy, compact structure. Parking is a cinch, too. Ultimately, there's not a lot to dislike about the way this modern machine behaves then. It'll certainly be easy to live with in the real world.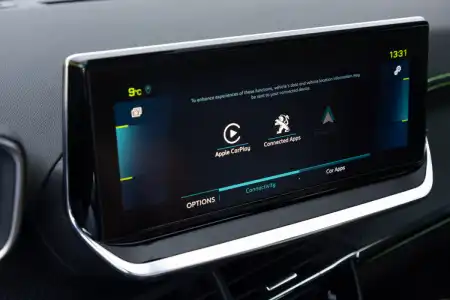 Styling
There is no doubt that the Peugeot e-2008 is a refined car. It's more than ready for the new decade with a cabin that looks like it'll handle years of family use. French engineers have gone the extra mile to eliminate noise and vibration, so general wind and road roar are not an issue. The suppression of this unwanted sound is down to insulation, and the materials used in the cabin. As tested here in flagship GT form, the SUV comes fitted with special Alcantara seat upholstery, and the door panels have eight colours you can cherry-pick from the prominent touchscreen. Overall, the all-new e-2008 is a serene place to be, even at speed. This allows you and your passengers to appreciate music, have tête-à-têtes or indulge in much-undervalued hush.
In The Car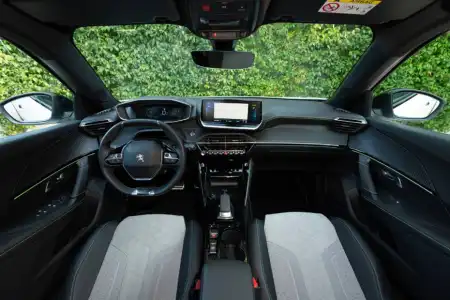 Behind the Wheel
Inside, the all-new Peugeot e-2008 boasts materials that look and feel top-quality. The SUV's door panels and the dashboard have a refined finish, and the cockpit encompasses responsive switchgear. The 10-inch colour multimedia touch screen is easy to use and comes with TomTom Traffic connected 3D Navigation. It also supports Apple CarPlay and Android Auto connectivity. So, if you have an Android phone or iPhone, it won't just synchronise; it'll integrate with the vehicle's media system, too.
Furthermore, the e-2008 SUV features the latest edition of the Peugeot 3D i-Cockpit, with a small steering wheel and a head-up display. The head-up display projects information in hologram guise near to your eye-line, helping to perk up driver reaction times.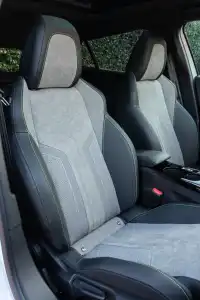 Space & Practicality
The five-door e-2008 isn't the biggest SUV around. It is really only for four adults – but that's sufficient in this compact segment. You are nicely cosseted in the Peugeot's cabin – although the driver and front-seat passenger get the biggest piece of the cake. This is because there's more room here to stretch out. There's excellent visibility, too, so you don't feel hemmed in.
There's unobjectionable space in the rear, nevertheless, your knees may press against the seats in front. But getting a child seat in won't be in an issue. No, there wasn't a kiddie chair to test out at the media launch – it's just that being a dad of three, I can see that there's enough room to easily fit one – or two child seats.
Furthermore, with a collection of storage areas onboard, you won't have any worries taking your road-trip necessities with you. Also, with a length of 4.30m and a wheelbase of 2.60m, Peugeot has been able to supply a nicely sized 434-litre boot. The variable cargo floor in the hatchback's load area is useful, too, as are the 60:40 split-folding back seats.
Ownership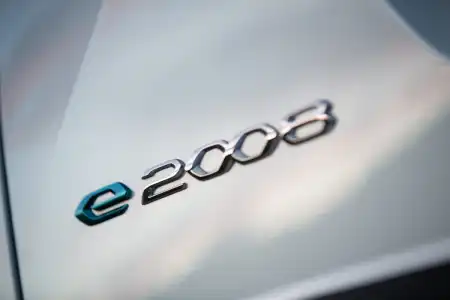 Running Costs
As well as buying the new e-2008 for its mawkish boxy looks and its refined interior, you'll acquire it for its eco-friendly, zero emissions credentials, too. As a pure-electric car, it's always going to be more efficient than a traditional combustion-engine driven vehicle.
The compact SUV's 100 per cent electric motor and its battery have a stated range of 193 miles – and you can charge it up at home or at public charging stations. The time it takes to fully charge depends on the power offered. It takes between five hours 15 minutes and eight hours for a complete charge with a household wall box. But you only need to wait half an hour to recoup 80 per cent of battery life with state-of-the-art 100kW public terminals.
It's easy to appreciate how much power you're consuming, too. This is due to an energy flow display in the cabin. You can even recapture some energy when braking using two modes from the gearstick. Brake ("B") recovery allows deceleration directly from the throttle, and Drive ("D") recovery is standard for driving in the same way as a petrol or diesel car. Moreover, any "range angst" can be assuaged thanks to an onboard trip planning application. This lets you map out a journey with lots of charging facilities on the route.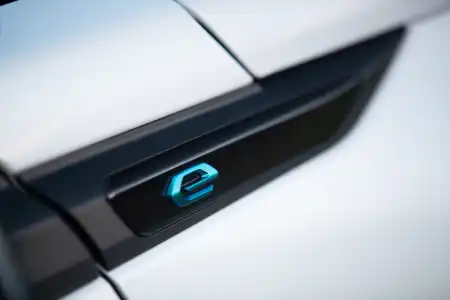 Quality & Reliability
Regarding quality and reliability, Peugeot has got a good image. The firm is known for its interior comfort, too - and many old Peugeots are still driving around today. That's testament to the brand's build quality and engineering. Pure electric mass-produced cars are still, to some extent, in their infancy, though. So, at this stage, it's difficult to gauge how reliable the e-2008's battery and electric motor will be.
But all models first registered in Britain and bought from a British Peugeot dealership will benefit from a two-year unlimited mileage manufacturer's warranty. There's also a free optional additional one-year of warranty provided by the Peugeot Dealer Network in the United Kingdom. What's more, all new 2008 SUVs, electric, or otherwise, come with Peugeot Assistance, the company's breakdown assistance service. It's available every moment of the day and night; 365 days a year, for you and anyone else driving your car with your say-so.
When it comes to the inside of the all-new Peugeot e-2008 SUV, the seats are well-bolstered. And with quality materials and textures fitted around the cabin, the interior should stand up to years of wear and tear.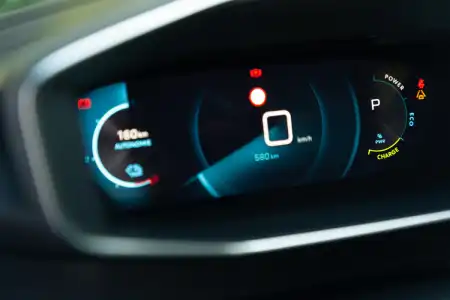 Safety & Security
Security is not a worry with the all-new e-2008 SUV because Peugeot fits a Thatcham category one alarm or category two immobiliser as standard to nearly all new cars made for the British market. And, as is the case with near enough all brand-new cars, remote central locking is standard.
Safety is something Peugeot doesn't take lightly, either. The all-new e-2008 SUV is equipped with class-leading features, including Automatic Emergency Brake Assist; Active lane (or verge) keeping assist; Driver Attention Monitoring; Full Park Assist; Drive-Assist; Smartbeam Assistance - automatic headlight dipping; Speed limit recognition and recommendation; Extended traffic sign recognition; and Active Blind Spot Monitoring.
Secure your test drive today
Request a Peugeot 2008 test drive