From £15,615
Pros:
Sporty, modern design

Lots of engines and trim levels to choose from

Comfortable, practical and seat covers can be removed and washed
Cons:
Engines lack a little fire-power

Cup holders are far too small

Keycard cannot be attached to a keyring and is easily lost
More On This Car
Take one for a spin or order a brochure
Request a Renault Captur brochure
Request a Renault Captur test drive
Introduction
The Captur is the smallest sibling in Renault's trio of crossover SUV models and it has just been given a makeover that adds new design traits, along with plenty of extra kit, a range-topping Signature S Nav version and additional colours.
With four engines – two diesel and two petrol – to choose from and five trim levels, along with plenty of personalisation options, it's easy to see why the Captur was Europe's best-selling B-Segment SUV in 2016.
With its elevated driving position, it is an ideal vehicle for anyone who wants bigger than a supermini but smaller than a full-sized family hatchback.
On The Road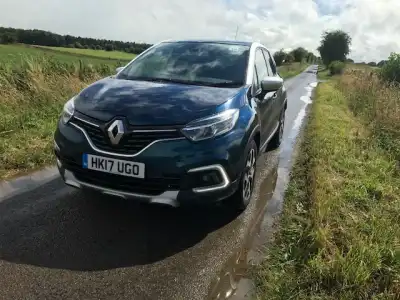 Performance
With 20 different models to choose from varying in engine power, trim levels, fuel type and transmission types, there would appear to be a Renault Captur to suit all tastes.
We opted for the Dynamique S Nav model priced at £21,075. This car is powered by the 1.5-litre dCi 110bhp diesel engine mated to a six-speed manual gearbox. It is the most powerful diesel engine available delivering 260Nm of torque which helps the Captur sprint from 0 to 62mph in 11.0 seconds and onto a top speed of 109mph. While these figures may not sound over-impressive, there is one stat that should make potential buyers sit up and listen and that's the economy. That's because this model can deliver combined fuel efficiency of 76.4mpg with carbon emissions of 98g/km.
Some cars that offer such frugal running costs deliver a pretty lackluster driving experience. But that's certainly not the case with the Captur. On sweeping country roads, it was great fun as it whizzed along the lanes at quite a click. The acceleration was smooth and responsive through the six speeds and there was always plenty of power on tap to overtake as tractors and other farm equipment clogged up the roads.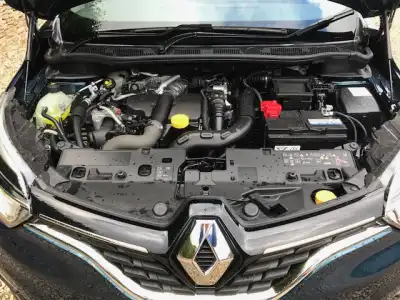 Ride Handling
The Captur does impress when it comes to ride and handling. Admittedly it's not the most dynamic compact SUV out there, but it is built on the Renault-Nissan Alliance B platform that also underpins the Renault Clio and therefore shares some of the car's hatchback-like driving behaviours.
However, the chassis settings have been fine-tuned for the Captur taking into account the raised centre of gravity and this is reflected in the ride quality. There is minimal body roll even when pushed enthusiastically into a tight bend and most of the undulating road surface, along with unexpected bumps and dips are ironed out by the highly-efficient suspension system. In fact, the new Captur features a suspension set-up that is used on the Clio Sport Tourer (not sold in the UK), and this works more effectively with the crossover's larger 16 or 17-inch wheels.
Whilst the Captur's road-holding is assured, I did feel the steering lacked driver feedback and felt rather light at times, but that gripe aside the ride and handling was impressive.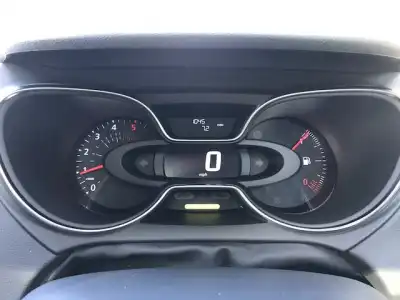 Styling
With its upright driving position, the Captur is a comfortable car to drive and the cabin remains fairly well-insulated against any engine, road surface or wind noise. There is a gentle drone of the engine when travelling at higher motorway speeds, but to be honest, it's not too bad at all.
One area where the car excels is its modern, dynamic styling with plenty of personalisation options. The Captur is competing in a category where buyers demand lots of scope to stamp their individual mark on a car and the Renault offers just that. Three new shades have been added to the two-tone colour scheme plus the option of a Mercury-coloured roof. It means customers have 30 possible colour combinations to choose from and that's before investigating the seven interior packs that are available on Captur.
And when you factor in the freshly-designed front end with a new bumper, fog lights, running lights, headlamps, wheels, rear lights and an upgraded interior with additional kit, the latest Captur is certainly more than a gentle mid-term facelift.
In The Car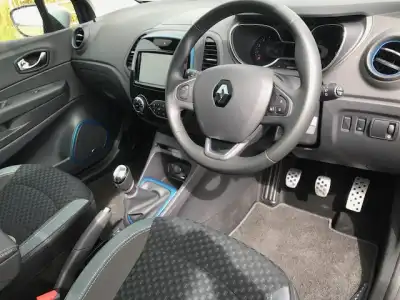 Behind the Wheel
It's easy to find the ideal driving position in the Captur with ample seat and steering wheel adjustment and all dials and controls are ideally positioned for ease of use.
There are now five trim levels to choose from – Expression+, Dynamique Nav, Dynamique S Nav, Signature X Nav and Signature S Nav.
Techno treats include a 7-inch touchscreen which houses the R&GO media and navigation system, along with Bluetooth, hands-free calling and music streaming via a smartphone.
There is a clutter-free feel to the Captur and Renault does the simple things very well, such as the driving style indicator at the bottom of the instrumentation dials. This moves through orange, yellow and green zones giving real-time feedback on how efficiently the car is being driven. There is also a gear-shift prompter on the manual models.
The driver benefits from good all-round visibility and parking sensors are an added bonus.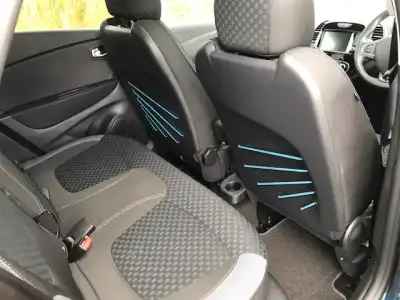 Space & Practicality
There are some things the Captur offers that are very clever when it comes to space, such as the adjustable boot floor which is reversible with carpet on one side and a washable rubber surface on the other. This is great if you need to carry muddy boots or wet pets etc. There are also practical elasticated straps in the back of the front seats which are ideal for storing newspapers or drinks bottles when you are sat in the back.
But there are some factors where the Captur comes up wanting. For example, the cup holders are too small and much too shallow – it would take a brave person to transport a hot takeaway drink with any confidence. So, a mixture of good and bad really.
The boot has a capacity of 455 litres which can be increased to an impressive 1,235 litres with the split-folding rear seats dropped flat. An additional 35 litres worth of storage compartments are scattered throughout the cabin, including a large lidded box on top of the dashboard and door pockets that can hold 1.5-litre bottles.
Getting in and out of the Captur is also stress-free with wide-opening rear doors.
Ownership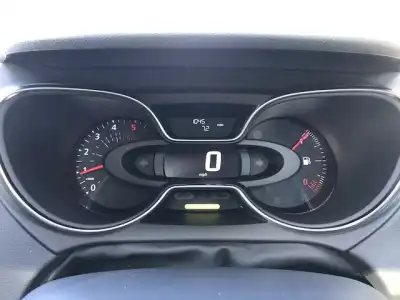 Running Costs
In 2016, Renault sold 215,679 Captur models across Europe which made it the best-selling B-SUV model. Whilst the Captur is an attractive looking vehicle with plenty of on-board technology as standard, much of its success is down to clever pricing and impressive running costs.
With entry level models costing as little as £15,615 on the road, and the most economical diesel cars boasting fuel economy of 78.5mpg and carbon emissions as low as 95g/km, it's clear to see the attraction.
Our test car was at the higher end of the scale costing £21,075 but the economy was a combined 76.4mpg with CO2 emissions of 98g/km. Although we saw short of the official figure clocking an average 59.5mpg on our test run, we did drive the car in a less-than-fuel-saving manner at times in order to check out its dynamic handling!
The low carbon emissions level on the test car would see a charge for the first tax year of £120 which would increase to £140 for following years. The insurance rating for this car is set at 15.
The most efficient petrol model is the Captur 0.9-litre TCe 90bhp version which can deliver 55.4mpg with carbon emissions of 114g/km.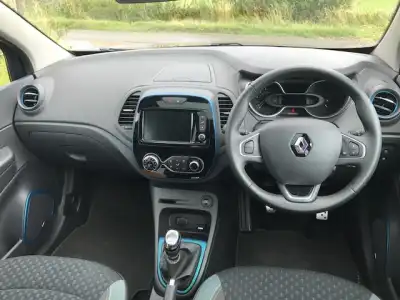 Quality & Reliability
The Captur's interior boasts some eye-catching upholstery and the build quality has been improved throughout. There are still a few hard plastics that will scratch easily and if you delve underneath the steering wheel to find the adjustment lever there are some sharp edges to avoid.
But generally, the materials and switchgear feel like they will survive the test of time.
I actually ran a Captur for twelve months a couple of years back and had very few issues when it came to durability. One feature that is worthy of a mention is the removable seat covers. Considering the Captur is billed as a family car, there are bound to be a number of spills along the way. With that in mind, Renault has fitted seat covers that can be removed, washed and then re-fitted. And whilst I admit to being a tad nervous about trying it out for fear of calling out Renault and handing over a collection of seat covers, it did prove remarkably easy. Removing the front seats took about a minute and then re-fitting them about three to four minutes. The rears seats were equally trouble-free.
All Captur cars come with a four-year, 100,000-mile warranty.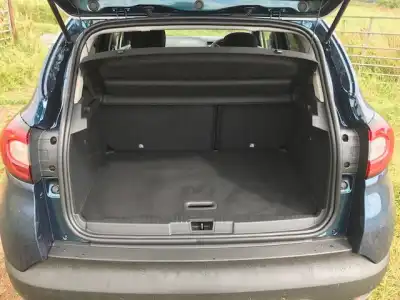 Safety & Security
Captur maintains its five-star Euro NCAP safety rating and has introduced some additional driver aids. For the first time, blind spot warning is available from Dynamique S Nav level.
All models feature a reinforced structure, high efficiency airbags, seatbelts with pretensioners, anti-whiplash headrests, plus the traditional safety systems such as anti-lock brakes with emergency brake assist, electronic stability control, electronic traction control, cruise control and hill start assist.
Whilst there is no 4x4 version available, the Grip Xtend System on Signature X Nav models does give the car extra grip and some softer off-roading capabilities. Perhaps more importantly it offers maximum grip in difficult driving conditions when Mother Nature has a particularly bad mood swing.
All cars are fitted with the Renault Anti-Intruder Device (RAID) to keep any unwanted attention at bay.

See the latest used Renault Captur offers.
More On This Car
Take one for a spin or order a brochure
Request a Renault Captur brochure
Request a Renault Captur test drive