From £27,500
Pros:
Sporty, dynamic design

Choice of two efficient diesel powertrains

Long-wheel-base creates lots of passenger and luggage space
Cons:
No petrol engines available

No seven-seat option

Noisy when pushed hard
More On This Car
Take one for a spin or order a brochure
Request a Renault Koleos brochure
Request a Renault Koleos test drive
Introduction
The Renault Koleos is yet another SUV to be launched into the fastest growing segment in the industry. But it's a name that will be familiar to some as the model was dropped by Renault seven years ago as it reduced its range line-up.
But now the Koleos is back and completes the Renault SUV family sitting at the top of the tree above the Captur and Kadjar.
It is only available as a five-seater but passengers are treated to bags of space thanks to the car's long-wheel-base. And the trim levels (there are just two) are both richly equipped with plenty of technology and classy infotainment systems.
On The Road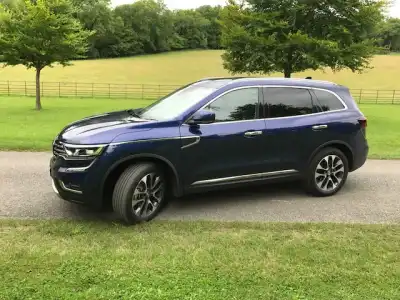 Performance
The Renault Koleos is available with a choice of two diesel powertrains. The first is a 1.6 turbodiesel 130bhp engine which is mated to a six-speed manual gearbox and comes in front-wheel drive format. The second is a the larger 2.0-litre turbodiesel 175bhp engine which is available in all-wheel drive and mated to either a six-speed manual or seven-speed Continuously Variable Transmission (CVT).
We tested out the range-topping Koleos Signature Nav dCi 175bhp 4WD Auto X-Tronic priced at £34,200. This car can reach from 0-62mph in 9.5 seconds and tops out at 125mph. According to official figures, it delivers combined fuel economy of 47.9mpg with carbon emissions of 156g/km.
Mention the abbreviation CVT and it sends a shiver through my spine. Many of these gearboxes screech, whine and shudder at the slightest throttle pressure, but that's not the case with the Koleos. It has a step function that means it performs like a conventional automatic transmission. That makes for smooth and responsive acceleration. In addition, the higher-powered engine (which is likely to be the most popular with buyers) delivered plenty of oomph. The acceleration from standing and mid-range was good and there was ample power to overtake at short notice.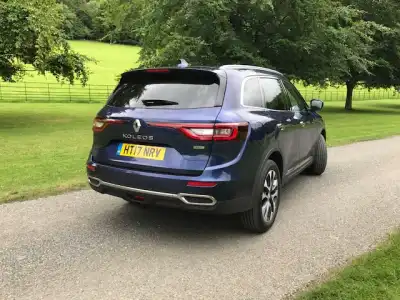 Ride Handling
Admittedly the Koleos isn't going to set the world ablaze with amazing driving dynamics and engaging performance capabilities, but it is an excellent all-round package. On winding country lanes, it was assured and confident when pushed enthusiastically into bends and the highly efficient suspension system ironed out the bumps and dips along the way. It can feel a little wallowy on particularly bad roads, but that aside the ride is generally faultless.
The steering is quite light but nicely balanced with enough driver feedback and the car is beautifully agile and easy to manoeuvre into tight spaces. The test car also featured automatic hands-free parking, which is offered as a £350 option, and this will make even the most nervous driver look competent when reversing into a tight space.
We even put the Koleos through its paces off road on some slippery grassy banks and it coped really well. It climbed halfway up the steep incline in 2WD and then we stopped, switched to 4WD lock and it instantly gripped the wet grass to complete the task in hand – not bad for a soft-roader!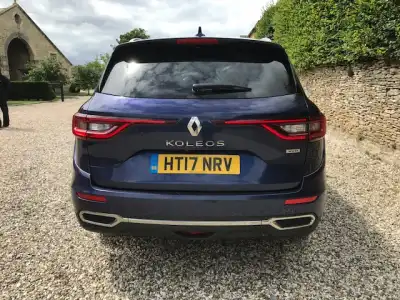 Styling
The Koleos completes the Renault SUV line-up and as the biggest sibling it needed to stand out – it does just that. It is sporty, modern and boasts muscular haunches, a sculpted bonnet, sweeping headlights with Renault's distinctive C-shaped LED daytime running lights and a panoramic sunroof. At the back, the twin exhausts are joined by a stylish chrome bar and the roof rails complete the look.
Move inside and the interior of the range-topping Signature Nav model (it was the only one available to view) cannot fail to impress with smart leather upholstery, plenty of soft-touch surfaces and some neat wood and chrome trim. It feels like the Koleos will last the test of time with practical, wipe-clean surfaces and a sturdy feel to all buttons and controls.
Both trim levels feature Renault's R-LINK 2 multimedia system as standard which coordinates many of the car's functions such as infotainment, navigation, hands-free calling, radio and driver aids. It offers the same navigation as a smartphone or tablet with two-finger zoom, page scrolling drag and drop etc., via an 8.7-inch portrait touchscreen (7-inch landscape screen on the lower specced Dynamique S Nav models).
Another area that Renault has excelled in is insulation – the car is well protected from any outside road surface, engine or wind noise even when pushed on at quite a click.
In The Car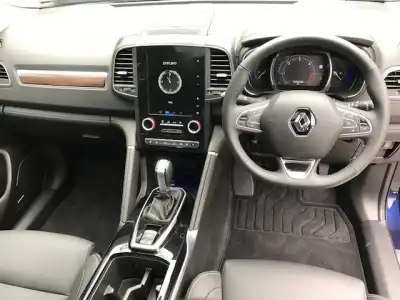 Behind the Wheel
Comfort levels within the Koleos are excellent with back seat passengers treated especially well. This is because the car boasts one of the longest wheelbases in class at 2,710mm and is also designed with short overhangs. That translates into a vast amount of cabin space. In fact, one six-foot-plus adult can sit comfortably behind his twin brother in the driving seat with oodles of leg, head and shoulder space.
Up front, the driver benefits from the upright driving position that is expected in an SUV and the all-round visibility is excellent. I did find the two outer rear head rests obscured the rearview mirror sight a little, but it wasn't particularly bad.
The seats can be electrically-adjusted and there is also tilt and telescopic movement of the steering wheel to find that perfect driving position.
The touchscreen is simple to operate and easy to navigate, and as well as the R-LINK 2 system, all models can connect to smartphones via Apple CarPlay or Android Auto.
Most of the kit is included in the asking price although there are a few options available such as a 13-speaker BOSE sound system (£600) and a Climate Pack that adds heated rear seats, a heated steering wheel along with ventilated front seats and that can be tagged on to the Signature Nav models at a cost of £400.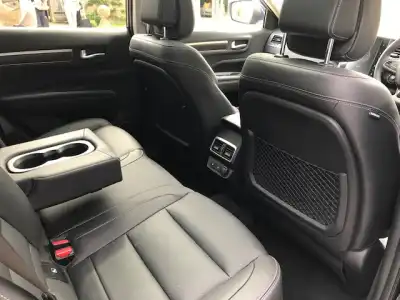 Space & Practicality
The Koleos has been designed with practicality in mind. Not only do the rear seat occupants benefit from bundles of room to stretch out, the storage options are also impressive.
The boot has a capacity of 579 litres which is increased to 1,795 litres when the 60:40 split-folding rear seats are automatically dropped flat at the press of a button.
And if you're looking for options to store away any bits and bobs, there is an additional 35 litres worth of storage space throughout the cabin including a good-sized glovebox, heated or cooled central bin, cup holders and practically-sized door pockets. The top-of-the-range Signature Nav models also feature a powered automatic tailgate which can be opened via the keycard or by waving a foot under the rear bumper, which is really handy if you are approaching the car laden down with shopping bags.
The vehicle also comes fitted with a tow-bar that folds away when not in use and the Koleos has a towing capacity of two tonnes.
Another feature worth mentioning on the Koleos is the sliding panoramic roof which allows light to flood into the cabin so there is no chance of any rear passengers feeling too closed in.
Ownership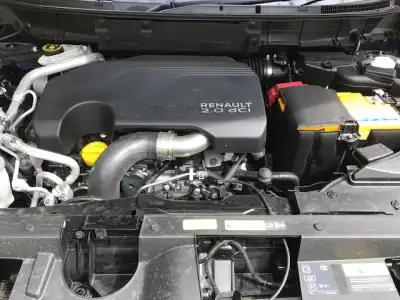 Running Costs
So, let's get down to the nitty gritty then - how much will you have to put by to buy and keep a Koleos on the road? The entry levels Dynamique S Nav dCi 130 model is priced at £27,500 and the prices gradually increase to the all-singing, all-dancing Signature Nav dCi 175 4WD Auto X-Tronic costing £34,200. But one factor to take into account as I mentioned previously is that all cars are very generously kitted out as standard so there will be no hidden extra costs to suddenly rear their ugly head.
The entry level car with carbon emissions of 128g/km will prove a cheaper option to run with a cost of £160 for the first tax year and £140 after that. This model delivers combined fuel economy of 57.6mpg. The insurance rating for this car is 18.
However, the test car with CO2 emissions of 156g/km would prove pricier with the first year of tax set at £500 then reduced to £140. This model can deliver combined fuel efficiency of 47.9mpg. Insurance on this model is set at 23.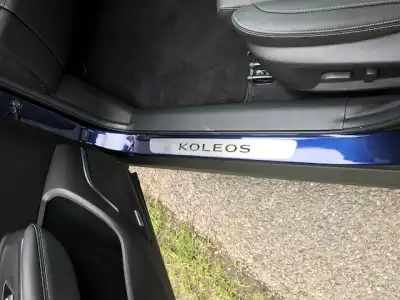 Quality & Reliability
Some Renaults of bygone days have been rather let-down by cheap plastic and flimsy build quality. But that's not the case with the Koleos which is built in Busan, South Korea. Admittedly some rivals such as the Audi Q5 and Peugeot 5008 will shine in this segment when it comes to finesse and premium styling, but the Koleos is a great contender for sales.
The car is built on the Renault-Nissan Alliance's CMF (it stands for Common Module Family) architecture that is shared by a number of models including the Renault Espace and Kadjar along with the Nissan Qashqai and X-Trail. This money-saving exercise means extra cash can be spent elsewhere on the car whilst keeping the pricing as low as possible for consumers.
There are plenty of soft-touch surfaces and some eye-catching wood and chrome trim help complete the look. The portrait touchscreen looks smart and can practically be wiped clean. In addition, the seats are of good quality and seem endurable and likely to last the test of time as does the switchgear.
The doors do shut with quite a nice thud and the car is well-insulated against outside noise.
All Koleos cars come with a four-year, 100,000-mile warranty.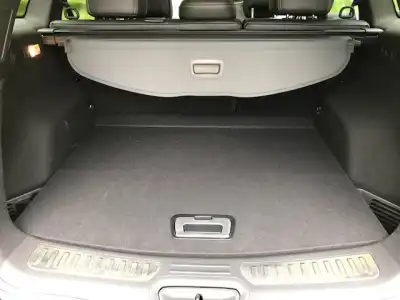 Safety & Security
The Renault Koleos has received the maximum five stars in the Euro NCAP safety ratings. The car features a high strength passenger safety cell to protect the cabin in the event of a major impact.
Front passengers are protected by two adaptive airbags that inflate according to the type of impact and the occupants position in the car, plus two lateral thorax/shoulder airbags and two curtain airbags. Anti-whiplash headrests are standard and all seatbelts are equipped with pretensioners,
When it comes to active safety the Koleos has a raft of features such as traction control, electronic stability control, electronic brakeforce distribution and hill-start assist. In addition, a range of state-of-the-art driver aids are accessible via the R-LINK 2 set-up. These include active emergency braking, lane departure warning, blind spot warning, traffic sign recognition, automatic high/low beam and a driver fatigue warning system.
All these safety systems are designed to protect occupants in what will predominantly be a popular family car.
More On This Car
Take one for a spin or order a brochure
Request a Renault Koleos brochure
Request a Renault Koleos test drive