From £21,940
Pros:
Very good looking

Generous equipment levels

Characterful driving experience
Cons:
Not quite as affordable as competitors

1.0 litre petrol engine struggles

Diesel engines can be noisy
Secure your test drive today
Request a SEAT Ateca test drive
Introduction
SEAT hadn't dabbled in the SUV market whatsoever prior to the launch of the Ateca, which is surprising considering how much influence that segment has over the entire market nowadays. Happily, it seems that SEAT have done well to bide their time and their offering to a somehow not yet saturated market has peaked a lot of interest. As you'd expect, there's a variety of spec levels and engine choices to choose from, so there'll be a model to suit most buyers needs. Let's have a look at what's in store.
On The Road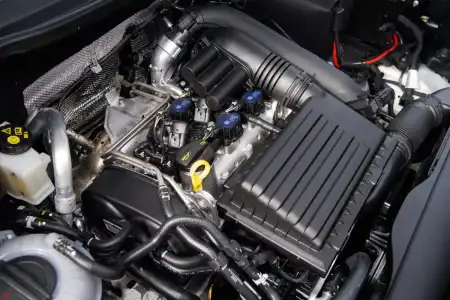 Performance
The real out-and-out performance Ateca doesn't actually flaunt the 'SEAT' badge, as it is being launched under 'CUPRA' sub-brand and it doesn't hit the showrooms until 2019. Don't worry though there are still some enticing models available with a big silver 'S' emblem on the grille. The most potent is actually the 2.0 TDi 'FR' model with 190 horsepower.
It's not going to beat any sports cars off the line, but you'll certainly keep up with hot hatches. This model will do 0-60 in a respectable 7.5 seconds, which is fine for an SUV. This model also comes with 4 wheel drive, as do a number of other options within the Ateca lineup. The only real gripe with the performance of the Ateca models comes from the 1.0-litre TSI engine which just doesn't seem up to the task.
Once moving and at motorway speeds, it will provide agreeable running costs but it will be short of juice if you need to overtake or accelerate while merging then you'll be left slightly shortchanged. It's fair to say that this engine choice is best saved for inner city driving and pootling around town.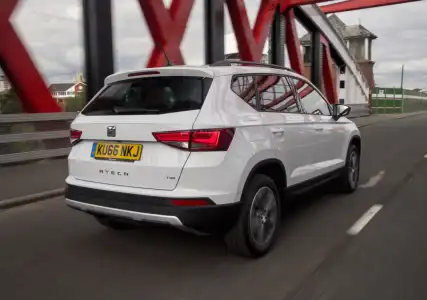 Ride Handling
Put simply, few SUVs on the market will offer a level of driving satisfaction as the Ateca does, perhaps the Mazda CX-5, but no others really compare. You'd expect a car of this size and stature to roll through corners in a lethargic and cumbersome manner, but in reality, the Ateca behaves very similar to the dynamic Leon, it's smaller sibling.
You can really carve corners up in the Ateca and it will sit flat if you take roundabouts at a reasonable pace. The ride quality is up there with the best in its class. Remember, this Ateca shares it's platform with the Volkswagen Tiguan and Audi Q5, which are both very comfortable and cushioned cruisers and those characteristics certainly carry through to the Ateca.
The Ateca's prowess in the corners comes courtesy of reasonably stiff suspension, stiffer than the Tiguan, but the payoff is that it does feel potholes ever so slightly more than the Volkswagen, but it's nothing that should put off buyers.
Styling
The petrol engines are absolutely delightful to drive around town and they barely let out a murmur, and the same can be said about the diesel engines at motorway speeds, it's only when each is taken out of their comfort zones where there is a little distress.
The diesel engines let out a noticeable grumble when accelerating around town which could get annoying after a while, and the petrol engines feel like they're being throttled to death if you dare creep too far above the speed limit on a motorway. Under normal circumstances though, with a normal driver behind the wheel, all the engines available in the Ateca are agreeable.
The interior fittings are all solid too, especially when compared to the Japanese competitors so there are no annoying vibrations from within the cabin, which is also well dampened and prevents excessive road noise.
In The Car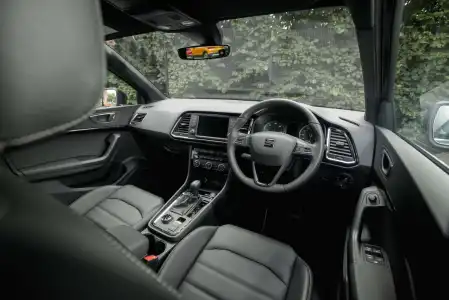 Behind the Wheel
The Ateca uses a simple and hassle-free design to prevent unnecessary distractions for the driver, but the dashboard remains smart and intuitive with a large, colourful 6.5-inch touchscreen display as the main attraction of the centre console of all models. On the SE Technology models and upwards the screen expands to 8.0 inches and is of noticeably better quality.
Both displays are quick and responsive, controlling most functions in terms of in-car-entertainment as well as the reversing camera and parking sensors. The Ateca can seamlessly connect to Apple devices with the CarPlay or Android phones with the AndroidAuto technology.
The design of the dashboard is largely straight lines and solid angles but the high-quality materials make it a warm and welcoming environment. All models now have an electric handbrake as well as a leather steering wheel and leather gear gator and both of the front seats are height adjustable from entry-level.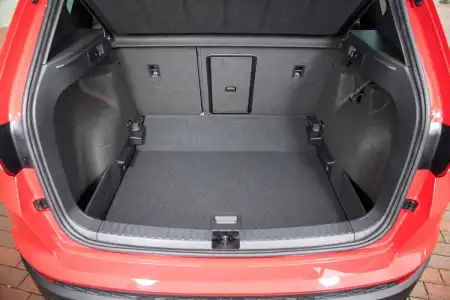 Space & Practicality
You'll have very few complaints about the space and practicality of Ateca. As with most SUVs, it was purpose-built to undertake family duties effortlessly, so it's a well thought out vehicle. The front seats are both wide and roomy, plenty of space for large adults, then the rear is equally as spacious.
You'll have no problem whatsoever fitting three children back there for long journeys and only the largest of adults would find it cramped. One small gripe would be the shape of the glovebox, which is designed in a slightly awkward manner which makes it difficult to store larger objects.
Certainly big enough for a pack of Wine Gums, though. Boot space is more than most will need, you get a full 500 litres of room with the rear seats in place and this will expand to a cavernous 1,604 litres, which is just 60 litres shy of the biggest-in-class Peugeot 5008.
Ownership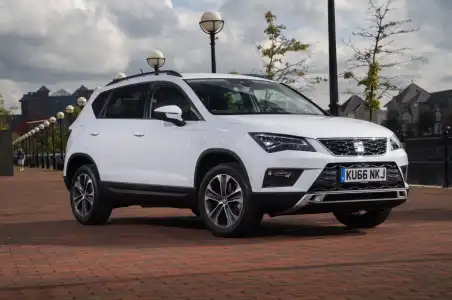 Running Costs
As you would expect from a modern car from the Volkswagen Audi Group, the running costs are pretty easy to live with. The 1.6 TDi Ecomotive model is the most economical of the lot and it is best suited to drivers who spend a lot of time on the motorways.
This engine will return you a solid 64 mpg on a long run. If you do most of your driving around town though then the 1.0 TSi petrol is certainly economical enough and you'll see 54.4 mpg in return when you're careful on the throttle. The company car tax rates are pretty low too, as the diesel emits less than 120 g/km of CO2 and the petrol engines emit less than 130 g/km, which equates to a low P11D.
Regarding the insurance costs, the Ateca varies quite a bit, entry-level models with lesser engines will slide into insurance group 8, whereas the most potent models go all the way up to insurance group 21 - very similar to the Leon hatchback. Although it is very early to predict, it is estimated that the Ateca isn't going to suffer from depreciation as heavily as other competitors will.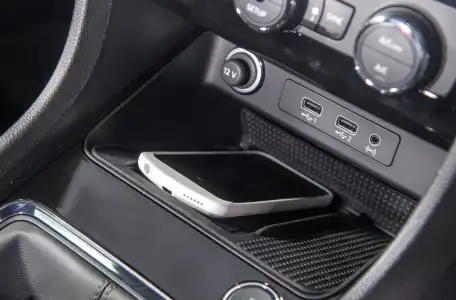 Quality & Reliability
The fit and finish of the Ateca is all to a very high standard on both the interior and the exterior. We've mentioned that the refinement levels of the Ateca are particularly high and there are no unruly rattles inside the cabin. The material quality is satisfactory as well, with only one or two bits of cheap plastics on display in the cockpit but the leather and suede materials are all very nice to touch and certainly feel like they're from the class above.
SEAT has developed a pretty solid reliability record of late too. Naturally, most Volkswagen group products are pretty reliable. The running gear, engines, technology all exist elsewhere in the SEAT range and they're all tried and tested, so there are very few if any recurring issues. To give you that peace of mind, the Ateca comes with a 3-year/ 60,000-mile warranty.
Safety & Security
The SEAT Ateca is available as standard with a huge host of safety kit from standard, which helps bring the insurance rating down substantially. The Ateca scored a full 5 stars on the Euro NCAP safety rating while scoring a massive 93 out of 100 for adult passenger protection.
The Ateca also scored an impressive 83 out 100 for child passenger protection which is reassuring news for family buyers. The only shortfall was concerning pedestrian protection where the Ateca scored 73 out of 100 which is not terrible but it is far from best-in-class.
Secure your test drive today
Request a SEAT Ateca test drive