Pros:
Sporty, aggressive, good looks

Comfortable, impressive interior

Good build quality
Cons:
Weight spoils the handling

Less practical than the Enyaq SUV

Too expensive to justify
More On This Car
Need more information?
Request More Information
Introduction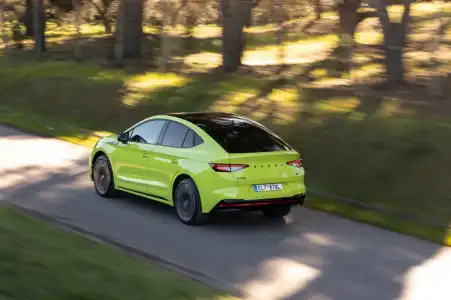 The standard Enyaq is a compact crossover SUV. But, as many other manufacturers have done, Skoda has trimmed the roof towards the back to give a coupe-like effect.
Behold – the Enyaq Coupe. Built on the same platform as Volkswagen's ID.4 and the Audi Q4 e-Tron, those aren't exactly bad basic ingredients.
But Skoda has also decided to take a leaf out of Audi's books. The German manufacturer has its superfast R and RS range, rivalling the BMW M-range and Mercedes' AMG. Skoda, too, has its own equivalent: vRS.
The vRS badge might be familiar to those who remember it as a variant of the Skoda Octavia. But now, it's been revitalised for the ultra-fast version of the Enyaq Coupe.
While Audi, BMW and Mercedes-Benz are unlikely to be worried, Skoda is a serious contender nowadays, rivalling the 'best of the rest' for quality.
It also has a reputation for reasonably generous equipment levels, and the Enyaq Coupe is no different.
On the outside, 20-inch alloys are included as standard (although our test car has optional 21-inch wheels). You also get automatic boot opening, full LED matrix beam
headlights and lots of black styling details along the grille (which is also luminous) as well as the mirrors, rear lower bumper, and badging.
Inside, you get a 13-inch infotainment display with navigation, Apple CarPlay/Android Auto, a DAB radio, wireless phone charging and sports seats in black perforated leather. There is also motorised adjustment in the driver's seat (plus memory function), a powered lumbar support adjustment, and a panoramic glass roof.
It is striking, especially in the florescent green on our test car (known as Hyper Green), with aggressive, funky looks. Basically, the Coupe is teeming with character.
On The Road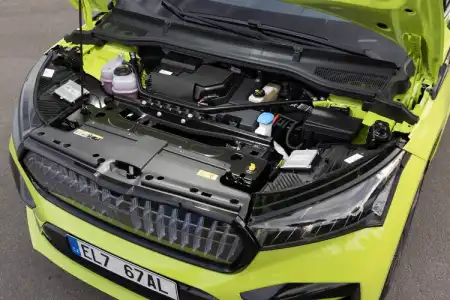 Performance
The vRS has four-wheel drive, meaning there's one motor driving the front wheels and another propelling the back. It produces an impressive 299PS, although that's the only powertrain available.
Zero to 62mph takes 6.5-seconds, and it'll keep going up to 112mph. That's not bad for a car of its size. Acceleration is quite fierce. It shoots off with phenomenal levels of traction from a standing start, which is thrilling.
Though the ferocity wears off as you accelerate, it never struggles to make progress. So, even going from 50 to 70mph to overtake is impressively simple.
Nevertheless, the Skoda is on the heavy side (it weighs 2.3 tonnes), which is noticeable at times, despite the generous amount of power.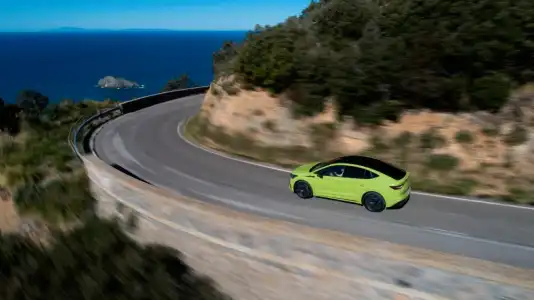 Ride Handling
There is no doubt that the excess weight spoils the handling. Although Skoda has done an excellent job to maximise the handling capabilities despite its sheer bulk, it only paints over the cracks.
While there is a decent amount of grip, the vRS is operating in a narrow window. You don't have to be going fast to find its limits. And it can be a handful to get in and out of a corner if you take it at speed.
Twisty B-roads are okay, but you'll be struggling around the sharpness of country lanes. The steering is satisfactory, albeit not incredibly engaging, while body lean is well-controlled thanks to a low centre of gravity.
Ride comfort is well maintained despite the sporty setup, even though we're testing the bigger wheels. In reality, the standard 20-inch wheels are the ones to go for. In addition, our test car is fitted with the optional dynamic chassis control and additional shock absorption, which helps.
In Sport mode, the suspension is firmed up a bit, which means riding over rougher roads limits the comfort. It tends to bounce rather than jolt uncomfortably, though, and never feels jarring.
Other driving settings are more comfortable, while Individual mode means you can customise different elements of the car's setup to suit your preferences via the infotainment system.
Considering its drawbacks, it certainly isn't bad.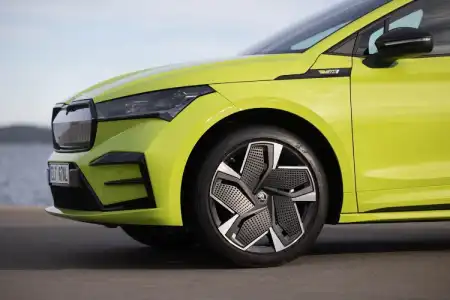 Styling
The vRS is a superb looking vehicle.
It is aggressive, sporty and mean, with black air intakes at the front, either side of the number plates, and a black-surround grille. The headlights are relatively thin, too, adding to the aggression.
The side vaunts creases at the top and bottom of the doors, with side skirts adding to the athletic stance. Meanwhile, the back features a more straightforward design, with blacked-out badging, modest taillights and an angled boot lid that resembles a rear spoiler.
There is no doubt the quirkiness is amplified by the fluorescent, Lamborghini-esque green body colour, though more subtle hues are also available.
In The Car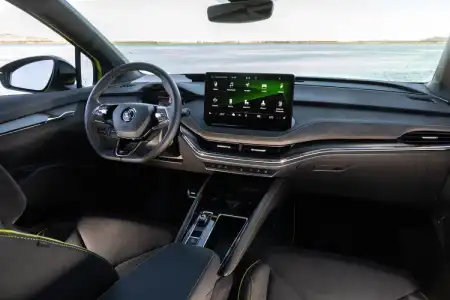 Behind the Wheel
The Skoda's interior is pleasant, with lots of soft-touch materials and a sculpted dashboard.
It feels solid and soundly put together, with a decent level of build quality.
The 13-inch infotainment screen sits on top of the dash. It is crisp and clear, responsive, and intuitive to use, outgunning many infotainment systems on the market.
Most of the car's features, such as driving mode settings, customisation, music, navigation, and others, are controlled through the screen.
Although most of the buttons are within the infotainment system, there are shortcut switches at the bottom and a few physical buttons underneath the screen. Furthermore, plenty of functions can be controlled from the steering wheel.
You will also come across a wireless phone charger underneath the dashboard and a couple of cupholders in the front and rear.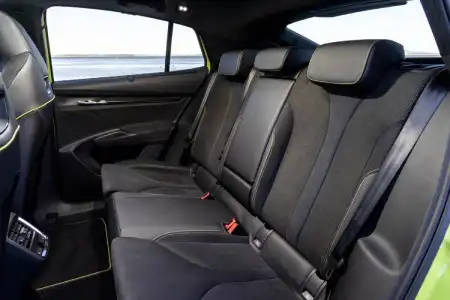 Space & Practicality
The seats are comfy, while even taller occupants won't battle for headroom in either the front or the back, despite the sloping roofline in the rear.
There is a lot of space, while finding a good driving position is simple enough, with electric adjustment for the driver's seat and lots of movement in the steering wheel.
The panoramic roof allows a lot of light in, which helps brighten things up even on a gloomy day. There is also plenty of storage space dotted around the cabin, including in the centre console.
Some elements are customisable, too. For example, being an electric car, there's no driveshaft hump in the middle of the floor. Therefore, Skoda has created a hump by placing a storage tray there for the rear seat passengers, which can be removed if you don't want it. The centre console also includes detachable trays.
Boot space measures up at 570-litres, expanding to 1,610-litres with the rear seats down, which fold in a 60:40 configuration. There is also more storage space underneath the boot floor.
Ownership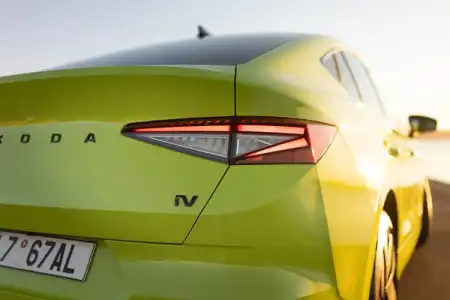 Running Costs
Electric cars don't need servicing as often, so it only needs a check-up every two years or 18,750 miles, which helps keep costs down.
Of course, trips to the fuel station are a thing of the past. So, even the rising cost of energy prices will still provide significant savings over petrol or diesel.
What's more, all-electric means zero emissions, which means low road tax and company car tax.
The vRS features a 77kWh battery, which achieves a claimed 312 miles of range. Mind you, the actual figure will depend on many factors, including temperature and driving style, amongst others. Nevertheless, the quoted figure is competitive with more expensive players.
The Skoda can be charged at up to 135kW, meaning it takes 36 minutes to get from a 10% to 80% charge. Getting from 0-100% will take about 13 hours with a 7.2kW home wall box.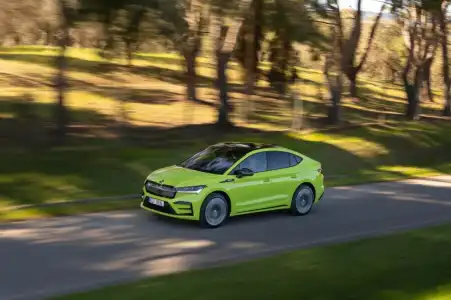 Quality & Reliability
The vRS is too new to know how dependable it will be, reliability-wise. However, given its Volkswagen-Audi roots, that's not a bad place to start.
As you only need to service it every two years, that may add some comfort that it's expected to be more reliable.
Nevertheless, it comes with a three-year warranty – unlimited mileage for the first two years and 60,000 for the third year. However, this can be upgraded in various combinations up to a five-year, 100,000-mile warranty if you want extra peace of mind.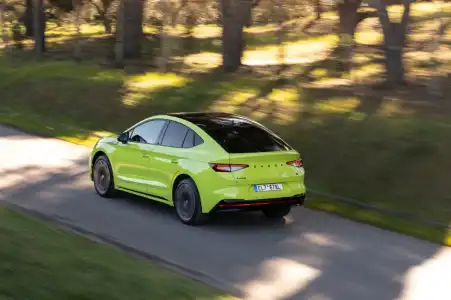 Safety & Security
The Enyaq achieved a five-star safety rating when tested by Euro NCAP. This was the full-fat SUV, but the rating is valid for the Coupe, too.
It achieved a 94% rating for adult occupants, 89% for child occupants and 82% for safety assists.
The vRS has lots of safety kit as standard. The equipment includes a driver alert system, dynamic road sign display, blind-spot detection, lane assist and front assist with assisted automatic braking.
Summary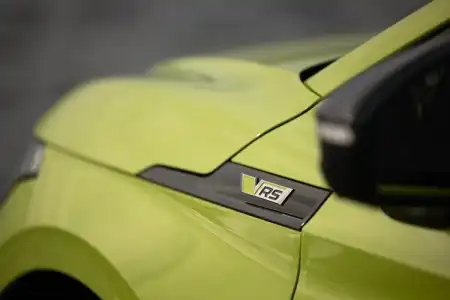 The Skoda Enyaq Coupe iV vRS is a car we like a lot. It is something fresh and different – but it isn't easy to justify.
The standard Enyaq Coupe is coming along soon, and, in reality, it's perfectly adequate for just about anyone's needs.
Nobody needs the vRS, so it's very much a collector's item of a car – something you'll procure because you want, rather than require, its features.
It handles well for a motor of its size. But, if you want performance, you'll likely want something more agile than this unless you never go around corners.
The Skoda is comfortable, too, meaning it's good for longer motorway journeys, plus it's generously equipped.
But, despite these plus points, it doesn't offer enough benefits over the standard Enyaq Coupe to justify such a jump in its price tag.
More On This Car
Need more information?
Request More Information