Pros:
Generous kit

Spacious and practical

Comfortable and refined
Cons:
Badge still lacks kudos for some

Manual gearbox could be slicker
More On This Car
Need more information?
Request Dealer Contact
Introduction
Skoda's Kodiaq is perfect for big families or private hire drivers. The car is a seven-seat off-roader - and a full-size one at that. It's excellent value for money, so long as you're not a badge snob. It's also cheaper than rivals such as Land Rover's Disco Sport, Nissan's X-Trail, Kia's Sorento and Hyundai's Santa Fe. There's nothing bargain basement about the model when it comes to road-holding, kit, and comfort, either. We hopped into the Kodiaq to fully assess it over a few days - so keep on reading to see what we thought.
On The Road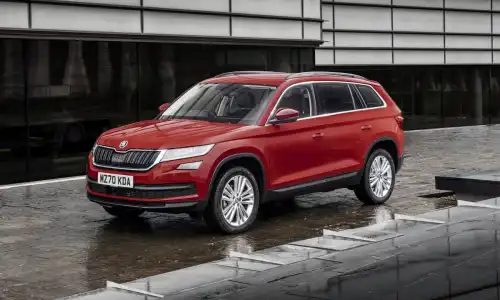 Performance
The Kodiaq isn't an SUV for folks who make car-buying decisions based on zero to 62mph times. But it's no slacker, either. The car is light for its dimensions, and it's a good handler, even when heading off the beaten track. Mind you; the engines are manufactured for frugality rather than out-and-out velocity - so you'll need a larger unit if half-decent performance is a big deal to you.
There are petrols and diesels to be had with varying amounts of horsepower. The petrols feel a little lacklustre, so it's the oil-burners you should focus on for all-round ability. Yes, we know, diesel is the devil right now, but these engines are getting cleaner. And to be fair, you get better range and economy as well as satisfactory acceleration and grunt from diesel power.
The 2.0-litre TDI 190hp diesel is the version we tested. It's a 4x4, yes, but it's no mud-plugger. Put it this way, it's a fine powerplant if you regularly transport seven-up around the British countryside. Higher-spec variants are fitted with Drive Mode Select which lets you alter how reactive the gearbox and engine are. The system also changes the weight of the Kodiaq's steering - so, basically, you can fine-tune the Skoda to suit your needs.
If you go for the 2.0-litre 190ps diesel, you can expect 0-62mph to arrive in 8.6 seconds – and the top speed is 130mph. It doesn't feel as fast as it sounds, but it doesn't feel wheezy when full-laden, either. See, if you're a professional driver or a parent, this low-down lugging power is what you'll be grateful for when you haul your fellow occupants around. We guess we're saying Skoda's big SUV is a worthy workhorse. The seven-speed DSG auto gearbox makes life easier, too. We certainly prefer this method of cog swapping when compared with the less than slick six-speed manual we tried in another Kodiaq.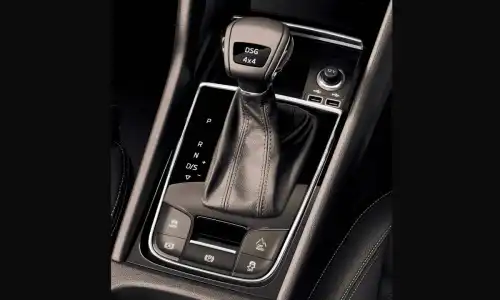 Ride Handling
Given the Kodiaq's talent for people lugging, it won't surprise you to learn that the SUV is assembled with comfort and refinement in mind. The Kodiaq is a large lump, but it feels nimbler than you might think. Why is that? Well, the SUV is based on the pre-2020 VW Golf's substructure, and the way it handles is similar to the compact premium hatch.
The Kodiaq's steering gives you a persistent feeling of control, and the car copes with corners well, with the body staying unflappable - even when cornering hard. What's more, the elective Dynamic Chassis Control system changes the firmness of the Skoda's suspension and provides Normal, Sport and Comfort settings. This also alters the weight of the steering and connects to the Drive Mode Select system, which, as we told you earlier, changes gearbox and throttle sensitivity.
All modes provide a delicate but perceptible adjustment in steering and suspension characteristics - with Sport hardening the suspension for better control around corners and Comfort offering a softer ride with marginally less alert handling. Steering weight intensifies in the Sport setting, too, although each mode gives an even-handed feel without being excessively heavy or scarily light.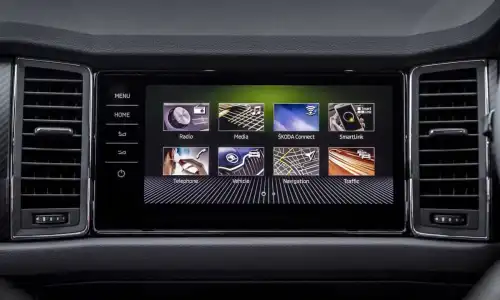 Styling
This is what the Kodiaq is meant to be about. It's Skoda's first seven-seater SUV and is worthy of its pioneering status. With asking prices for the entry-level starting from £26,485, it's top value for money.
The SUV is relatively sophisticated and, compared with its challengers, well-kitted out, too. But, even though the cabin doesn't feel tasteless or low-cost, it lacks the feel of a German "premium" badge model (think VW, Audi or even BMW). It's a large vehicle for practicality and comfort, though it's no high-riding limousine in terms of opulence either.
As an option, the Skoda's front seats can be ventilated, heated, and altered electronically; the latter also incorporates a memory function. As an alternative to the factory-fitted cloth seat facings, a fabric and leather blend and Alcantara or leather are also offered.
Additionally, elective ambient lighting adds a distinct touch to the cabin, with concealed LEDs built into the Skoda's door trims. Believe us; you'll be spoilt for choice because you can pick from ten colours.
In The Car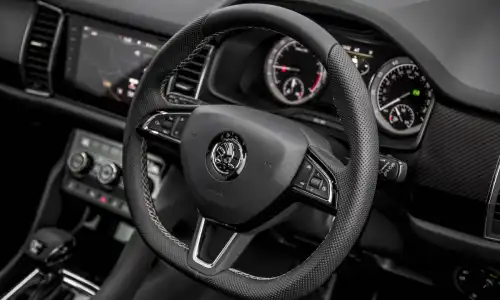 Behind the Wheel
The neat design language of the Kodiaq's exterior is carried over to the cabin. The double lines - with their three-dimensional look - feature on the SUV's instrument panel, while strong perpendicular elements typify many parts of the interior. These comprise four big air vents and a sizeable display that divides the instrument panel into two evenly balanced sections for you and your front-seat passenger.
The easy-to-use operation of the switchgear is a classic Skoda touch, as are the large dials. In addition, the optional tri-zone climate control gives your rear seat occupants their own control panel.
All models in the line-up are fitted out with air-conditioning, and a leather multifunction steering wheel. A DAB digital radio, Front Assist, and a touchscreen infotainment system are also standard across the line-up. It's worth noting that alloy wheels and LED daytime running lights are the norm for all Kodiaqs, too.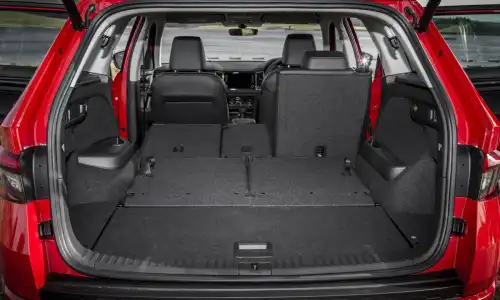 Space & Practicality
This is the Kodiaq's party piece. While this Skoda is a mere 40mm longer than its Octavia sibling, the car offers a larger-than-usual interior for the SUV class.
Cabin length is 1,793mm, elbow room is 1,510mm in the rear and 1,527mm in the front. Headroom is 1,014mm in the back and 1,020mm in the front. Rear legroom amounts to 104 mm.
The centre seat row can be folded into a 60:40 split and features adjustable backrests that move lengthways by 180mm. The third tier of seats can be folded over into the SUV's floor space to form a bigger load area.
Furthermore, with a cargo capacity of 720-litres to 2,065-litres, the Kodiaq offers the most voluminous boot within its segment. In all fairness, the only challenge you'll have with practicality is how to fill the room - there's so much of it.
Ownership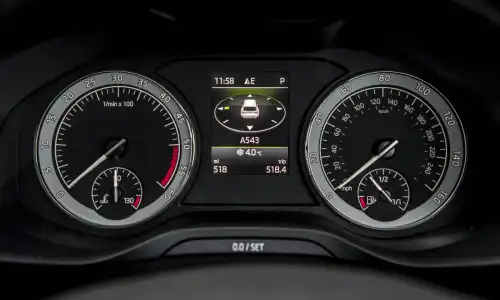 Running Costs
As this is a Skoda, you can expect lower maintenance and insurance costs when compared with higher-end brands. As for daily running, the engines are efficient. Our 2.0 TDI 190ps 4x4 DSG claims just over 50mpg with the DSG set up. Anticipate high 40s mpg in the real world. However, fuel frugality is about the way you drive, as much as the vehicle you're driving.
Also, high residuals mean that, should you purchase the SUV at the end of any PCP deal you enter in to, the Kodiaq will still be worth a significant amount when you come to flog it. This decreases the amount you'll have forked out on the motor.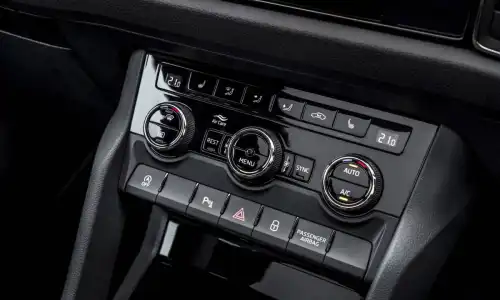 Quality & Reliability
Due to its history, Skoda still carries a stigma, as unfair as it may be in this day and age. But for goodness sake, don't let that put you off, because the reputation of the Kodiaq's Czech lineage simply isn't warranted anymore.
Besides, Skoda has been a division of the Volkswagen Group since 2000, and the legendary German reputation means you're getting a quality motor at a modest price.
Skoda has an excellent name for dependability and shares powertrains that are used across VW, SEAT and Audi models, meaning components should be easily found.
Mind you; there were some safety recalls in 2019, concerning the driver's airbag not inflating rapidly enough and some omitted fixing nuts in the frame of the second row of seats. (Consequently, it's worth ensuring this has been sorted before you buy a second-hand Kodiaq.)
For extra assuredness when buying new, Skoda provides an unlimited mileage warranty for the first couple of years, with a third year up to 60,000 miles. All Skodas also come with a 12-year body protection guarantee, though the marque's build quality means you'll probably never need to worry about the bodywork.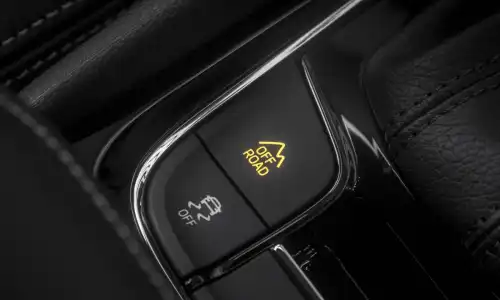 Safety & Security
The Kodiaq holds the top Euro NCAP five-star safety rating, which is no shock given the amount of factory-fitted safety kit and the model's all-wheel-drive capability. The car is equipped with Stability Control, seven airbags and Front Assist as standard. The latter observes the road in front of the SUV with radar and operates with autonomous emergency braking to halt proceedings if the system detects vehicles or pedestrians ahead.
As for security, the Kodiaq's alarm system triggers visual and audible signals if someone attempts to break into the car. The alarm is activated automatically 30 seconds after the Skoda is locked. It's worth bearing in mind that the alarm has its own power source, which has a service life of around five years. It's therefore worth getting the alarm checked after this period by a specialist.
More On This Car
Need more information?
Request Dealer Contact