From £17,195
Pros:
Excellent value for money with economical running costs

Wide choice of fuel efficient engines and trim levels

Spacious interior with room for all the family
Cons:
The design is a little uninspiring

There is some wind noise at higher speeds

Too much hard plastic within the cabin
Buy and save on quality approved and used cars
Introduction
The Octavia accounts for more than a quarter of all UK Skoda sales so the Czech company is keen to keep the car in the spotlight. The latest third generation facelift introduces new design features, improved on-board infotainment and revised safety systems. There is a wide choice of efficient engines and five trim levels at launch with two further versions being added later this year.
But the Octavia is recognised globally as a car that eats up the motorway miles for fun, so we took the latest version on a 430-mile road trip to see how it fared.
On The Road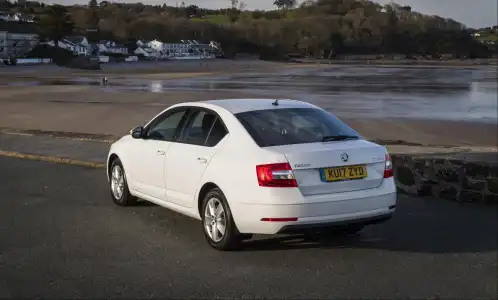 Performance
The Octavia is available at launch in estate or hatchback guise with a choice of six engines - three diesel and three petrol - although a powerful 245PS vRS version will be introduced later on.
The fleet market accounts for about 70 per cent of sales so it was the model that would turn company heads that we concentrated on for the longest leg of our test. It featured a 1.6 TDI 115PS engine delivering 250Nm of torque mated to a seven-speed DSG automatic gearbox and it could sprint from 0-62mph in 10.2 seconds.
Although there is currently a bigger 2.0-litre diesel version with 150PS along with a trio of petrol options, including a fizzy little three-cylinder 1.0-litre 115PS model, we opted to test the car that skoda believes will be in highest demand and it coped well with everything we threw at it.
It climbed long steep mountain inclines with ease and the automatic transmission was both smooth and responsive as it traversed the sweeping roads.
The frequent appearance of tractors and farm vehicles posed no problem either as the car was capable of short, sharp bursts of acceleration whenever required.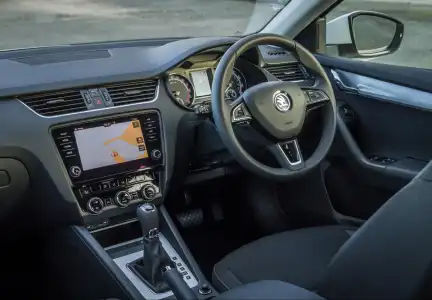 Ride Handling
The ride within the Octavia is most impressive and the fact that we could sit for at least three hours at a time as either a driver or passenger without complaining is testament to that fact.
The road-holding was assured and the car can be driven enthusiastically with plenty of driver feedback.
Skoda has introduced Dynamic Chassis Control as an option on certain models and this alters the behaviour of the dampers according to the Comfort, Normal or Sport setting selected. We tested out these settings on an alternative model and the differences were noticeable.
In addition, Drive Mode Select is another feature that is designed to enhance the car's driving dynamics with the option of Normal, Eco, Sport and Individual settings. Switching between these modes will alter the vehicle's steering and gear changes with Sport producing a more aggressive experience and Normal a more refined all-round performance.
The Octavia is built on the same VW Group MQB platform as the VW Golf, Audi A3 and SEAT Leon, so delivers all the solid, reliable build qualities expected from such a prestige brand.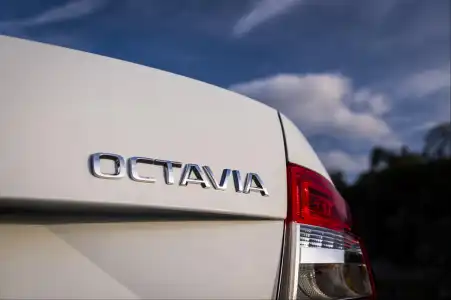 Styling
With the business driver who completes thousands of motorway miles in mind, Skoda had to ensure its Octavia model could compete with the likes of the Ford Focus and stablemate VW Golf. And it does.
Admittedly the alternative cars will deliver more dynamic handling capabilities, but the Octavia is a very worthy rival. A number of design enhancements such as a new grille and vertically split headlights with LED lamps have helped to give the Octavia more personality, and revised bumpers and styling make it appear more sporty and generally very easy on the eye.
Then there are the Simply Clever touches synonymous with the Skoda name such as umbrellas tucked into the front doors or beneath the passenger seat, plus a new addition in the shape of a bottle holder with a difference. The base of the holder has been designed in such a way that twisting the bottle tightens the grip so the lid can be removed one-handed whilst on the move.
General comfort levels within the car are good and the highly-efficient insulation keeps out most engine and road surface noise, although a little wind sound filters through from the side mirrors at higher speeds.
In The Car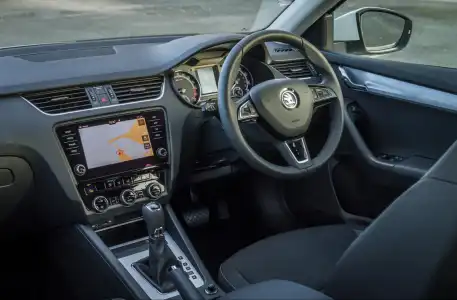 Behind the Wheel
The Octavia offers excellent levels of comfort with seats that are easily adjusted along with the steering wheel. All the controls, dials and instrumentation is perfectly positioned for ease of use and the driver benefits from good all-round visibility.
On-board technology is plentiful and the latest Octavia features plenty of new kit such as revised infotainment displays that ranges in size depending on the trim grade selected.
The satellite navigation system is easy to operate and the car features SmartLink+ which quickly connects to mobile devices via Apple CarPlay, Android Auto and MirrorLink.
As well as choosing between estate or hatchback styling, buyers can select from trim levels called S, SE, SE Technology, SE L and Laurin & Klement. A Scout model with off-road styling along with a blisteringly quick vRS version will be offered later this year.
Our SE test car priced at £21,840 (£23,370 with options fitted) boasted the likes of dual zone air conditioning with humidity sensor, Driving Mode Select, cruise control, a touchscreen sat nav system with WiFi and plenty more besides.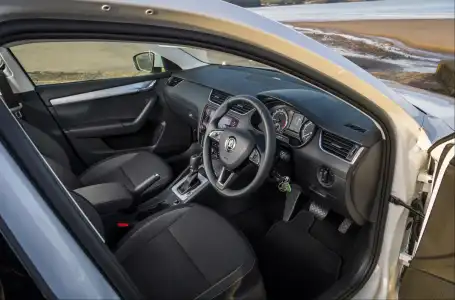 Space & Practicality
This is an area where the Octavia excels. The cabin is incredibly roomy with ample space for a couple of six footers to sit comfortably in the back - and that's with the front seats pushed well back.
There are plenty of handy storage cubby holes including an illuminated glovebox, sunglasses compartment, practically-sized door pockets, a front armrest with storage box and that clever bottle holder. There are also pockets on the rear of the front seats. SE-L models upwards have a double sided boot floor which is really practical when transporting muddy gear. The estate model is also available with a variable boot floor.
Boot space is impressive with a capacity of 590 litres on the hatchback model which is increased to 1,580 litres with the split-folding rear seats lowered. On the estate car, the capacity is 610 litres with all seats upright increased to a whopping 1,740 litres with the back seats dropped flat.
Ownership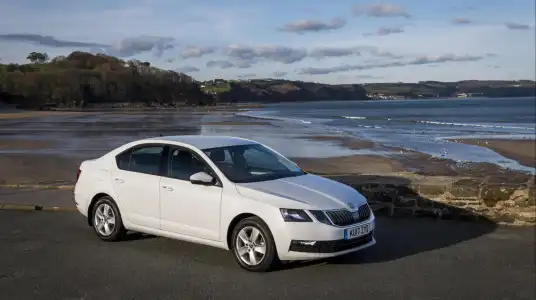 Running Costs
The Skoda Octavia has built a solid reputation for being excellent value for money and nothing has changed in that respect. There is ample choice of engines, transmissions, body styles and trim levels to suit all budgets and the fact that so many taxi drivers choose the Octavia is all the proof necessary that the car delivers outstanding all-round packaging.
Prices start from a very competitive £17,195 compared to the entry level Ford Focus at £19,635 and running costs are also worth sitting up and taking notice of. The most economically efficient engine is the 1.6 TDI 115PS version that can deliver combined fuel economy of 72.4mpg with carbon emissions of 103g/km. Even on the more stringent tax set-up, these figures will mean a first year Vehicle Excise Duty cost of just £140.
The most efficient petrol model is the 1.0 TSI 115PS which, according to official figures, can achieve a combined 58.9mpg with emissions of 108g/km.
The standard warranty on the Octavia is three years or 60,000 miles. A five-year/100,000-mile warranty can be purchased for about £500, but generally the reliability of the Octavia is not an issue to be concerned about.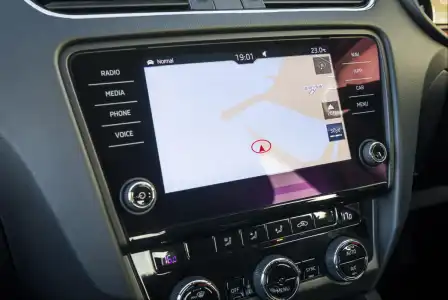 Quality & Reliability
As the Skoda Octavia is part of the Volkswagen Group, it brings with it a reputation for having an outstanding, made-to-last, durable build quality. There is a little hard plastic on show within the latest Octavia but it's not likely to scratch and whilst the doors don't close with the same reassuring 'thud' that an Audi would, they are nice and sturdy.
The seats are very supportive and appear to be hard wearing which they will need to be if owned as a fleet car and throughout the cabin, the switches, dials and levers all have a certain air of longevity. It's nice to have a traditional handbrake too rather than an electric version.
In the 2016 JD Power rankings Skoda ranked the highest in vehicle dependability for a second consecutive year - that's one of the highest accolades out there.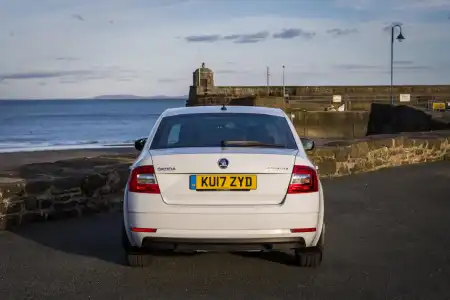 Safety & Security
The latest version of the Skoda Octavia is a facelift model so it does not need to be re-tested for a new Euro NCAP safety rating. That means the car still keeps its maximum five star rating.
But a number of new driver aids have been introduced to the latest cars, many of which have been designed to protect occupants and other road users.
Safety features on this Skoda Octavia include front assist with predictive pedestrian protection, blind spot monitoring with rear traffic alert, a driver fatigue sensor and a full suite of airbags.
There is the option of a trailer assist system that will make even a novice look completely competent when reversing with a caravan or the likes. This is a great addition to the Octavia as it will often double up as a business car during the week and then be transformed into a family vehicle for the holiday season with the trusty caravan in tow.
Buy and save on quality approved and used cars