Pros:
Improved looks

Practical for families

Well-designed interior
Cons:
Pricier than you might think

Steering lacks feel

Shift upmarket could alienate established customers
More On This Car
Need more information?
Request Dealer Contact
Introduction
The Octavia is a handsome machine. We never thought we'd say that about a Skoda. Well, not back in the day when everyone was laughing at the jokes. "How do you double the price of a Skoda? Fill it with fuel." Yes, witticisms like that. Those harsh digs at the Czech carmaker are seriously outdated now. Anyone thinking the Skoda brand is cheap and nasty needs to take a reality check. The marque holds its own against any manufacturer of family-oriented motors - and it's sometimes better. We took the new Octavia for a drive in SE L First Edition 1.5 TSI 150PS manual guise. If, by the end of the piece, we've done enough to whet the appetite, there's an exclusive offer waiting for you too...
On The Road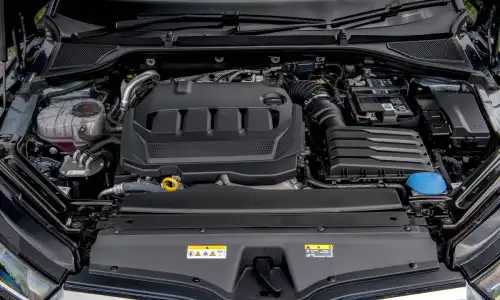 Performance
The fresh Octavia range comes with a bunch of powerplant options. Outputs span from 115PS to 150PS. The petrol variant is the 1.5 TSI 150PS, on test here. It is capable of 0-62mph in 8.3 seconds, and the maximum speed is 130mph. Then there's the base-level diesel, which comes with a 2.0 TDI powerplant that produces 115PS. Both versions drive via a six-speed manual transmission. SE L First Edition buyers also have the option of a 2.0 TDI 150PS engine that is factory fitted with a seven-speed DSG 'box. More transmission and engine options are joining the Octavia line-up as the range grows, though. These incorporate a plug-in hybrid with an electric range of around 37 miles. Furthermore, some of the Octavia's petrol units are being further enhanced and are kitted out with mild-hybrid technology. These e-TEC models house 1.0 TSI or 1.5 TSI petrol engines and are provided with DSG transmission.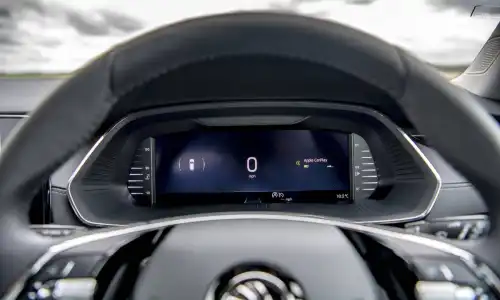 Ride Handling
The Skoda Octavia has always been about comfortable, convenient motoring, so the way the car drives will provide you with no surprises. The new Octavia builds on its predecessor and is one of the most calming and composed cars you can purchase for under £25k. You can just glide along and not worry about anything at all. And on our increasingly busy and stressful UK road network, that's rather nice.
Over the last couple of decades or so, you've probably noticed a fair few Octavias zoom by you in the town centre and on motorways. But, regardless of the way people (especially taxi drivers) seem to use them, this isn't a model that feels outstandingly rewarding to pilot at speed. If you want a vehicle that'll be more entertaining on a sporting drive, we'd steer you in the direction of the BMW 3 Series, Jaguar XE or Alfa Romeo Giulia. Unlike the Octavia, these higher-end cars are rear-wheel drive, and they're not always as expensive as you might think. Still, if you want to stick with front-wheel drive - and you still desire a car with a more energetic character, give the latest Ford Focus a whirl. Its accurate and quick steering make it a blast every time you're behind the wheel.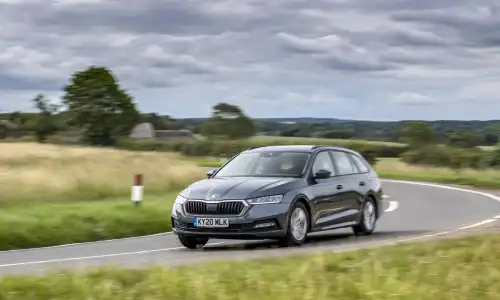 Styling
Being a Skoda, the Octavia gets a good deal of attention given to it regarding research and development. Perhaps more than, say, the SEAT Leon - a cousin vehicle in the Volkswagen Group. Some folks will tell you that you can tell the difference, and we'd agree that the Octavia boasts some areas of additional quality. Now, there's really not a lot in it, but if you feel like the Octavia's worth the extra premium, then you shouldn't lose any shut-eye over it. However, if you're after maximum value, you'll almost certainly be equally as content with a Leon. It all boils down to what you need and what you like. Don't let any car reviewers sway you otherwise.
When you drive the new Octavia, you can't help but appreciate the hushed and serene atmosphere within the vehicle and the supple ride. It's a lovely way to travel, just taking life as it comes and letting the Skoda transport you to where you want to be - no commotion, no palaver.
In The Car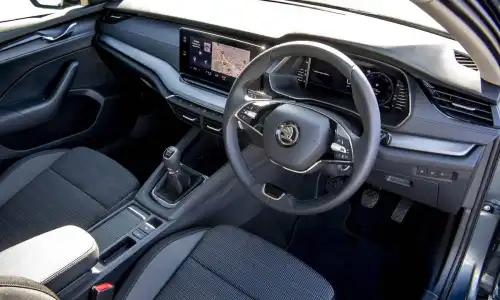 Behind the Wheel
The new Octavia now comes with a double-spoke steering wheel. It is equipped with scroll wheels and control buttons, enabling you to manage 14 different functions without taking your hands off the wheel. What's more, Skoda has now arranged the dashboard in varying levels, and it features a prominent central display. Then there's the centre console which is orderly and comes embellished with chrome detailing - as do the door handles and trim. Soft materials give the cabin a premium appearance, while the Octavia's new LED lighting subtly illuminates the dashboard, footwells and the front doors. You can choose up to 30 hues, and you can appoint a different shade of light to the front doors and dashboard than to the car's footwell.
Apps and navigation systems, as well as smartphone integration, are top on the lists of many car-buyers now - and the Octavia delivers in this department, too. Therefore, you won't feel any kind of separation angst from your digital devices - they should connect easily with the new model. Overall, the new Octavia has a classy and comfortable interior with excellent seats and a good level of quality. We love it.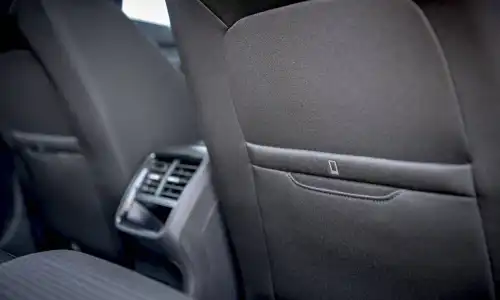 Space & Practicality
The new Skoda Octavia comes in both estate and liftback forms, so if you need to go for out and out practicality, then choosing the one with the big load area is going to pay dividends. Regarding seating, there's lots of leg and headroom for both passengers and the driver in the front and rear of the car. If you're extremely tall, then you might dispute our statement, but for most folk under 6ft 4 or so, this is going to be a cheery place to spend time.
Space for storage is respectable, regardless of whether you pick the estate or the liftback. But if its all-out potential you're after, then it's easy to suggest the Octavia estate. With the rear seats in place, the Skoda's boot is impressively large, but those seats fold down too, ballooning the load length from 640-litres to 1,700-litres. You can load an awful lot of luggage into the estate, or, if you're a dog owner, your pooch will be more than happy to make the boot his or her home for the journey.
Ownership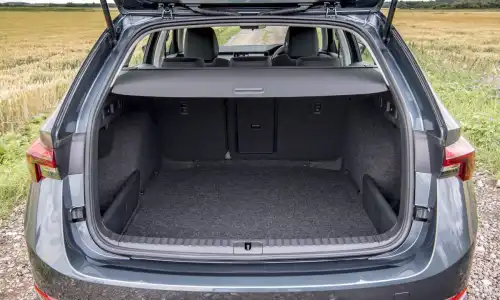 Running Costs
Owning an Octavia shouldn't cost you a fortune to run. The powerplants are produced with efficiency firmly in mind. Which engine you select will depend on your circumstances and preferences. If you're regularly driving lots of miles, then you'll gravitate towards the diesel units. Skoda's oil-burner engines should easily achieve 50mpg, with official figures even suggesting over 60mpg is doable.
But if you spend a lot of time on shortish commutes - or you need to make weekend trips with your family, then the 1.5 TSI 150PS will suit you down to the ground. In estate form, the car will do between 42.2-49.6mpg.
And when it comes to servicing, well, Skoda's servicing isn't the cheapest, but it also isn't over-priced. It is bang in the middle, and the standards are high, considering Skoda is now pushing the Octavia as a semi-premium marque.
Quality & Reliability
It is hard to fault Skoda's quality and reliability, really. The new Octavia feels just like the other new models in the Skoda family. It is well-made, finished with evident care and attention, and feels like it'll last a long way into the future, too. Further to the overall feel of the model, Skoda cars have generally been excellent when we talk about dependability over the years. There's a reason Octavias are so popular with private hire firms! We've no significant concerns around the newest Octavia on the block, especially as a lot of its technology is tried and true - and has been in use by other models in the Volkswagen Group.
Safety & Security
Overall, the new Skoda Octavia should prove itself to be an extremely safe vehicle. It is kitted out with a bunch of safety assistance systems and equipment that enhances the driving experience. Adaptive Cruise Control helps you maintain a constant speed and adjusts pace, depending on what's going on with the traffic ahead. Blind Spot Detection assists by being another pair of eyes for you, and there are front and rear parking sensors, too. Anything less than a top five-star Euro NCAP safety rating for the new Octavia would be surprising. Its relative, the VW Golf, has already been tested - and it achieved the best score possible. This is good news for the Skoda Octavia as it shares a lot of safety equipment with the Golf.
More On This Car
Need more information?
Request Dealer Contact