From £17,770
Pros:
Practical yet stylish and modern design

Great range of tried and tested engines and gearboxes

Excellent value
Cons:
Starting to look a little dated as the SUV market has exploded with new models

Can be a little jittery if pushed hard

Quite noisy on motorways mainly due to its upright design
Buy and save on quality approved and used cars
Introduction
The Skoda Yeti has won fans the world over and the range expanded throughout the years to include 2WD, 4WD economical Greenline editions, an Outdoor model that boasted more adventurous styling and a dazzling Monte Carlo version full of razzmatazz features to match its name.
In addition, the Yeti was available with a wide selection of powertrains and transmissions to suit all needs.
Boasting an upright design and all the versatility any SUV driver could wish for, the Yeti scooped award after award including numerous Car of the Year titles.
But since its launch back in 2009, the SUV market has been flooded with new models and competition for sales is rife. With that in mind, Skoda decided to revamp its SUV line-up. And sadly, that has resulted in the demise of the Yeti but the arrival of fabulous models such as the Karoq and Kodiaq.
On The Road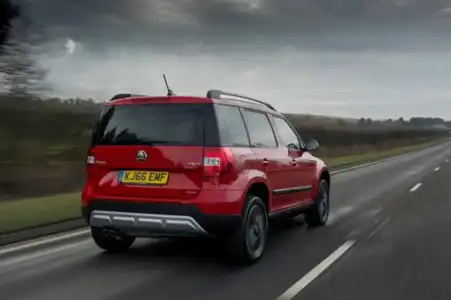 Performance
We tested out the very appealing Monte Carlo edition of the Yeti powered by a 170PS 2.0-litre diesel engine and it performed beautifully. Despite its high sides and somewhat upright styling, the Yeti is a car that can be thrown about with a degree of confidence.
The Monte Carlo edition certainly looked the bees knees with plenty of black design elements including 17-inch black alloys, a black roof, grille and door mirrors. Even the side windows are tinted in a darker shade to add that air of mystique.
Additional eye candy includes smoked fog lights, LED daytime running lights, stainless steel tailpipe trims and lots of Monte Carlo badging.
The test car could power its way to 62mph from a standing start in 8.6 seconds and maxed out at 122mph, achieving combined fuel economy of 44.8mpg along the way with carbon emissions of 164g/km.
The Monte Carlo edition is a tribute to Skoda's 113-year involvement with the Monte Carlo rally so the car had a lot to live up to. And it does just that.
The acceleration through the six-speed automatic DSG gearbox was smooth and responsive with plenty of power on tap to overtake at short notice. The road-holding is confident and assured with the added knowledge that the car features AWD stability and grip. In fact, the Yeti was great to drive in busy town centres where the all-round visibility was excellent as well as on the open road where it provides lots of great driving dynamics.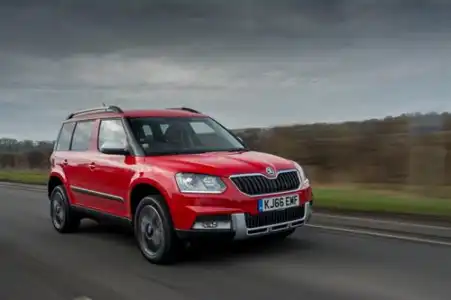 Ride Handling
Skoda has built a very solid reputation for developing cars that have plenty of all-round appeal and the Yeti is another fine example of that theory put into practice. The design will certainly appeal to anyone with a flair for style and it offers all the practical traits essential in any modern-day crossover. Yet, it is comfortable too and with the easy access and elevated driving position, it also features high on the wish lists of older drivers and those with mobility issues.
It can also be chivvied along at quite a click with a degree of confidence. Cornering is most assured with no sign of body roll and the although the steering is fairly light there is a good degree of feedback.
The suspension is quite firm and you will feel the odd pothole rattle through your bones, but that aside the Yeti is an absolute delight to drive with the option of a Sport setting to really sharpen up the responses.
And I was really impressed with its agility around town where the fabulous all-round visibility is a great asset with cars and pedestrians darting out from all angles.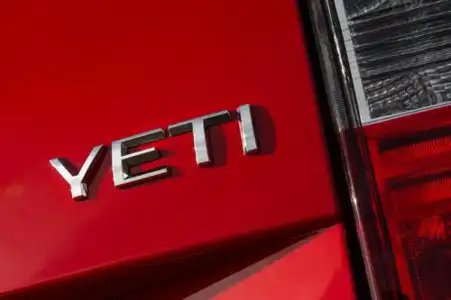 Styling
The Skoda Yeti was starting to show signs of the ageing process especially with so many new ultra-modern vehicles competing for sales, but the Monte Carlo edition combatted the issue with some snazzy design cues. As well as all the black exterior add-ons, the cabin is beautifully stylish with special Monte Carlo upholstery, a perforated leather steering wheel with red contrast stitching and lots of carbon-fibre-looking trim introduced to liven things up. Some might accuse Skoda of papering over the cracks in this respect, but I thought it looked really classy.
When it comes to refinement, one glance in the direction of the Yeti will tell you it's not going to be a quiet ride. That's because the vehicle is designed for practicality and versatility and when driven at higher speeds that high-sided design rather impacts upon the cabin noise with quite of lot of wind and road surface sound filtering through.
In fact, even when driven with a lighter right boot, the diesel powertrain still kicks out quite a rumbling note.
In The Car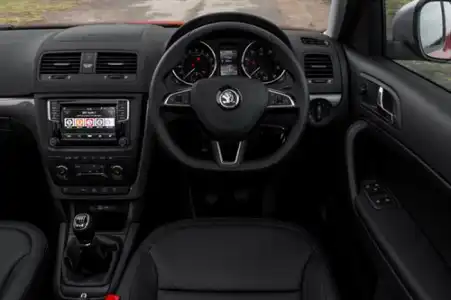 Behind the Wheel
Without being too flashy and blowing its own trumpet all the time, Skoda does the simple things very well. By that I mean, the Czech company packs its cars with all the latest technology and safety features but doesn't seem to make a song and dance about it.
Whilst other manufacturers would launch huge advertising campaigns highlighting a new touchscreen design or super-slick gearbox, Skoda buyers know that their cars will be loaded with all the very best that the VW Group can throw at it and also carry a reasonable price-tag.
The Monte Carlo Yeti boasts heated seats, a six-CD changer and sound system that's compatible with modern devices, dual-zone climate control with humidity sensor, cruise control and an easy-to-use satellite navigation system.
The sports seats, featuring that distinctive Monte Carlo upholstery, are fully adjustable and the steering wheel adjusts for rake and reach which makes it easy to find the ideal driving position.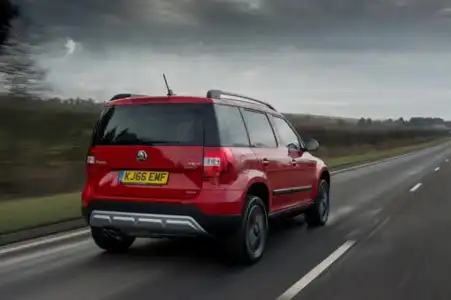 Space & Practicality
The Skoda Yeti has built its reputation on being a very practical car and with a boot capacity that ranges from 416 litres to 1,760 litres it's easy to see why it has won over so many buyers.
The boot boasts all sorts of hooks, nets and sliding bars to keep items safe and secure from rolling around and there are bundles of alternative storage options scattered throughout the car.
With an active family in mind the Yeti offers excellent flexibility with 40:20:40 split folding rear seats to free up additional storage space.
And when it comes to passenger space there will be no complaints by anyone sitting in the back. The high roofline and generous width of the car means occupants are treated to plenty of head and shoulder space as well as generous amounts of leg room. Another plus factor is the larger windows which allow light to flood into the cabin.
Ownership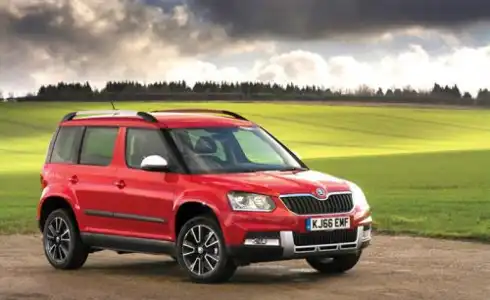 Running Costs
With Skoda announcing the withdrawal of the Yeti to make way for its new range of SUVs, the car is disappearing fast from showrooms. But the test car was priced at £25,690 (£27,635 with options fitted). However, this was for the all-singing Monte Carlo model while entry-level Yetis were offered at £17,770 for the 1.2-litre TSI 110PS in S grade.
With a combined CO2 output of 164g/km, the Yeti Monte Carlo would have a Vehicle Excise Duty cost of £500 for the first tax year and £140 after that.
The insurance group rating is 23.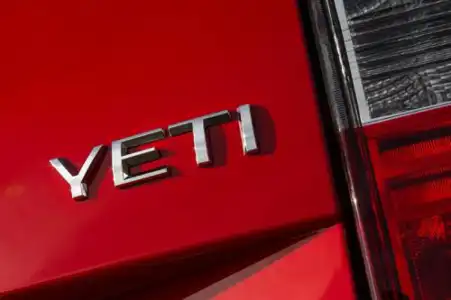 Quality & Reliability
Long gone are the days when Skoda cars could be sneered at for their build quality and boring designs. These days, the Skoda badge is right up there in the popularity stakes when it comes to reliability, economy and practicality. If you have any doubt, simply check out the number of taxi drivers sitting at their ranks behind the wheel of a Skoda – and they're no mugs!
The Yeti has a good, solid build quality and all materials, surfaces and switchgear looks like it will survive the test of time. The engines are renowned for their excellence and reliability and the car comes with a three-year/60,000-mile warranty.
All the engines and transmissions have been tried and tested on VWs so you can expect any problems to be few and far between.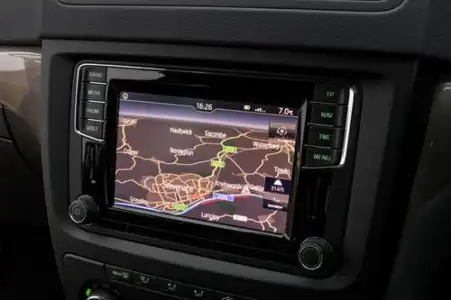 Safety & Security
The Skoda Yeti was awarded the maximum five starts in the Euro NCAP safety ratings and comes loaded with systems to protect occupants and pedestrians alike.
For example, the Yeti boasts up to nine airbags, bi-xenon headlights with LED daytime running lights and curve lighting.
There are a number of driver assist features to help in extreme situations and these include anti-locking brakes, dynamic steering response, engine torque control, electronic stability control, electronic brakeforce distribution and a whole host of other letters such as ASR, ESBS and AFM.
In addition, during heavy braking, the brake lights flash and the warning lights are automatically deployed providing an urgent warning to following motorists.
Buy and save on quality approved and used cars