From £12,950
Pros:
Pleasantly affordable

Functional interior

Quite a good looking thing
Cons:
Very basic centre console

Poor screen on non-Sat Nav models.

Dealership network is still growing
More On This Car
Take one for a spin or order a brochure
Request a SsangYong Tivoli brochure
Request a SsangYong Tivoli test drive
Introduction
It seems almost every manufacturer has pitched itself into the small-SUV market over the last few years, but when the marketplace has become saturated by big names like Nissan, Ford and Renault - the more diverse brands have to pitch themselves with a certain 'USP'... and SsangYong have done just that with this Tivoli model. An attractive looking car with two-tone paintwork and exceptional bang for your buck.
Thanks to Steve Durkin Vehicle Services for lending us this model for road testing. If you're in the North West, be sure to get in touch for the latest deals on SsangYong models.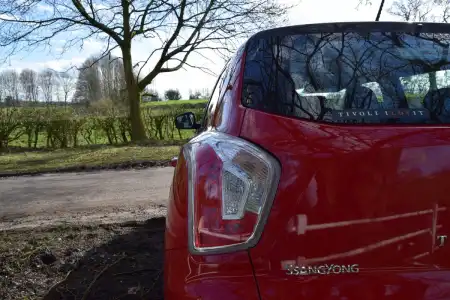 Ride Handling
Definitely not one you would want to be taking on a track day, as body roll and understeer really do discourage you from enthusiastic driving. That's no problem though, under normal driving circumstances the Tivoli delivers on its expectations quite reassuringly. Motorways are ironed out to a more than acceptable standard, meanwhile on B-roads and around the city the car holds the road well and isn't bothered by things like the camber of the road or potholes.
The all round visibility is quite good too, so if you were stepping up to the Tivoli from a normal, Golf-sized hatch then you won't find the Tivoli any more tricky to park. I quickly grew to appreciate the advanced forward view thanks to the tall, wide windscreen and higher ride height. For every day chores the Tivoli is a car which is seriously hard to criticise.
On The Road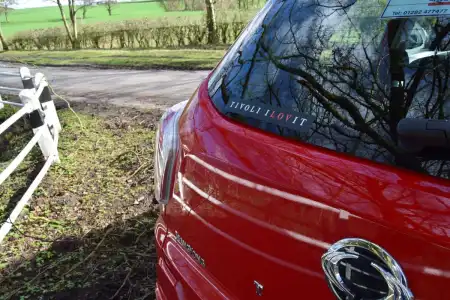 Performance
Not the quickest car off the mark, but the Tivoli actually does a surprisingly good job of getting up to pace. We tested the 113bhp diesel and the turbocharged unit actually offers a nice amount of pulling power in between 60 and 80mph, right at the sweet spot for overtaking slower moving traffic on a motorway run. In fact there were one or two times when I've settled myself in 6th gear and not noticed the needle creep up and above the speed limit. It's a real testament to the overall build quality when a car and engine are both as comfortable as this at motorway speeds. The car certainly doesn't feel like a small SUV when you're hard on the brakes either. The Tivoli will slow down to an abrupt halt with the composure and finesse of a regular hatchback.
It's only when you start chucking the Tivoli into the corners where dynamic shortcomings are exposed with this car. There is certainly a higher centre of gravity than you would expect and this is amplified by perhaps a bit too much suspension travel and therefore body-lean.
It's not the end of the world though, in fact this is very much commonplace in this segment and these aren't really cars that are built to be driven aggressively. Under normal circumstances the Tivoli holds its own.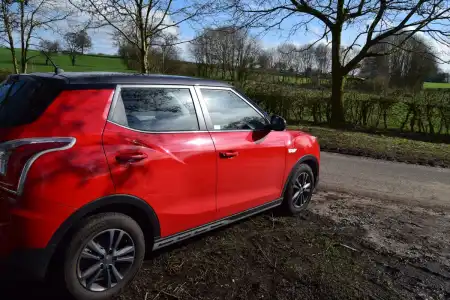 Styling
One would think that a 'cheap' (I prefer 'inexpensive') South Korean car with a turbocharged diesel engine would have tractor-like levels of refinement. One would be mistaken. The Tivoli genuinely does a great job of keeping out the ruckus like an efficient doorman. The pedals don't vibrate, the steering wheel sits still and it's only when you're high in the rev range that the engine note seeps through into the cabin. The Tivoli handles its diesel rumble better than a number of competitors handle the 1.5dCi engine which features in various Renault, Nissan, Dacia, Mercedes Benz cars. Top marks there.
The fit and finish of the car is also of a notably higher quality than I had initially anticipated. There are no rattling interior features, the buttons are well dampened across the centre console and pretty much everything feels solid to touch and nicely weighted. Apologies for my prejudice, SsangYong.
In The Car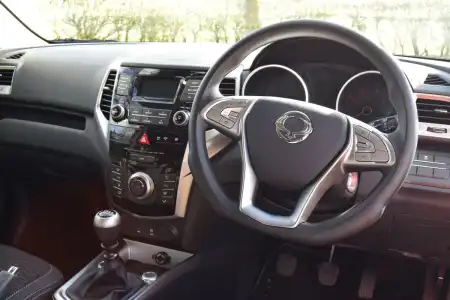 Behind the Wheel
The chrome SsangYong logo is emblazoned across a soft, ergonomically shaped steering wheel, welcoming you into a reserved but well put-together cockpit. The centre console has a nice piano black finish, and big dials control the heating functions. The Tivoli has a basic (but quite refreshing) way of controlling the heater. Instead of displaying and adjusting the temperature in degrees celsius, there are simply 5 blue lights and 5 red lights, from left to right. Blue means cold, red means hot - low-budget but easy enough, really.
All in all, the cabin is easy to live with, even though some aspects do reflect the price of the car. For example the wheel mounted controls are a bit flimsy, but they do their job and are only sub-par when compared to alternatives with a £4,000 higher starting price. Would I be bothered if I had made that saving? Nope.
I would recommend going for a model equipped with the TomTom Sat Nav, because you are otherwise left with an extremely basic, non-colour screen which looks like it has been taken straight off a microwave. The ELX model has this, starting from £16,000- you also get keyless entry, a lovely two-tone leather interior, rear parking sensor, automatic lights and wipers as well as much improved centre console.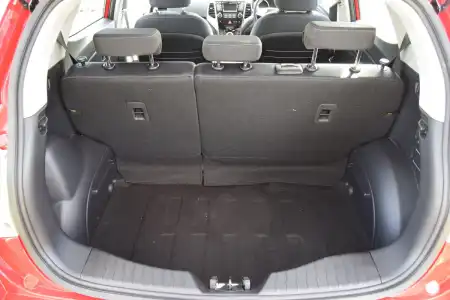 Space & Practicality
One thing that occupants cannot moan about is space. In the front and the back there is nobody short on space for leg and headroom. Squeezing a third adult passenger in the rear might be a bit of a squeeze but for a row of three children the Tivoli is well up to the task.
Then, in the boot you've got a massive 423 litres of luggage capacity, which certainly puts it up there with the rest of the class. The Juke has 354 litres and the Peugeot 2008 has 360, so this Tivoli trumps the pair of them. The boot shape is slightly shorter than you'd imagine but it's nice and deep, and the high roofline means you can squeeze a lot in there. Do be wary that there's a steep loading lip on the boot. You will be lowering things into the trunk, instead of sliding them in. Not a deal-breaker by any means but something certainly worth bearing in mind.
Ownership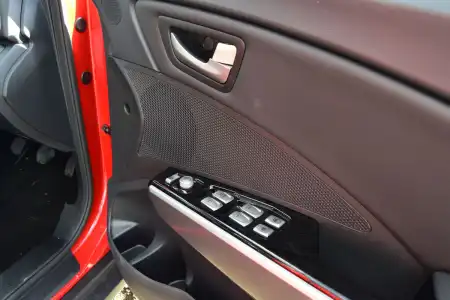 Running Costs
Interestingly, the residual values are on-par with the likes of the Nissan Juke and Renault Captur - so depreciation won't keep you up at night through ownership of the Tivoli. You can also sleep easy knowing that the Tivoli has a comprehensive 5 year warranty provided by SsangYong, which should help sway consumers who have never bought SsangYong before and may be apprehensive about the product quality.
Our model, the manual 1.6 diesel with 2 wheel drive, is the most economical of the range. The manufacturer quotes 65.7mpg, while we achieved just over 55mpg. I've no doubt that this figure will increase above and beyond the 60mpg mark with some conservative driving on a long motorway run. If you buy under the current tax rates (which expire at the end of this month!) then your annual road tax bill is just £30 thanks to the Tivoli emitting just 30g/km of CO2. How's that for affordable?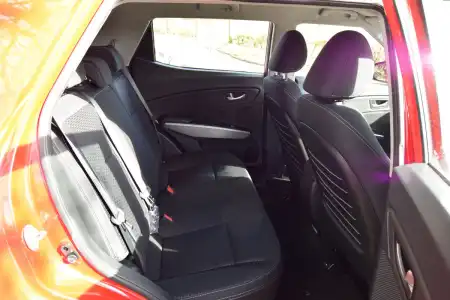 Quality & Reliability
As mentioned the quality of the Tivoli is above what you would expect considering how much you are paying, but there are still weak points in the cabin. The fuel filler cap feels particularly flimsy, for example, and the wheel mounted controls are loose to touch. Other than that I doubt buyers will find much to kick up a fuss about.
Because the Tivoli is a relatively new model, it's hard to say how well the car and its mechanics will stand the test of time. It certainly feels well put together but who are we to make predictions? Luckily, SsangYong do offer their 5 year unlimited mileage warranty which indicates that SsangYong do feel confident that the Tivoli is going to last.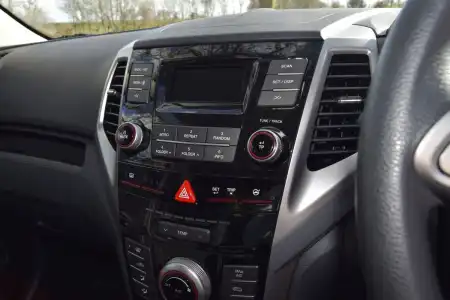 Safety & Security
The Tivoli doesn't quite match the competition in terms of safety kit. The Tivoli scored 'only' 3 stars on the industry standard Euro NCAP tests, which suggest something is amiss, as pretty much every competitor is scoring at least 4 out of 5 stars. This can be amended by spec'ing your Tivoli with the autonomous emergency braking system, which adds another star to the Euro NCAP rating.
As standard you get 6 airbags, electronic stability control and traction control.
More On This Car
Take one for a spin or order a brochure
Request a SsangYong Tivoli brochure
Request a SsangYong Tivoli test drive