From £25,495
Pros:
Exceptional levels of grip

Very enjoyably turbo-petrol

Loads of room for passengers
Cons:
Very thirsty turbo-petrol

No engines are cheap to tax

Most economical diesel, isn't hugely economical
Buy and save on quality approved and used cars
Introduction
They've been on our roads since 1997 and the Forester has always been a bit of a niche vehicle; more of a lifted estate than an all-out SUV. The market has shifted since introduction though and so too has the design. This Forester is now shaped in-line with modern 4x4s and although the exterior is somewhat conservative, what lies beneath is something rather potent…
On The Road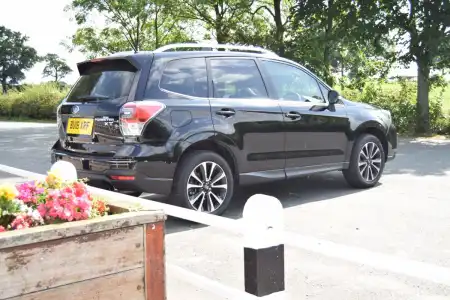 Performance
The Forester comes with 3 engine choices: 2 petrols and 1 diesel. Oddly, all of them are 2.0litres in size but all offer different perks. We'd say you're best avoiding the 2.0litre non-turbo petrol. It's the slowest of the bunch and isn't particularly economical. You're then left with two choices, the 240hp turbocharged petrol which is somewhat dreadful on fuel (available with CVT gearbox only) or the 2.0diesel which is much better on fuel. I had the pleasure of living with the 240hp 'XT' turbo-petrol for a week and grew to adore it. The 0-60 time of 7.3seconds is Herculean for a car of this size and price. Even when you're making rapid progress the engine doesn't feel like it's giving everything it's got. All XT models have the CVT auto-box which, as CVTs go, isn't that bad at all really. Switching to manual mode and operating the gearbox via the paddles on your finger tips is great fun and you soon forget you're in a big family SUV, until you look down at your fuel gauge - more on that in the 'running costs' section.
I was only able to take the Forester on the motorway twice, to and from Liverpool to watch the footy. On both trips the Forester made light work of the task as it boasts loads of overtaking power and the ability to adjust the power input saved me some mpg's, but not many.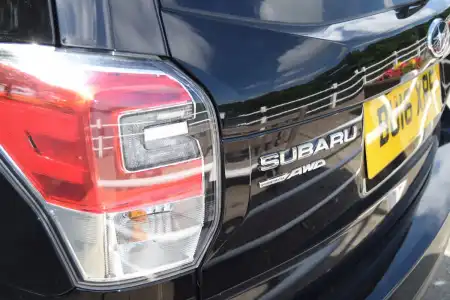 Ride Handling
The symmetrical All Wheel Drive system used across the Subaru range really is a joy to drive on British roads when the conditions get tricky. The car feels absolutely solid at pace on motorway journeys and when taking B-road bends after a downpour. The ride is plenty smooth enough and the Forester handles potholes and speed bumps far better than its younger sibling, the XV, although there is noticeable body roll which is concomitant with the raised, comfortable suspension you get with any SUV. For normal, everyday use the Forester fares extremely well and would be perfect for negotiating suburbia. My daily commute includes a variety of road types; a-roads, b-roads, town centres and plenty of speed bumps, apparently, I haven't noticed the latter all week.
Best of all the Forester is another SUV from Subaru that can actually go off road. We didn't get the chance to tackle anything tricky on our test but we're told that up against competitors, it is by far and away the most versatile SUV in its price range. You'll need to throw down another £5,000 to get a Land Rover Discovery Sport or Range Rover Evoque if you want more off-road pedigree than the Subaru.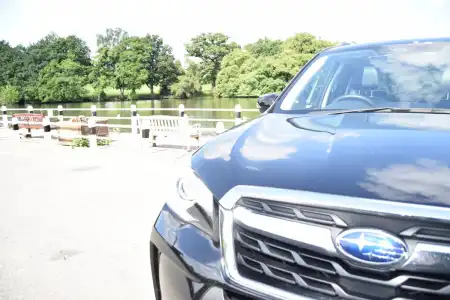 Styling
For a car of this size you're not quite as separated from the world as some may expect; perhaps thanks to the retractable glass roof you can hear the road more than some of us would like. We do really like the retractable roof though, it's a feature we don't see enough of nowadays and the one-push buttons work effortlessly. The large wing mirrors also tend to cause a bit of a racket once you get up to speed and the tyres sometimes shriek when you take a roundabout at pace - a byproduct of All Wheel Drive. These are little niggles that could bite away at your throughout ownership if you pay them enough attention, but whether they become a significant peeve to you is subjective.
There is very little noise from the engine which is nice, although when you put your foot down the pleasantries and turbo-spooling do begin to protrude into the cabin - but that's a good thing.
In The Car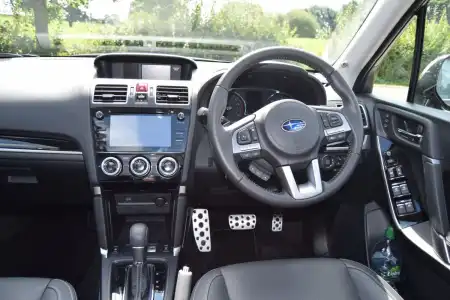 Behind the Wheel
Sat behind the wheel in the Forester you've got a nice expansive view of the road ahead thanks to the large front windscreen. In the cabin there's a pleasant, contemporary dash with a central screen displaying all the geeky niceties like boost pressure and a percentage of how far down the pedal your foot is - just what you needed, right?
Buyers will also be pleasantly surprised by the leather seats which are extremely comfortable although they could probably do with a bit more side bolstering to prevent the driver swaying on fast bends. The heaters and air con are controlled by the same 'clicky' dials as those in the XV - which are extremely satisfying to use. The touch-screen centre console is also very responsive - I don't think I've had to to 're-tap' a unreactive virtual button once. This is good because it's extremely irritating (and rather dangerous) having to negotiate an inconsistent or poorly-responsive touch screen while driving.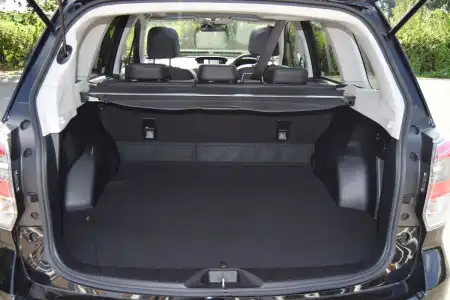 Space & Practicality
Practicality is always going to be a strong selling point for an SUV of this size and the Forester delivers on expectations rather well. The boot, for example, has a nice flat lip which makes loading big objects much easier and it can fit up to 505 litres of luggage. This then swells up to 1,564 litres of space when you fold down the rear seats and there's also a false floor in the boot meaning you can fit even more in.
Ownership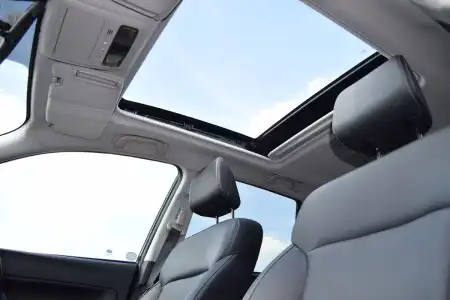 Running Costs
I'll cut to the chase, if you care a lot about running costs then do not buy the 2.0 turbocharged petrol engine I had. You get 33mpg at best, almost 200g/km of CO2 and it therefore costs £265 to tax annually. When compared to SUVs 10 years ago it's not that bad, but compared to SUVs on sale right now… it's pretty dreadful. I'm usually given press cars for a week at a time and they get dropped off with a full tank of fuel. If I ever have to put fuel in it means one of two things; either the car is particularly enjoyable or it is rather poor on fuel. The Forester is both. I received the car on Thursday morning and by Sunday evening I was at the pump. The non turbocharged petrol is a little bit better- up to 43mpg but still £180 a year to tax. The one to go for if you're seeking a bit of frugal motoring is the 2.0litre diesel as it will return close to 50mpg. That being said, road tax still costs £145 a year in manual form and £180 in automatic, that's not cheap. The Mazda CX-5 diesel and Volkswagen Tiguan are both more affordable to run.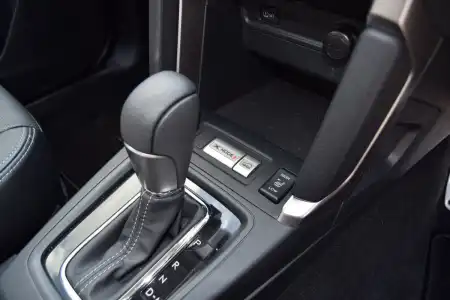 Quality & Reliability
This is the 4th generation of the Forester that we've had here in the UK and it's quite a bit larger than the ones we've had in the past but every model has always been engineered rather rigorously. Reliability records from current owners seem to be encouraging too so we can comfortably say that the Forester is a car that should last a while. It's also worth noting that every model has a 5 year/ 100,000 miles warranty on it, just for peace of mind...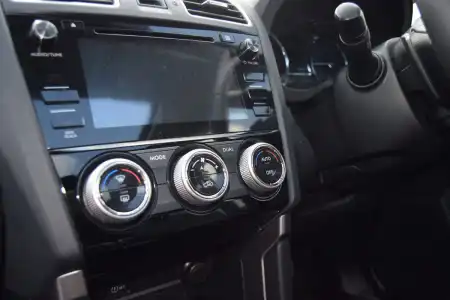 Safety & Security
And last but not least, safety! Of course the Forester received a full 5 stars in the Euro NCAP safety tests. Adult and Child occupant safety came in at a staggering 91% and pedestrian safety was at 73%. These are really encouraging figures, should the worst happen, but you can also take comfort knowing that the onboard safety-assist technology scored 86% too. Nothing to fault here then!
Buy and save on quality approved and used cars