Pros:
Roomier than before

Top traction

Safe as houses
Cons:
It's not a looker

Noisy CVT gearbox

Not exciting
More On This Car
Take one for a spin or order a brochure
Request a Subaru Forester brochure
Request a Subaru Forester test drive
Introduction
Subaru wants to be number one in dealer satisfaction and customer satisfaction in the UK. The trouble is the brand is a small volume seller here, and it struggles to compete with mainstream manufacturers. That's not the case in other parts of Europe or the US, though; over 3.9 million Foresters have been produced since its launch 22 years ago. Indeed, the Japanese marque is seen as an aspirational buy in places like Latvia - the country I tested the latest Forester in. Therefore, Subaru hopes its new e-Boxer powertrain will be the shot-in-the-arm it needs to get more recognition in Britain.
On The Road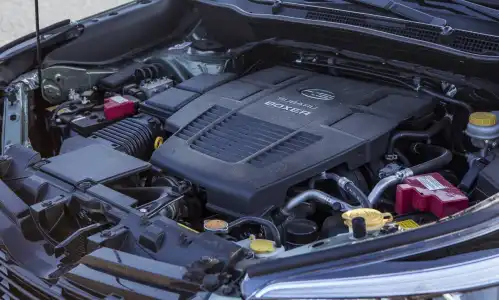 Performance
Years ago, Subaru was known for its motorsport and pure performance. It was a brand for petrolheads and rally fans. Now, it prefers to be known for its reliable and safe lifestyle vehicles. Therefore, out and out performance comes a little further down the list. That's not to say the Forester doesn't have 'oomph' - it does, but not the racing away from the lights kind. The all-new Forester e-Boxer will do 0-62mph in 11.8 seconds, and the top speed is 116mph. Indeed, the car's improved Lineartronic CVT transmission delivers 30 per cent more responsive acceleration than before. That's still not quick, but the union of symmetrical-all-wheel-drive (S-AWD) with the freshly implemented 150ps e-Boxer powertrain (a 2.0-litre four-cylinder petrol engine, joined with an electric motor) works. After all, we're looking at a vehicle suited to the hunting, fishing and shooting brigade here.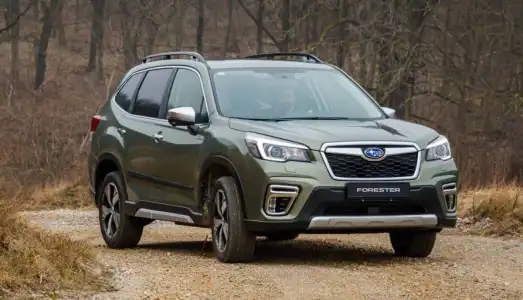 Ride Handling
The fifth-generation Forester's ride and handling are more akin to a car than a go-anywhere SUV. Subaru's factory-fitted symmetrical all-wheel drive provides all-weather ability and assurance, while active torque vectoring gives improved cornering performance.
Considerable enhancements have been made to the car's suspension and other related systems, eliminating vibrations from the floor, seats and steering system. The changes have helped create a new level of stable and responsive handling, so the Forester drives as precisely as you intend. This means fewer steering corrections are required, which in turn helps to reduce weariness on long drives. Certainly, the 100-mile media launch route in and around Riga flashed by without any fatigue present – and that was straight after an early morning flight from Gatwick. Mind you; the Latvian coffee may have helped!
Alterations to the Forester's body have helped boost ride contentment, too. The all-new SUV's width has been increased to give more front-seat comfort, and a longer wheelbase means more distance between the front and the rear passengers. All this, as well as expansions in hip, shoulder and headroom, have further amplified ride comfort.
It's also worth noting here that although the wheelbase has expanded by 30mm, the all-new Forester's minimum turning radius is only 5.4 m (17.7 feet), ensuring first-rate ease of handling.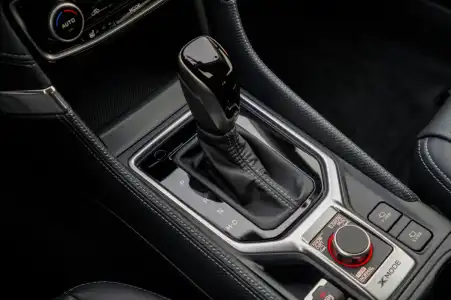 Styling
The all-new Forester hasn't been built for the catwalk, but it does deliver on many fronts, with refinement being one of them. It is the largest, most accomplished Subaru Forester to date, featuring a high-quality, roomy passenger cabin and a flexible cargo compartment.
The country-set currently prefers Land Rovers over Subarus, but this could change. Land Rovers haven't always enjoyed a reliable reputation, whereas Subaru is renowned in that department. Alas, even though this fifth-incarnation of the Forester is the most polished it's ever been, the SUV is still not as well-appointed inside as, say, Land Rover's Discovery.
But this doesn't mean to say the Forester should be disregarded, because, as I say, it is refined – just in its own way. Let me explain: As well as its user-friendly and functional interior layout, the console and instrument panel have been merged for a more relaxed feeling of freedom. Then there are the accent colours in the seat stitching that accentuate the dynamism of the cabin. What's more, redesigned front seats have improved refinement and comfort on lengthy drives.
Additionally, road and wind noise is well-suppressed due to excellent levels of insulation. Just the CVT gearbox makes itself heard – and then only when accelerating zealously.
In The Car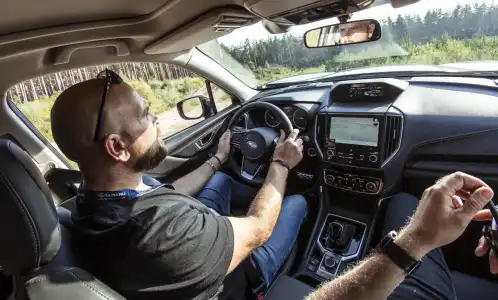 Behind the Wheel
Well, anyone used to a Subaru product of the last few years will feel at home here – and then some. It isn't exactly retro, though. The newly implemented e-Boxer powertrain fine-tunes the power-split ratio between the 2.0-litre engine and the electric motor to fit with the driving conditions, switching between a trio of settings: Engine driving, EV driving, and Motor Assist driving. At low speeds the electric motor powers the Forester, for peaceful and zero-emission motoring. It can drive fully electric for just under a mile and reach up to 24mph. At a moderate pace, power harnessed both from the engine and the motor gives alert and fuel-efficient acceleration, while at a good lick the 2.0-litre direct-injection Boxer lump powers the SUV while charging up the battery.
The weighty electric motor is placed near the Forester's centre of gravity, while the battery is situated above the back axle, achieving a low centre of gravity and giving better balance. Also, the selectable SI-DRIVE, a performance management system that enables you to tailor the Subaru's throttle features by selecting between 'Sport' and 'Intelligent' settings, adds flexibility for a more enjoyable and convenient drive.
Furthermore, the e-Boxer eradicates unnatural braking feel, which is typical of electric and motor-assisted vehicles, to provide a responsive braking sensation. The brakes respond rapidly to pedal input, making you feel ultra-safe. Particularly useful in stop-and-go urban traffic, it makes for a pleasurable and worry-free motoring experience.
Elsewhere, the Forester has an eight-inch screen navigation and infotainment system. There's also better-quality connectivity in the form of Apple CarPlay and AndroidAuto. This all feels in keeping with existing trends in the automotive market.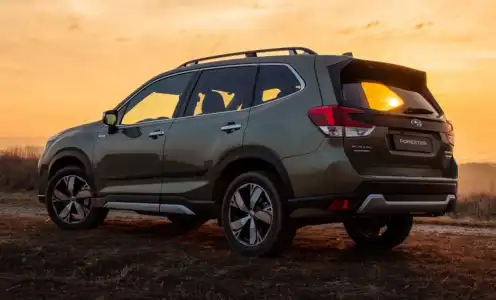 Space & Practicality
This is the most voluminous Forester ever, with ample room for five adults. The Subaru's wheelbase is now 2,670 millimetres, which means superior passenger space in the rear. What's more, an enhanced rear door opening angle and C-pillar shape improves rear-seat ingress and egress.
The boot is another positive step up from the departing model. There's enough room in there for your fishing tackle and wellies – plus a bit more. Indeed, this is a very dog-friendly car, due to a maximum boot opening width of 1,300 millimetres and a square cargo capacity of 509-litres. That's bigger than usual for a mid-sized SUV – and a useful improvement over the exiting Forester's 505-litre load area.
Staying with the boot, the powered tailgate is quicker than before, while combining, for the first time in a Subaru, a locking system that allows the tailgate to be shut and all doors locked at the press of a button.
Handy features inside the cabin include three pockets in the seatbacks. These provide helpful storage for smartphones and magazines. There are also USB charger ports for front and back-seat passengers.
Ownership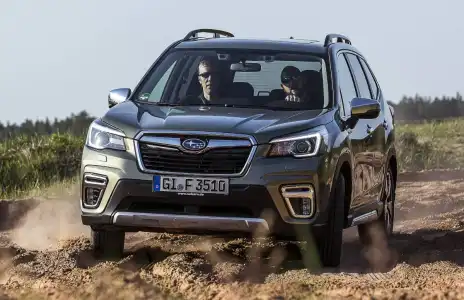 Running Costs
In theory, driving this all-new Forester shouldn't have you delving too deep into your pockets. Subaru will tell you that this SUV is capable of doing 35mpg, and that seems attainable in the real world.
During my drive along Forest trails in rural Latvia, and dual carriageways into busy Riga, I got just under that. So, expect up to mid-30s MPG if you're driving in a reasonably responsible way. We shouldn't forget that this is a car with full-time all-wheel-drive, though, so the fact you can get that kind of economy and emit just 154g/km of CO2 is relatively impressive.
However, be aware that if you're going to be driving this off the beaten track regularly, you're going to have to expect brake pads and tyres to wear out a little more quickly. This Forester is still a better proposition than before, though – and if you're a company car user, especially if you work in the countryside, you'll find this new model more commercially attractive.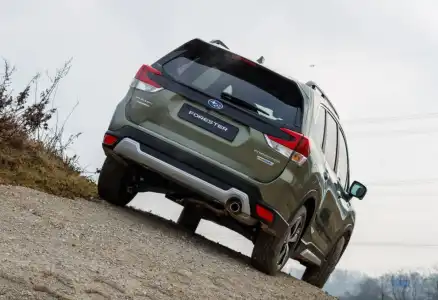 Quality & Reliability
Subaru is known for its reliable engines, although the e-Boxer powertrain is a new set-up, so it remains to be seen if this is still the case. Certainly, the petrol engine shouldn't prove problematic – with old Foresters still happily driving about as proof.
The SUV hasn't been without its problems, though – with the suspension and the rear axle playing up after heavy use. The air conditioning can also go, although this is easily remedied.
Niggly issues with interior parts, such as cup holders breaking, have been reported in the past, but, as with the other problems mentioned, this has only been the case on older Foresters. Only time will tell if this fifth-generation model will keep going without these glitches.
Repairs tend to be expensive when it comes to Subaru – but the brand is working on being top of the customer satisfaction charts, so that could be set to change.
Overall, there's no doubting the general quality of the Japanese automaker's cars, and the new Forester is no different; everything you touch feels well-manufactured, and the finish of the whole vehicle is of a high standard.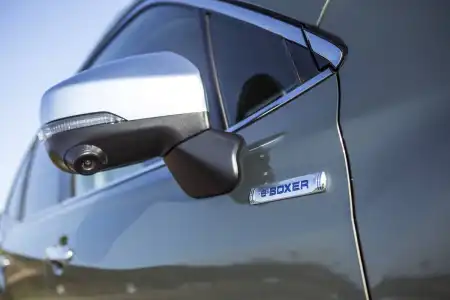 Safety & Security
The old Forester had the top Euro NCAP five-star crash test rating, and this all-new model is even safer. The SUV earned the highest grade ever of 96.5 points (out of 100) in the 2018-2019 Japan New Car Assessment Program (JNCAP).
The all-new Forester is kitted out with advanced safety equipment, such as EyeSight Driver Assist and a Driver Monitoring System. The EyeSight Driver Assist Technology consists of two digital cameras that oversee traffic movement to alert you of any danger ahead. It will then apply pre-collision braking to avoid or mitigate a collision. The Driver Monitoring System is innovative facial recognition technology that will warn you if you're tired or distracted while on the move. The system automatically adjusts the settings for not only your seat position but also your air-conditioning preferences and door mirror angles.
Other driver safety aids include Reverse Automatic Braking and Subaru Rear Vehicle Detection. Additionally, seven airbags come as standard in the Forester, providing segment-leading levels of protection.
More On This Car
Take one for a spin or order a brochure
Request a Subaru Forester brochure
Request a Subaru Forester test drive